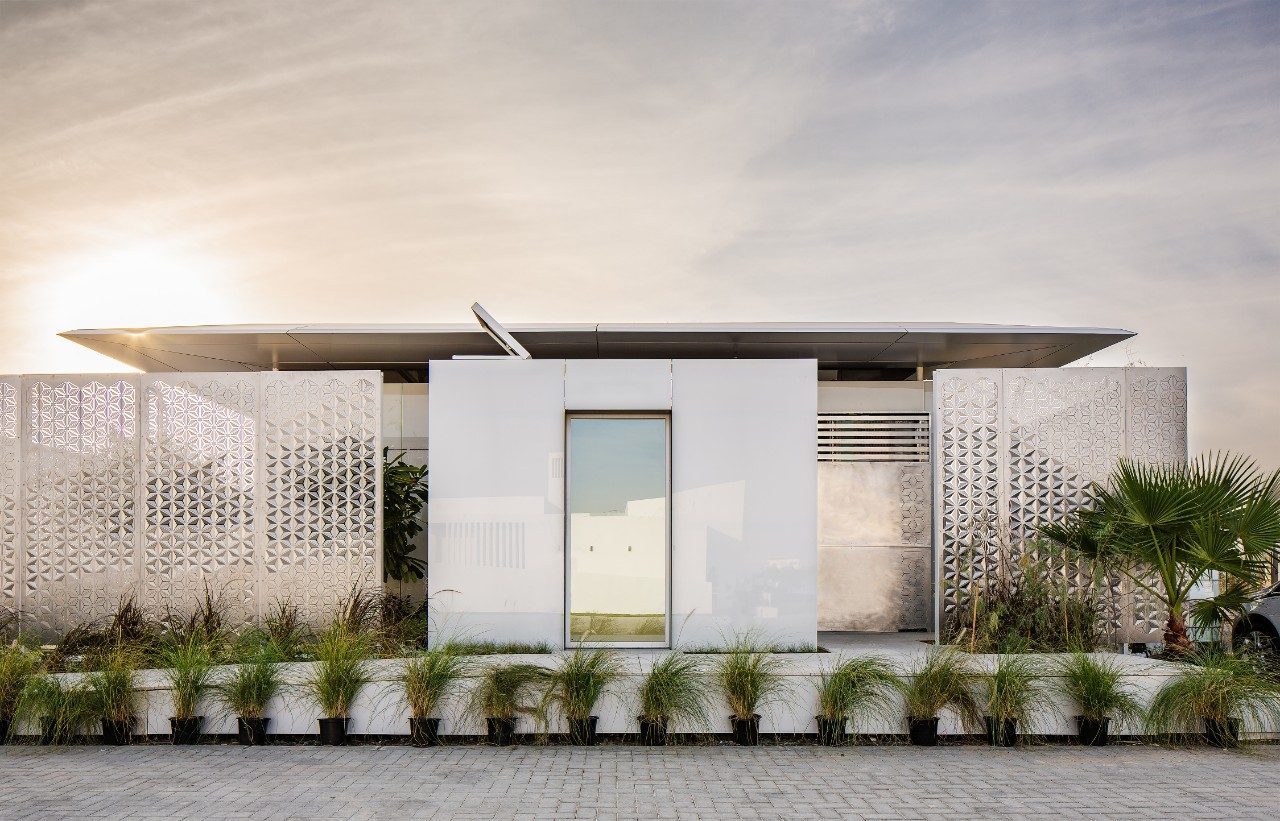 Imagine a house that recognizes you when you walk in the door and automatically adjusts the kitchen and bathroom countertops to suit your height.
Imagine a house with an integrated structure in the ceiling, which allows you to resize rooms in an instant just by sliding the walls back and forth.
Imagine a home that can be built onsite in three days using state-of-the-art assembly methods borrowed from the automobile and aerospace industries.
Imagine no further. A prototype of this home actually exists, and Weyerhaeuser products are helping make it possible.
A WIN FOR THE FUTURE
Designed and created by the Center for Design Research at Virginia Tech, the FutureHAUS concept won first place in the Solar Decathlon Middle East in November 2018. Fifteen universities from around the world competed in the event, which aims to accelerate research on building sustainable, efficient solar-powered homes.
Six months later, in May 2019, the 900-square-foot home camped out in the middle of Times Square for 12 days in conjunction with NYCxDESIGN, New York City's Design Week. Tens of thousands of people walked through it and into the future.
It was the culmination of ten years' work for Virginia Tech architecture professor Joseph Wheeler, who's been developing various FutureHAUS prototypes over the years. Weyerhaeuser has been a consistent sponsor of the ongoing effort.
A FACTORY-BUILT APPROACH
"For the most part, homes have been built the same way for the last hundred years," Wheeler says.
For a variety of reasons, the mass manufacturing techniques pioneered in the early 20th century never went mainstream in homebuilding. Houses are built onsite rather than in a factory, and various specialists are required to install key components. Framers build the skeleton from dimensional lumber. Electricians run the wires. Plumbers install the pipes. Mechanical contractors install the ductwork and finish carpenters install the cabinetry, millwork and trim.
"We looked at how cars and airplanes are made and how this could be applied to a house," Wheeler says. "The result was a home with plug-and-play factory-built components that fit together like Legos."
The FutureHAUS team calls these components "cartridges." There's one for the kitchen, an office, bathrooms, bedrooms, and more. There are also service cartridges for doors, and mechanical, electrical and solar systems.
A CUSTOM HOME'S LOOK AND FEEL
Because the cartridges are designed to be transportable, they can be efficiently shipped and easily assembled onsite. The approach is different from a typical big-box modular house and avoids the boxy feel of mobile homes or double-wide trailers.
"FutureHAUS components are completely modular and prefinished offsite, making the house highly customizable," Wheeler says. "But it's not recognizable as a modular home."
It can also be assembled without specialized labor. In New York, a team of about 20 first-year undergraduate students, working mostly overnight, put the home together in about three days. The process was just as efficient in the Dubai desert.
"They didn't have or need years of training," Wheeler says. "With the current labor shortage in the home building industry projected to exist well into the future, this is an important benefit."
The home can also be pre-inspected by code officials in the factory, further expediting onsite assembly.
TAKING ADVANTAGE OF ENGINEERED WOOD
It's not only building techniques FutureHAUS re-envisions, but also the materials.
Its interior walls are made of standard-size, medium-density fiberboard panels coated with high-gloss melamine, a type of plastic.
The exterior wall panels are factory-made structural insulated panels, or SIPs, with closed-cell polyurethane foam injected between two layers of OSB. Inside, you'll find the prefinished interior glass and MDF wall panels are removeable to easily access all the home's electronics. They're also ideal for fast onsite installation.
"Because the walls and interior panels are precut in a factory with automated precision-cutting tools, we needed walls that were straight and true, lending to a higher quality construction process," Wheeler says.
The FutureHAUS team turned to precision TimberStrand® LSL beams to supplement the home's walls. Parallam® PSL supports the foundation and structure overhead.
"Parallam is strong and can span long distances," says Skip Eastman, our territory manager based in Virginia who has worked closely with the thought leaders at Virginia Tech over the years. "In this case, it allows for a completely open floor plan."
In fact, due to Parallam's strengths, the home's interior walls hang on a tract from the ceiling and can slide back and forth without much physical effort.
Without our engineered lumber products, FutureHAUS wouldn't be possible. And while it's far too soon to tell if the prototype is an accurate prediction of housing's distant future, it's certainly one possibility.
"We're already seeing homebuilding move slightly in this direction," Eastman says. "More walls, roof and floor systems are preassembled away from the job site than ever before, and our engineered wood products are well suited to serve this emerging trend."