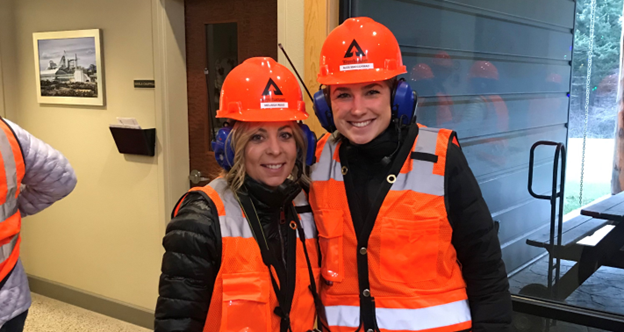 Alex (right) at one of our wood products mills in 2019.
As customer service manager for engineered wood and OSB, Alex MacCormac is in the perfect job for a problem-solving people person.
In college, she majored in kinesiology, the study of the mechanics of body movements, and she initially wanted to be a sports coach before realizing her passion for customer service and leadership. Alex ended up taking a different track, though she finds plenty of sports parallels in her current role, which is filled with coaching of a different sort — supporting her customers through thousands of orders, rallying her team through the pandemic, and delivering a great learning experience for interns.
In fact, last year she ran the Seattle HQ summer intern program and had to get creative to give the interns a memorable experience within COVID restrictions. But Alex approached that challenge with the same resourcefulness and positive energy she uses in her everyday job. She shifted everything online and then collaborated with the leaders for Timberlands and Wood Products intern programs to offer virtual events — such as seminars led by business leaders — to interns across the company.
"I have a cool job because I get to see firsthand how big our impact is for our customers," Alex says. "I get to lead a team, foster a productive environment for them and help solve critical problems. It's very satisfying."

MEET ALEX
Your title is customer service manager. Tell us what you do.
I lead a team of nine customer service agents, and we manage the end-to-end order and transaction process for all OSB and EWP orders. This includes setting up new customers, processing orders, managing changes, and communicating with customers.

Who are your customers?
Anyone ordering Weyerhaeuser products directly from our mills or manufacturing sites goes through our team. We work with Lowe's, dealers and distributors, and our own distribution centers. We process orders for over a hundred different customers each day.

What led you to choose this job?
I graduated from Washington State University (go Cougs!) with a degree in kinesiology. However, I quickly realized I had a passion for customer service and leadership, so I moved directly into an operations role with a behavioral healthcare company managing telephonic health coaches.
Then I worked at Rover.com, which is like Uber for dog sitting. Dog owners can search online for walkers, sitters and groomers. I managed the customer service team there. It was a 20-person team when I started, and it was up to 200 by the time I left.

How long have you been with WY?
I joined the company and this team about two and a half years ago. I grew up in the Pacific Northwest, so Weyerhaeuser was a familiar name. My grandpa was a logger in Centralia, so maybe it was destiny! The moment I saw an opportunity to work here, I jumped on it.

Tell us what your day is like.
Our team enters around 90,000 orders a year with 99-percent accuracy, so we're busy. There are many things we can control but a lot of things we can't, and one of those is Mother Nature, so every day is different. There's a lot of teamwork and problem-solving. It's a collaborative group and I really enjoy working with them.

What's your favorite part of your job?
I love getting to work with such a wide variety of people. Everyone is so united and so motivated to solve problems for our customers. Getting to work with people who have a like-minded customer focus is my favorite part.

You must have some challenges. What are they?
It's important that, even with COVID, I'm able to motivate my team. I've had to work hard to get creative on how we can still engage and interact with each other, even though we're not sitting together and can't just pop over to one another's desks anymore. But it's still important that we work together to solve problems. I've set up a team video conference a few times a week, and a team chat using Microsoft Teams where we can have conversations throughout the day. These tools and resources have helped, but it's still a challenge to make sure we can thrive as a team.

Tell us something about your job that might surprise people.
We don't just collect and process orders. We're one of the first touchpoints for customers. So, when there's an issue or a problem, we have the chance to build strong relationships and use customer feedback to improve the overall experience.

What advice would you give people who want a job like yours?
You absolutely must be a people person! If you enjoy interacting with other people, customer service is a great space to be in. You also need to enjoy solving problems. No two days are ever the same, so you have to be able to adapt and embrace change.

What are your career aspirations?
I see myself continuing to grow within Weyerhaeuser, within my manager role and within our supply chain organization. I want to continue to build on my leadership skills and eventually pursue my MBA.

What does your work area look like?
Like almost everyone at HQ, I now work from home. I am lucky that I have a home office space; my significant other is working from our kitchen table. I have a bit of an obsession with sticky notes — to-do lists and things — so I have sticky notes everywhere. There's just something about hand-writing notes that creates a memory for me.

When you were young, what did you want to do?
I was interested in anything to do with sports. It's still a big part of my life, and I make exercise a priority every day. I'm even a certified personal trainer.

Tell us about your other interests. What do you like to do when you're not at work?
I enjoy traveling and trying new activities. Last year I went fly fishing in Alaska for the first time, and it was a real adrenaline rush. I'm also a big foodie and enjoy exploring new restaurants. I love anything that's covered in cheese, so it's probably a good thing I exercise!
​