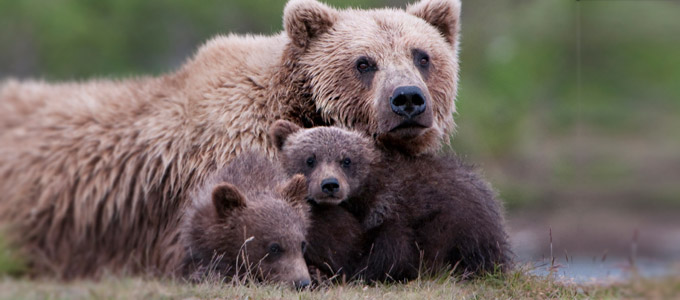 When central Alberta's Foothills Research Institute began its grizzly bear studies in 1998, Weyerhaeuser became a core supporter of the program.
As in other parts of North America, bear populations were rapidly declining, and company managers wanted to better understand how forestry practices in the Pembina Timberlands area affected the big carnivores.
"Grizzly bears represent something special to Albertans," says Wendy Crosina, wildlife biologist and Weyerhaeuser's forest stewardship manager for Canada. "But despite their size and fierceness, they're highly sensitive to disturbances in their habitat."
Listed as a threatened species in Alberta, grizzlies in the province have dropped from an estimated 1,000 bears in 2002 to less than 700 today.
Adjusting our methods
Working with population and movement data gathered by the Foothills group — whose goal is to advance sustainable resource management across Alberta — Weyerhaeuser began exploring ways to alter forestry practices to benefit the bears.
"Interactions with humans are clearly an issue," says Crosina. "Bears are attracted to young vegetation in newly harvested areas, and they use our roads for traveling and feeding. But that exposure makes them more susceptible to getting hit, shot or poached."
To prevent that, the company reconfigured roads to minimize line-of-sight issues. It created in-block tree-retention patches for refuge and safe corridors and adjusted its harvesting plans to better accommodate seasonal bear habitat.
More research in the works
Now Weyerhaeuser is collaborating again with the Foothills team to learn if those management techniques have worked and to explore further adjustments.
Known as the Pembina Grizzly Bear Project, the six-year study began in 2013 with researchers gathering data to compare with previous population studies. Throughout the summer, the research team gleaned DNA information from hair snags collected in the area and movement data from eight bears that were trapped and outfitted with state-of-the-art satellite collars. While they were tranquilized, the grizzlies also were checked for age, overall health and stress levels.
"We're using the data as a pre-harvest baseline and to inform our design," says Crosina. "After harvesting, we'll again collect hair snags and check GPS data on the collars to learn the bears' travel routes and see how they respond to conditions in our working areas."
The group plans to carry out the same process every two years throughout the study. Both Weyerhaeuser and the Foothills Research Institute are excited to analyze the data, which will further help land managers maintain and restore habitats while sustaining working forests.
"I'm hopeful we've made strides as we've readjusted our practices," says Crosina. "It's gratifying to work with the folks in our Pembina operations who've been so supportive of this work."
Economic and social balance
In addition to the ongoing grizzly bear studies, Alberta Timberlands is also involved in collaborative research projects to better understand the effects of forestry practices on other at-risk species such as caribou and the barred owl.
"Weyerhaeuser has strong stewardship values," says Crosina. "We also have a commitment to our shareholders. That challenge motivates me to show people that we're achieving a positive balance and have everything to gain by living our principles."