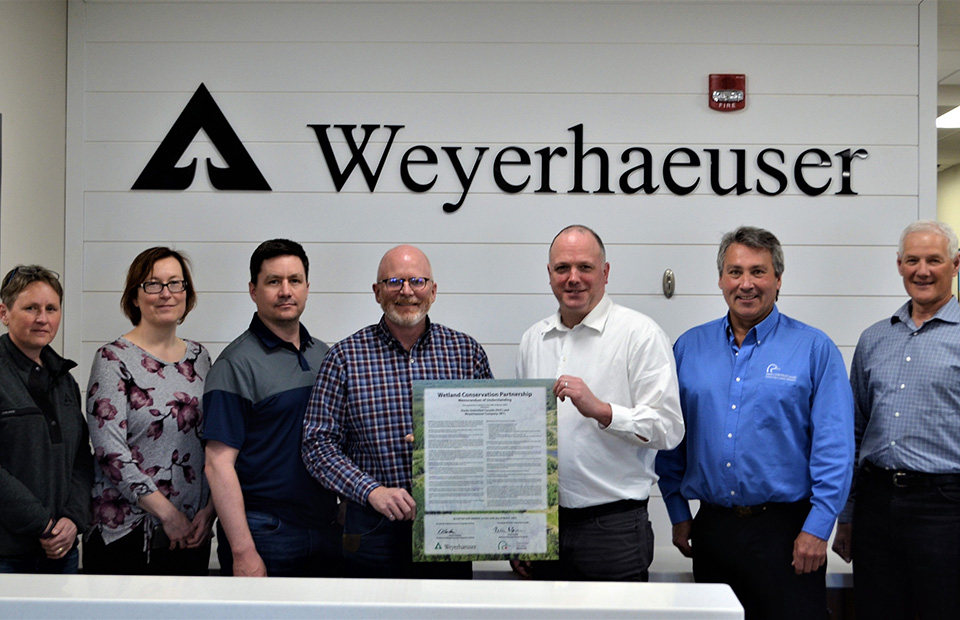 Weyerhaeuser and Ducks Unlimited Canada partners pose after signing the new MOU. Left to right: Wendy Crosina, director of forest sustainability at Weyerhaeuser; Bev Gingras, head of Boreal Conservation Programs at Ducks Unlimited Canada; Dana Quartly, Weyerhaeuser Grande Prairie Timberlands general manager; David Graham, president of Weyerhaeuser Company Limited; Kevin Smith, national manager of Boreal Programs for Ducks Unlimited Canada; Alain Richard, head of conservation partnerships at Ducks Unlimited Canada; and Fred Dzida, outgoing president of Weyerhaeuser Company Limited.
In Canada's western boreal forests, ducklings literally rain down from the treetops during the spring waterfowl breeding season.
Every year, 12 to 15 million ducks nest in this 1.4-billion-acre swath of wetlands and woodlands stretching from Alaska to Newfoundland, including some of our timberlands operating areas in Alberta, British Columbia, Saskatchewan and Ontario.
While many duck species nest along the edges of the water, others — such as buffleheads, goldeneyes and wood ducks — use tree cavities carved out by woodpeckers. Their ducklings jump up to 40 feet out of their nests before their first attempts to fly.
They're just one of many reasons to be extra careful about how our operations affect sensitive wetland areas.
Since 2006, our Canadian Timberlands team has been working with the nonprofit environmental organization Ducks Unlimited Canada to help preserve these habitats through collaborative, sustainable solutions. In March, we formally signed a five-year Memorandum of Understanding to demonstrate our continued long-term commitment to this partnership.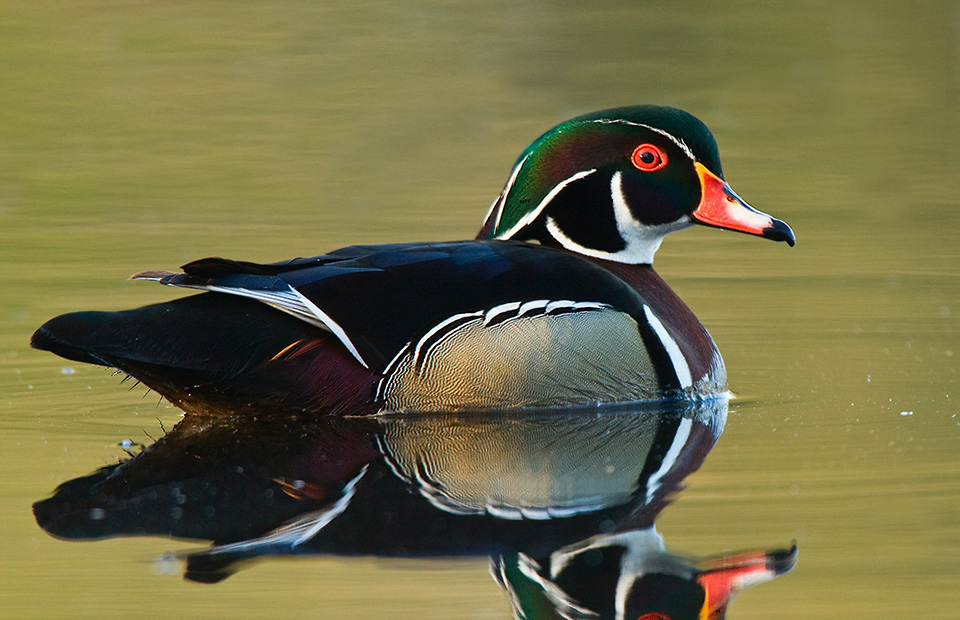 More than half of North America's mergansers, ring-necked ducks, scoters, goldeneyes, buffleheads, scaup, green-winged teal and other species are raised in Canada's boreal forests. More than 100 million acres of surface water and 150 million acres of peatlands offer water, nutrients and nesting areas. Photo ©Dennis Buchner, DUC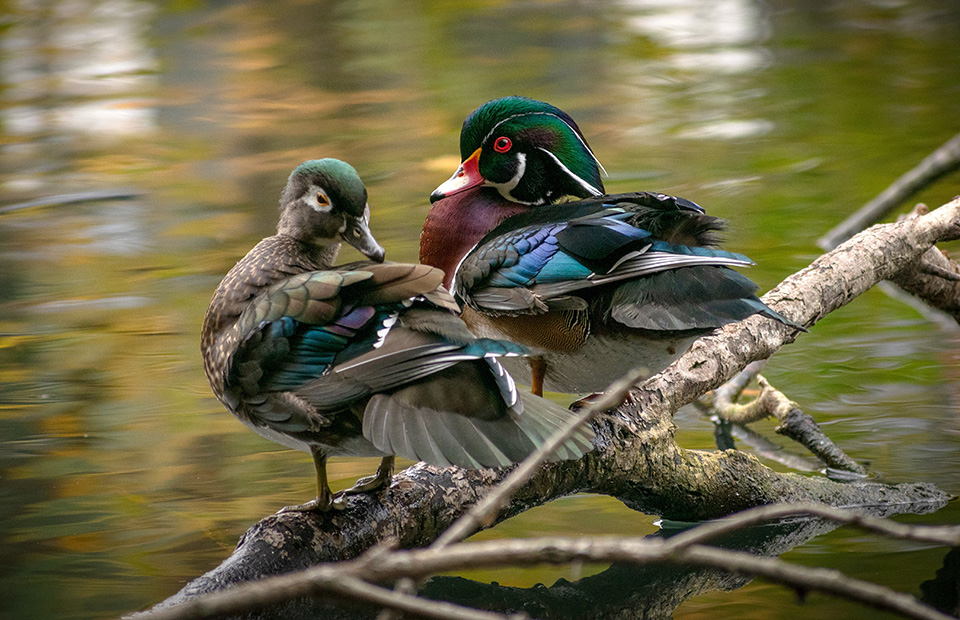 Wood ducks like these are among the many species that nest in the boreal region.
Photo ©Marc Sison DUC
ADVANCING WETLAND STEWARDSHIP
Roughly 90 percent of Canada's boreal forests — which occupy high-latitude regions and are known for shorter growing seasons and long, cold winters — are considered public land and are regulated by the provincial and federal governments. Forestry companies are allowed to operate on these lands under long-term tenure agreements. These agreements include adherence to provincial regulations that guide how companies manage these landscapes in a sustainable way. In return for timber harvesting rights, Weyerhaeuser helps to keep forests as forests, support job creation and contribute billions of dollars to the regional, provincial and national economies.
"Working with Ducks Unlimited Canada helps us meet rigorous Canadian forest management regulations and policies," says Wendy Crosina, director of forest sustainability for our Canadian Timberlands. "As a company, we have a great responsibility to take care of the land and ensure our forests are healthy, resilient and sustainable."
Healthy boreal forests and wetlands are crucial not just to sustain our industry, but also to maintain water quality, help regulate the global climate and provide habitat for wildlife — including those millions of waterfowl.
"Weyerhaeuser stands out as a leader in the industry, giving us lots of opportunities to achieve a collaborative, solutions-oriented approach to conservation," says Kevin Smith, national manager of boreal programs at Ducks Unlimited. "Wendy is a key driver in this partnership, and we're grateful to her and the entire company for all their great work."
A HISTORY OF SHARED VALUES
Our partnership with Ducks Unlimited Canada began more than 16 years ago with an initial Memorandum of Understanding, which included five years of funding for collaborative projects to protect the boreal forests and wetlands, and it has continued to expand ever since. In 2015, we joined the Forest Management Wetland Stewardship Initiative, a unique partnership between Ducks Unlimited Canada and seven forestry companies in Alberta working together on common goals.
FMWSI allows the forest sector to take a lead role in wetland conservation, with expert assistance from Ducks Unlimited Canada. The partnership has created three guides of practical information for employees and contractors of the participating companies that are based on a set of best management practices, training materials and educational programs that put those guides to work.
"We're setting up a field tour with Ducks Unlimited Canada employees so they can see how we harvest, build our roads and incorporate wetlands in our forest planning," Wendy says. "In turn, they will talk to our operational staff about the importance of wetlands and demonstrate how various wetland classifications work. We'll also have some classroom learning components."
We've also participated in the development of a new Wetland Interpretive Center at Evergreen Park in Grande Prairie, Alberta. It offers hands-on, outdoor training, research and demonstration to industry professionals, educators, students and the general public, and is the first of its kind in Canada.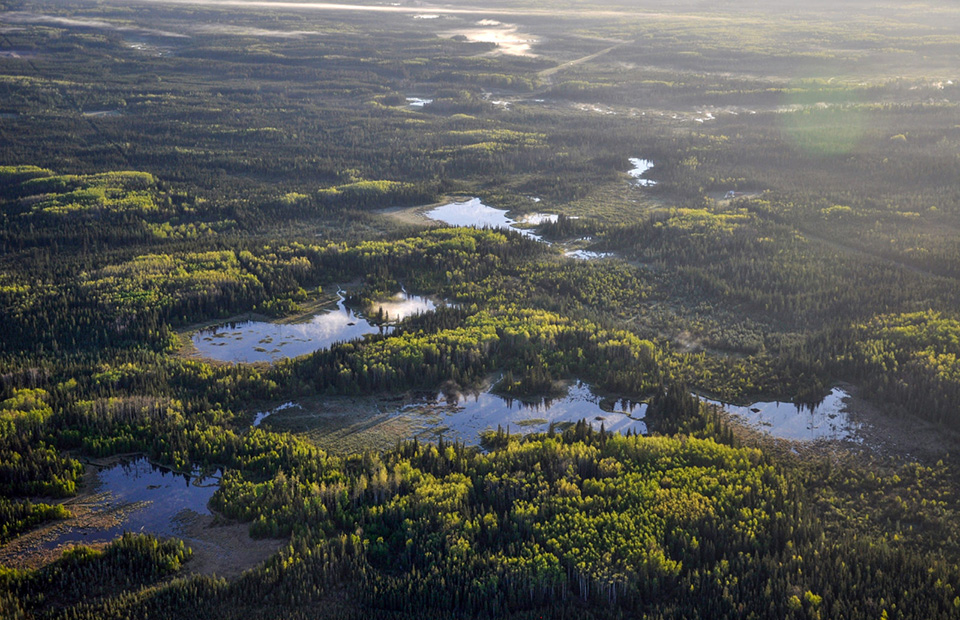 Ducks Unlimited Canada is a wetland and waterfowl conservation organization established in 1938. The National Boreal Program, which began in 1997, focuses on boreal regions hosting high numbers of waterfowl species. Boreal forests occupy high-latitude regions and are known for shorter growing seasons and long, cold winters. Photo ©DUC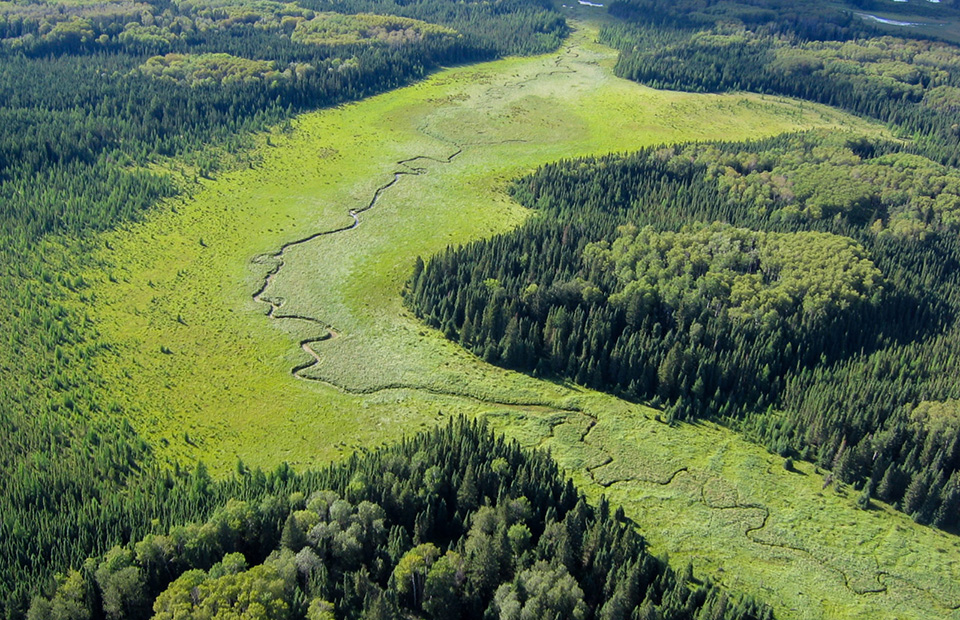 In 2015, DUC awarded our commitment to conservation with a Diamond Legacy Recognition Award, which recognizes organizations and individuals who provided donations of $1 million to $1.99 million. Photo ©DUC
A NEW ERA OF WORKING TOGETHER
Our newest Memorandum of Understanding with Ducks Unlimited Canada commits to funding a five-year partnership to provide our foresters with crucial data and information to enhance our sustainable forest management practices in duck habitats.
"Ducks Unlimited Canada wants to learn more about forest management, and we want to learn more about wetlands, so it's a mutually beneficial partnership that allows us to lean on each other's expertise," Wendy says. "This MOU expands upon and enhances our work with FMWSI so we can take it even further."
"This partnership reflects the shared values that both DUC and Weyerhaeuser hold, ensuring that conservation is top of mind and that important habitat is conserved throughout our Canadian landscape," Larry Kaumeyer, chief executive officer of Ducks Unlimited Canada, said in a press release. "Weyerhaeuser embraces the use of best management practices, conservation leadership and knowledge-sharing supporting our common interests, as well as the integrity of the land. We are delighted to enter this agreement with them."
The signing ceremony was held at our Grande Prairie Timberlands office. Dave Graham, new vice president of Canadian Timberlands and president of Weyerhaeuser Company Limited, and Fred Dzida, retiring vice president of Canadian Timberlands, joined Kevin Smith, national manager of boreal programs at Ducks Unlimited Canada, to make the agreement official.
"We're excited to sit down with Ducks Unlimited staff, put our heads together and map out the next five years of this collaborative partnership," Wendy says. "Some of it will be extensions of our FMWSI projects, such as an initiative to do an inventory of carbon stored within wetlands on our tenured lands here in Canada."
It will also include a Wetland Stewardship Report, which will identify areas for future collaboration and knowledge-sharing.
"This is a really exciting step forward, an innovative way for an ENGO and industry to work together, find solutions and apply them to real everyday scenarios," Kevin says. "We're learning about what the industry needs and helping forest companies achieve sustainability goals, so everyone is gaining something of value."