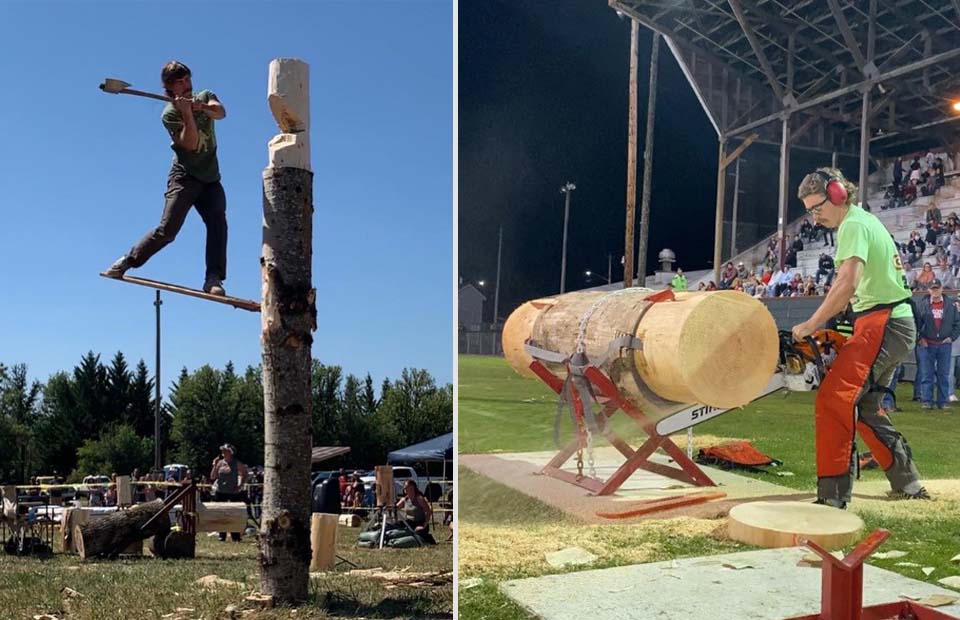 Sawdust flies, axes spin through the air and beefed-up chainsaws squeal through massive logs. Lumberjack competitions are often loud and exhilarating, giving pros and amateurs alike a chance to show off their skills and test their strength in front of a roaring crowd.
For Colin Towne, they're also a great way to build community in a new place. When Colin moved to Aberdeen, Washington, in 2018 to join our Timberlands team as a forester, he jumped right into the local Hoquiam Loggers Playday competition.
As it turns out, he's good. Really good. Colin took Hoquiam's top honors two years in a row, winning All-Around Local Logger in 2019 and 2021 (the event was canceled in 2020 due to Covid-19.)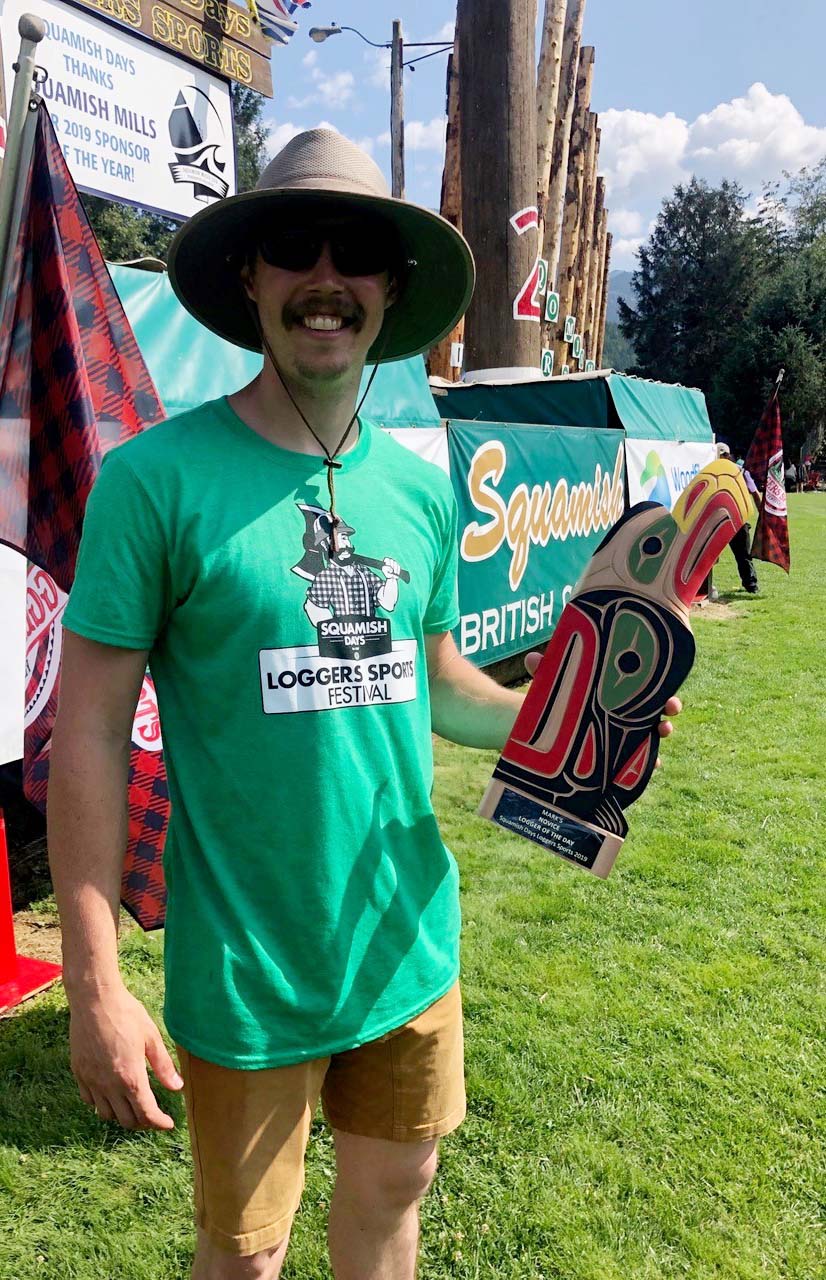 Colin Towne, a forester based in Aberdeen, Washington, was named Novice Logger of the Day at the Squamish Days Loggers Sports Festival in British Columbia, Canada, in 2019.
AXE-SWINGING AFICIONADOS
"I love the physicality of it," Colin says. "Swinging an axe really hard is so satisfying. But the main thing that keeps me coming back is the community. You see the same competitors at many of the shows, and they're very kind, welcoming and willing to share their knowledge. I've made some great friends."
Born and raised in San Diego, California, Colin first got into logging competitions as a forestry student at Northern Arizona University. Moving to Washington to work for Weyerhaeuser pushed him to get more serious about competing.
"The Pacific Northwest has a huge logging competition scene, with local and regional events all over," Colin says. "I've participated in at least 20 of them over the last three years."
The competitions are rooted in the real history of logging in America and abroad. As the story goes, workers in logging camps placed bets on who could chop wood the fastest, which then led to more and more outlandish challenges. Though many events at today's competitions resemble old logging practices, others are just for fun.
ROLLING, CLIMBING, HACKING, SAWING
Colin tries to participate in every event, including boom running, axe throwing, log chopping, pole climbing, tree topping and manual cross-cut sawing.
Boom running requires the competitors to sprint across floating logs, and log rolling involves trying to topple an opponent while balancing on a floating log. For "hot saw," competitors rig up ultra-powerful custom chainsaws using engines from dirt bikes or snowmobiles.
"As wild as some of the events might look, we take a lot of safety precautions, just like we do at work," Colin says. "We have specialized personal protective equipment and go through training to make sure we know how to use the tools properly."
And while brute strength can get you far, Colin's found it takes technique and agility to excel. He practices constantly and keeps an arsenal of saws, axes and chainsaws properly sharpened and maintained.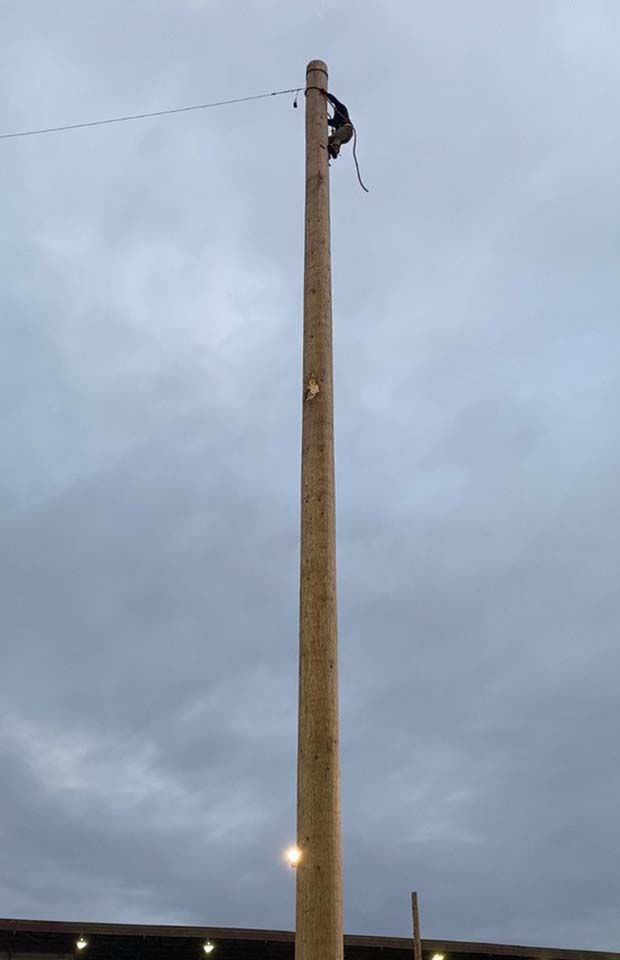 Colin makes it to the top of the pole at the 2021 Loggers Playday pole climbing event.
THE CROWD GOES WILD
"The best thing about Hoquiam Logger's Playday is how many locals show up to participate," Colin says. "Last time, I spotted several of the contractors I work with. I also convinced one of my fellow foresters, Stephen Davis, to compete, which was really fun."
The event draws large crowds to Hoquiam's Olympic Stadium, some of whom might not be familiar with the industry. The competition kicks off with the Hoquiam Elks Parade, which winds through downtown to show off historical logging equipment, and other events include a fireworks display and a light show. Local high school students are even chosen as "Playday Court Royalty."
"Fun events like this can help draw young people into careers in forestry or natural resource management," Colin says. "I hope they see us and think, 'I want to be a part of that.' Logging competitions are a great time to network and get to know people in the industry — just get in there, talk to people, let them know you're interested and follow the opportunities."