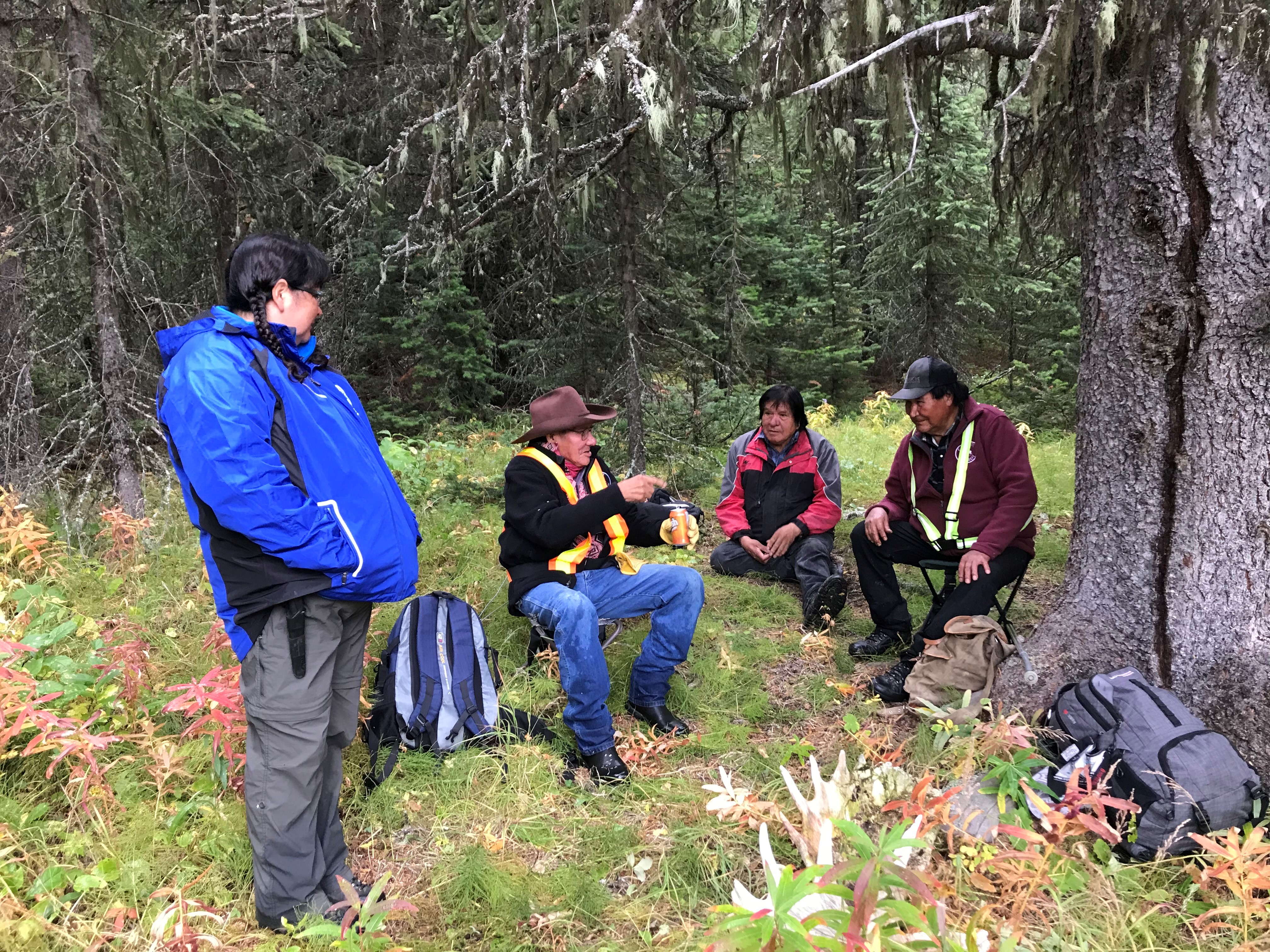 Former AWN project co-manager Vivian McDonald listens to Tommy Wanyandie tell a story in Cree with AWN Elders Billy Wanyandie and Roland Karakuntie.
In 2017, when Alberta's Aseniwuche Winewak Nation needed better methods for tracking and documenting cultural heritage sites, our Alberta Timberlands team stepped in to help fund and launch a multi-year project that empowered AWN to better preserve its history, including in the forests we manage in the province.
By the end of last year, AWN had updated its data management systems and began using a mobile app to geotag cultural sites in the field. AWN trained community members on the new data tools and began bringing Elders and Traditional Knowledge Holders into the field to visit previously flagged culturally significant sites, verifying their location and recording oral histories associated with them to preserve this knowledge for posterity.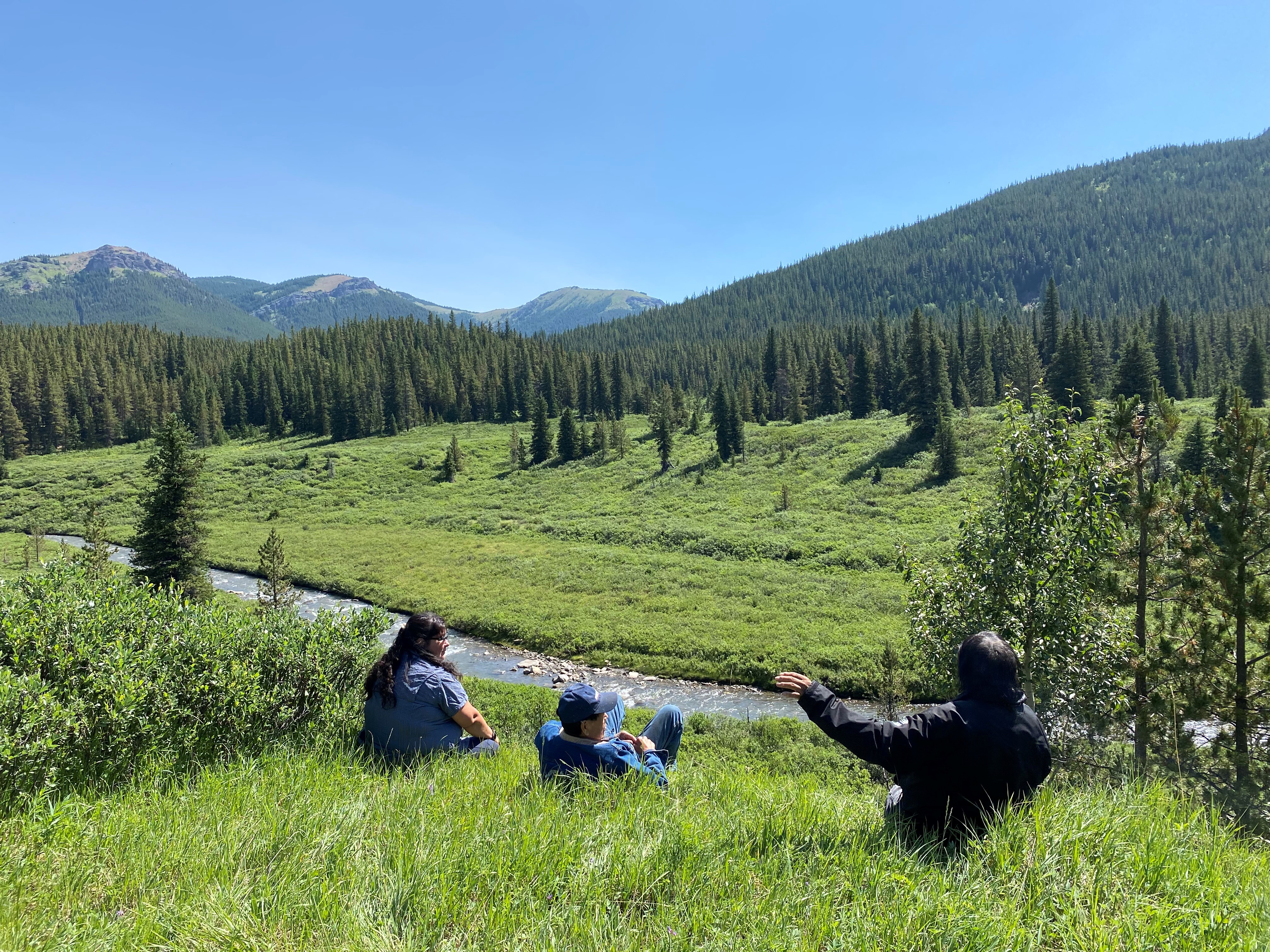 AWN Elder Billy Wanyandie telling a story in Cree to Louis Joachim and Vivian McDonald in 2021.
Funding for this multi-year cultural heritage project came from a portion of our timber harvest dues, which our Forest Management Agreement with the province of Alberta sets aside for research and improvement projects with Indigenous communities and other neighbors.
"We didn't see our participation in the cultural heritage project as a contractual obligation, but as a moral one," says Lyle Dechief, senior provincial forester for Alberta Timberlands. "Especially because it aligns with our company values, from citizenship and supporting our communities to acting with integrity and inclusion."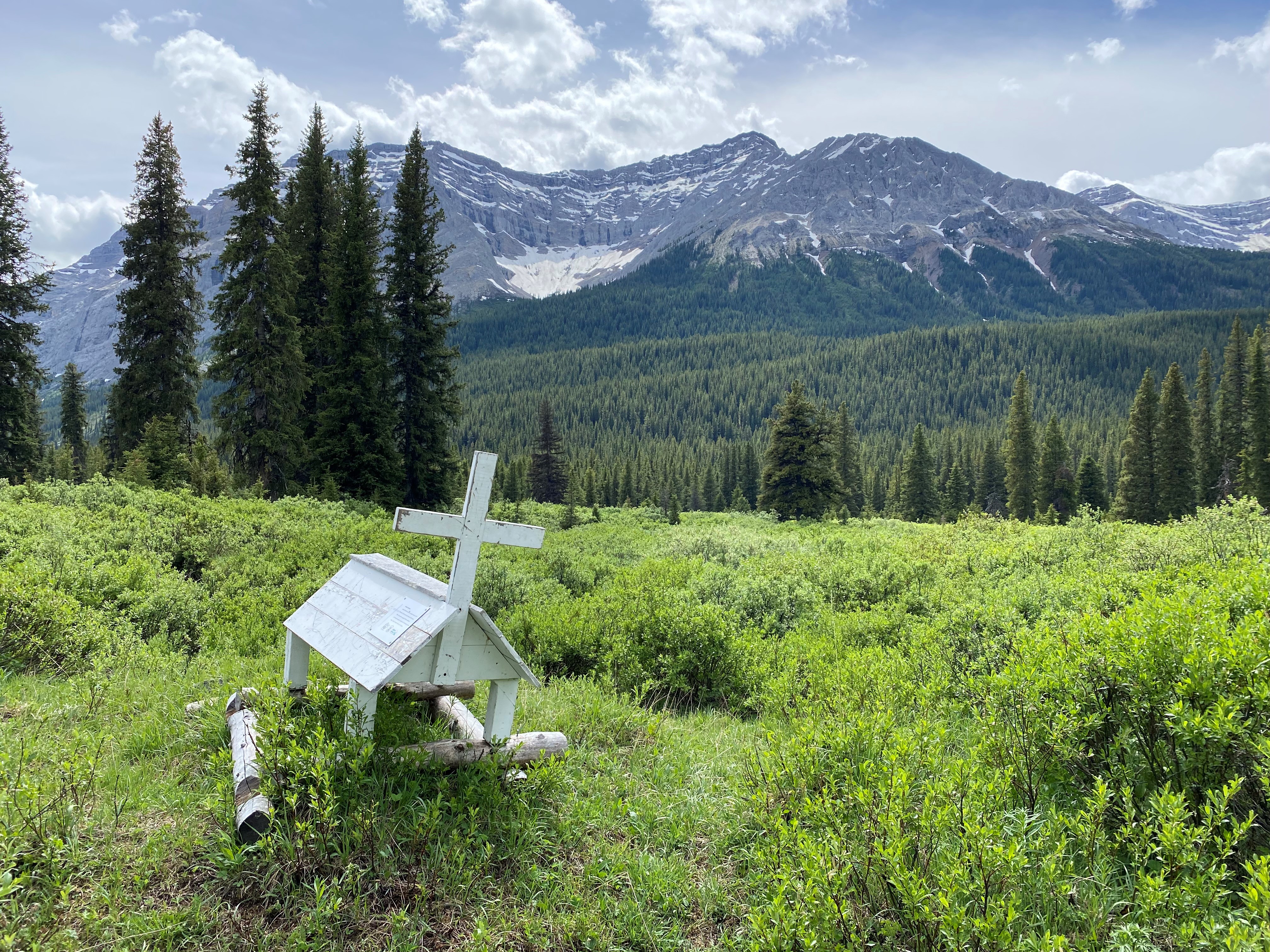 A gravesite with a spirit house. Sites like these are geolocated using a tablet in the field. As part of the traditional heritage mapping project supported by Weyerhaeuser, AWN and others, recorded oral histories, photographs and additional information is also synced to the geotagged data.
THE RIGHT THING TO DO
Lyle says our participation has been a transformational experience on many levels, from deepening relationships with our neighbors to building a better appreciation of Indigenous history and culture.
"We've enjoyed a strong relationship with AWN for more than 25 years," he says. "We've always sought AWN's input as we developed harvest plans, but the documentation of some of their culturally significant sites wasn't as comprehensive or detailed as anyone would have liked."
Without that information, it was harder for the Grande Prairie team and AWN to work together on harvest planning. We consult with Indigenous peoples about our harvesting plans and take into account the cultural and spiritual significance of the land we manage. When a culturally significant site is identified, we modify our plans to avoid impacting it. That could include limiting the area of the harvest, altering harvest timing or eliminating any practices that could be disrespectful.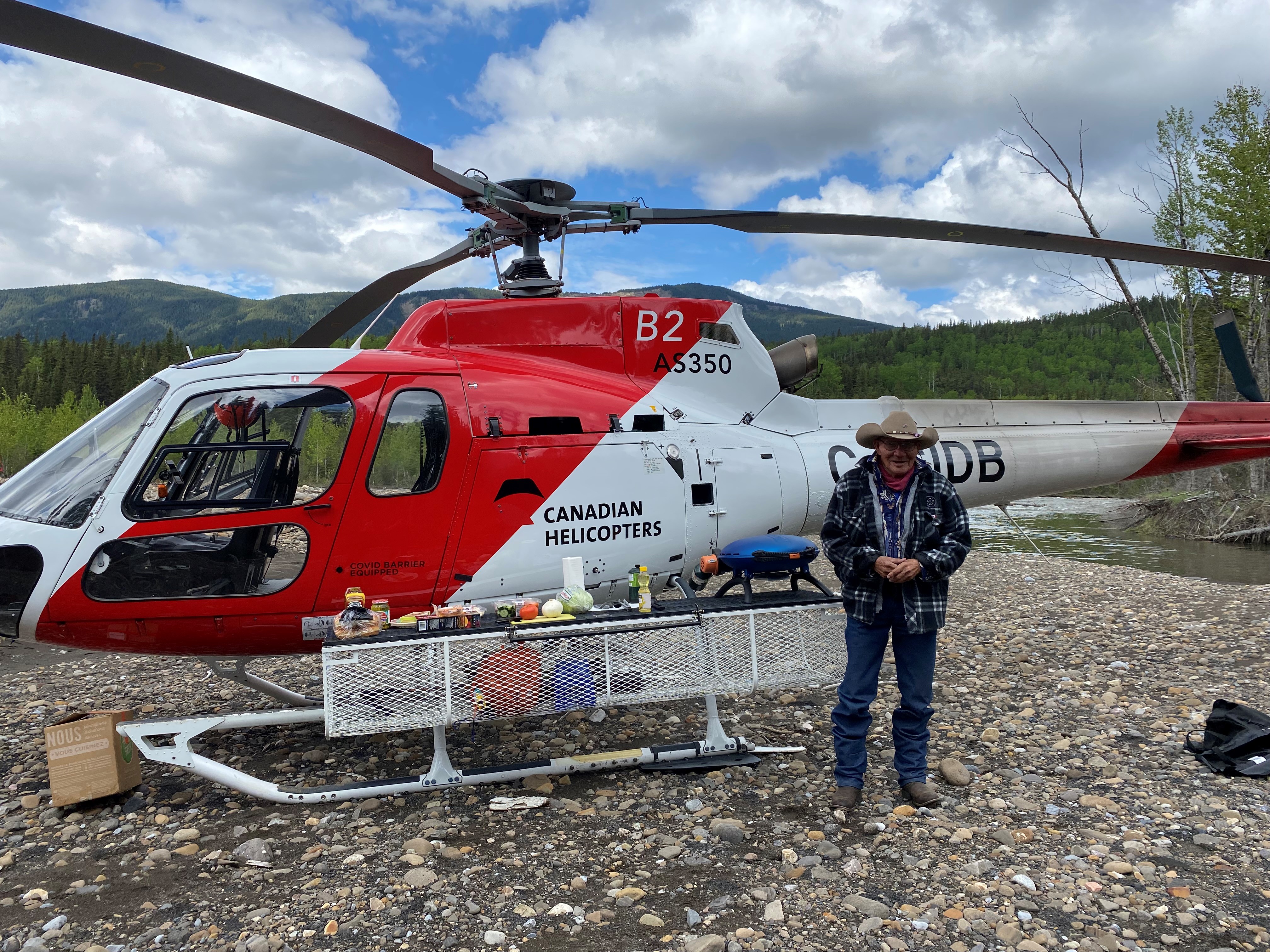 AWN Elder Tommy Wanyandie celebrates his 91st birthday on the land where he spent much of his youth. The experience of returning to AWN's traditional homelands to catalog his memories and culturally significant sites was a profound experience for him and the small crew who went with him into the bush.
Since AWN's traditional territory overlaps much of the timberlands we manage south of Grande Prairie in the foothills and eastern slopes of the Rocky Mountains, culturally significant sites aren't uncommon. The AWN community currently includes about 500 people of various Indigenous lineages native to the region, including Cree, Iroquois, Sekani, Dene, Ojibwe, Assiniboine and Shuswap peoples.
Years ago, many were forced to relocate from their traditional homelands for various reasons, including the establishment of Jasper National Park and the discovery of coal in the region. In the time since, their stories, traditions and customs began to fade from the land — until AWN's cultural heritage project created a consistent way to track and record this knowledge.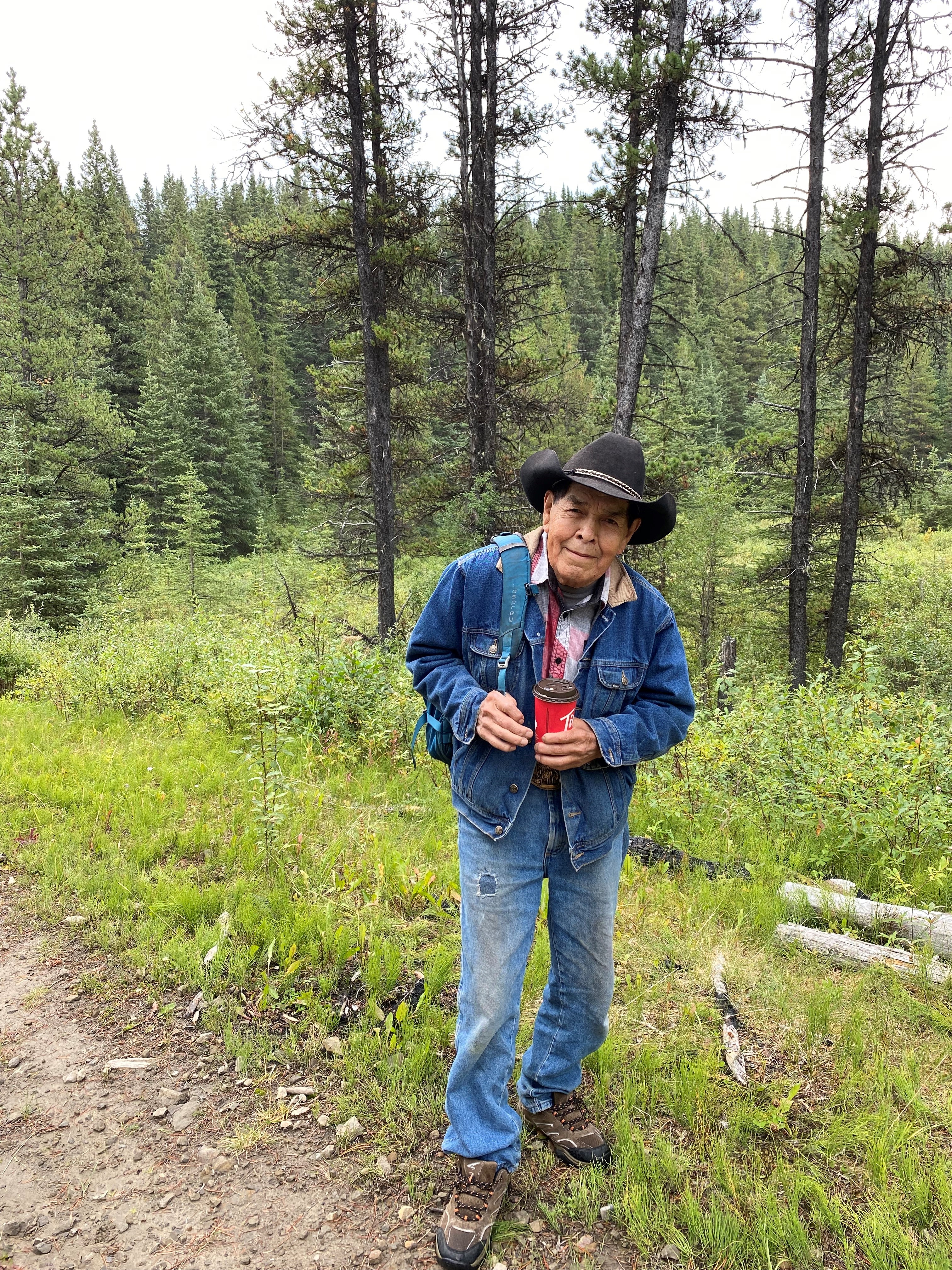 During one field visit, AWN Elder Louis Joachim directed the helicopter to his birthplace despite not having visited the remote area for years.
A DEEPLY MOVING EXPERIENCE
AWN Elders such as Tommy Wanyandie are now chronicling their stories for posterity in AWN's databases. On June 15, 2022, Tommy celebrated his 91st birthday out on the land. Tommy spent much of his youth hunting, fishing and trapping on and around the land we now manage in Alberta. Although he hadn't been back in decades, he was able to pinpoint a tree bearing his initials.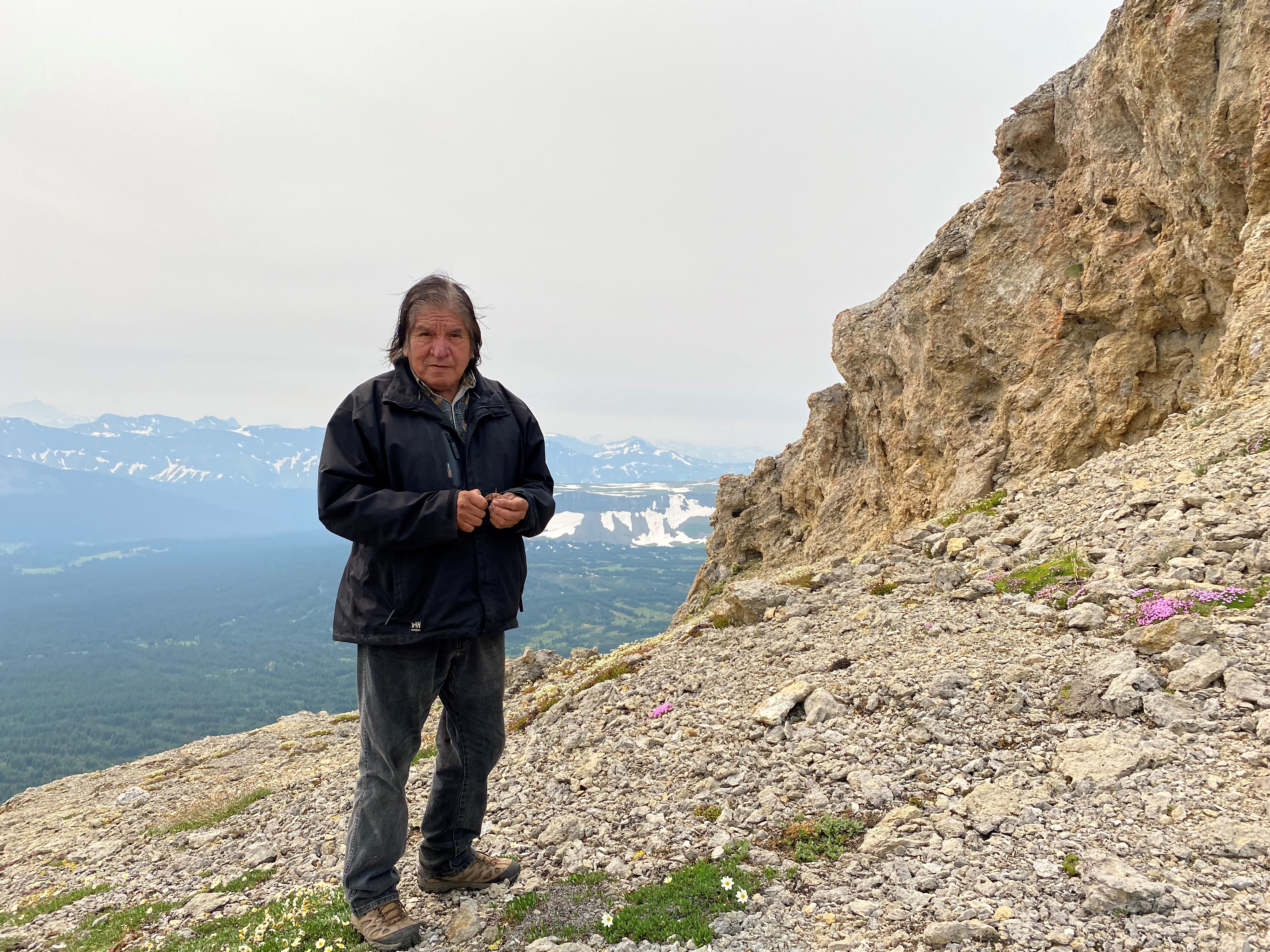 AWN Elder Billy Wanyandie, who died of COVID-19 in October 2021, played an invaluable role in the team's heritage mapping. The project helped catalog his insights, memories and knowledge before his death. He is pictured in the Willmore Wilderness Park, adjacent to Weyerhaeuser's Forest Management Area south of Grande Prairie, Alberta.
The homecoming brought tears to the small group who were there to record Tommy's stories, including project co-leader Chantelle Bambrick. Chantelle is an integrated land management technician with the Foothills Landscape Management Forum, a consortium of energy and forestry companies and others — including Weyerhaeuser and AWN — committed to integrated land management. Chantelle and her AWN colleagues helped coordinate the field visits.
"Bringing Elders back to places they haven't been in decades is both beautiful and heartbreaking," Chantelle says. "You can see how much it means to them to share their stories, their history of living on the land, their memories — which sometimes lead them to start singing in native Cree — their deep connection to these places, the land and everything on and in it."
So far Chantelle and her team have visited more than 150 culturally significant sites, including graves, abandoned camps, sacred places, culturally modified trees and more. Those sites are now all tracked in AWN's heritage database, making it easier than ever for our teams to respectfully plan harvest, thinning and treatment activities.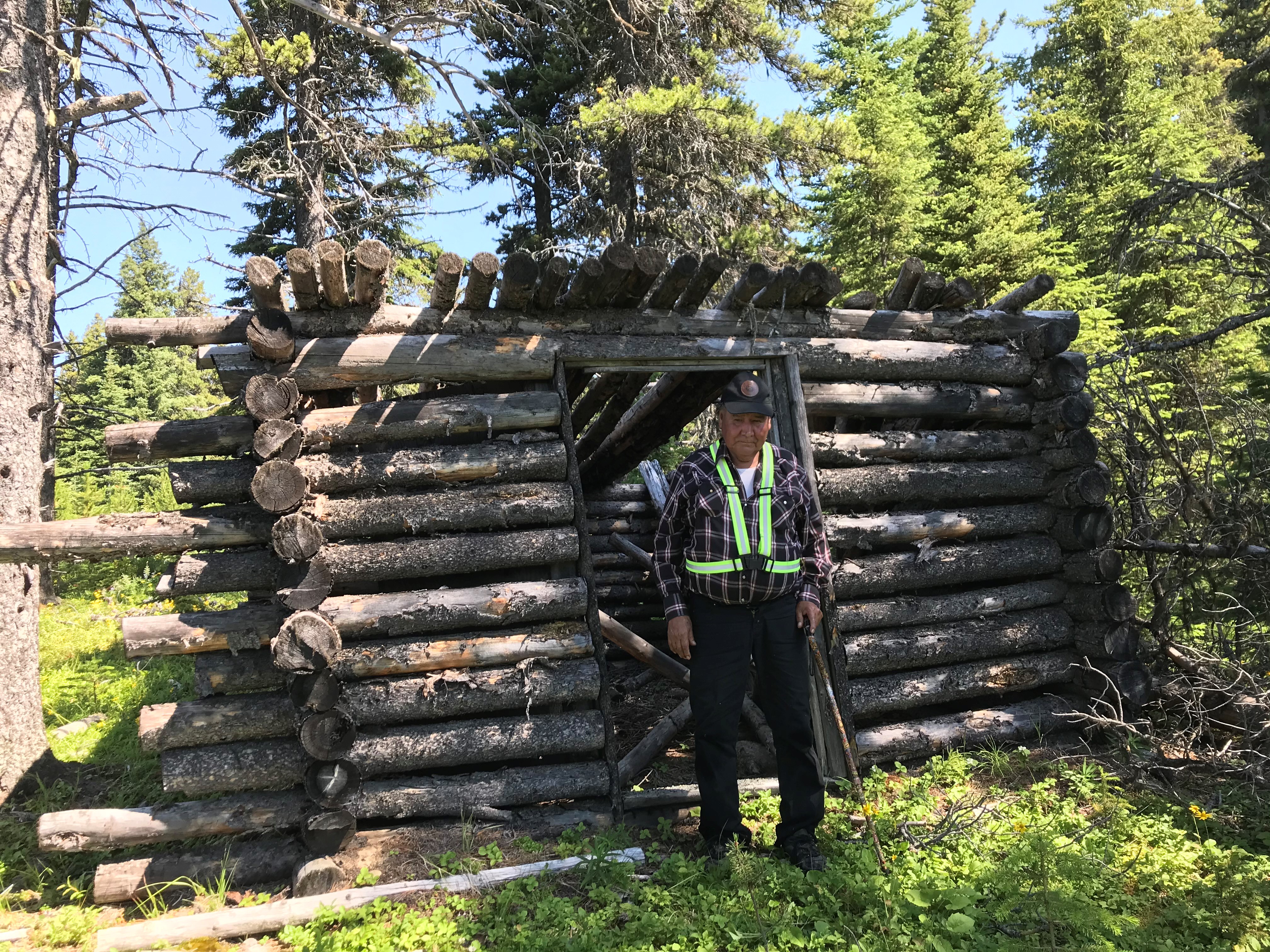 AWN Elder Roland Karakuntie stands in front of a cabin he built many decades ago for hunting and trapping.
CONNECTING PAST, PRESENT AND FUTURE
"It is difficult to find the words to describe how meaningful the project has been to our community," says Vivian McDonald, who was AWN's project co-leader at the time. "From our Nation's perspective, the project has bolstered our database with new sites and ensured our data has accurate site locations."
But another benefit is perhaps even more impactful: Creating a legacy that connects past, present and future generations.
"Our Elders never dreamed they would return to some of the areas where they lived, played, trapped, hunted, fished, guided and lived with their families," Vivian says. "They would sit and tell of what they did, who they were with, the games they played and general daily activities with such clarity that it takes the people listening back in time to see the land through their eyes."