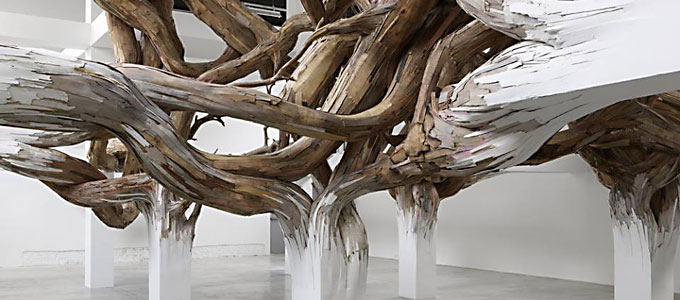 We're posting the most interesting things we can find that are somehow still relevant to our wood products customers over on our Twitter and Facebook accounts. If you're not following, you're missing out. Check out some of these heavily-liked posts from the past month.
The Forest Returns
Recently installed at the Palais de Tokyo in Paris, this gigantic knot (seen above) was constructed by Brazilian artist Henrique Oliveira who is known for his near complete organic transformations of interior and exterior spaces. The work depicts an architectural grid of columns and support beams that seem to morph into a chaotic tangle of branches or roots
Parallam Under Your Plate
How about this for a lunch spot? The Dish, a newly-opened restaurant in Boise, ID, uses Parallam to create an impression on diners.
Wood Gives a Jolt
Environmental concerns have inspired scientists to develop new technologies from unexpected material resources. One example is a battery made from the wood fibers of yellow pine trees, which was developed at the University of Maryland.
Follow this blog and our Twitter and Facebook accounts for posts — like a wood battery — guaranteed to get a charge out of you.