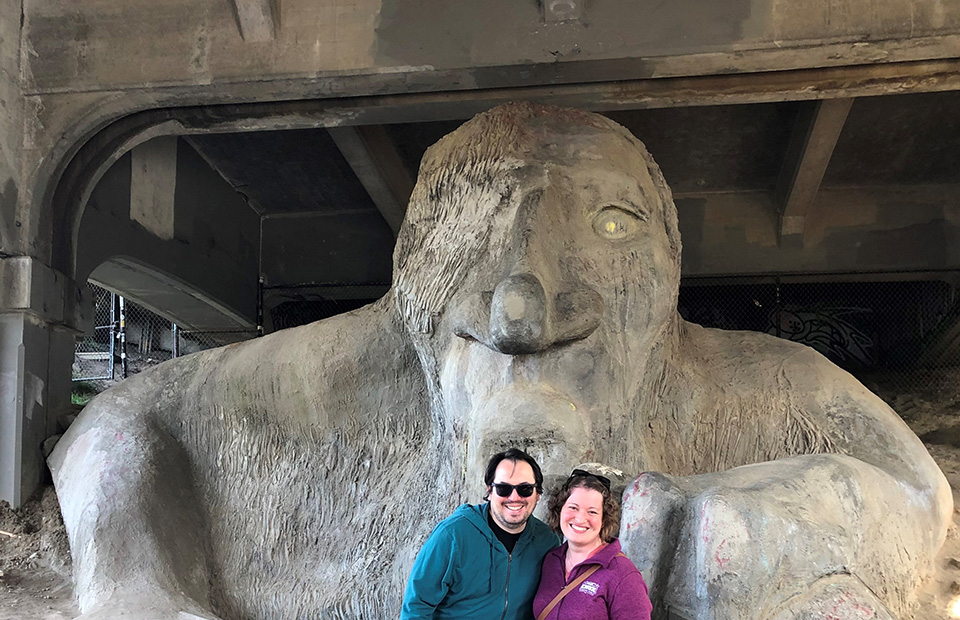 Malissa and Ragan, both Puget Sound natives, at Seattle's Fremont Troll statue.
From early in her childhood in Lake Stevens, Washington, Malissa Webber knew she wanted to work with words. By high school, she was already penning her first fantasy novels, and in 9th grade she won a national Scholastic Art and Writing Award for one of her short stories — the first of several writing awards she would win over the next few years. Malissa went on to study creative writing and French in college in Illinois and then later earned a master's in creative writing.
Malissa eventually moved back to the Seattle area and started looking for local writing and editing opportunities. She dipped her toe in a number of writing or writing-adjacent roles — rating romance novel covers and doing copyright reviews for Amazon's self-publishing division, then writing marketing copy for Scholastic and Disney books across Amazon's site; editing hotel descriptions for Expedia and then French translations and operational communications for Starbucks — but nothing fully satisfied her passion for storytelling.
Then in early 2017 Malissa saw a posting for an Internal News Editor/Communications Manager position with Weyerhaeuser that finally sounded like a perfect fit. The job description blended storytelling, editing and managing a publication calendar. Plus, Malissa was familiar with Weyerhaeuser from her childhood and remembered seeing the "planted in" signs along highways and measuring her life by the trees.
"My first daughter was six months old at the time," she says. "I wanted to stay in the workforce, but I'd been questioning my career. If I was going to leave my tiny human in someone else's care for nine hours a day, I needed to be doing a job I loved for a company doing real work to make the world better for her generation. When I saw the Frederick Weyerhaeuser quote about how what we do is not for us, but for future generations, engraved right there in the lobby wall at our Seattle HQ, I knew I'd found the right place."
The Frederick Weyerhaeuser quote engraved in the Seattle HQ lobby wall. Malissa says she has an odd history of having things spilled on her during interviews and then getting the job. She had food spilled in her lap at Amazon, tea spilled on her notebook at Starbucks, and a good dousing of water at the start of her Weyerhaeuser interview after bumping into Megan Marleau, who was a recruiter at the time, while walking into a conference room at HQ.
Five years later, Malissa has helped produce more than 1,300 internal news stories — following leads, assigning, interviewing, wrangling photos, writing and editing hundreds of articles to help capture the Weyerhaeuser story each week. It's only fitting, then, that we should turn the tables and feature Malissa to celebrate our 100th Cool Jobs profile!
"This is my dream job," Malissa says. "I get to work at a well-established company that I've known my whole life, and I get to find, tell and edit fascinating stories. And I'm always learning. It's all my favorite things combined."
Malissa and Ragan visit Malissa's alma mater, Knox College in Galesburg, Illinois, for her 10-year reunion in 2017. This June would be Malissa's 10-year reunion for her MFA in Popular Fiction from the University of Southern Maine's Stonecoast program.
MEET MALISSA
Your title is internal news editor. Tell us what you do.
I manage our internal news site, Roots, and our employee app. A key part of my job is to track down interesting stories while balancing coverage between business units and locations and the diversity of people we're featuring. I do a good bit of writing myself, but I also manage three freelance writers and have a couple of team members who write stories on occasion. Our goal is to post a new story every business day, so each afternoon we publish a story on Roots and then push it out on the app — and then some of those stories get published externally on the Weyerhaeuser blog as well.
I like to shine spotlights into parts of the company you might not see otherwise. The idea of being interviewed can be nerve-racking or uncomfortable, but we strive to make it as painless as possible for everyone!
Tell us what your typical day looks like.
I kind of live between email, my Microsoft Planner app, Word and my editorial calendar in SharePoint to track story ideas from conception all the way to publication. I generally start by checking my email for new story ideas, submitted drafts from writers, or updates to a story out for review.
Before any story is published, I send a draft to everyone quoted in it for a review, and I track that process carefully to make sure everyone has a chance to weigh in. Sometimes that includes a few reminder emails for each person — sometimes up to eight or nine people — and then incorporating their edits to keep our Roots voice and style. It can be time-consuming, but it's so worth it to help people feel more relaxed about the idea of being featured. Our people are so humble here and want to deflect recognition, but as you get into the story you realize how much they deserve it.
I generally have six to 10 stories I'm editing or sending for review at any given time, plus a handful of fully approved stories that are ready to be published and another couple I'm writing. I also plan contests through the app and strategize around increasing users and engagement, adding site-specific channels, and using the app to its fullest potential.
What's your favorite part of the job?
I love talking to so many different people and learning about all the diverse facets of the company across our operating areas. There's so much to learn, and tons of interesting rabbit holes. I'm a word nerd, so I totally geek out on these conversations about complex stuff like tree genetics or manufacturing reliability.
What are you most proud of in your work?
Probably the Amplifying Awareness series that highlights important holidays, milestones, observances and/or awareness months for various diverse groups with historical information and employee voices. It's an opportunity to connect with employees on an intimate and vulnerable level about really important topics, and I research, interview and write each entry in the series. Seeing that coworkers are willing to open up and talk about these things at work really speaks volumes to our vision and culture. There's no other place I've worked where I can walk up to anyone and ask them to tell me what they think of Women's History Month and have them share an in-depth, personal account of their own lived experience — and then be willing to share it across the company.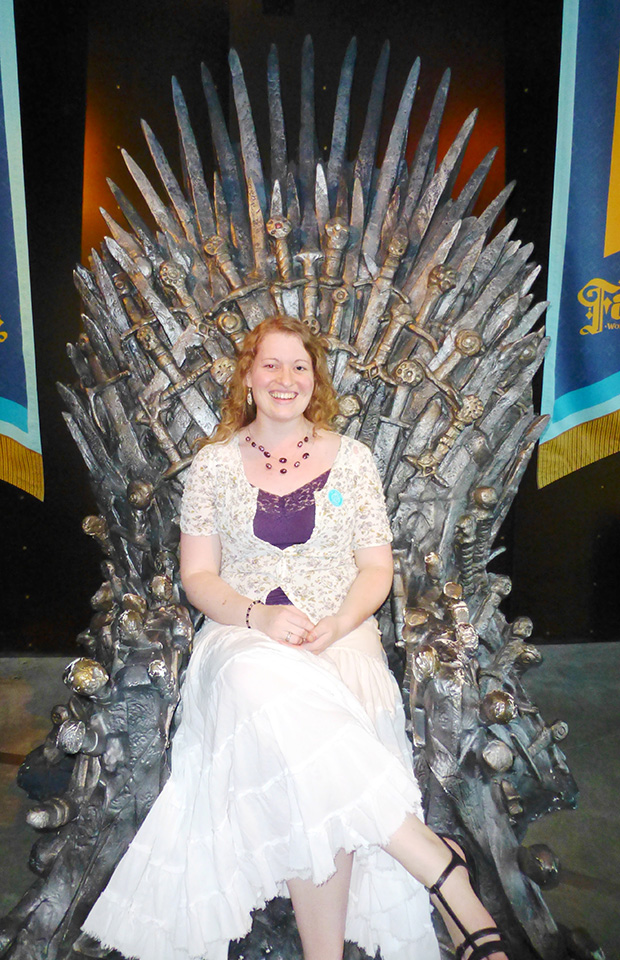 Malissa takes a seat on the Iron Throne prop from HBO's Game of Thrones series. Malissa is steadily working on her current epic fantasy novel. It's about 630 pages long right now, and she says — with typical precision — that it's 86 percent edited.
You must have some challenges. What are they?
The number of balls I need to keep in the air at the same time. There's a lot to balance and think about as stories move through the process toward publication. And even though I have an editorial calendar that's planned weeks ahead of time, it has to stay fluid. We could have a natural disaster, major announcement, any external event like that, which shifts everything in an instant.
What does your work area look like?
I share an office with my partner Ragan, and we both work from home most days so we're often in each other's video meetings. The office is between the living room and the kitchen/dining room, so it gets really loud sometimes when both kids are home. We have two young daughters — a kindergartner and an almost-preschooler — and my mom is our nanny, so we have five people in our house constantly. Our girls are big performers and love dancing and singing at the top of their lungs, so we will often be in our office and hear a Disney medley happening with "Let It Go" morphing into "We Don't Talk About Bruno" morphing into "Into the Unknown" and then "Hakuna Matata." The walls are thin, so we can hear pretty much everything. Our eldest was doing virtual kindergarten until mid-March, and my mom would have both kids run back in forth in their bedroom between Zoom sessions. It sounded like a herd of elephants above us.
Tell us about your other interests. What do you like to do when you're not at work?
I volunteer with a local parenting group called PEPS (Program for Early Parent Support), which was such a huge support to us when our kids were born. It was a great way to connect with other families with kids the same age as ours, so I started volunteering with them in 2018. I just wrapped up leading my third group, which had eight couples with their first baby. My kids also think my favorite hobby is going to playgrounds, because that's what we do, a lot. We're very lucky to live within walking distance of three really nice playgrounds, so we're always out on the weekends walking to one or the other and splashing in puddles. We love to read together as a family, and I still write novels for fun. Ragan and I love to travel, and we're looking forward to our youngest getting vaccinated against COVID so we can go on planes again!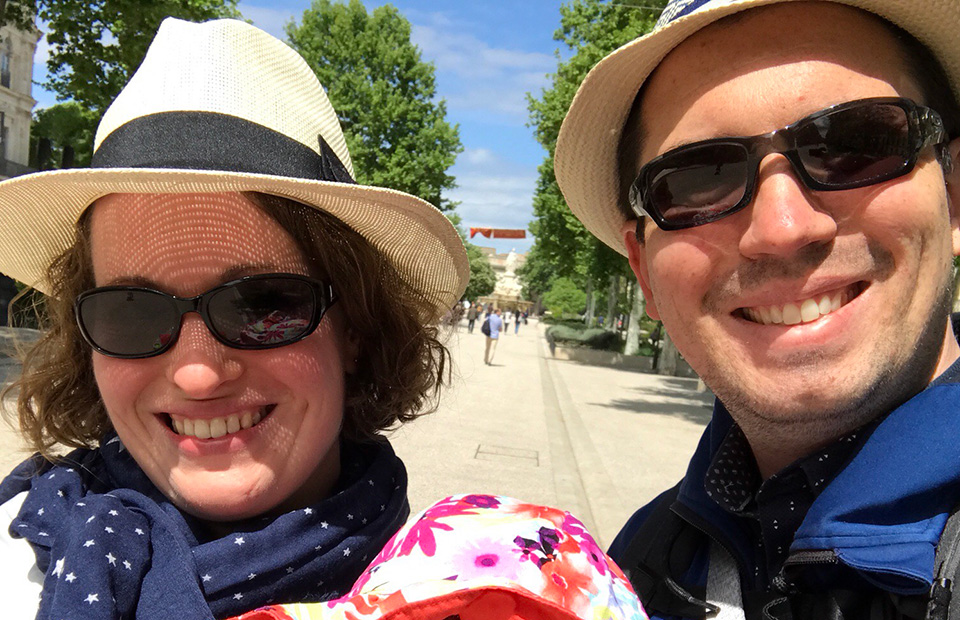 Malissa and Ragan traveling through southern France in 2018. Malissa lived in France three separate times, first as an exchange student in high school, then for her junior year of college, then for a year after college. She used to be fluent in French and says it still comes back when she's traveling.