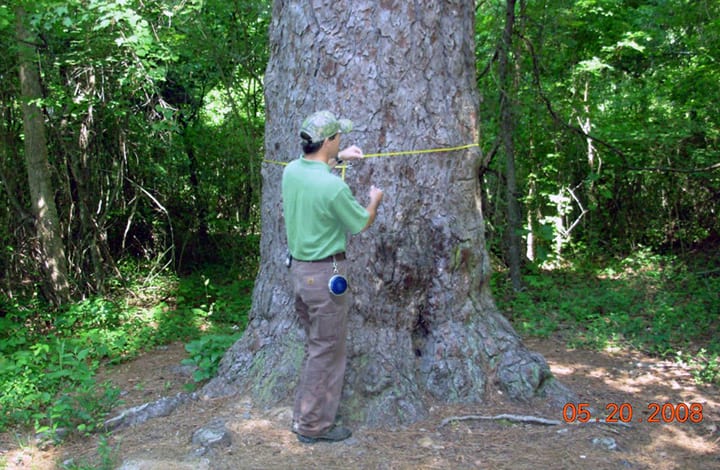 A centuries-old tree known as the Morris Pine toppled over in a recent windstorm in southeast Arkansas — an event significant enough that one of the state's U.S. Representatives, Bruce Westerman, heard and even tweeted about it.
Measuring more than four feet in diameter, the old loblolly pine was in the 90-acre Levi Wilcoxon Demonstration Forest in what's now our North Louisiana/Arkansas Timberlands. It was established in 1939 to show future generations what an uncut pine stand looked like.
But nature had other ideas.
"Some people look at a forest and assume it will always be the same," says Richard Stich, environmental affairs manager for Southern Timberlands based in Hot Springs, Arkansas. "But a forest is always changing. So Wilcoxon really ended up showing people just how dynamic forests are."
AN EVOLVING STORY
The demonstration forest's namesake, Levi Wilcoxon, began working for Crossett Lumber Company in 1902 as a water boy. He went on to become the company's forest manager and set aside this parcel to protect it as an example of the virgin pine forests in the area at the time.
But as the original pines have died or blown over, the forest composition has slowly changed. In fact, Richard estimates that 75 percent of the original shortleaf and loblolly pines are gone, though many of those remaining are over 100 feet tall.
"The hardwood brush in historical southern pine forests would've been kept down by burns, either those that occurred naturally or were set by Native Americans," he says. "Without that periodic burning, the natural succession of this habitat has been a slow conversion from pine to hardwood."
TRANSFORMATION ON DISPLAY
Today, the forest looks quite different than it did in 1939. A survey conducted in 2000 by researchers from the USDA Forest Service Southern Research Station found 27 different tree species, including shortleaf and loblolly pine, white and red oaks, elms, maple, sweetgum, hickory, dogwood and others. A follow-up study just six years later predicted that all pines in the stand could be gone within 30 to 50 years. In 2009, some of the encroaching hardwoods were harvested to open up the forest for pines to regenerate, since they need more light to grow than hardwoods.
Throughout all these decades, travelers, students and researchers have often visited the area. A small roadside park was created and a short interpretive trail was added in the mid-'70s. The recently toppled Morris Pine, in particular, was something of a local attraction.
"People would drive from all over to see it," Richard says. "The Morris Pine was an incredible example of the potential that a tree can achieve if given the right soil and enough time. It was humbling to stand next to it. We lost the opportunity for people to have a connection with a tree that had reached the pinnacle of its growth."
That's not the only change Wilcoxon has seen recently. The roadside park had to be removed as part of the state's effort to widen the adjacent highway. Once construction is completed, the local Timberlands team will evaluate the site for next steps.
"It's a unique area, with special attributes that can't be replicated," he says. "An area like this can help people understand how forest communities change over time. We have other special sites, but this is one of the most accessible that provides interpretive information about forest management and how it works. There's a big difference between natural and managed forests, and Wilcoxon helps us show that."