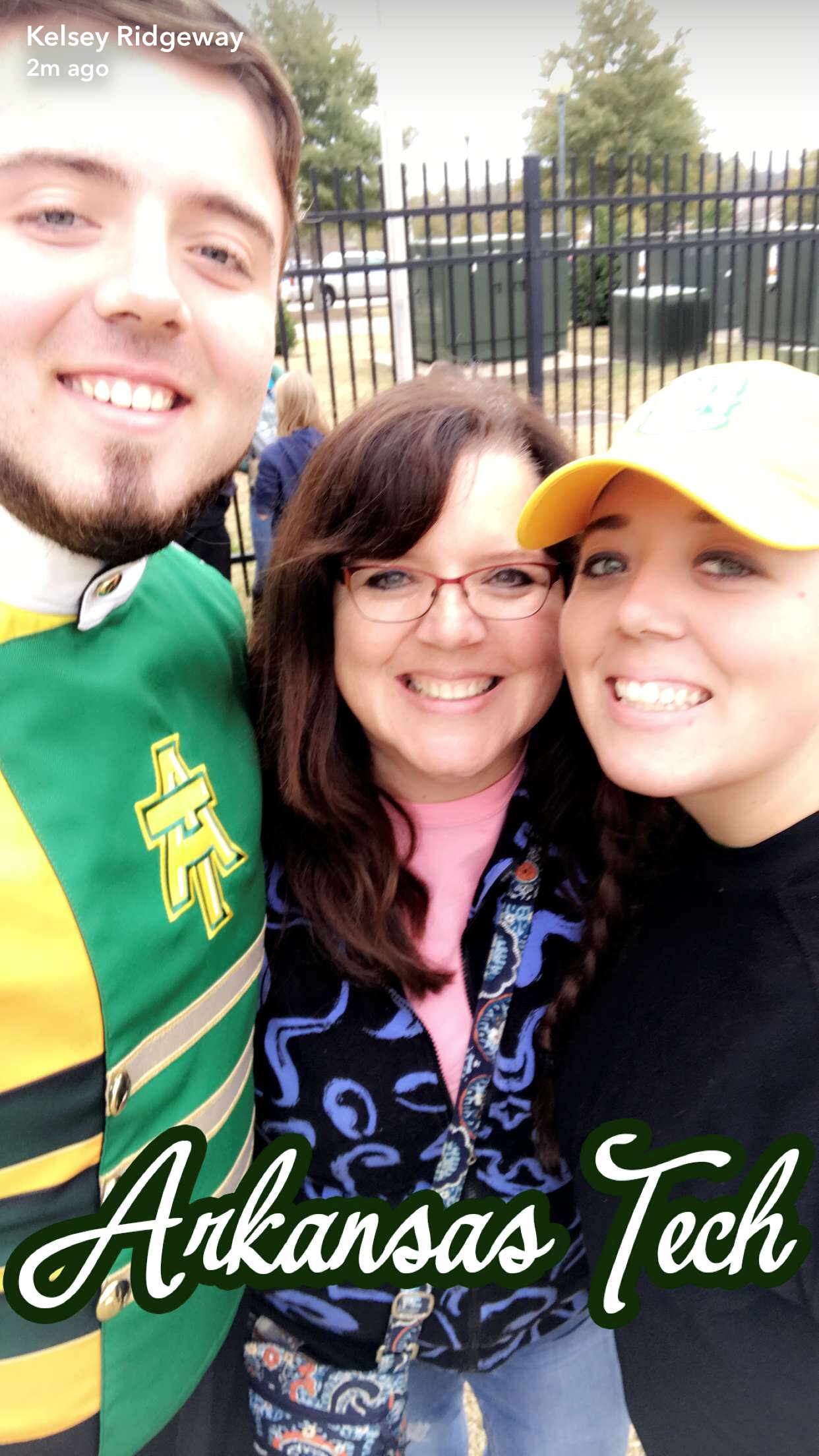 Ginny with her kids, Kelsey (29) and Jordan (23). Jordan played French horn in Arkansas Tech's marching band. 'I've been very fortunate in my life,' Ginny says. 'I've been a single mom and for every hardship that came up, I always had someone to help me through it.'
Ginny Ridgeway left nursing school because she discovered she cared too much and wanted to bring her patients home with her.
Today, she brings a similar level of care to both her job and her entire community in Hot Springs, Arkansas — yet without the same emotional burden she felt with nursing. It's all about teamwork and supporting people, and she describes her job as lead sales administrator and analysis for our Lumber team using words like "we" and "team" instead of "I" or "me."
"I never expected to work in sales, but I love supporting salespeople," she says.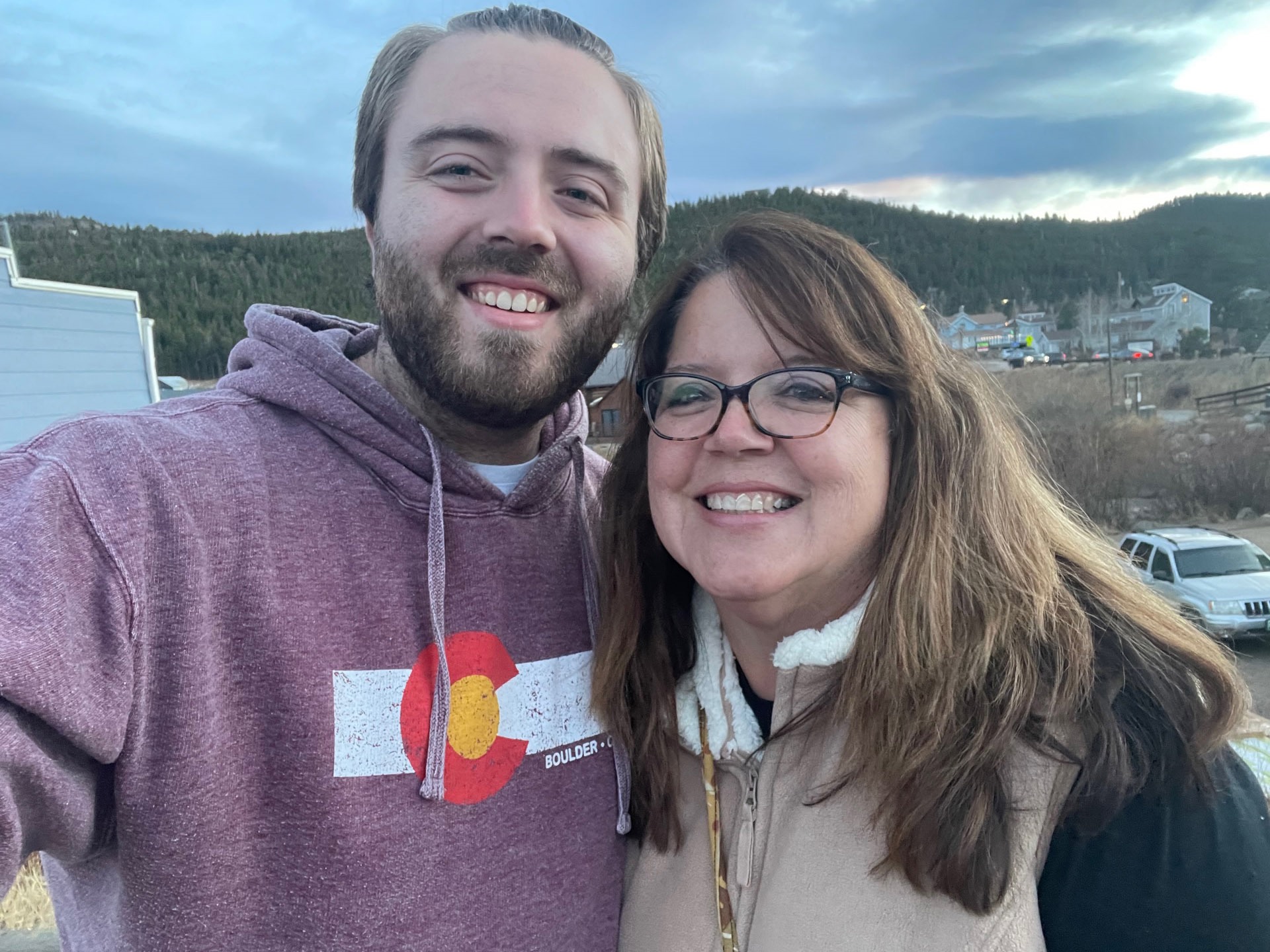 Ginny helped Jordan move to Colorado last Thanksgiving.
One way she's providing that support is through her work on the PROPEL Catalyst project, which is re-evaluating all our Wood Products sales and marketing tools as part of the broader PROPEL project.
"I understand our sales processes from start to end, which is a huge advantage," Ginny says. "I've even helped develop some of the web tools that we use now. Everything I do in my regular job helps me in my role with PROPEL, which is to improve sales and reporting systems and processes."
Working to improve the status quo is also a big part of who Ginny is outside of work — in fact, she received a Volunteer of the Quarter Award (the precursor to our current Volunteer of the Year Awards) in 2016. Her many community support endeavors have included work with her kids' school sports teams and band, a woman's shelter, supporting Relay for Life, and sitting on the board of Leadership Hot Springs, a program that pairs participants with business and community leaders to examine issues facing the region.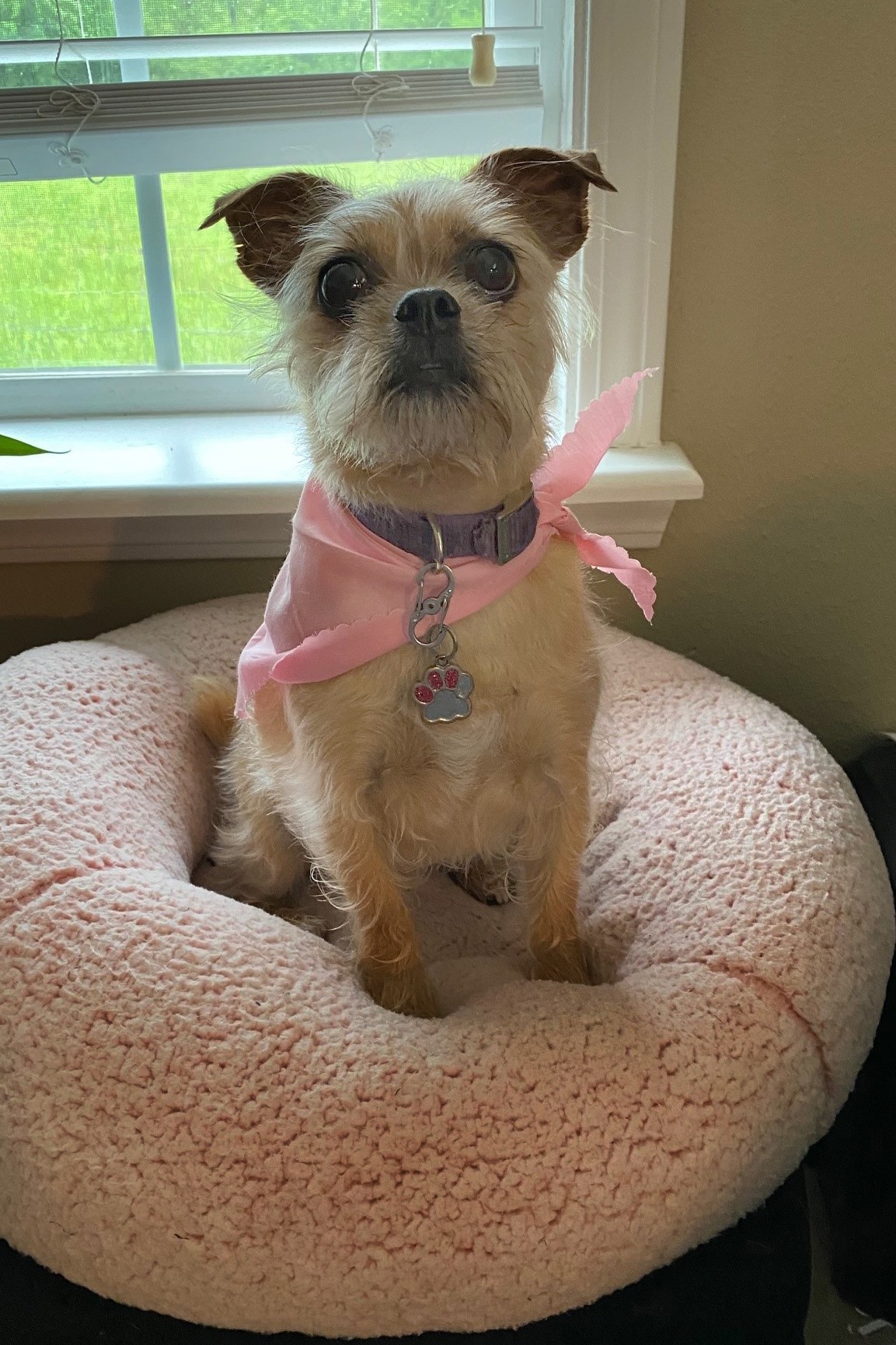 Ginny's current coworker, Gracie.
She also serves on our Hot Springs Giving Fund Advisory Committee, helping direct Giving Fund grants to deserving local nonprofits.
"It's an opportunity to give back in a way I couldn't do personally," she says. "I'm proud that Weyerhaeuser allows me to be a part of these giving decisions. I get to have an impact in so many ways; I will never take that for granted."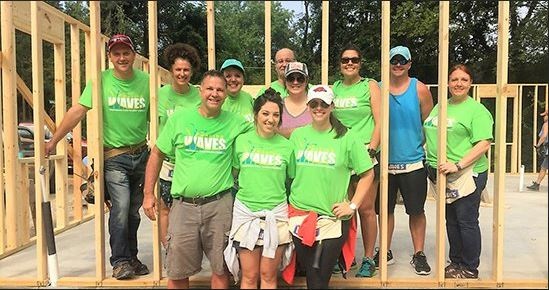 Ginny with part of the Hot Springs team at a Habitat for Humanity build a few years ago. Pictured are Neal Shunk, Melinda Shunk, Ginny, Russ Prestridge, Deana Storment, Nathaniel Snyder, Andrea Thacker, Tish Martinez, Steve Guenther, Gloria Torres, Natalie Sheppard.
MEET GINNY
Your title is lead sales admin and analysis. Tell us what you do.
My team and I work with sales teams for Lumber in the Northwest and South, and the OSB and EWP sales teams. We do pricing, invoice corrections, sales analytics and reporting, giving business leaders information to help guide their sales and product management decisions. And if there are updates to web tools, we train users on how to use them. We stretch across a lot of buckets.
Have you always done this type of work?
I've been in this job for four years but with the company for more than 27, all in Hot Springs. My roles have changed over the years as businesses changed and different needs arose. I have worked as a sales associate, in replenishment, and as a data analyst. Each change gave me the opportunity to take what I knew and then expand it further.
Tell us what your day is like.
I'm sure everyone says this, but I don't think I've had a typical day for the last three years! When I was working from home during COVID, I spent more time on the phone because we didn't have the face-to-face interaction. Now I'm back in the office two days a week, so I have the opportunity to work with other people face to face more often. But most of my time is spent on the computer.
What's your favorite part of your job?
I'm constantly learning. If I have a question or want to know why something is done the way it is, I ask. I've been lucky to get to work with people all across Wood Products, and others have mentioned that if I don't know the answer, I know how to find it.
The Hot Springs office is also special. We look out for one another, both professionally and personally. It's a real work family.
You must have some challenges. What are they?
Right now, my biggest challenge is time. There's never enough of it! Time zones can be a challenge, too — I'm on Central time, but I work with a lot of people on the West Coast, which creates schedule challenges. Fortunately, I don't have little kids at home anymore, so I can flex my schedule to accommodate the time zone difference.
Tell us something about your job that might surprise people.
People don't realize our scope goes beyond lumber, that we also work with OSB and EWP. They also don't know that we work with all the mills, including those in Canada, the Northwest and the South.
What advice would you give people who want a job like yours?
Ask questions and don't be afraid of change or getting out of your comfort zone. People like to share information, and if you have a desire to learn, they're generally happy to help. That's how I grew into this role; I showed an interest in learning processes, so my coworkers gave me the opportunity. I'm now working with the Catalyst and Retire ECC teams on the fourth sales system upgrade I'm helping with.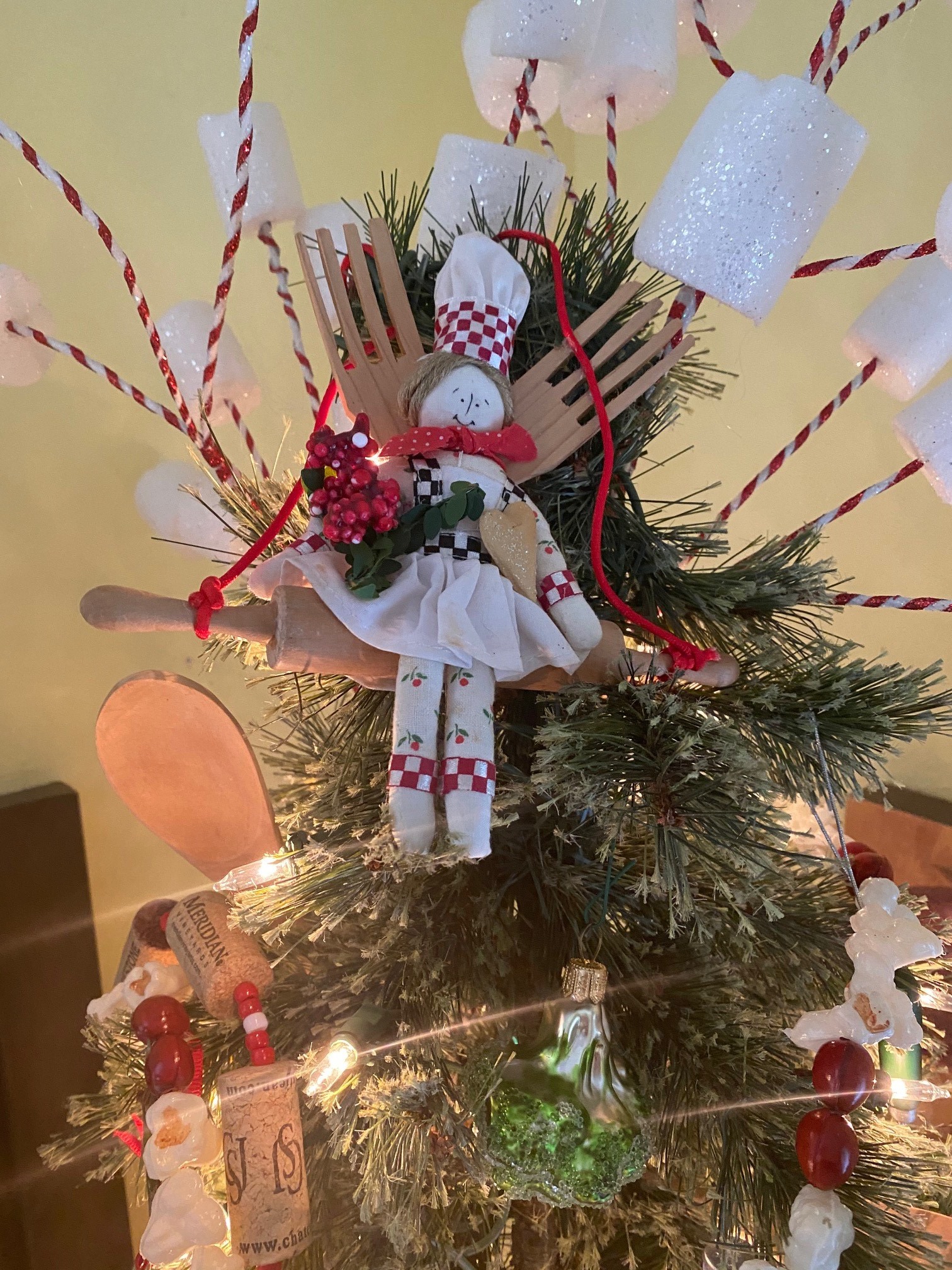 Ginny loves Christmas and says she's 'cut down' to just four Christmas trees! This is the tree topper for her kitchen tree.
When you were young, what did you want to do?
I always thought I would be a nurse. But after a year in nursing school, I decided it wasn't for me. I couldn't separate work from home; I just couldn't turn it off at the end of the day. Anyway, as my kids joined sports and band, I got the opportunity to learn more medical information than I probably ever wanted to know with their injuries. One time my son broke his arm, and I just asked him, "Has it gone through the skin?" Who says that???
Tell us about your other interests. What do you like to do when you're not at work?
In addition to all my community work, I love to travel. My parents were big travelers, so I'd visited 49 states by the time I was 15. I'm just missing Alaska, so that's a bucket list item. Also, anybody who knows me knows I love Christmas. When my kids were growing up, we had six Christmas trees. We've since cut it down to four, but I've 'corrupted' my children into being Christmas fanatics like me.