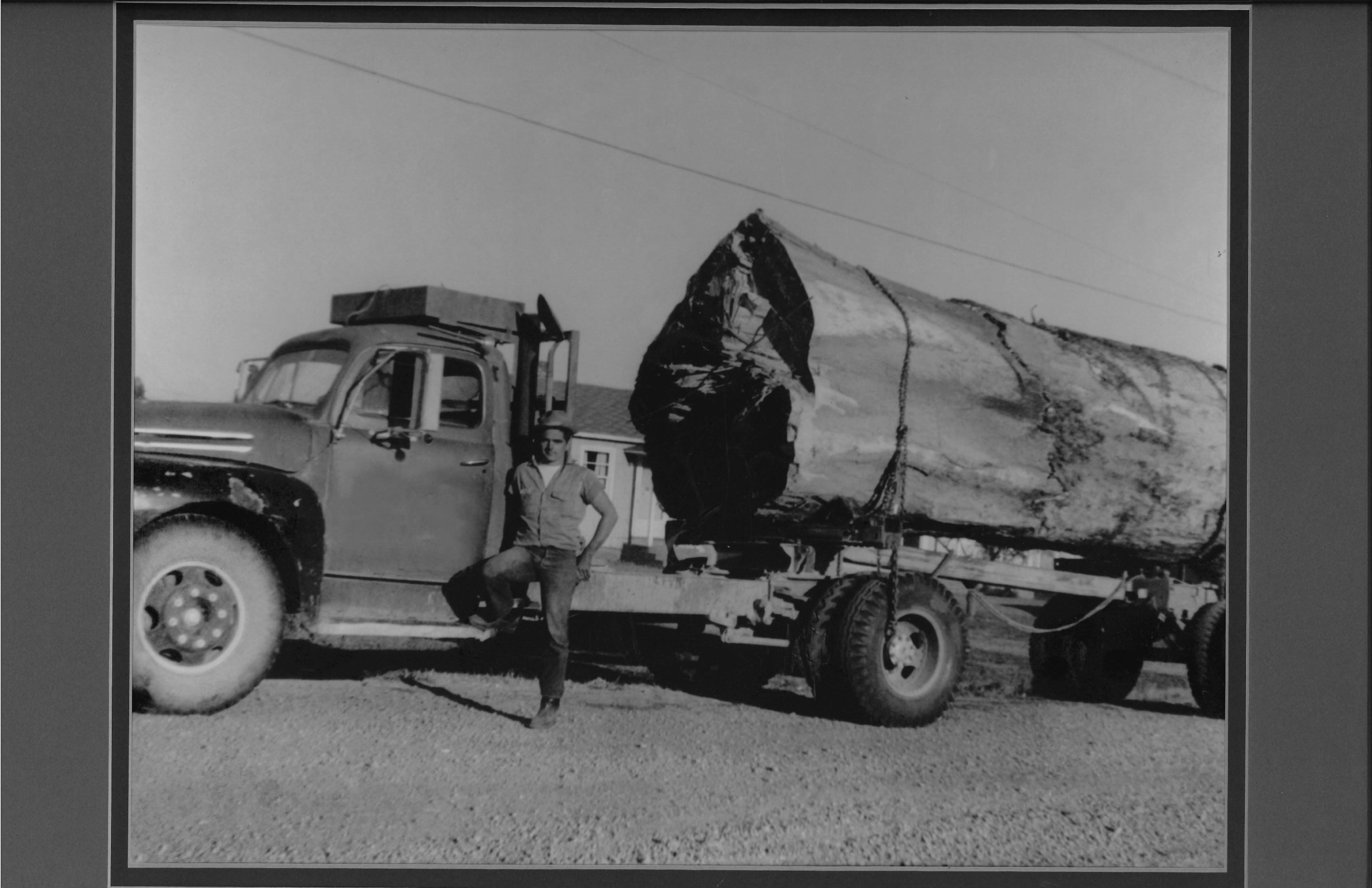 Gene Whitaker joined the logging industry at 16 years old, peeling the bark off poplar trees. His ambitions soon outgrew the opportunities in his home state of Wisconsin. Intrigued by Oregon's abundance of massive logs, he settled in Roseburg and bought an old log truck.
Our Oregon Trucking team has been working with contractor Gene Whitaker Trucking so long, nobody can say exactly when the relationship began.
Gary Romine, Oregon transportation manager, traces the partnership back to 1972. But Kelly Mitchell, daughter of Whitaker founder Gene Whitaker, believes it may have started even earlier than that.
"My father moved from Wisconsin to Oregon in 1959 and started the company in 1965," she says. "My husband Jay recently ran into a former Weyerhaeuser employee named Charlie Edwards, who said he met my dad that same year working on a harvest landing site. So, we might have hit the 50-year mark a while back!"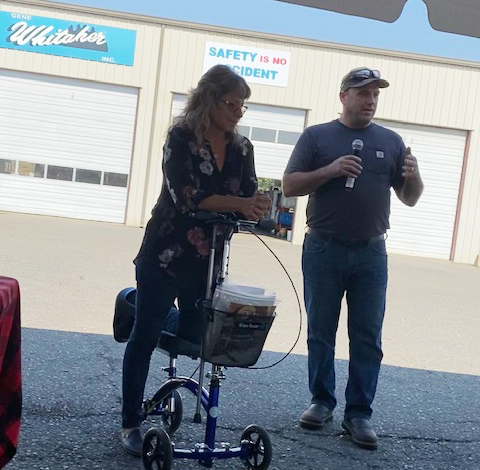 Gary with Kelly Mitchell, daughter of Gene Whitaker, at the 50th anniversary celebration on Oct. 7, 2022.
Regardless of the exact start date, it's an impressive milestone. And on Oct. 7, our Oregon Trucking team celebrated the at-least-50-year-long partnership with the Whitaker family — Kelly, her brothers Keith and Brett, her sister Deborah, and their families — along with employees from both companies. Gene passed away in 2016.
"We wanted to show our gratitude to this great company and recognize how important they've been to our own success over the decades," says Dustin Poindexter, Oregon Trucking supervisor. "We hope our partnership continues for many more years into the future."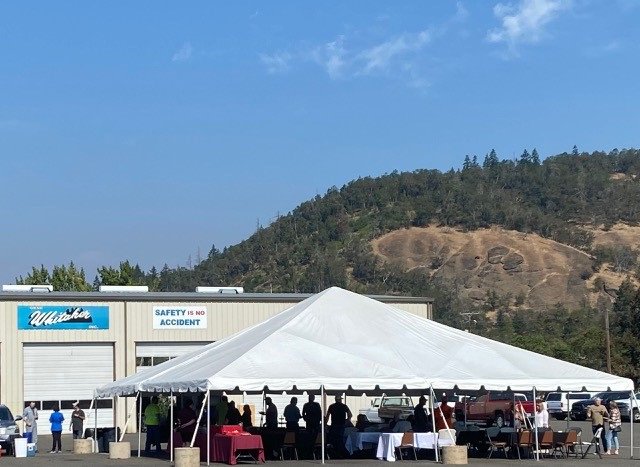 The Whitaker shop in Wilbur, Oregon. 'I think it was 1977 when I began working for Gene at Whitaker Trucking,' says Jay Mitchell, Kelly's husband. 'I'm honored to attend this celebration with two of my former coworkers, one who started in '76 and one in '69. It's been a lot of fun to revisit those memories together.'
APPRECIATING A LONG-TERM PARTNERSHIP
Whitaker Trucking currently operates about 15 log trucks for us on our South Valley and Springfield tree farms, moving approximately 145,000 board feet of logs every day.
We also rely on Whitaker for custom-made trailers. In the early 1970s, Gene began building his signature Whit-Log trailers to meet his own needs for hauling bigger loads. While a standard trailer can haul a maximum of 34,000 pounds, the Whit-Log three-axle trailer has a capacity of 46,000.
"We use Whit-Log trailers on 160 of our company log trucks in Oregon and Washington," Gary says. "They're extremely dependable and well-made."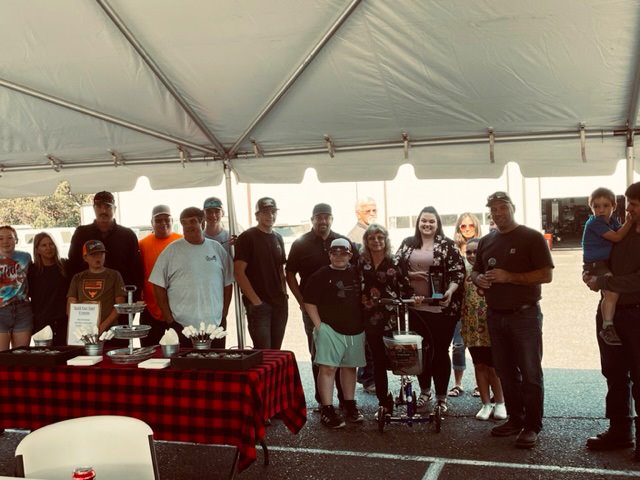 Gary Romine, Oregon transportation manager (third from right in cap), with the Whitaker family at the anniversary celebration.
A SHARED SAFETY VISION
Gary and his team say that part of what makes Whitaker special is that it continues to be family-owned and operated.
"I think that contributes to their work ethic, because the family is rightfully proud of their reputation," Gary says. "Whitaker Trucking is our leading contractor in terms of safety and reliability. They represent the epitome of what we look for in a long-term partnership."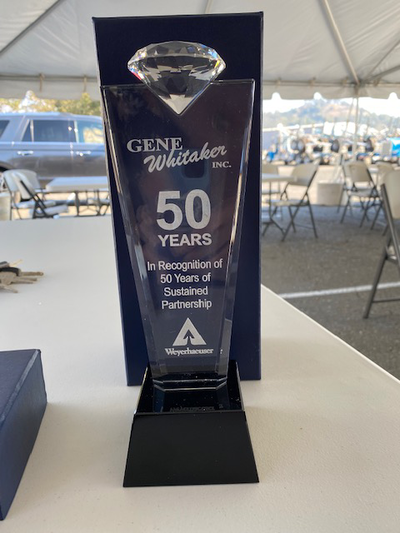 Our Oregon team presented Whitaker with this plaque in honor of their 50 years of partnership.
Whitaker takes safety just as seriously as we do. They put their drivers through a stringent safety course and only hire those who demonstrate commitment to their standards.
"Some companies hire just to get drivers in seats," says Pax Monstein, Oregon Trucking supervisor. "Not Whitaker. It's one of many reasons we trust them so much."
According to Kelly, Whitaker's safety program wouldn't exist in its current form without our partnership.
"Years ago, when we were looking to improve our safety, a gentleman we worked with at Weyerhaeuser recommended we hire a consultant named Mike Anderson," she says. "He kicked off our safety culture. When Mike retired, we enlisted the help of Associated Oregon Loggers and the training programs offered by the Oregon Trucking Association to help grow our safety program into what it is today."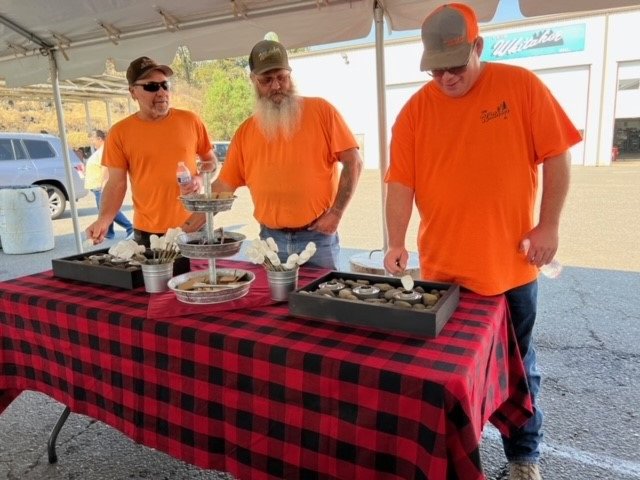 Whitaker employees enjoy the catered lunch. 'We invited everyone on the Whitaker side and a bunch of our own drivers, supervisors and retired employees who have worked with Whitaker over the years,' Gary says. 'When planning the event, I spoke to Bill Phillips, who was a long-time Goshen employee through all three companies — Bohemia, Willamette and Weyerhaeuser. He retired last year. He knows the Whitaker family well and gave me some background information. He's so glad we put this on.'
A TOKEN OF OUR GRATITUDE
The anniversary celebration was held at Whitaker Trucking's facility in Wilbur, Oregon. In addition to a barbecue lunch with all the fixings, our team presented Whitaker Trucking with a plaque in honor of their 50 years of service.
"Whitaker has stuck with us through thick and thin, through all kinds of business environments," Pax says. "They probably could have gone out and made more money in some circumstances, but they were loyal to us, and that means everything."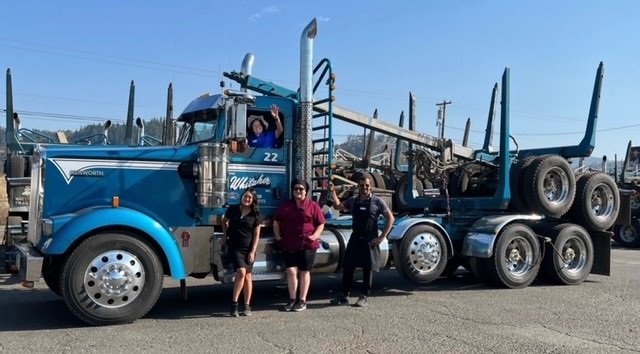 Some of the catering staff check out a Whitaker truck during the anniversary celebration.
Our entire Oregon Trucking team hopes the occasion conveyed their admiration for everything Gene Whitaker built, the legacy he left behind and our continuing relationship with the company.​​​​​​​
"I wish my dad could be here to see how much he's still appreciated," Kelly says. "Before he passed, he wanted me to look for our original Weyerhaeuser contract because he thought it had been 50 years. I never found it, but he'd be delighted to know we celebrated this anniversary with so many people who were important to him on both sides of the partnership."