Patrick and his wife Aubrey in Orange County, California, where they're from.
In March 2020, Patrick McKellips and his wife were training to do a charity bike ride across Washington state, a race organized by her employer.
The race was cancelled due to the COVID-19 pandemic. But Patrick, an IT service management specialist based at our Seattle Headquarters, spent the early days of the pandemic deepening a passion for distance cycling — and in particular, for bikepacking, which is essentially backpacking but on a mountain bike (so carrying all your gear and provisions as you go).
"I grew up mountain biking, and I love getting in and out of Seattle by bike," he says. "You learn all the shortcuts and find so many little hidden parks. When I was introduced to bikepacking early in the pandemic, I was hooked."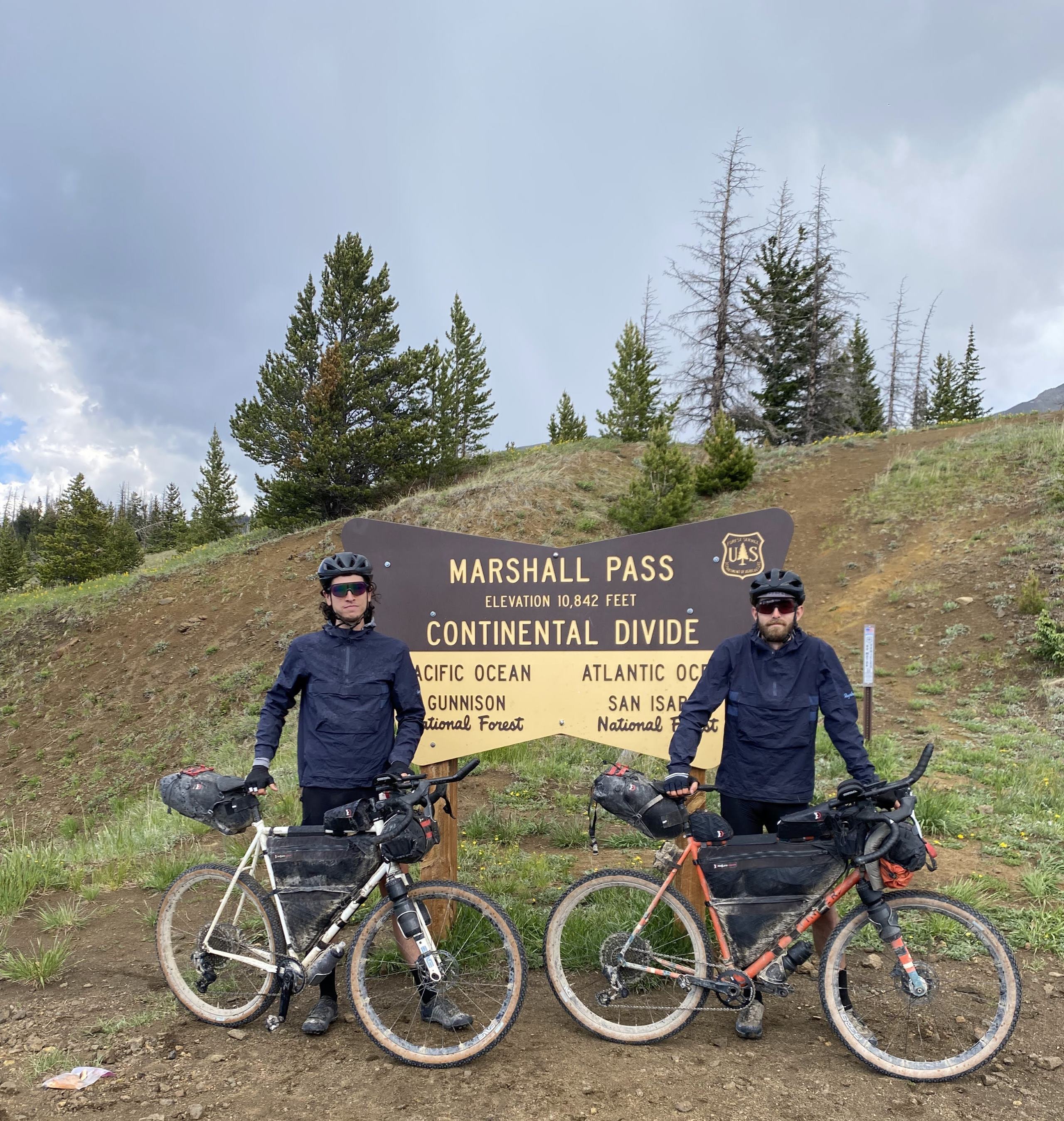 Patrick (right) and his friend Tyler Gatlin pause at Marshall Pass while participating in the Tour Divide race. All the gear and provisions for their 25-day trek are strapped onto their bikes.
So hooked, in fact, that in June Patrick spent 25 days completing the Tour Divide race from Banff, Alberta, Canada, to the U.S.-Mexico border.
"I kind of chose the biggest thing as my first big bikepacking trip," he says.
It's quite the understatement. The Tour Divide is a 2,665-mile trek. It's also not officially organized. Participants self-disqualify if they accept help — even from one another.
"It's the most famous self-supported bikepacking race in the world," Patrick says. "I decided to do it with a close friend, and this year we faced the worst conditions! There was still snow in the first five major mountain passes, so we were carrying our bikes — with all our supplies attached — on our backs. I'm really fit, but I picked up an Achilles injury in both ankles in the first week. Then we faced a lot of severe weather, including freezing rain, lightning storms, severe thunderstorms, and really bad mud in New Mexico that added 10 to 20 pounds to our bikes and our shoes. Plus, we had to reroute around the wildfire in New Mexico. The race was really, really hard, but the scenery is unreal, and I'm thrilled I was one of the few who finished. In the future, though, I think I'll focus on shorter bikepacking races!"​​​​​​​
Of course, Patrick doesn't just go all-in on long-distance cycling challenges. Learn more about how he provides critical support to our internal IT initiatives.
​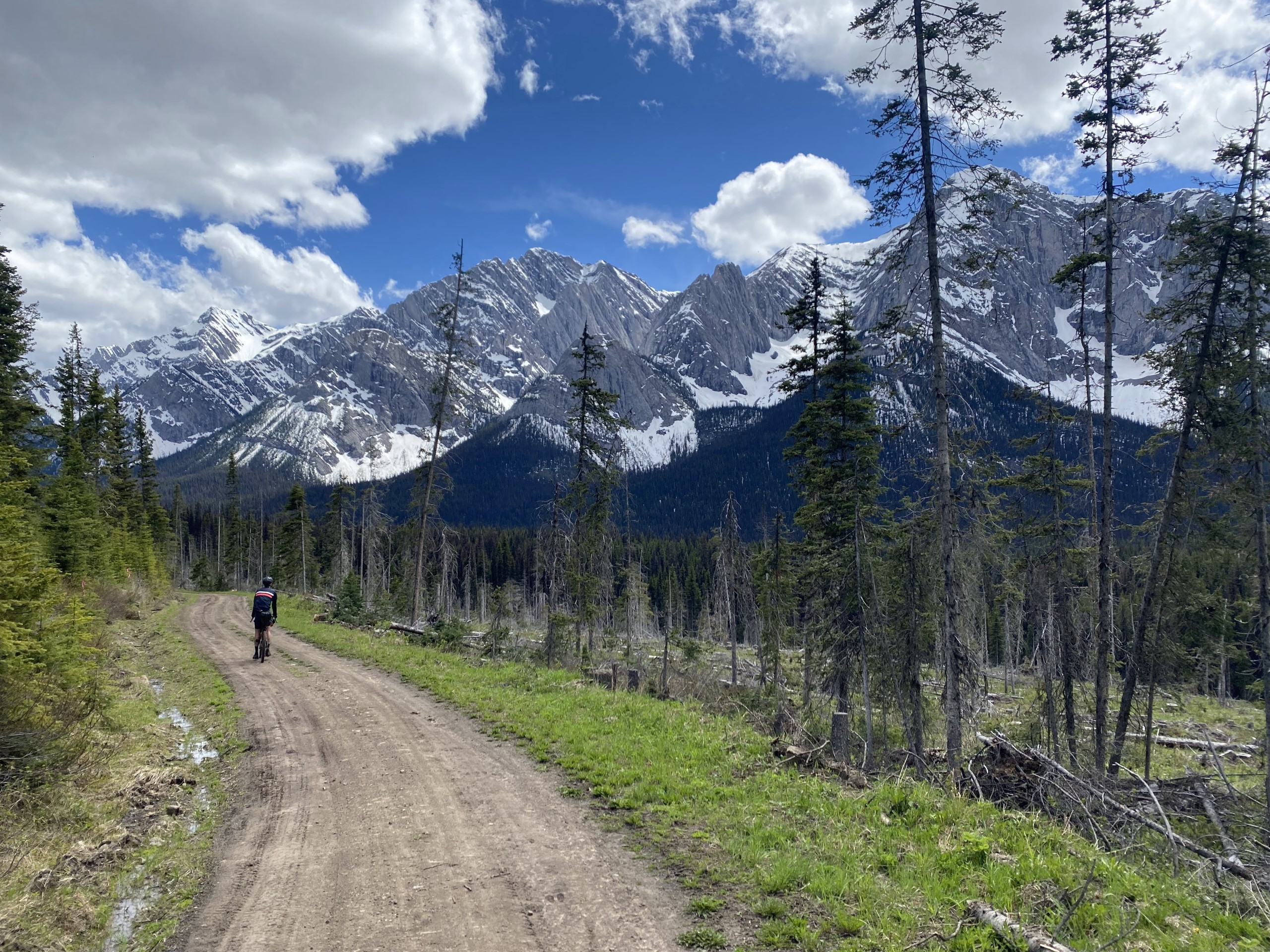 Patrick bikes through the Alberta Rockies. 'The scenery on the Tour Divide is unreal," he says. "It was absolutely beautiful.'
MEET PATRICK
Your title is IT Service Management specialist II. What do you do?
My team is part of the infrastructure and central services team, and we play a central role for all of IT. I focus on change and asset management, along with incident and problem management. Probably half of my job is project management work for ITSM projects like our self-service password management change earlier this year, or the four-year computer refresh cycle for employees.
What led you to choose this job?
I like how the team is so central to all of IT. We facilitate all the projects and successes within the organization. I'm also able to learn about the full breadth of services while providing communications and training to others. I did something similar at Microsoft for 18 months after completing my business degree. I started here as a contractor in November 2019 and was hired on in early 2020. It's a really good role for a non-technical IT person like me, because I get a lot of exposure and opportunity to learn.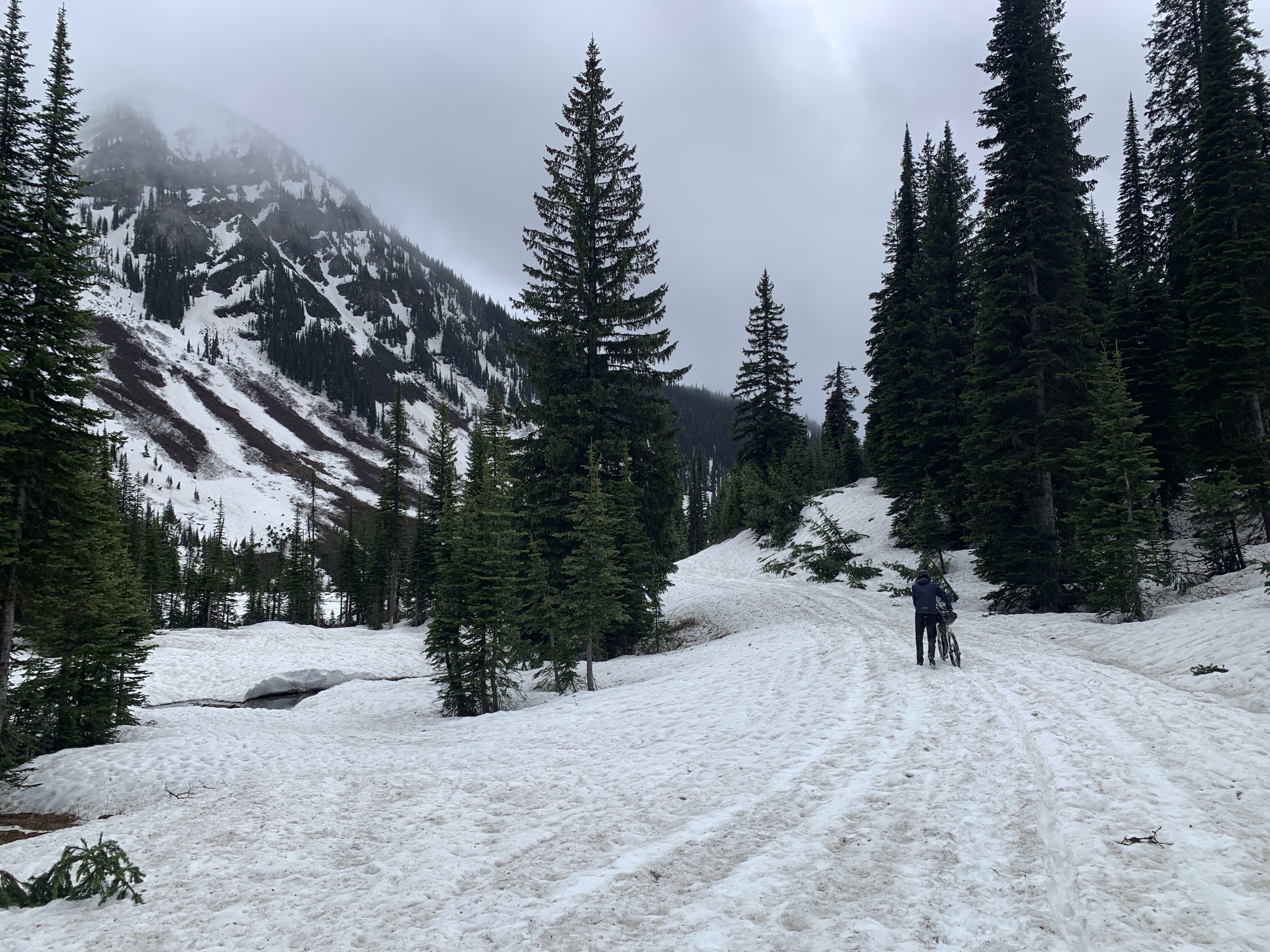 A major challenge in the Tour Divide this year was snow. 'The first four mountain passes all had snow on them,' Patrick says. 'It was five to seven miles to cross them, and for most of it we were walking or carrying our bikes. I hike a lot and I'm really fit, but getting through those passes gave me Achilles injuries in both ankles.'
What's your typical day like?
It starts with some sort of status meeting for whatever changes we're working on. That includes talking through the change and the documentation needed to support it, such as IT bulletins and training materials for new processes. As a project manager, I do a lot of analysis and planning, and I create presentations to explain the changes to various levels of leadership.
What's your favorite part of the job?
Solving problems and collaborating with others. Change management — and any project, really — works best when approached with creative curiosity. That allows me to innovate and figure out which approach would work best for a certain team or project.
What are your challenges?
At the end of the day, we don't know what we don't know… and in an IT environment, the impact and problems that unknowns cause can be challenging! There can also be unforeseen hurdles in a project that can be difficult to solve. When we rolled out the self-service password tool, we knew we'd have trouble reaching employees who don't log in to their Weyerhaeuser email regularly. There ended up being more than 2,000 employees who had to be tracked down individually to get them set up in the new tool, which was a bigger number than anticipated!
What's something about your job that might surprise people?
I'm one of the few people in the company with permissions to send companywide emails!
What are you most proud of in your work?
The balance and continuity of change management my team contributes to. When things are going well, it's proof of how we can handle something that could potentially go off the rails.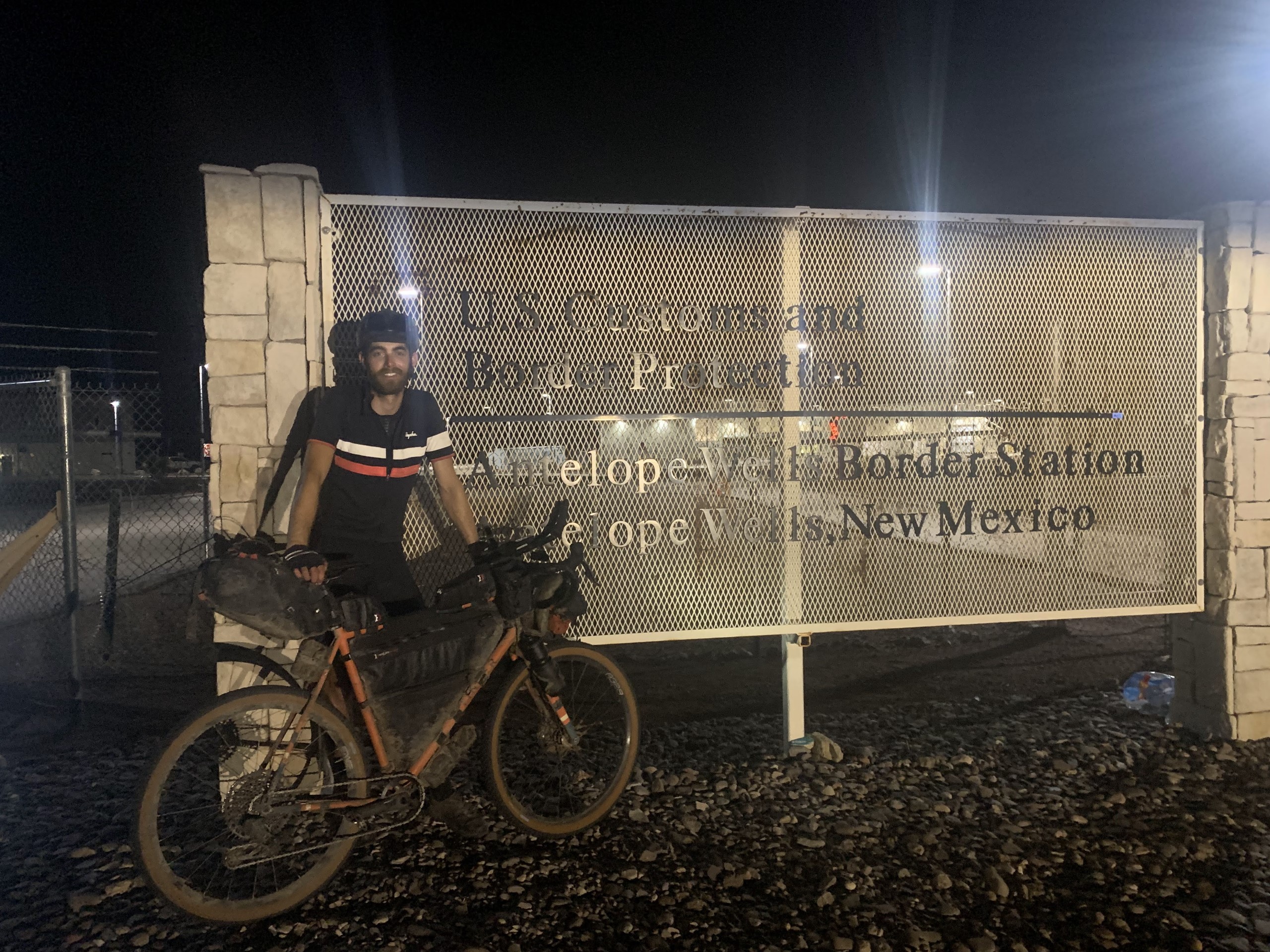 Patrick at the Tour Divide finish 'line,' the Antelope Wells border station in New Mexico.
Who are your customers?
I have two main customer groups: the rest of IT, and anyone who uses our technology tools. The broader IT group uses ITSM's best practices and tools to communicate about and deliver the projects they're working on, which impact the rest of the company.
And then anyone who uses our technology tools, from in-house apps to wireless network connection points, is a customer, too. My role gives me insight on the wide variety of tools we have and the diversity of teams who use them. I'm able to see how the entire company interacts and relies on different pieces of technology and tools, which has been really cool to learn. And every company in the world has functions that support these tools the way I do, which was surprising to learn as I entered the workforce.
What does your work area look like?
When I'm at home, my wife Aubrey and I trade off working on the couch or in the bedroom, depending on who has a meeting. I go into HQ a day or two a week, and my cube there is pretty blank and minimal. I do have a New York Times article pinned up to the wall. It has photos of me and the buddy I completed the Tour Divide with. Their photographer just started following us as we cycled through New Mexico. We weren't sure what was going on at first, but he finally introduced himself. When the article was published online, several of the cycling brands I follow and am a customer of reposted it. I'm not a social media person myself, but it was pretty cool to see me and my bike on social media accounts that have hundreds of thousands of followers.
What do you like to do when you're not at work?
Biking, of course. It was a pandemic find for me, and it's become really closely intertwined with my identity — which is actually something you'll hear a lot of cyclists say. I don't think I've ever had a passion as strong as this one. Biking is very meditative, and it helps me unwind.​​​​​​​
Aubrey and I also enjoy hiking and camping together. We love the North Cascades, which feel so remote and untouched. It seems like few people know how beautiful they are.