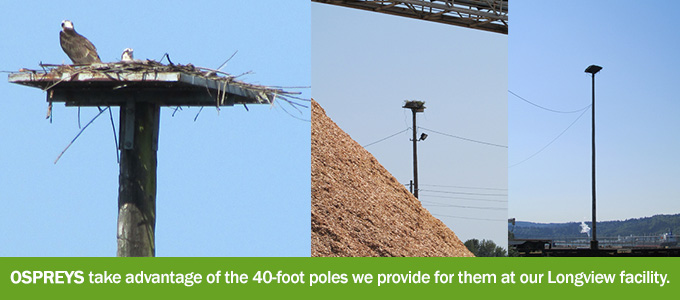 Just outside Longview, Washington, not far from where the Columbia River's 1,200-mile journey ends at the Pacific Ocean, a two-mile stretch of shoreline is home to ospreys, geese, deer, coyotes, beavers, swallows, honeybees and more. It sounds like a nature preserve, but it's actually the site of our Longview facility, which includes liquid packaging, newsprint, lumber, and timberlands export businesses.
To help ensure these creatures stay safe, happy, and away from industrial equipment, Stacy Fanchin, Longview's safety manager and Brian Wood, environmental manager, coordinate the efforts of federal and state agencies, and local employees.
A BRIDGE BETWEEN ANIMALS AND INDUSTRY
"It's such a unique program we have here," says Stacy, who's been with the animal program for four years. "People think we're just a heavy industrial facility. They don't know we have the capability and support from Weyerhaeuser to protect the species that share this property with us."
Longview's program involves building nesting sites for ospreys, keeping animals out of the mill facilities, controlling pigeon and other nuisance wildlife populations, and sometimes even rescuing ailing critters.
The ospreys are the centerpiece of the site's wildlife management work, with seven pairs currently nesting on poles built by the facility. Some of the nests have been fully occupied for more than 10 years.
THE POWER OF THE "SEAHAWK"
"We've worked diligently to create and manage preferred habitat along our waterfront," Brian explains. "Ospreys will build nests no matter what. If those nests are in the wrong spot, they can cause power outages, short out power lines, or create health and safety issues."
An employee since 1988, Brian has many animal-encounter stories. For instance, several years ago an osprey flew into a line at a substation and knocked out the mill's power temporarily, which caused the process control system to fault. When the power returned, every pump kicked on with random opened and closed valves.
"We take power reliability very seriously," Brian says. "That was a very, very bad day."
A SUCCESSFUL PARTNERSHIP WITH "BIRDMAN BILL"
To help with their work, Stacy and Brian partner with the U.S. Department of Agriculture's Animal and Plant Health Inspection Service and the Washington Department of Fish and Wildlife. An APHIS agent they call Birdman Bill visits the facility each week and counts the ospreys, geese and other migratory birds to make sure they're healthy.
He also occasionally comes to the rescue of injured birds. When an employee reported an injured osprey flopping around on the ground earlier this year, Bill captured the bird and took it to a state-licensed wildlife rehabilitator who nursed it back to health before returning it to the wild.
APHIS is also in charge of pigeon and other nuisance wildlife control.
"Given the pigeon's size and numbers, they can cause even more operational problems than the osprey," Stacy says.
A MILL OF BIRD WATCHERS
Stacy says the ospreys have become a point of interest and pride, not only for her and Brian, but also for their many colleagues at the mill.
"People look forward to them coming each year," she explains. "All of a sudden we get about 1,500 bird watchers. You know it's spring time when the ospreys arrive."