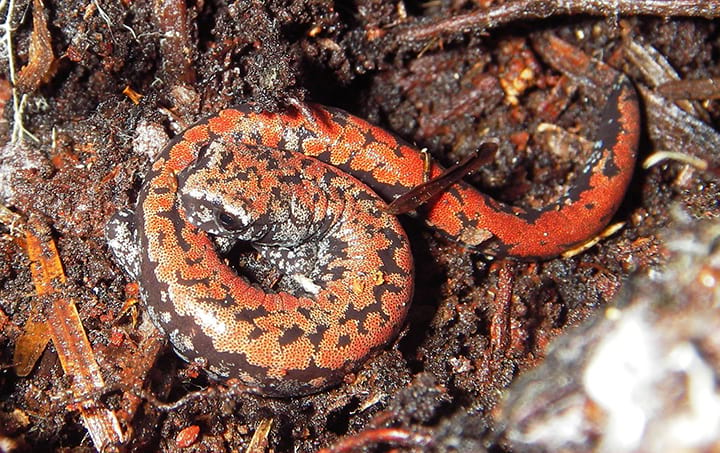 Photo courtesy: Oregon State University
Our story of the Oregon slender salamander — an elusive, understudied creature — begins over a decade ago. It's a story about the power of research, patience and partnership, and how science-based harvesting practices can help protect wildlife. And it's a story about doing the right thing for the environment and its inhabitants, no matter how small and mysterious.
EARLY DETECTION
Back in 2007, our logging planners were mapping future harvest sites in Oregon when they encountered a "G2 hit" on the Oregon slender salamander.
G2 hits occur when our mapping databases encounter a species ranked as imperiled under the independently operated NatureServe Status system, which assesses the extinction risk for a variety of species. We're committed to taking appropriate safeguards when we encounter either G2 or G1 (critically imperiled) species, even if the species isn't listed under the U.S. Endangered Species Act.
Yet when the G2 hit came up on the Oregon slender salamander, no one knew enough about the species to know what safeguards would be appropriate.
GAINING A BETTER UNDERSTANDING
"The species had worked its way up the ranking system in recent years, mostly due to a lack of recent scientific study," says A.J. Kroll, Weyerhaeuser wildlife scientist.
The elusive, land-based salamander has a limited range across eight Oregon counties. And while the species overlays a portion of our land base, there's relatively little information about its abundance or its response to logging activities.
"We needed and wanted to know more so we could respond accordingly," A.J. says. "So, we built a coalition and put together a multiyear study to understand how timber harvest affects the salamander's population dynamics."
One of the first steps for A.J. was to find expert partners to support the project. In this case, A.J. involved Jay Jones, a Weyerhaeuser statistician, and scientists at Oregon State University's College of Forestry.
"We've worked with the university for decades, and there's strong mutual respect between the scientists of both organizations," A.J. says. "What's more, OSU is practically in the salamander's backyard."
Together, the partners helped shape, design and run a robust research study that examined 88 pre- and post-harvest stands over seven years, from 2013 to 2019.
To further strengthen the study's scope and effectiveness, those stands included our land and also that of other nearby landowners, including the federal Bureau of Land Management, Port Blakely and the Oregon Department of Forestry. A broad group of public and private organizations joined with us to support the research, including OSU, the Oregon Department of Fish & Wildlife Conservation Strategy Program, Oregon Forest and Industries Council, and Port Blakely.
COARSE WOODY DEBRIS = GOOD FOR SALAMANDERS
After seven years of rigorous field research, analysis and scientific peer review, the results were published this May in Forest Ecology and Management. The authors (which include A.J. and Jay along with Weyerhaeuser biologist Josh Johnson) found that the longstanding best practice of leaving coarse woody debris on clearcut harvest sites helps protect the Oregon slender salamander. (State logging regulations now mandate this practice in the Pacific Northwest, and we've been including this step since the 1970s.)
In fact, contrary to their pre-study hypothesis, the researchers found similar levels of the Oregon slender salamander on recently harvested stands compared with unharvested stands. They determined that the presence of the salamander was directly related to the amount of dead, decaying wood available on the ground, as downed wood — ideally in large-enough pieces to hold moisture for a long time — is essential for maintaining the temperatures and environment the salamanders need. The more debris left behind, the larger the salamander population.
The study also found another salamander — the Ensatina, a more common species that lives throughout the Pacific Northwest and into northern California — benefited from leaving logs and large branches on the forest floor. Although this species did decline in numbers directly following harvest, the researchers couldn't rule out the possibility that Ensatina had moved to undisturbed adjacent plots since it has a greater dispersal range. Further study will test this hypothesis, but the positive impact of woody debris remained clear for both salamander species.
MAKING INFORMED, SUSTAINABLE DECISIONS
Although the data from this study reinforced that our harvest practices were already aiding slender salamanders, that's not always the case with our research results. And that's exactly why our scientists carry out this research — not simply to validate our practices, but to learn where we might need to improve.
"Our scientific research program exists to understand and make adjustments to our forest management practices as necessary," says Mike Rochelle, wildlife biologist and environmental operational support manager.
Mike helps his Timberlands colleagues incorporate the best available scientific knowledge into their harvest and regeneration practices.
"We're one of the few forest products companies large enough to devote resources to collaborative, peer-reviewed scientific research," he says.
Both Mike and A.J. — who hold advanced degrees in zoology and wildlife biology, respectively — belong to a team of about 20 Weyerhaeuser environmental researchers on our Timberlands Strategy & Technology organization.
In just the past few years, this environmental research group has been involved in more than 30 ongoing research projects related to hydrology, wildlife, and biodiversity. They've contributed to more than 40 peer-reviewed publications. And they've given at least 80 presentations at regional, national and international conferences on forest science and environmental sustainability.
COLLABORATING FOR THE COMMON GOOD
As with the salamander study, our scientists typically collaborate with more than 40 outside, independent experts, including public entities such as state and federal forest, wildlife and land management agencies and research labs. They also involve academic and nonprofit conservation organizations to ensure the results are broadly accessible and actionable across a variety of audiences. In fact, advocacy organizations and regulators reviewed preliminary results from the Oregon slender salamander study.
"Science is a common language that creates a collaborative framework for landowners, regulators, policymakers and environmental advocacy organizations to come together for the common good," says Jessica Homyack, wildlife scientist and manager of western environmental research. "Whether the goal is to better understand the effects of logging on salamanders, or to answer other open questions, Weyerhaeuser is committed to working with others to advance the science of sustainable forestry," Jessica says. "With knowledge, we can ensure the many benefits of working forests — from wood products to wildlife habitat — are available for generations to come."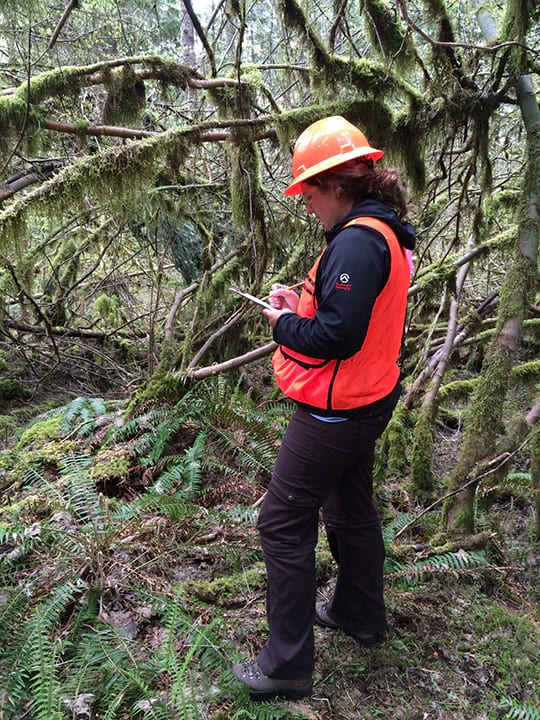 Students from Oregon State University conduct sampling studies in search of the elusive Oregon slender salamander. Searches were conducted with a clock counting down to zero to ensure consistency between each of the 88 plots involved in the study.