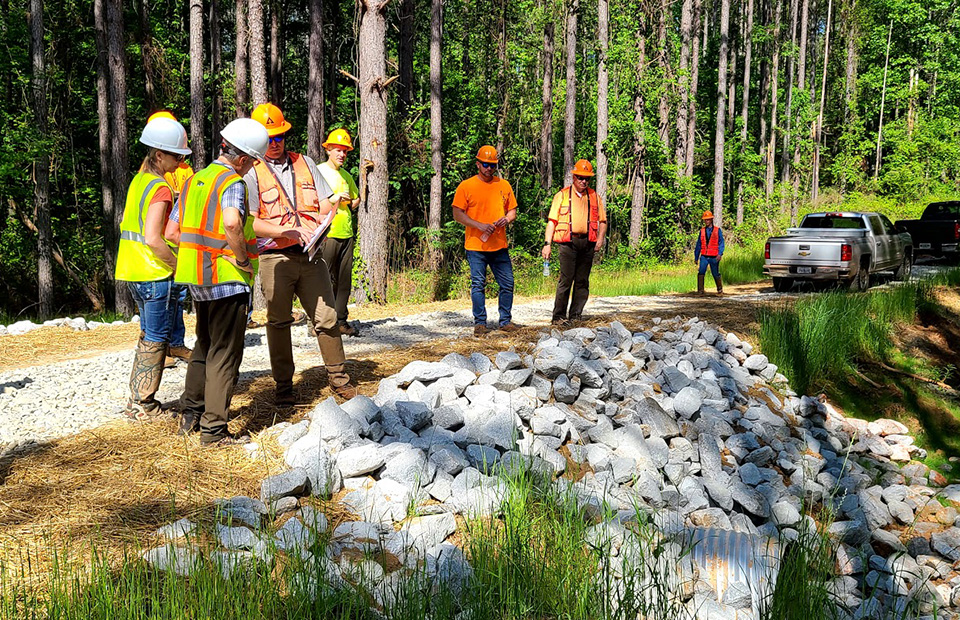 When we launched our new sustainability strategy in mid-2020, it included three core focus areas: maintaining our solid foundation of environmental stewardship, social responsibility and governance (ESG); improving business alignment; and demonstrating the positive impacts of our work. The second pillar, in a sense, acts as a bridge between our foundation (what we've done well) and our future (what we plan to do). It also helps ensure that sustainability is never a separate consideration but rather a value that is woven into our everyday decisions and long-term roadmaps — in the woods and across our operations.
"Sustainability is so much more than what we do in our forests," says Katie Cava, corporate sustainability manager. "It encompasses a wide range of activities we need to do well to ensure our long-term success, including how we make and sell products to our customers, how we reduce our environmental footprint in our manufacturing facilities, the way we care for and develop our employees, our support and investment in our operating communities, and our approach to company governance, among other areas. I know 'business alignment' might sound like a high-level strategic exercise — and granted, that is part of it — but this work should also be very personal to every business, team and employee."
To achieve better business alignment, Katie has been working with business teams across the company to embed sustainability priorities and metrics into our existing operating and business plans. This work helps ensure sustainability outcomes are always considered when making business decisions. It also helps increase visibility into how our local business goals and commitments directly improve our overall sustainability performance. And it allows our teams to see and celebrate their sustainability wins across our operations.
"We all contribute to sustainability, but many of us don't realize it," Katie says. "Whether it's through our safety commitments, environmental work, community outreach or personal development, we're each helping to build on our strategy — and all those individual contributions add up to our full sustainability story at Weyerhaeuser."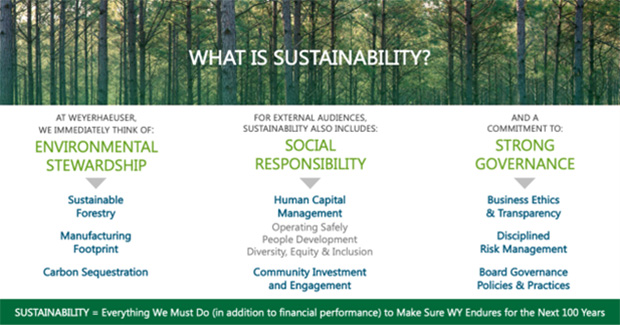 ALIGNMENT ON A BUSINESS
Doing Due Diligence in Corporate Development
In our Corporate Development business, Paul Hossain, vice president of Natural Resources & Climate Solutions, says sustainability and business strategy have always been interlinked. Still, the business is working to make sustainability even more prominent.
"In the past two years, we've brought more structure and data to our decision-making process, from assessing our portfolio mix to how we select third parties to work opportunities on our land," Paul says.
He says this added discipline has spurred the business to prioritize projects such as renewable energy and carbon capture and storage, and to also find new ways to evaluate traditional projects and project developers, such as for minerals and natural gas extraction.
Corporate Development now uses a sustainability checklist to assess whether prospective projects and partners are a good fit for the host communities, are strong stewards of the environment, have demonstrated an ongoing commitment to safety and hold themselves to other values we believe are critical to long-term success.
"Every project, every partner and every opportunity must pass our sustainability screening," Paul says.
Bringing New Sustainability Tools to Wood Products, Timberlands Planning
Also evolving are our annual strategic planning processes in Wood Products and Timberlands, as different sites and regions create their roadmap plans for the next three to five years.
"We've started calling out sustainability priorities in a separate summary section of our roadmaps," says Rob Laishley, vice president of strategic planning for Wood Products. "This allows us to be more intentional in our decision-making."
While roadmaps have included sustainability for a while, it was often scattered across various sections, including safety, people development, the environment and operational excellence.
"Over the past two years, we've worked with Katie and the Sustainability team to apply a sustainability lens to our planning process," Rob says. "The extra focus gives sustainability added visibility and weight."
For instance, an OpX initiative that primarily improves productivity or reliability might also benefit sustainability in areas like safety or energy performance. The new process ensures these benefits aren't overlooked and allows leaders at all levels to easily flag wins, identify opportunities, address gaps and anticipate risks.
The consistent framework also helps improve knowledge sharing between locations, especially when different operations face similar issues and challenges.
"Almost every component of a business plan has a sustainability connection," says Aaron Welch, vice president of Southern Timberlands, who leads the strategic planning process for Southern Timberlands. "Of course, we put a significant focus on growing trees and taking care of the environment. But other sustainability components include safety, people development, pay rates, community support, keeping contractors employed and more."
Although Weyerhaeuser has led in sustainability for more than a century, Aaron says highlighting all aspects of sustainability during planning is required for continuous improvement.
"It's like the heart-healthy icon on a restaurant menu," he says. "We make better, more informed decisions when sustainability is flagged in every part of our planning process, from setting operational priorities to allocating capital. Sustainability doesn't need to be overly complicated, but it does need to be intentional."
A New Storytelling Tool Spurs Knowledge Sharing
To help with that intentionality, the Sustainability team developed sustainability statements for each Wood Products mill, Distribution center and Timberlands region to spur communications and internal knowledge sharing. The statement summarizes site and region-level performance in categories such as greenhouse gas emissions, energy use and safety. Statements also include comparisons with product line, business and/or company averages.
"When I got our statement, I expected we'd be the sawmill leader in energy intensity, a measure of how much power we use to make a board foot of lumber," says Brent Czaban, mill manager at our lumber mill in Cottage Grove, Oregon. "But Santiam was on top. So, of course, I called them to learn what they were doing and see what we might replicate."
Brent also shared the statement with his leadership team and asked them to use it as a discussion guide to talk with their teams about environmental performance and the broader aspects of sustainability.
"If you think about sustainability in broad categories like people, performance and planet, it touches on almost everything we do," he says. "But making these connections sometimes requires digging below the surface."
Brent cites improved machine reliability as an example. It not only reduces costs (an OpX and performance benefit), but from a sustainability perspective it also reduces safety risks (a people benefit) and energy consumption (a planet benefit).
"Ultimately, sustainability is systems-wide thinking, and success is multi-dimensional," Brent says. "Sustainability isn't an add-on or something extra. Instead, it's part of everything we do."
ALIGNMENT ON A PERSONAL SCALE
At the end of the day, our success with sustainability comes down to our people understanding and taking personal ownership of it. Take Chris Muckenfuss, EMS manager for Southern Timberlands. He's one of many employees across the company who works with colleagues — in his case, foresters — to help connect the dots between sustainability planning and on-the-ground execution.
"A big part of what we do in environmental management systems is sustainability onboarding and ongoing training," Chris says. "We talk about all the things encompassed in sustainability, how it works and how it relates to a particular job."
One recent example Chris shares is the sustainability benefits of mechanical planting: improved seedling survival, reduced costs and reduced safety risk for planters, who otherwise spend all day bending and stooping. Another example is eliminating mechanical site preparation when possible, which not only saves money but also reduces topsoil disturbance and erosion.
"One action can affect multiple areas," Chris says. "I try to help folks see the interrelationships between what they do and what and who might be affected."
Chris describes his approach to fostering a sustainability-focused mindset as steppingstones: awareness, connection and ownership.
"There's a real 'a-ha' moment when folks realize how much of what they do contributes to sustainability," Chris says. "And when that happens, they incorporate sustainability into their day-to-day decision-making."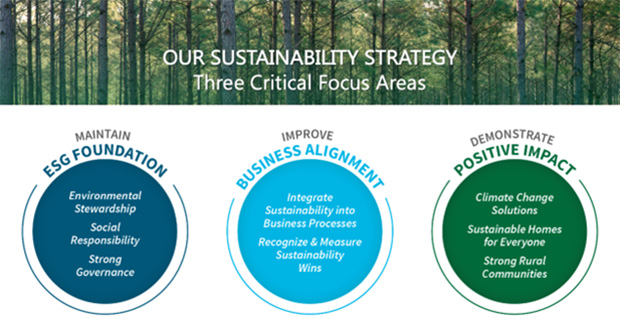 The three pillars of Weyerhaeuser's sustainability strategy. Business alignment, in a sense, bridges our foundation (what we've done well) and our future (what we plan to do).