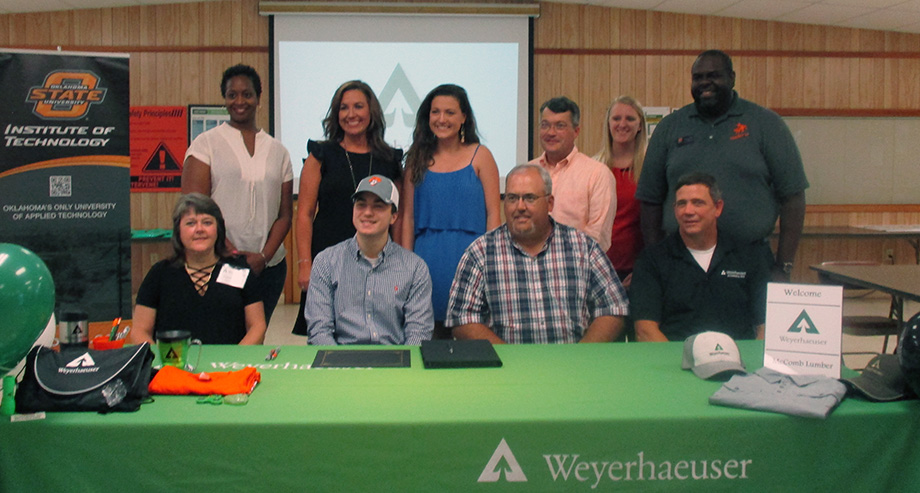 It was a scene you might recognize if you follow college sports: high school seniors signing letters of intent with a major university, surrounded by proud parents and friends, university representatives, reporters, community dignitaries and local politicians.
And Weyerhaeuser mill managers?
These ceremonies weren't for students who had signed on to a Division I sports team. They were hosted by five of our southern mills this summer as part of a new partnership with Oklahoma State University Institute of Technology to train the next generation of Weyerhaeuser employees.
AN OPPORTUNITY FOR STUDENTS, A PAY-OFF FOR US
It works like this: a mill sponsors a student — often a local high school senior — to attend OSUIT, providing tuition assistance and paid internships for the duration of their schooling. Once the student graduates with an associate or bachelor's degree in applied technology, he or she will start full-time at the mill.
The partnership was pioneered by Weyerhaeuser Idabel unit manager Tony Bivings.
"I visited the campus and was very impressed with their approach," Tony says. "It's a unique school. Students work on the same machines we have in our mills, so they learn the technology. Companies from all over the world sponsor students to attend OSUIT — you see them wearing uniforms and logos from places like NASCAR and Boeing."
In fact, the majority of students are sponsored, with jobs lined up as soon as they graduate. Tony quickly realized this was a great way to attract and keep young talent.
Idabel brought on two current OSUIT students as paid interns in 2017, and Tony approached Keith O'Rear, vice president of Mid-South manufacturing at the time, about a more expansive partnership for mills across the region.
"We often have trouble recruiting young people to live and work in our rural communities," Keith says. "This is a way to get the technical skills we need while giving local kids the opportunity to earn a good living and stay in their hometowns."
Tony, Keith, and the Wood Products HR team committed that each Mid-South mill would try to find one student to sponsor. Jerry Nix, vice president of manufacturing for the Gulf-South, got his region involved, as well, and the unit managers from both regions toured OSUIT and learned how to pitch to teenagers.
RESPONDING TO A GENERATIONAL SHIFT
"Seeing a local company recruiting in their community really resonates with small towns like the ones where Weyerhaeuser operates," says Dr. Ina Agnew, OSUIT's vice president of student services. "We're finding that this generation wants to return to their hometown after college, and this sponsorship gives them a way to do that."
To select their students, mill HR and unit managers visited local high schools to educate students about Weyerhaeuser and their mill in particular. Interested students went through the same rigorous hiring process we use for any candidate.
"Our Gulf-South mills found three really high-quality high school seniors to sponsor," says Akilah Lewis, regional HR manager for the Gulf-South.
Many local high schools are already actively seeking new students to recommend to the program.
"We've committed to the sponsorship for two to three years," Keith says. "It's just year one, but we can already tell it's a good investment. OSUIT grads are really high-quality men and women who know what they're doing as soon as they walk in the door."