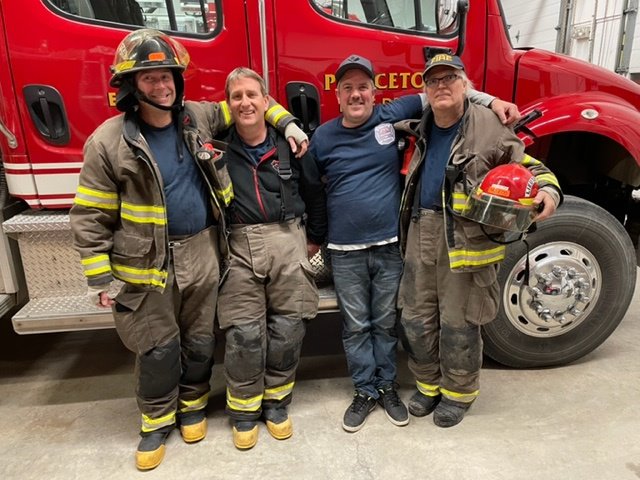 Pictured in front of Princeton Volunteer Fire Brigade Engine No. 225 are Weyerhaeuser team members Kevin SIll, Rob Hicks, Carson Zieske and Jamie McLeod.
Through fire and flood, the employees at our lumber mill in Princeton, British Columbia, stepped up in big ways to help their community last year. And many say they were simply doing what comes naturally: looking out for the people around them.
"There's a sense of connection, caring and community that translates into everything we do here," says Jeff Larsen, mill manager. "And it doesn't stop at the mill gate. It extends to the people in town and beyond."
That commitment gets noticed. The team achieved standout performance in 2021 and received a Wood Products Award for Safety, recognizing the mill both for its safe workplace and for its commitment to helping the community during historic floods last fall.
LEADING IN SAFETY
Within the mill, recordable incident rates (of less than one) improved for the third straight year, and the team experienced no level 1 or level 2 employee or contractor injuries in 2021.
Jeff says the key ingredient for their safety success is a commitment to continuous improvement, no matter how good the team already is. "We've made safety part of our DNA," he says. "It starts with caring about yourself and those around you, which means nothing is left to chance."
The team follows job safety standards 100 percent of the time. If a nonroutine task comes up that doesn't have a standard, every team member knows to conduct a risk assessment and develop a plan before starting work.
"We're successful in safety because we make the right choices, every moment of every day," Jeff says.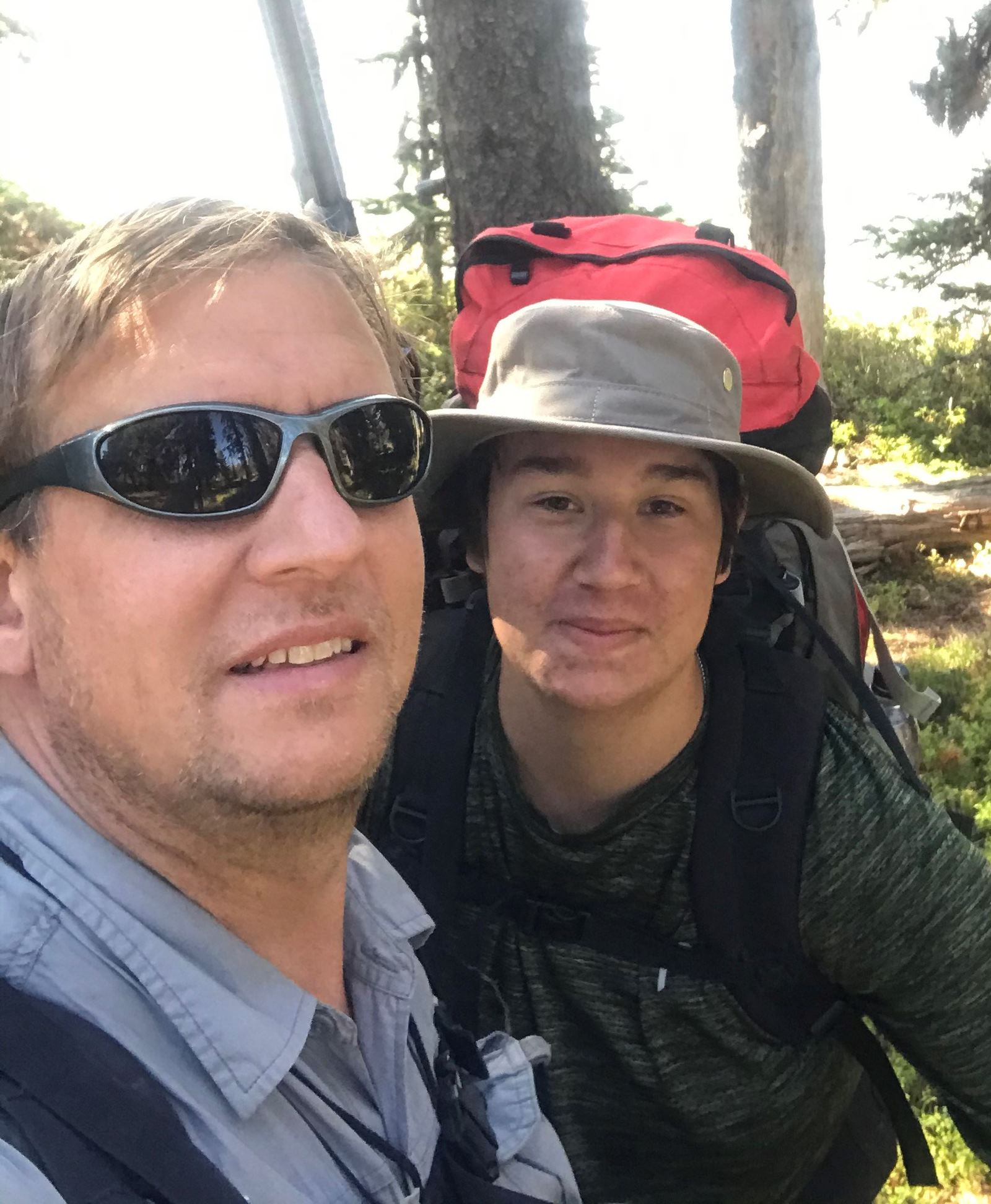 Ed Kostuch and his son, Horatio, also a Weyerhaeuser employee. Ed used his electrical expertise to help inspect homes before power restoration.
SUPPORTING COMMUNITY RECOVERY
That caring focus quickly shifted beyond the mill gates in November, when historic floods inundated Princeton and surrounding communities. Our employees checked on neighbors and family members, filled sandbags, mucked out homes, supported community relief organizations and did what they could to aid the community's recovery. (In early December, Weyerhaeuser also donated $100,000 to the South Okanagan Community Foundation to support flood recovery efforts.)
Ed Kostuch, maintenance reliability leader, was in the mountains moose hunting when the heavy rains started. After checking in with his wife, who warned him of potential severe flooding and landslides, he decided to return home to Princeton Sunday afternoon, Nov. 14.
"It was unusually warm, and the early snow in the mountains was melting," Ed says. "The rivers were roiling and extra high, but I made it back safely."
That evening, a dike on the Tulameen River failed, flooding at at least half of Princeton, a town of about 3,000 people. Portions of the log yard at our sawmill outside town were also filled with water and muck, and work shifts were canceled.
"For the next several days, I went to the fire hall and filled sandbags, conducted welfare checks on the elderly and disabled, delivered food and water, and did whatever needed to be done," Ed says.
After a week, the mill went back online, but Ed was 'loaned' to the community. In post-flood weeks two and three, city officials tapped his background in electrical maintenance to inspect homes and safely reenergize homes.
"I'm really proud to work for a company that cares so much about the community," Ed says. "I did a part-day at the mill and then went back into town to help out."
FIRE BRIGADE TO THE RESCUE
Rob Hicks, maintenance planner and member of the local volunteer fire brigade, started directing traffic through town the afternoon of Nov. 14, when flooding was causing traffic headaches.
"Around 8 p.m. we got a call that basements in a low-lying area called Allison Flats were flooding," Rob says. "On our way over, we passed an old wooden bridge that marked the river level on its pylons. It was at 12 feet, higher than any of us had ever seen."
By the time the brigade arrived in Allison Flats, water was halfway up the first floor of an apartment building. The fire department helped evacuate stranded residents, then started knocking on the doors of other homes and buildings in the area.
"We wanted to make sure everyone knew they might need to evacuate," Rob says. "When the evacuation call came, the whole fire brigade helped residents get to higher ground."
Rob and the fire brigade conducted safety checks over the next week, filled sandbags, delivered bottled water to residents and held a food drive at the fire hall. At one point, an entire shift from our sawmill showed up to assist with sandbagging.
"There was this overwhelming sense of caring and looking out for each other," Rob says.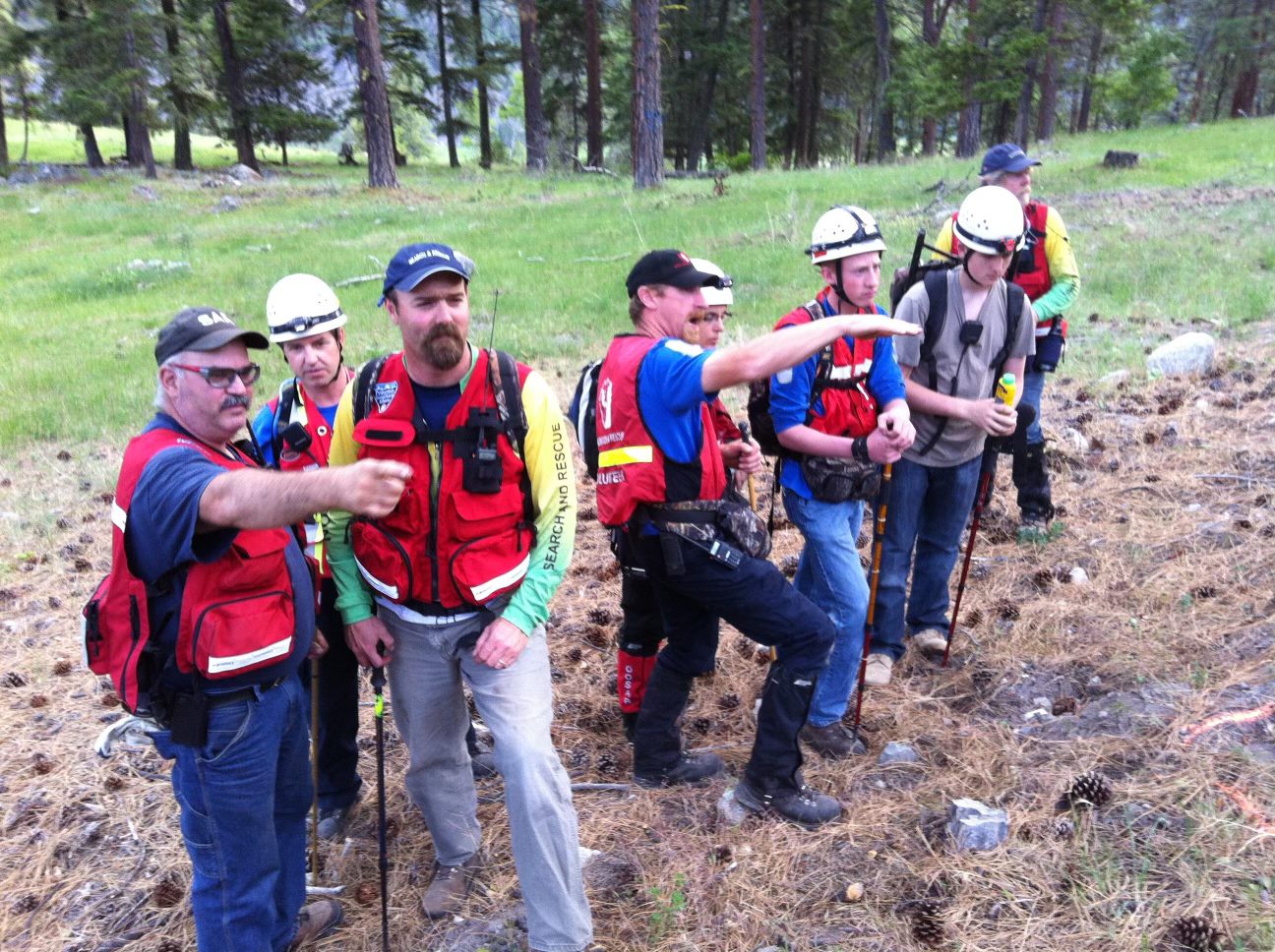 Arnie Powell, far left, during Princeton Search & Rescue team drills. His skills came in handy during the recent floods.
SEARCH AND RESCUE
Princeton native Arnie Powell, planer supervisor, has been a member of the Princeton Search and Rescue team since 2000. "I've never seen flooding this bad," he says. "For three days, the roads disappeared underwater for kilometers at a stretch."
About half the town's residents lost homes, including many mill employees. And some nearby communities were hit even harder.
Arnie was called to the nearby communities of Tulameen and Coalmont to rescue residents who were unable to evacuate due to fast-moving currents.
"Most needed to be rescued by helicopter, but we got the job done, and it wasn't too long before I was back at work," Arnie says.
Although the dikes have been repaired now, Arnie is worried about this spring's high-water season in June. Many residents remain displaced, and the entire community still needs to boil drinking water. But he's also grateful.
"I'm grateful to work for a company that gives me time to train in search and rescue," he says. "I'm grateful to work for a company and live in a community where people truly care about each other. And I'm grateful that things are getting back to normal."
---
PRINCETON TIMBERLANDS STEPS UP BIG, TOO
From fires to floods, 2021 was a tough year in southwest British Columbia. Last summer the Princeton Timberlands team helped fight record forest fires and supported post-fire recovery efforts. When the floods arrived in November, they stepped up with their mill counterparts and volunteered hundreds of hours contributing to community efforts, from filling sandbags to delivering care packages. For their outstanding commitment to the community, the Timberlands team was awarded a 2021 Timberlands Recognition of Excellence Award for Citizenship.