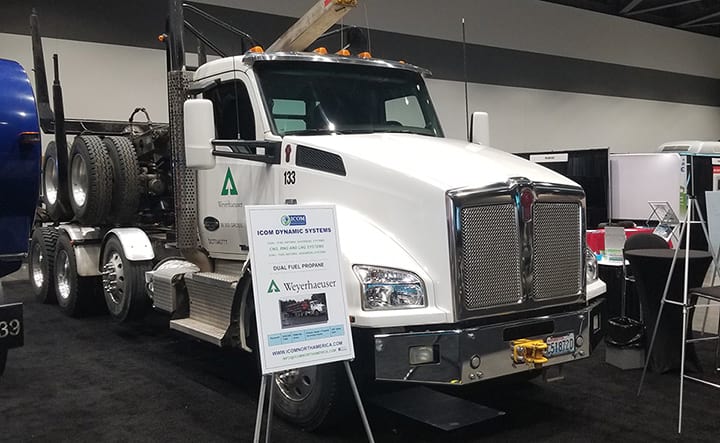 Who would have thought you can run a heavy-duty truck on the same fuel that powers your gas grill? But you can.
The proof is zooming through our timberlands in Aberdeen, Washington, right now. And it's running just as powerfully as any diesel-fueled vehicle of the same type and size.
In fact, it's the only logging truck in the entire country with a combination propane and diesel fuel system that's been approved for testing by the Environmental Protection Agency. The truck was converted as part of a pilot program that will likely continue to grow over time.
"Weyerhaeuser is blazing a new trail," says Michael S. Graham, director of policy and communications at the Columbia-Willamette Clean Cities Coalition, a nonprofit that works with ground fleets to achieve sustainability and efficiency goals with clean fuels and technologies. "This is a cutting-edge program that could lead the way for serious cost savings and reduced emissions throughout the entire industry."
WHY PROPANE?
A byproduct of the petroleum refining process, propane comes with a host of benefits when used as fuel for vehicles:
It's domestically produced, and its price tends to remain stable over time, while gasoline and diesel fluctuate.
It costs as little as $1.26 per gasoline-equivalent gallon (adjusted to compare apples to apples).
It burns cleaner, emitting 21-percent fewer greenhouse gases, 24-percent less nitrous oxide and 44-percent less sulfur oxide, while producing fewer particulates.
Cleaner-burning fuel is easier on engines, leading to lower maintenance costs over time.
It's readily available around the country, and the conversion process is relatively simple and affordable.
"People tend to think everything needs to be electric to be clean and sustainable, but there's a technology and a fuel for every application that can still reduce emissions today," Michael says. "Electric vehicles make a lot of sense for in-city driving, but the forest industry has unique operational requirements that make all-electric tractors challenging. Propane fills an immediate need."
TRACTORS, POLICE CARS, SCHOOL BUSES
Used as fuel for tractors and other farming equipment for decades, propane has grown more popular in recent years and now powers vehicles such as police cars and school buses.
Converted vehicles don't have to run on propane alone. Many are bi-fuel, meaning they can switch between propane or gasoline, or dual-fuel, meaning they can run on propane and diesel at the same time.
These hybrid systems help eliminate a common anxiety about alternative fuels: finding a place to fill up or charge up while out on the road.
"If you're worried about losing power with propane, don't be," says Brian Trice, executive director of the Columbia-Willamette Clean Cities Coalition. "In most cases, you gain power and get better mileage, especially in diesel engines."
DRIVING INNOVATION
Our propane truck conversion project began about five years ago, when Travis Ridgway was Timberlands area manager in Springfield, Oregon.
"I was at a meeting with our woods deputy, and he had a propane-powered truck," Travis says. "I thought it was brilliant. Once I learned more about the benefits, I wanted to try it out myself."
Travis collaborated with Brian at CWCCC to convert some of our light-duty pickup trucks to a combined-fuel system, which uses gasoline to get started and automatically switches to propane after that. We've also converted the one log truck in Aberdeen, which runs on both diesel and propane at the same time.
Now regional manager in North Washington, Travis drives one of the converted pick-up trucks full time and has logged about 80,000 miles.
"I burn about one tank of gasoline every 4,000 miles and run on propane the rest of the time," Travis says. "I only have to change my oil every 30,000 miles."
The process of switching a light-duty vehicle to run on propane varies depending on its type and age, but it generally costs between $5,000 and $8,000 and takes eight to 12 hours to complete.
In Washington, the conversions practically pay for themselves. The state offers tax credits for 50 percent of system and installation costs on existing vehicles, and 75 percent on new vehicles.
"The return on investment is phenomenal," Brian says. "Aside from people, the two biggest expenses for fleets are fueling and maintenance. If you can save on both, you're hitting a home run."
TAKING THE NEXT STEPS
We now have nine propane pickups in our Washington fleet, with more on the way. Though the COVID-19 pandemic has put plans to add to our Oregon propane fleet on hold, Travis hopes to convert about 10 vehicles per year starting in 2021.
To continue expanding the project, we'll also need some new propane fueling stations. We're currently working with Bluestar Gas and other propane providers to install pump locations at some of our sites in Washington.
Already, Travis helped spearhead the installation of a propane-dispensing fuel island at our Springfield, Oregon, timberland operations. All the tanks and equipment are owned by the supplier, so we only pay for the propane we use.
Travis says one of the biggest challenges to scaling up is just getting people on board with something so new.
"Innovation is so important for our business," Travis says. "It takes time and perseverance to see it through, but we're good at that. As a company, we take carbon out of the atmosphere and turn it into products to build homes. Switching to alternative fuels is a fitting step to take."