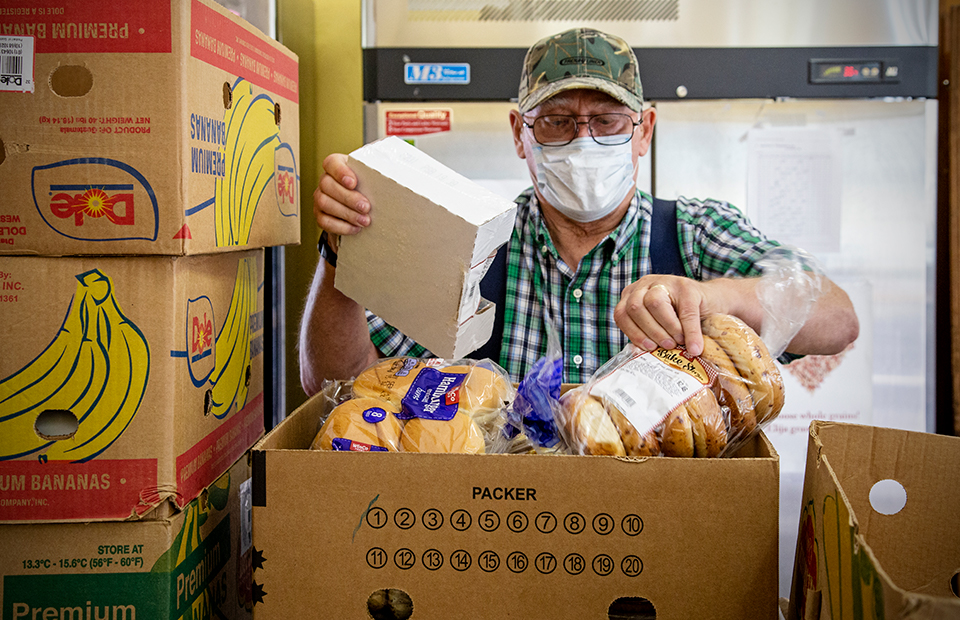 Last September, wildfires burned through Oregon's Lane, Clackamas and Marion Counties, including portions of our Snow Peak, Springfield and Clackamas tree farms. Our Timberlands teams stepped up to help contain the fires and offer immediate support to their communities, and the company provided a number of monetary grants to aid the response and recovery efforts. Much has changed in the last year, though the landscape and communities are still very much in the process of recovering.
"I see a lot of homes being rebuilt as I drive into work — maybe about half of those that burned down," says Jim Neef, Springfield area manager. "It's going to take more time for our communities to fully recover, but the progress is visible."
In Detroit, Oregon, which lost more than 80 percent of its structures in last year's Beachie Creek Fire, a new community center is nearing completion. The rebuild was made possible, in part, by a grant from the Oregon Community Foundation's Rebuilding Fund, which Weyerhaeuser supported with a $200,000 donation when it launched last year.
"I know one family who just moved into their new home on Aug. 6," says Cara Barnes, an administrative assistant at our Snow Peak tree farm and an active volunteer for the Santiam Canyon Wildfire Relief Fund. "It gives you hope. The Canyon people are so supportive of each other and grateful for any assistance and compassion they get from others. It's going to take more time, but we'll make it through."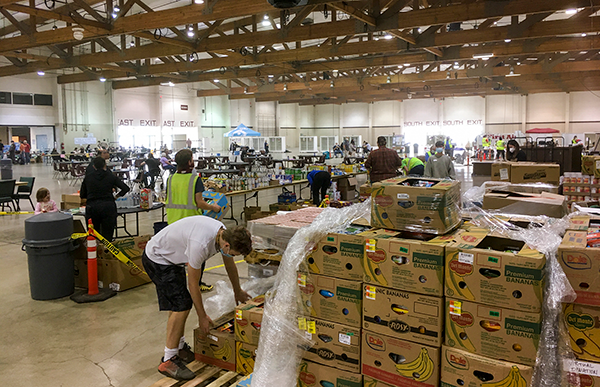 Kadin Pruett, a volunteer at the Oregon State Fairgrounds, breaks down a pallet of food delivered by Marion Polk Food Share last fall. After last year's fires, Weyerhaeuser donated $15,000 to Marion Polk Food Share, which also supplies food to its partner pantries in Idanha and Stayton.
Marion Polk Food Share driver Zimmer Frey delivers food to the Oregon State Fairgrounds in the aftermath of last fall's fires.
CARE AND COMMUNICATION
On Oct. 30, dozens of Timberlands team members plan to set up in a city park in Detroit to give away 10,000 tree seedlings to area residents affected by the fire. It's just one of many ways our teams are helping communities recover — from volunteer activities such as gathering essential supplies for local relief organizations and helping neighbors rebuild, to engaging in policy discussions and proactively reaching out to neighbors.
"We try to do what we can to make life better for the people who live in the communities where we operate," says Jill Bell, Snow Peak area manager. "They've been through so much this past year. We take every contact seriously, and if there are concerns we listen and seek to understand. Whether returning a call, conducting a tour, or showing up to a meeting by phone or in person, we want the public to know we're engaged and concerned fellow citizens, and we're happy to answer questions on anything from salvage operations to tree planting as openly and transparently as we can."
Over the past year, the Oregon teams have proactively conducted tours with local watershed councils and other community-based organizations interested in our recovery efforts. Snow Peak team members have attended various government meetings about fire prevention and fire recovery, and others — including Tyson Losli, Clackamas area manager, and his team — have worked closely with state and federal foresters and local officials to partner and align on fire management strategies.
"Factors like a simple change in wind direction can cause uncontained fires to spread quickly and dangerously, so every wildfire season our communities are on edge," Tyson says. "We have to do our part to prevent and contain fires on our property, and we also have to work closely with other landowners and nearby communities to prepare for fire season and make sure we do everything we can to keep everyone safe. We're all in this together."
Despite the challenges ahead, that sense of shared commitment underscores a sense of optimism and hope across the region.
"We know that recovery in the Santiam Canyon from last year's fires will likely take years," says Rick Guapo, President and CEO of Marion Polk Food Share, which received a $15,000 grant from Weyerhaeuser last year. "Residents are juggling myriad issues as they attempt to rebuild, but fortunately the availability of food is not among the stressors. Thanks to generous supporters, the Food Share has been able to supply our Canyon food pantry partners with food and staples to assist our neighbors as they rebuild their homes and businesses. Many residents need to visit the food pantries frequently because they are still living in temporary housing with limited storage. We are making sure there is plenty of food to meet their needs, and we will continue to support our Canyon neighbors in their long-term recovery."

In addition to the efforts of employee volunteers, Weyerhaeuser has donated more than $450,000 to recovery organizations across Oregon. A $200,000 donation supported the Oregon Community Foundation's Rebuilding Fund. A $150,000 grant helped the Red Cross assist thousands of displaced Oregonians during and immediately following the fires. Another $100,000 in company grants, ranging from $5,000 to $15,000, supported local food banks and relief organizations in the communities where we operate — including one for Molalla High School, where school officials split a $10,000 donation between the wrestling team (several members supported fire relief and recovery efforts) and a new Weyerhaeuser employee-student mentorship program.