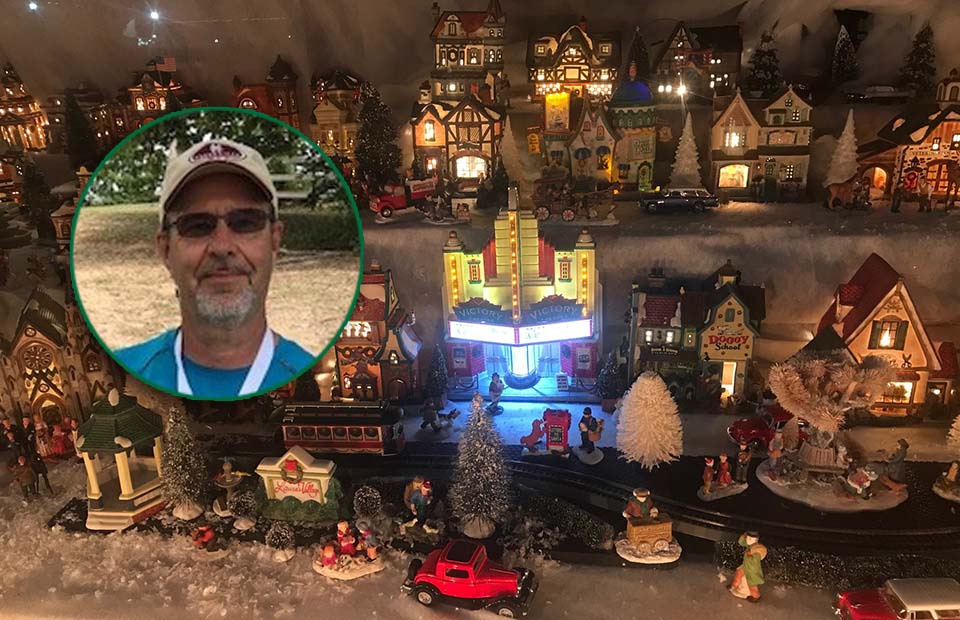 For Keith May, safety doesn't start or end at work. As safety manager at our lumber mill in Philadelphia, Mississippi, he understands that safety is a mindset we carry with us throughout the day — and that what's happening at home can affect what's happening at the mill.
That's why Keith spends so much of his day out on the mill floor, talking, meeting with people one on one, and establishing relationships. He believes creating community is one of the most important ways to fuel safety improvements, and it starts with taking time and paying attention to how people are doing — building all the little connections that add up to a safer work environment.
"Our safety improvements started out small and grew over time, leading us to eventually go almost two years without a recordable accident," he says. "All it took was starting small."
And Keith knows a thing or two about starting small. Every year, he takes a week off at Thanksgiving to build a miniature Christmas village window display in a downtown storefront, using hundreds of tiny ceramic houses, trees, animals and people. Each year's display is unique.
"My wife and I have been doing it for more than 20 years; it's our gift to the community," Keith says. "My wife retired from it a few years ago, so now it's just me. It typically takes about 80 hours to set up. It's my way of staying connected to where I came from, who I am, and where I'm going. It's gratifying to see how much people enjoy the tradition. I especially like watching children's faces when they come look at it."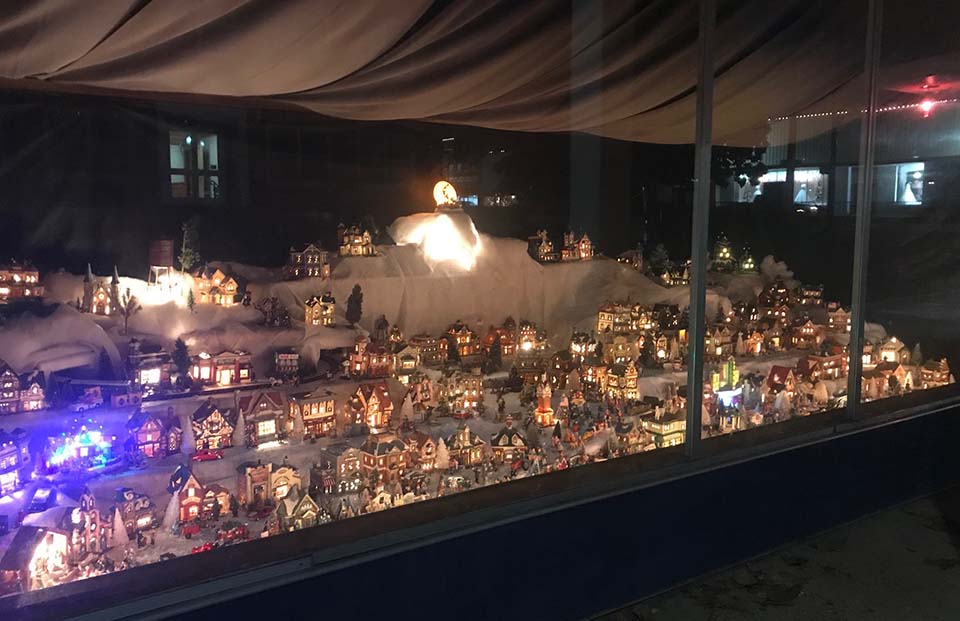 This year's Christmas Village Keith put together in Philadelphia, Mississippi.
MEET KEITH
Your title is safety manager. Tell us what you do.
We've got about 175 employees and 60 contractors on site right now. My main job is to keep everybody safe and make sure they go home the same way they came.
I spend most my time walking from one end of the mill to the other, talking with people along the way. It gives me a chance to learn about each person, because what's happening at home affects what's happening here. If someone has challenges at home — for example, a new baby or an ill family member — it drains them, so we know to help them be extra cautious. I like to learn about the happy times as well as the sad times, so I can celebrate or mourn right along with them. I want our employees to know they're not alone, that they have someone here who cares.
Have you always done this type of work?
No. I got my degree in graphic design and advertising right when the economy hit bottom, so I worked as a security guard at Entergy, a nuclear and fossil power energy company. I worked there for 26 years, moving my way to CAD operator, then to their budget and scheduling group. Eventually I earned a certification in Infrared Thermography and became a diagnostic tech. I ended up working at one of their plants in Greenville, Mississippi. There, I wore several hats, one of which was as safety manager.
What led you to choose this job?
I took early retirement from Entergy because they were downsizing; I wasn't even 55 yet. I went to work with a friend of mine, managing parts supply for gas turbine outages throughout the U.S. We traveled through 17 states in two years. It was too much travel, so when this job at Weyerhaeuser opened five and a half years ago, I applied. I'm glad to be back home and working at a job I love!
Who are your customers?
I consider all the employees, contractors and their families to be my customers. It's my responsibility to make sure everybody goes home safely to their family every day. I think people actually go home better, because they take some of the safety practices they learn here and apply them at home.
What's your favorite part of your job?
Being able to share and keep folks safe daily, and knowing that at the end of the day everyone goes home safe and the way they arrived. It breaks my heart anytime there is a safety incident because I feel that somewhere I failed them. I really take it personally.
You must have some challenges. What are they?
It's challenging to deal with different personalities. I know we won't get everyone to agree on everything, but we have rules and regulations that must be followed. Every now and then, I need to step up and take control, but at the same time I make sure I let everyone involved know that I care about them and hear them.
Tell us something about your job that might surprise people.
At the end of the year, I send a handwritten, personal Christmas card to every single employee on site. It's a personal note thanking them for working safely. People in most places don't always get thanked or recognized for being safe.
What advice would you give people who want a job like yours?
Learn about safety and take steps to become certified. Also, learn as much as you can about the people around you. You've got to be a people person, willing to do whatever it takes to keep people safe.
Tell us about your other interests. What do you like to do when you're not at work?
Anything outdoors. I like kayaking and recently came in third in my division in a kayak race. It was my first race ever; I thought that was pretty good for a 60-year-old. I have two small dogs that ride with me when I'm not racing; it's a great way to relax. I also enjoy traveling to the Smoky Mountains with my family to go hiking and ziplining. Other hobbies include painting, drawing and photography. I recently won several ribbons, including Best in Show, at the Neshoba County Fair. I'm also active in the community; I just rolled off the Chamber of Commerce Board and now serve on the Main Street Board. I am also active at church, where I sing in the choir.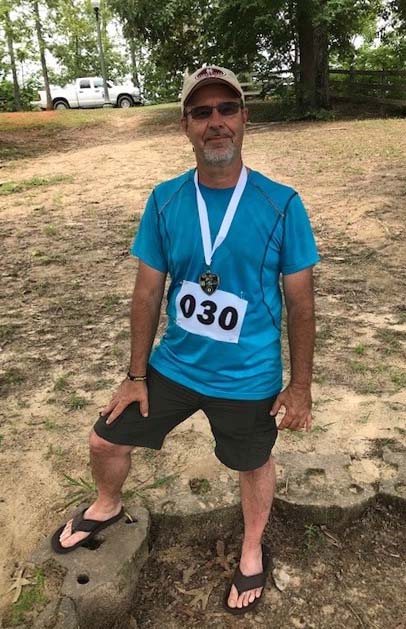 Keith with his third-place medal after competing in the Queen City Paddle Heat Stoke paddleboard/kayak race on Bonita Lake in Meridian, Mississippi.