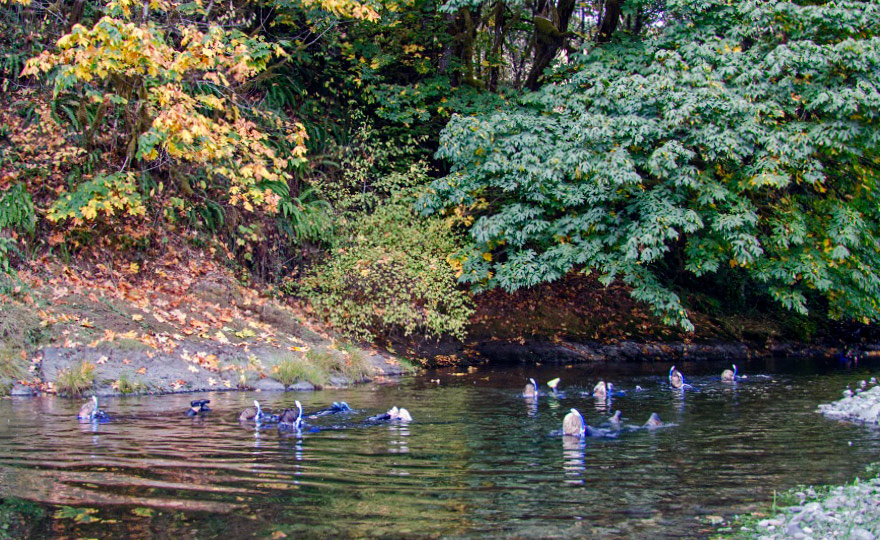 An aerial view of western Oregon's Calapooia River must have been intriguing in October of 2018. The river was filled with bright blue creatures bobbing along in the chilly water.
A closer look would reveal a classroom of sorts, where a dozen high school students wearing wetsuits, masks and snorkels were exploring this tributary of the Willamette River, which passes through our working forests.
FIRST-OF-ITS-KIND IN THE WEST
Sponsored by the Calapooia Watershed Council — a nonprofit dedicated to sustaining the watershed and educating the community about its benefits — and supported by the U.S. Forest Service and Weyerhaeuser, the experience gave students a chance to learn about birds, fish and other fauna essential to river health.
"The kids really enjoyed it and feedback from the teachers was incredible," says Kristen Daly, an education projects manager for the council.
This was the pilot year for the program, which was available to students in the Albany, Ore., area. A first-of-its-kind west of the Rockies, it's modeled after a similar program conducted by NorthBay Adventures in Maryland.
The Calapooia Watershed Council hopes to expand it next year.
"This summer, NorthBay's executive director came out and trained us on how their program works," Daly said.
By then, Daly had already approached Weyerhaeuser about conducting the classes on our property.
"I talked with Nate Meehan, and he jumped on it," she says.
SAFETY FIRST
A forest engineering specialist based in Springfield, Meehan is also a volunteer board member on the council.
"We agreed to provide access as long as they developed an acceptable safety plan," Meehan said.
Because the kids would be snorkeling, this included limiting their time in the river to reduce the risk of hypothermia.
"The water is about 54 degrees in early October," Daly said. "But when the program ended a few weeks later, the temperature had dropped to 44."
To further mitigate exposure, a local scuba shop in Eugene sold the council discounted wet suits.
AN UP-CLOSE EXPERIENCE
Despite the temperature, students were transfixed when they poked their diving masks into the water. Even though it was shallow in most places, about three feet, with some deeper pools here and there, they saw bottom-feeding sculpin, lamprey and, if they were quiet and a little lucky, rainbow trout.
"In just this small portion of the river, there are many different habitats," Daly said. "A rocky bottom, a pool, a downed log — these are all places where different species live."
During lunch, Daly gave students a fish field guide to help them identify what they saw. They also discussed other fauna, including macroinvertebrates like crayfish, and how they serve as indicators of a stream's health.
Weyerhaeuser is eager to work with the council to bring the program back.
"We're members of the community and two of our core values are citizenship and sustainability," Meehan said. "This program inspires a new generation to care about the environment while showing that healthy stream ecosystems and working forests can coexist."