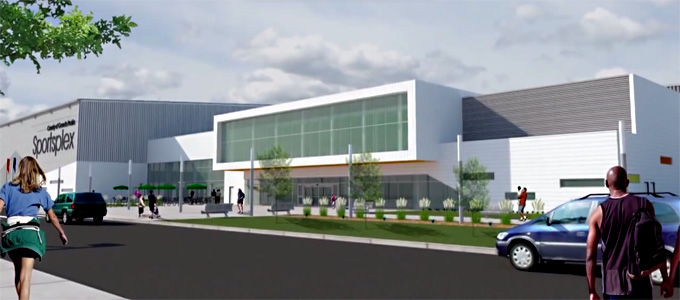 Grand Prairie, Alberta relies on forestry, agriculture, and oil and gas for its economic vitality. Supporting the forestry sector, Weyerhaeuser has a pulp mill, saw mill and timberlands operations that employs 650 people in the town of 55,000. Our people and our businesses are well integrated into the Grand Prairie community and it should be no surprise that Weyerhaeuser wanted to give back. Weyerhaeuser recently made a $50,000 contribution to the new County of Grand Prairie Sportsplex.
The County of Grand Prairie Sportsplex opened to the public in January 2013. It features twin NHL-sized ice rinks, a large field house, an indoor walking track, fitness centre, meeting rooms, and retail space.
The Sportsplex offers a broad range of indoor and outdoor programming, including walking for seniors, soccer for children, public ice skating, and drop-in shinny. Programs change throughout the year and are based on community feedback. Check out the Sportsplex for yourself by visiting: www.cgpsportsplex.com
The Sportsplex provides a perfect opportunity for Weyerhaeuser to demonstrate our commitment to the communities in which we live and serve. Our Grand Prairie employees will benefit from the family-friendly Sportsplex, and the larger Grand Prairie region will enjoy the indoor/outdoor facilities for many years.