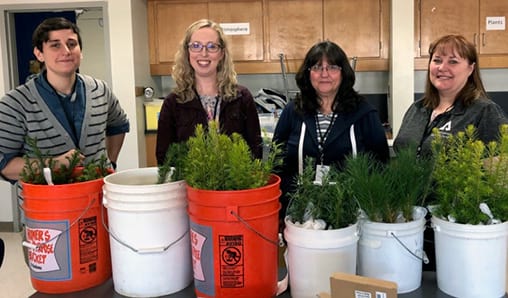 How do you get the attention of seventh graders when you're talking about careers in science, technology, engineering and math, also known as STEM?
To start, try bringing your hardhat and hi-vis vest. It worked for Laura Six, a plant ecology scientist based at our Timberlands research center in Centralia, Washington.
Laura recently spent the day at Centralia Middle School as a guest speaker for their science classes as part of a program called STEM Like Me. Her goal was to show students how careers in STEM-related fields are not only varied and vast, but also offer wide-ranging opportunities close to home.
She was joined by four other Weyerhaeuser employees. Over the course of a day, about 170 students heard from:
Laura, who focused on ecology and managing habitat for sensitive species.
Meaghan Stuke, a nursery research forester, who discussed the growth cycle of trees.
Mark Sheldahl, a silvicultural forester, who taught techniques to determine how many trees there are on a large landscape and what measurements are important.
Bobbye Choate, a product supply team lead at our Raymond sawmill, who explained how technology is essential in helping us produce lumber.
Theresa Davis, a human resource manager at our Longview sawmill, who talked about STEM work in the mill.
"It's important for local kids to see people from the community working jobs in STEM-related fields," Laura says. "They don't always see these jobs as accessible and available right here at home."
FILLING A CRITICAL GAP
Encouraging more students to pursue careers in STEM fields is certainly a good thing to do. It's also a business imperative. By some estimates, roughly 2 million STEM-related jobs in the U.S. will go unfilled by 2025 due to a lack of highly skilled candidates.
Part of this gap is due to the fact that many girls and young women who excel in STEM-related topics in middle and high school don't end up pursuing careers in the field. The reasons are varied and complex, but the opportunity for students to see role models like Laura, Meaghan, Bobbye, and Theresa can be inspirational.
Lorie Thompson, the regional representative for Washington STEM who organized the STEM Like Me event at Centralia Middle School, says, "So many students, especially in rural areas, don't realize how STEM subjects in school relate to local jobs."
COUNTERING STEREOTYPES AND MISPERCEPTIONS
What's more, students often have stereotypical ideas about these jobs, imagining scientists wearing white coats working in labs or coders in Silicon Valley.
"We definitely encountered some preconceived notions about STEM careers," Meaghan says. "I wanted the students to see how even the simple seeming things like breeding and growing seedlings require specialized knowledge."
Specialized knowledge is also important in our manufacturing operations, which need people with a variety of STEM skills, from supporting a mill's logic control and IT systems to maintaining sophisticated mechanical and electrical systems or crunching numbers in data analytics and accounting.
"There's a misperception that making lumber is an unsophisticated process," says Bobbye. "The students didn't realize how much we depend on technology and how advanced our operations really are."
In fact, Bobbye says the students got really excited when she talked about drones being used in the business. It was an attention-grabbing moment that made them want to know more.
"We went through the end-to-end lumber manufacturing process, and I taught them how to grade lumber," Bobbye says. "If you don't understand how something gets made, it's hard to envision all the jobs involved in making it."
PLANTING SEEDS
While it'll be several years before these seventh graders enter the workforce, it's never too early to inspire youth to achieve to their full potential and consider all of the possibilities in front of them.
Meaghan, who gave each student a seedling to take home, hopes it's not the only thing the students will continue to grow and nurture.
"Our involvement in this program is a great example of commitment to community," she says. "It's about helping the next generation find careers they can prosper in and love. Hopefully, we've planted a seed for their future."