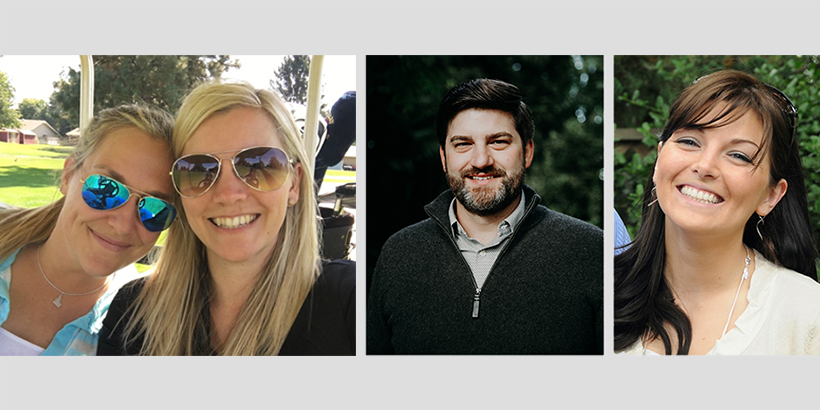 Jessica Priest and Sky Eckert (left) helped build our participation in the event at the request of one of Sky's customers in Boise, Levi Smith of Franklin Building Supply. Graeme Dick and Sarah Fulcher (right) both served as mentors for the student teams competing in Hacking for Homebuilding.
In October, nearly 50 college students from across Idaho went searching for the next big business venture in homebuilding — with a little help from Weyerhaeuser.
The students were participating in Hacking for Homebuilding, a week-long digital entrepreneurship competition. Five of our Wood Products team members assisted as mentors, providing guidance and insight on issues such as housing affordability, on-site waste disposal and skilled-labor shortages.
"It was a fantastic event, and I was impressed with the students' skills and passion," says Jessica Priest, area general manager for our distribution center in Boise. She served as a mentor for a team of students whose project was to attract talent to the homebuilding industry, especially in the skilled trades.
The event, conducted entirely online, was sponsored by the College of Innovation and Design's Venture College and the College of Engineering at Boise State University. Other academic institutions in Idaho also participated, including Lewis-Clark State College and the University of Idaho.
The teams competed for over $20,000 in cash prizes to serve as seed money for their proposed ventures, including $10,000 for first place.
"It was a great opportunity to raise awareness about the homebuilding industry as a career opportunity, build up Weyerhaeuser's name recognition and reputation, and give back to our communities," says Sky Eckert, a Wood Products territory manager covering Boise.
A CUSTOMER WITH A PASSION
Our participation started with a request from one of Sky's customers, Levi Smith of Franklin Building Supply, who was keen on the event and asked us to participate.
"Levi saw an opportunity to position Boise as a hub of homebuilding innovation," Sky says. "The city is already a leader in the semiconductor industry and has a tradition of innovation."
In fact, Trus Joist® engineered wood products originated in Boise. In 1978, Franklin Building Supply was one of the first lumber dealers to carry Trus Joist I-Joists. Since then, our sales teams have supported Franklin during a period of rapid growth. Today, it's one of Boise's largest and most recognized companies, employing more than 650 people in 17 locations.
"Levi and his colleagues have been good partners over the years, and we appreciate the opportunity to work together to encourage students to focus on the future of homebuilding," Sky says.
SEARCHING FOR SOLUTIONS
Sky brought in Sarah Fulcher, Wood Products senior product manager, as one of the mentors for the event. The first step was brainstorming potential problem statements relating to some of the big challenges in the industry today. After working with colleagues across Wood Products, they came up with four statements that fit into three categories: labor constraints, supply chain and affordable housing.
They gave these problem statements to BSU, and the other companies participating submitted their own problem statements, too. Each of the 18 student teams chose one statement to focus on and was paired with mentors from the organization that had created the problem statement. Our employees guided five teams, including the second- and third-place winners.
The top three projects, as described by the students, were:
HAUS — HAUS is an integrated structural unit that organizes and streamlines your home utilities and is easily accessed through the baseboard. It provides accessibility, serviceability and flexibility to both the construction industry and the homeowner.
BEAMING — You see junk, we create value. BEAMING is the solution to lumber wrap waste. Every day, truckloads of lumber wrap is used once and discarded. BEAMING diverts lumber wrap away from landfills and recycles it into useful products.
AID — Affordable Idaho (AID) is an interest group focused on increased affordable housing through targeted policy changes. Specifically, we aim to improve tax increment financing codes by allowing direct subsidization of affordable housing development in Idaho.
WRAPPING UP
Sarah helped mentor the third-place team that came up with AID.
"At first, the students struggled to create a tangible product the judges could assess," she says. "So we started thinking about deliverables instead. They came up with a campaign that uses an issue-based animated video to promote a bill in the state legislature addressing gaps in support for affordable housing."
Graeme Dick, ELP quality systems manager, and his mentees faced a different challenge. His "Beaming" team wanted to find ways to recycle wraps used to package lumber. Ours are made from polypropylene, an easily recycled material, but not every builder makes an effort to recycle.
"The team came up with the idea to make recycling easier by distributing free collection bins to job sites, then collect the bins and manufacture the wraps into other building materials or consumer products, such as backpacks," Graeme said. "The students' ability to analyze a situation and create a business plan was top-notch."
All the Weyerhaeuser mentors say they plan to keep in touch with their students to see how their ventures progress. And while they hope some of the students think about Weyerhaeuser when they're ready to apply for jobs, it's about more than recruitment.
"There are so many good reasons to get involved in events like Hacking for Homebuilding," Sarah says. "Community involvement, customer commitment and innovation are just a few ways our participation connects to our vision. But it's also just a great way to show the next generation what we're all about."