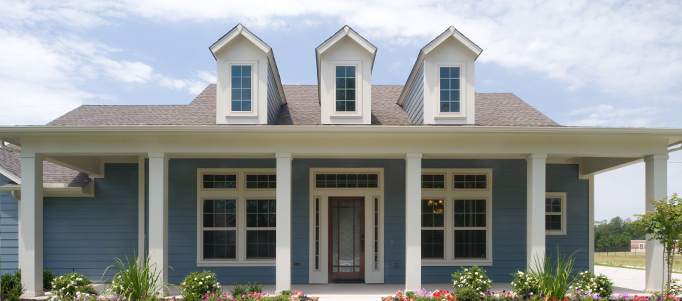 As you slather on sun block SPF 30, 40 or higher this summer, think about your house. Exposed to the intense rays of the sun day after day, how does your home protect itself from getting sun burned?
"People worry about the harmful effects of the sun on their skin when outside for just a few hours," says James Carey, co-host of On the HouseTM, a home improvement radio show and website. "Imagine how damaging the sun can be to a structure when exposed for 10 or more hours a day to ultraviolet (UV) rays. Along with having the potential to fade exterior elements of the home, like siding and roofing, intense sun exposure can also cause the home to heat up, requiring your air conditioning to work harder to keep the interior cool and comfortable.
"The best solution to preventing your home from getting burnt by the sun is to select products that are manufactured to resist or reflect its powerful rays. If you're building a home, choose products made to combat the sun. Or, if you're replacing worn out elements of your home exterior, do your research and pick replacement products that that are manufactured to resist Mother Nature."
Carey, a third-generation licensed contractor, recommends a top-to-bottom house evaluation for homeowners. Start by looking at your roof, which gets the most exposure to the sun. Then, working your way down from the roof, look at your home's siding.
No matter which way your home faces, all sides are subject to harmful UV rays throughout a normal day. How to combat those rays to prevent color fade? One company, James Hardie®, offers the ColorPlus® Technology finish on all their siding and trim products.
Backed by a 15-year limited, the ColorPlus finish comes in a wide range of colors. The finish is baked on and cured, to assure color retention for many years.
Finish off making sure your home is protected from the sun by selecting ENERGY STAR® compliant windows that are manufactured for optimum energy efficiency. And, don't forget the garage door. Look for a manufacturer using dense CFC-free polyurethane as an insulation factor in the door to give the garage door a high R-value. This number represents how much a surface resists the transfer of heat or energy, so the higher the R-value, the better.
"From top to bottom, your home deserves attention to prevent it from getting burnt by the sun," says Carey. "Taking time to research product features and warranties specifically for reaction to long-term sun exposure is one of the smartest things a homeowner can do when making exterior product decisions."