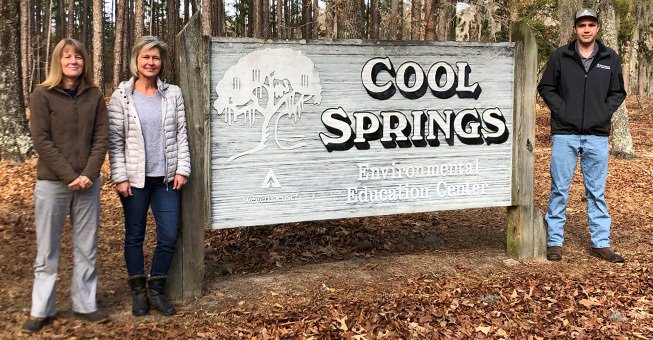 Janice Allen, director of land protection at the North Carolina Coastal Land Trust with our Alissa Cale, land asset manager, and Jim Williamson, inventory manager, at our Cool Springs Environmental Education Center. The Trust is the conservation easement holder for Cool Springs.
Along the Cape Fear River on the North Carolina coast, a 265-acre tract of land buzzes with wildlife, including songbirds, ducks, rare bats, federally protected fish species and the threatened wood stork, the only stork native to our continent.
The property is one of many parcels we've sold to the Coastal Land Trust, whose mission is to enrich the coastal communities of North Carolina through conservation of lands with scenic, recreational, historic and/or ecological value. This particular tract, consisting mostly of swampy floodplains, wasn't a high-value property for its timber. But it's invaluable for the wildlife that live there, and passing it to the Trust this year ensures it will be protected as a wildlife oasis in perpetuity.
"Tracts like this may be unsuitable for forestry, but they're valuable for the Trust," says Alissa Cale, land asset manager. "Some of these tracts are turned into nature trails or wildlife buffers between developments and sensitive natural areas, and others are left untouched. In every case, the land is preserved — it will stay wild, rather than being potentially purchased by developers and being turned into a neighborhood."
That's especially important given the state's growing population.​​​​​​​
"As the population of North Carolina grows, so do direct and indirect impacts to the crucial natural areas we aim to conserve," says Janice Allen, director of land protection at the North Carolina Coastal Land Trust. "As a forest management company and large landowner, Weyerhaeuser is a crucial partner helping us expand these areas and save them for future generations."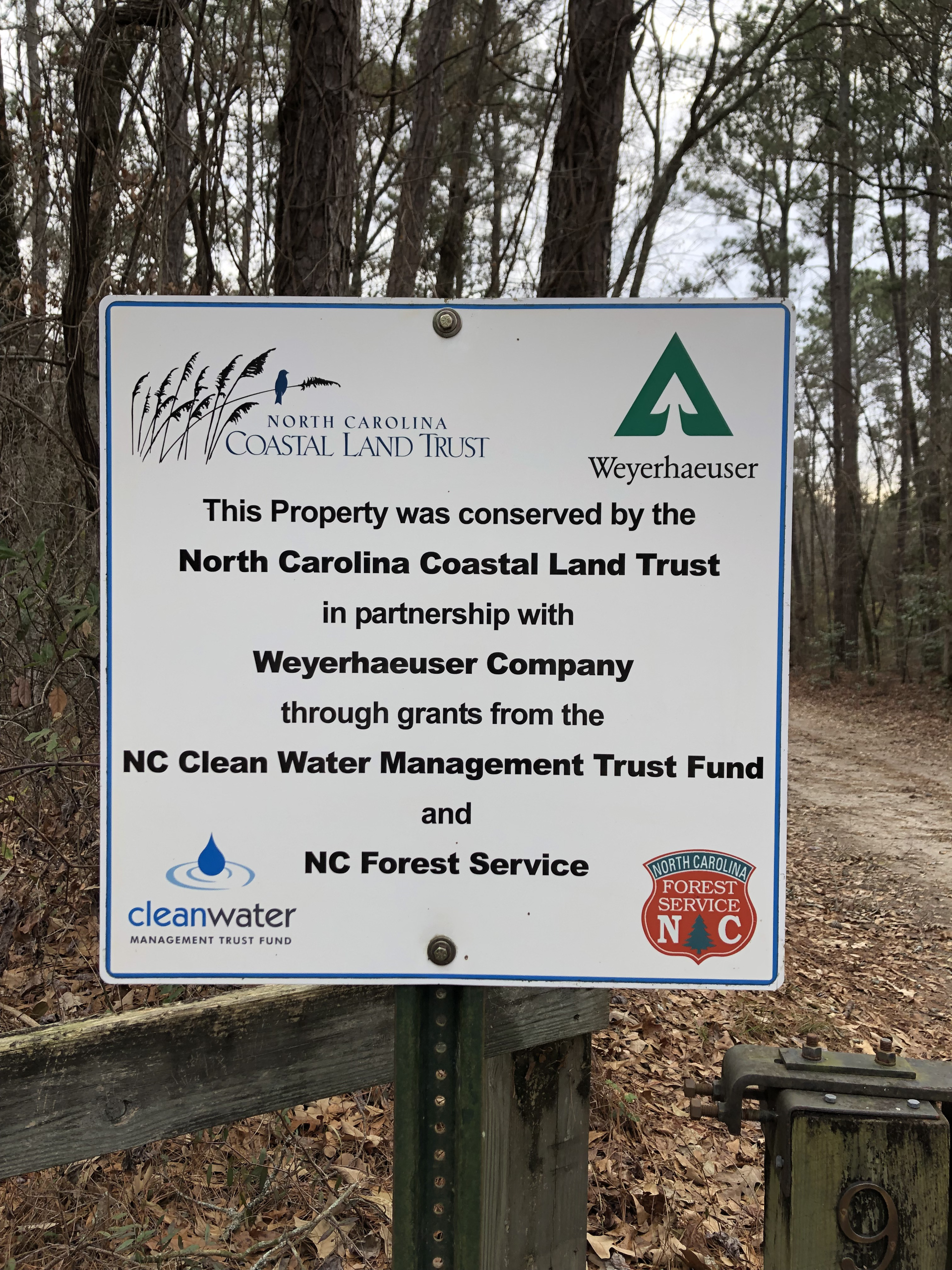 This sign at Cool Springs acknowledges the partnership with the Trust. Funding for the Trust's activities comes from agencies and organizations such as the U.S. Fish and Wildlife Service, North Carolina Land and Water Fund, the North Carolina Environmental Enhancement Grant program, and the National Fish and Wildlife Foundation, as well as private individual and corporate donors.
A MUTUALLY BENEFICIAL RELATIONSHIP
Our partnership with the Trust began in 1996 with a conservation easement on land surrounding the tributaries that flow into Walker's Millpond and eventually into the Newport River in Carteret County, North Carolina. In June 2000, the partnership expanded with a Memorandum of Understanding co-signed by Weyerhaeuser, the Trust, the North Carolina Natural Heritage Program and The Nature Conservancy. The MOU aimed to identify and conserve special natural areas on company lands along the coast.
Since then, the partnership has conserved more than 6,700 acres and counting. Unique features of the land involved have included sensitive wildlife habitats, sources of clean water, public recreational areas and buffers around military bases. These sites are often adjacent to larger protected areas, such as national forests, or located along shorelines.
We work with the Trust to protect and preserve land in two ways: selling land directly to them or entering a permanent conservation agreement. In the latter case, we retain ownership of the land and continue to manage it for forestry, but the land can never be utilized for development.
"These agreements contribute to our overall sustainability objectives, especially when it comes to our Sustainable Forestry Initiative® certifications," says Jim Williamson, inventory manager. "We know the Trust will manage lands they acquire with extreme care."
Some of our conservation agreements with the Trust allow us to continue growing and harvesting trees on a particular tract, but the land can never be developed for housing, solar or farming. It must stay as a working forest — and if we decide to sell the land, any subsequent owners must abide by the same restrictions. The Trust worked with us to create conservation agreements, or easements, on our Cool Springs Environmental Education Center, a 1,700-acre outdoor classroom and working forest that provides educational opportunities for local schoolchildren.
Swift Creek runs alongside Cool Springs. The North Carolina Coastal Land Trust also funds purchases of projects within the proclamation boundary of the Croatan National Forest with the proceeds of the $7.3 million Havelock bypass settlement, the result of a lawsuit between the North Carolina Department of Transportation and Sierra Club over the State's proposed U.S. 70 Havelock Bypass, which goes through the Croatan National Forest.
IDENTIFYING PRIME PARCELS
Alissa works directly with Janice and Lee Leidy, attorney and northeast region director for the Trust, to negotiate and finalize sales.
"Working with the Trust is always a pleasure," Alissa says. "Some conservation groups come to us with pie in the sky ideas, but the Trust always approaches us with realistic plans that make sense for both parties. They understand that selling land is a business decision for us, and when both parties come together to make a deal for a particular property, it's a win-win."
Each proposal is evaluated by our Timberlands teams, including Jim, to ensure it is mutually beneficial. When the Trust identifies an area they're interested in preserving, Jim and Alissa work with Janice to develop a footprint that works for both parties. Jim and Alissa focus particularly on ensuring we retain access to adjacent property and timber in the sale area that's reserved for harvest. Sometimes part of the tract is earmarked for potential housing development in the future, and it's important to retain adequate access for that development.
Once Alissa's Land Asset Management and Jim's Timberlands teams agree on the goals and requirements of the sale, they draw out a blueprint that works for both parties.
PASSING PROPERTIES TO NEW PROTECTORS
"One recent example is the Craven 86 Island Creek tract, which is a nutrient-poor sand ridge where we were growing longleaf pine," Jim says. "The site wasn't a big money maker for us, but it provides an ideal habitat for certain native species, so it's extremely desirable for the Trust."
The Craven 86 Island Creek tract consists of 355 acres in Craven County. Conserved in 2021, it adds to the Trust's existing 568-acre Bern Preserve and features scenic ponds, wetlands, pine forests and habitat for animals such as black bears and wild turkeys. It also adds to the buffer the Trust is creating around the Croatan National Forest.​​​​​​​
"The Croatan National Forest buffer area is of utmost importance to us," Janice says. "In fact, we're working on another major deal with Weyerhaeuser to acquire about 1,400 acres consisting of a very rare coastal evergreen fringe forest. It's one of the few undeveloped shorelines left in the area. We just received a sizable grant to purchase it, and we're hoping to complete the sale in 2023. Our relationship with Weyerhaeuser is key to achieving our conservation objectives, and we hope to do many more deals in the future."