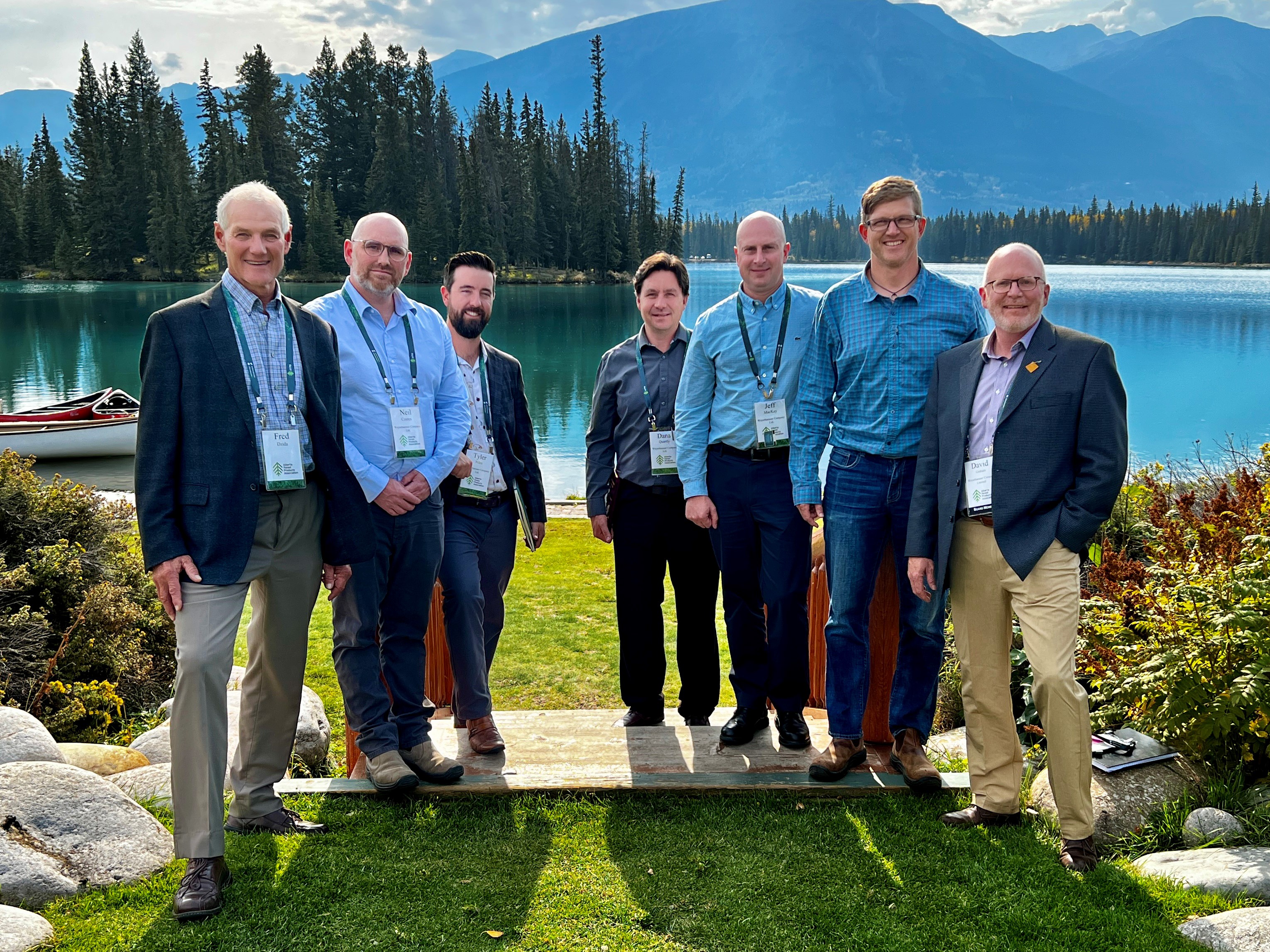 Renewing the forest management agreements in Alberta required a lot of close coordination among team members in our Grande Prairie and Pembina Timberlands teams. Pictured are a few members during the Alberta Forest Products Association meeting in Jasper this fall. From left to right: Fred Dzida, retired vice president of Canadian Timberlands; Neil Coates, strategic manager for our Grande Prairie Timberlands; Tyler Niles, silviculture forester in Grande Prairie; Dana Quartly, Grande Prairie general manager; Jeff MacKay, Pembina general manager; Ian Kwantes, strategic manager for our Pembina Timberlands; and David Graham, vice president of Canadian Timberlands.
You've probably noticed that we talk about our land base slightly differently depending on if it's in the U.S. or Canada. We own more than 11 million acres in the U.S. — and we manage millions more in Canada.
Why the distinction?
In Canada, more than 90 percent of forests are on public land. The millions of acres we harvest, replant and manage are primarily the responsibility of provincial governments and fall within traditional territories of many Indigenous communities.
In order to establish, grow, harvest and remove this public-land timber, Weyerhaeuser and other private entities have to earn the right to enter into long-term forest management agreements with provincial governments. It's a rigorous process that requires a lot of legwork to secure for each renewal cycle.
"Just like you can't legally operate a car without a driver's license, we can't legally do any forestry activity without a forest tenure agreement in place," says Lyle Dechief, Alberta provincial forester. "The forest management agreements we hold are the province's most comprehensive level of forest tenures. And just like a driver's license, they need to be renewed on a regular basis."
For FMAs, that renewal cycle is 20 years. And renewing is essential to our ability to plan operations long into the future.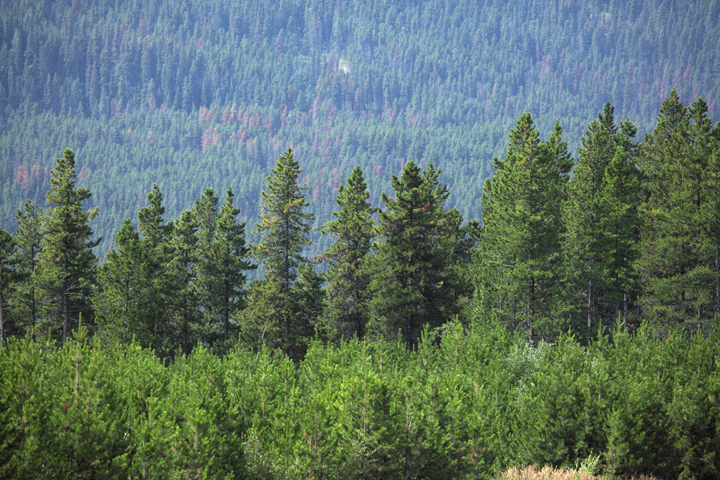 The millions of acres of Timberlands we manage in Alberta supply our own mills (our Grande Prairie and Drayton Valley lumber mills and our Edson OSB plant) and third-party mills.
TWO MORE DECADES
In mid-2022, our Timberlands teams in Pembina and Grande Prairie renewed our two FMAs with Alberta officials.
"Being an FMA holder is a huge responsibility, and we're proud to continue to hold two of Alberta's 21 FMAs," Lyle says. "We remain committed to sustainable, responsible forest practices for the benefit of current and future generations."
One of the renewed FMAs covers more than 1.1 million hectares near Grande Prairie, which Weyerhaeuser has operated since 1969. The other FMA includes five parcels in the Pembina region near Edson and Drayton Valley, totaling nearly a million hectares that Weyerhaeuser has operated since 2005. Both agreements now expire in 2042.
With any FMA or long-term tenure agreement for public land, we make several legal commitments when we sign them. These include continuing our rigorous sustainable forest management practices to protect wildlife habitat, water quality and biodiversity while actively reducing the risks of wildfires and outbreaks of tree diseases and pests such as pine beetles.
As part of this process, we conduct extensive forest and wildlife inventories and regularly update and submit detailed forest management plans looking 100 to 200 years into the future for government and public review.
And within two years of harvest — typically much sooner — we plant nearly two trees for every tree harvested. As stewards of these forests, we've now planted about 286 million seedlings in Grande Prairie and more than 88 million in Pembina.
We also consult with local communities, including Indigenous peoples, in developing long-term forest management plans to ensure forests continue providing ecological, economic, social and cultural benefits for generations to come.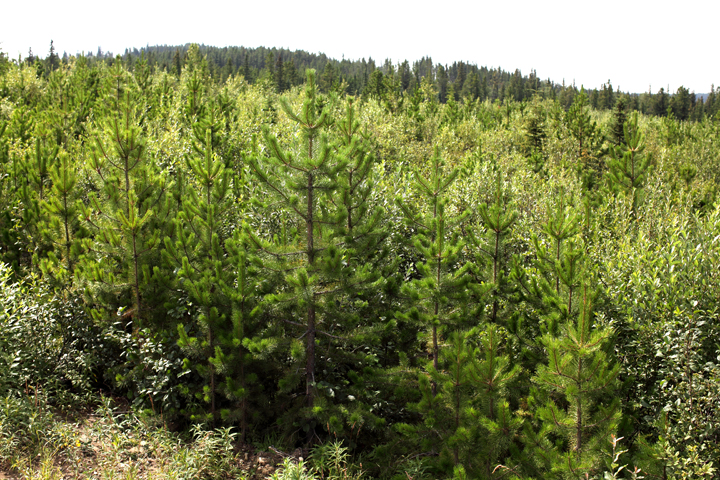 As stewards of Alberta forestlands, we've now planted about 286 million seedlings in Grande Prairie and more than 88 million in Pembina.
KEEPING THE WOOD FLOWING
According to government officials, over their 20-year span the two agreements are expected to maintain more than 1,200 full-time jobs and contribute an estimated $3.2 to 3.5 billion Canadian to Alberta's gross domestic product. That's because the renewals provide certainty that fiber will continue to be available for our operations and external customers, providing job security for employees and our partners across the region.
In Grande Prairie, our sawmill employs nearly 280 people and our timberlands employ about 380 people, including employees and roles in contract logging, transportation and other forestry support services.
In Pembina, our Drayton Valley sawmill employs 160 people full time; our Edson OSB mill employs about 150 full time; and our Timberlands team employs nearly 300 full-time and another 100 seasonal workers.
"That's a significant number of well-paying, family-supporting jobs that add stability and certainty to the communities where we operate," says Jeff MacKay, general manager of Pembina Timberlands.
Over their 20-year lifespans, the renewed FMAs are expected to maintain more than 1,200 full-time jobs in the Alberta forest products industry.
FUTURE GROWTH
The certainty provided by the renewals also gives business leaders confidence to invest in capital improvements to remain competitive in a global economy.
"The renewals are a big deal because they provide our contractors and our company with the time horizons needed to generate reasonable returns on our investments," says Dana Quartly, general manager of Grande Prairie Timberlands. "Which means our rural communities benefit from long-term job and economic stability."
The FMA renewals also support Alberta's Forest Jobs Action Plan initiative, which engages the public and industry to drive innovation and investment in forestry to improve competitiveness and create employment opportunities. Forestry is an important sector; the provincial government reports it employs some 50,000 people in Alberta and pays approximately $1.5 billion Canadian in wages annually.
"The decision to renew Weyerhaeuser's forest management agreements is a great example of how we can provide industry partners with the security needed for long-term investment, maintain hundreds of well-paying jobs for Albertans and ensure sustainable management practices for Alberta's forests," Nate Horner, Minister of Agriculture, Forestry and Rural Economic Development, said in a press release. "A competitive forestry sector drives growth by ensuring that our wood fiber products remain sought after in a globalized market."