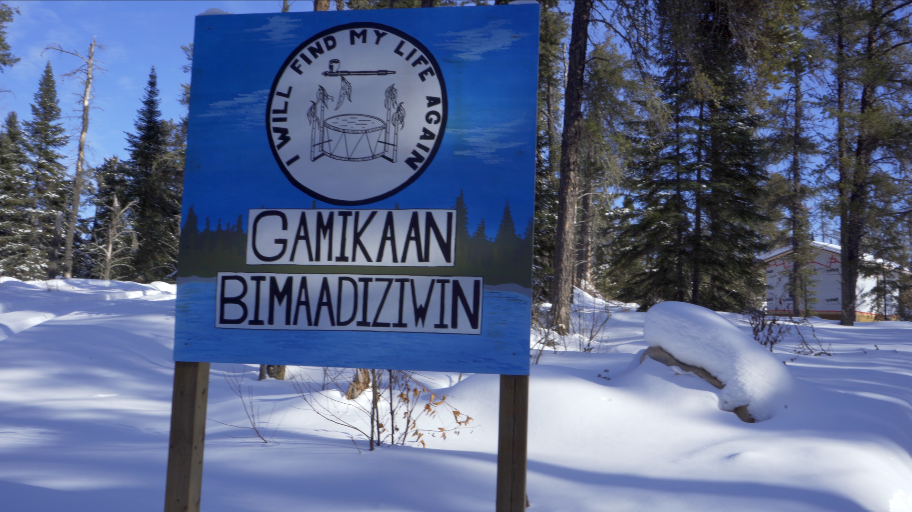 The entry to the Gamikaan Bimaadiziwin healing center. One of the center's permanent structures can be seen behind the trees at right.
In the woods near Kenora, Ontario, nestled on the banks of Bug Lake, there's a special place called Gamikaan Bimaadiziwin (Ojibwe for "I will find my life again").
There, you might hear the beat of a water drum and an Indigenous song — restorative reverberations from a new camp and healing center where anyone struggling with life's challenges can regain confidence or a sense of self-worth and purpose.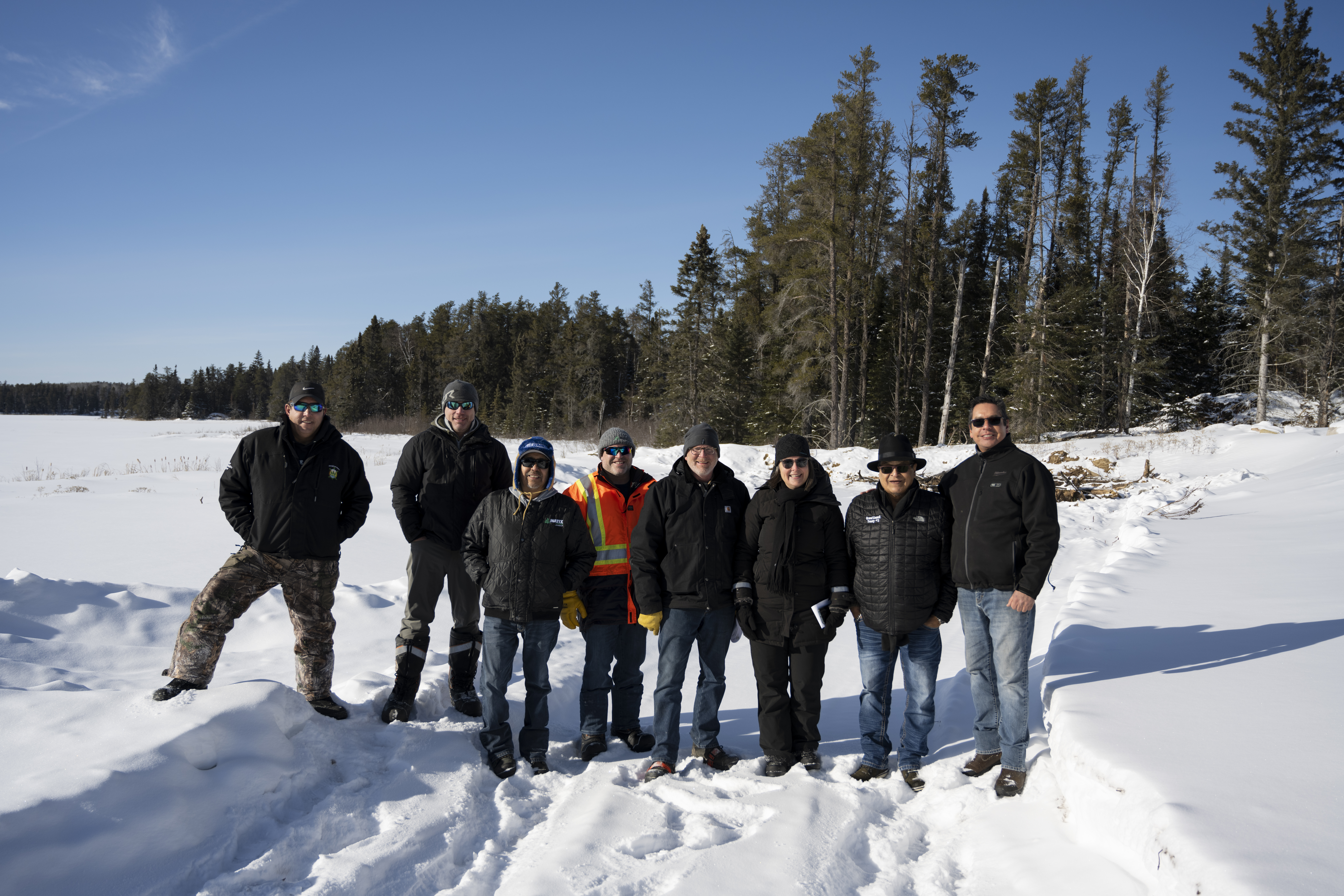 Erik Holmstrom (in safety vest) with internal and external partners during a recent visit to Gamikaan Bimaadiziwin. From left to right: David Lindsay, Treaty 3 wildlife officer; Shannon Rawn, Miisun general manager; Marvin MacDonald, Miitigoog director; Erik; David Graham, vice president of WY Canadian Timberlands; Kathy Abusow, Sustainable Forestry Initiative president and CEO; Francis Kavanaugh, Grand Chief of Treaty 3; and Dean Assinewe, SFI Indigenous opportunities advisor.
SEEKING PERMANENCE
Erik Holmstrom, operations manager for Kenora Timberlands, learned about Gamikaan Bimaadiziwin in 2021. He was on a conference call with Miisun, a First Nations-owned integrated resource management company that oversees the provincial forest management license and our harvest plans in Kenora.
Miisun had helped clear the land for the center and shore up a nearby road. When the center sought support to build permanent structures, Miisun wondered if we might assist.
"I told them we'd find out more and see what we could do," Erik says. "But I wanted to visit the center before committing."
Erik was inclined to help. The seven First Nation chiefs who make up Miisun's board of directors fully supported the center. So did Grand Council Treaty 3, which represents 28 First Nations communities in northern Ontario and eastern Manitoba, including the Anishinaabe people of Kenora and the Great Lakes. Signed in 1873, Treaty 3 is a historic agreement between the Canadian government and the region's Indigenous peoples. It promised that land and resources would be shared between the Anishinaabe and non-natives "as brothers."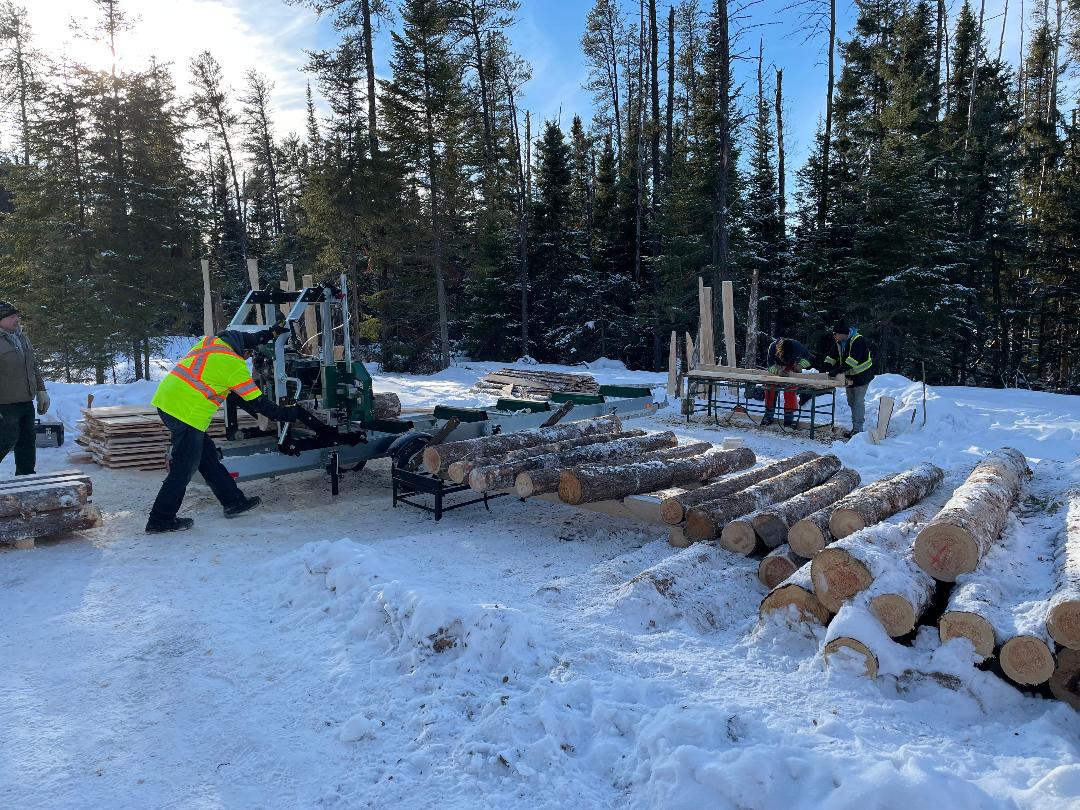 Logs staged for cutting at the portable sawmill. Weyerhaeuser donated the mill after hearing about the new healing center from the area's Indigenous leaders.
In this spirit of cooperation, Erik and Matt Wilkie, purchase fiber systems leader, spent a day at the center — which had no permanent structures yet — listening and learning about Native struggles and healing traditions.
"It was a powerful experience," Erik says. "We knew right away there was an incredible opportunity for Weyerhaeuser to get involved. As foresters, we're fortunate to spend our lives working in the forest. We can appreciate that healing environment."
A partially hewn log makes its way through the sawmill in early December. The Weyerhaeuser Timberlands team was on hand to train volunteers in its safe use.
HELPING REBUILD LIVES
Because the center's goals include teaching its visitors traditional knowledge and skills that foster independence and self-sufficiency, its leaders weren't looking for a donation of finished wood products.
Instead, we partnered with EACOM Timber Corporation, another wood products company with nearby operations (it was acquired by Interfor in February 2022), to share the costs of a portable sawmill so the center's residents can learn to mill lumber on site. Our Kenora Timberlands team arranged for cedar and pine sawlog deliveries, and Miisun offered chainsaws and safety gear.
"The sawmill is more than something to build structures," Matt says. "It's an opportunity for those in camp to learn a new skill, to take their minds off their troubles by building something, and to leave a legacy for others who come later seeking healing and restoration."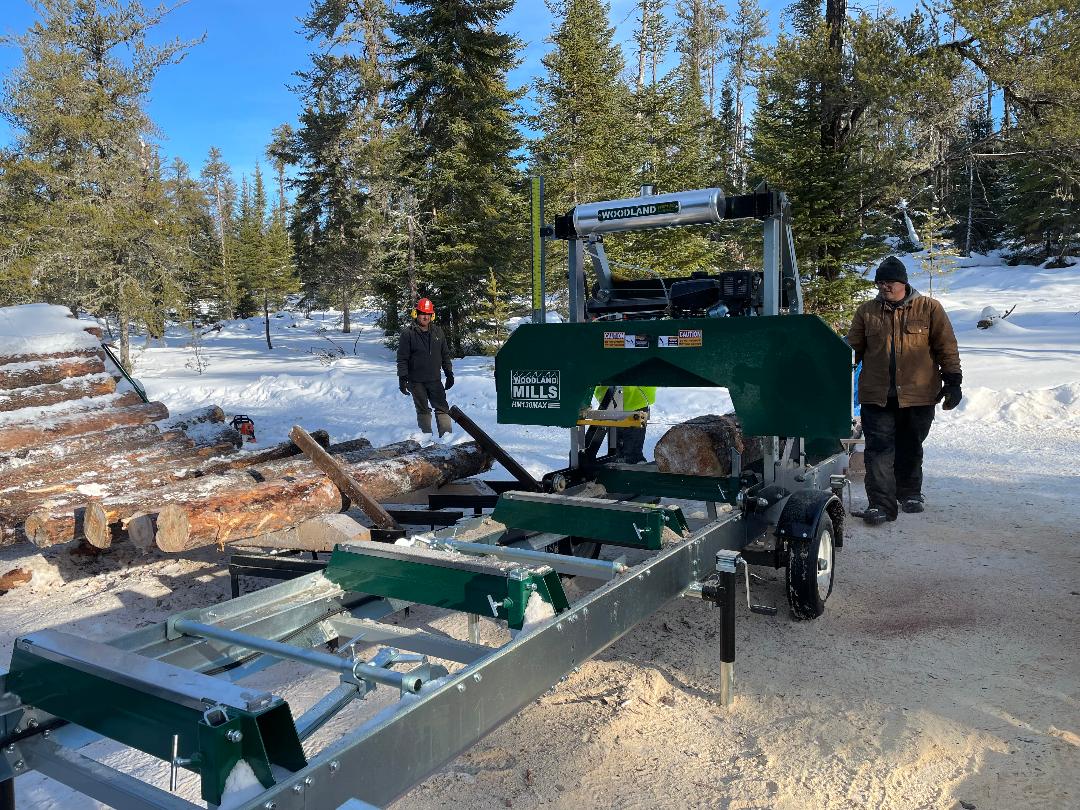 A close-up of the portable sawmill. During the training session, the team cut 1x6 for boards and batten siding, some square timbers for a log structure, and some live-edge material for benches and bed frames.
A CHANCE TO RECONNECT
In the Kenora region, Indigenous peoples face disproportionately higher homelessness, joblessness and incarceration rates than other groups. And substance abuse and its many related issues are on the rise among all populations.
While the underlying causes of these challenges are complex and specific to each person, the Grand Council Treaty 3 elders who founded Gamikaan Bimaadiziwin say that those who come to the healing center, whether Native or not, often feel a sense of not fitting in, being disconnected from the world around them, or being trapped in a cycle they can't seem to break.
"Time spent at camp allows us to return to traditional healing practices and focuses on guiding us all back to mino-bimaadiziwin: living the good life," says Ogichidaa (Grand Chief) Francis Kavanaugh. "Through continued partnerships and collaboration, we will find true reconciliation."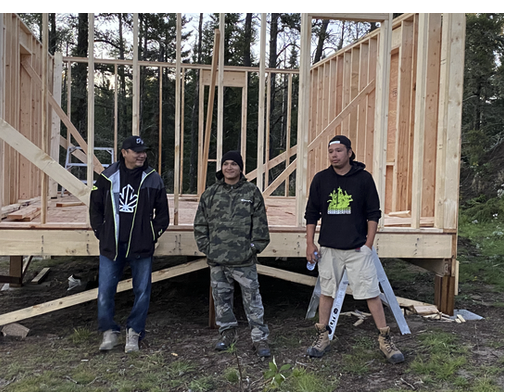 Center volunteers take a break last summer after framing a permanent structure for the healing center. The portable sawmill makes lumber for structures like this one.
In December 2021, members of our Canadian Timberlands team helped train the first center visitors to use the sawmill; those volunteers then began using the milled lumber to build small cabins — about 20 feet by 20 feet — to house the center's visitors. They'll also build a roundhouse and have begun accepting project commissions, including a bench for the Justice Centre that was milled and built in coordination with Erik.
"We're excited to be on this journey of support for Gamikaan Bimaadiziwin, and to help the healing center expand its reach to those most in need in our rural communities," Erik says.