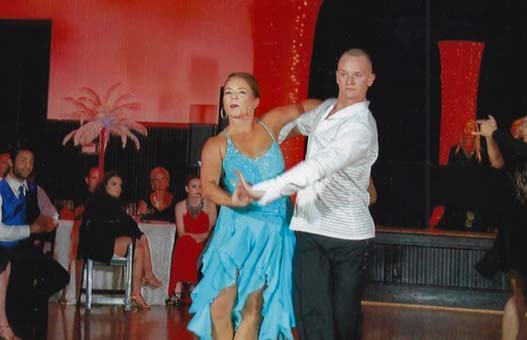 By day, Holly Woitovich is a Trus Joist® guru. By night, she's a heavy metal-loving ballroom dancer. (Yes, you read that right!)
"I love my job — it's never boring," she says. "But when I need to unwind, I check all my stress at the door and dance. I like to pick out rock n' roll songs for individual performances. My favorite routine was dancing to a cover of 'The Sound of Silence' by Disturbed."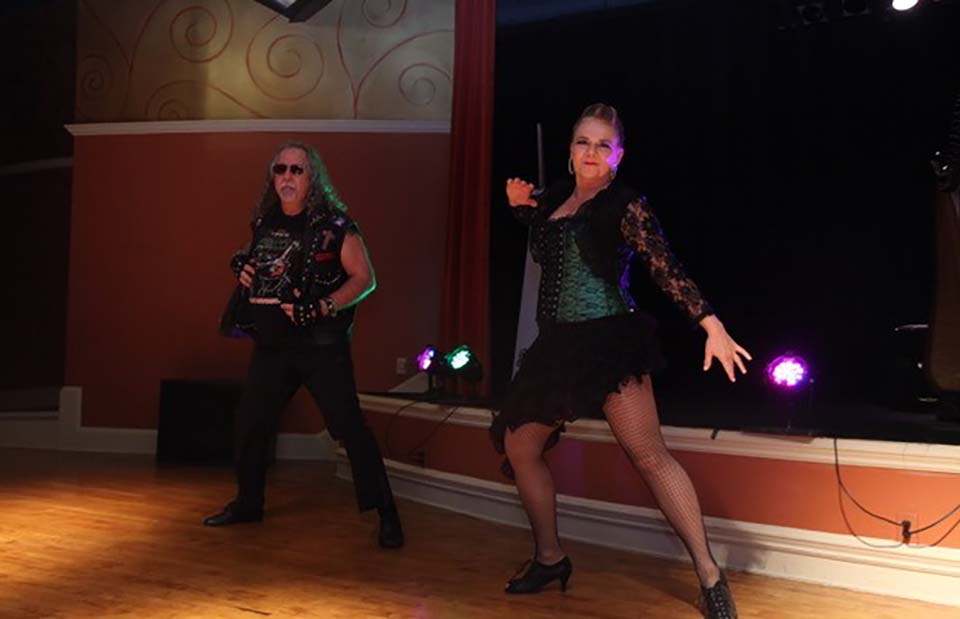 Holly and her husband Steve performing a swing dance routine to "Green Manalishi with a Two Pronged Crown" by Judas Priest. Holly's favorite ballroom dance routine is to "The Sound of Silence" cover by Disturbed.
Holly has to be just as nimble, it turns out, in her day job. A territory manager based in Charlotte, North Carolina, she helps customers make the most of our engineered wood products. Sometimes that means getting down and dirty on job sites, even crawling under homes. It also sometimes involves hunting, fishing, golfing and skeet shooting.
"To build rapport and get to know our customers, we get to coordinate fun outdoor adventures," Holly says. "It's a pretty great perk."
MEET HOLLY
Your title is territory manager. Tell us what you do.
I help engineers, architects, building designers, code officials, builders, lumber dealers and distributors come up with creative ways to use our Trus Joist engineered lumber products. That includes providing training and education, answering their questions, troubleshooting problems at their job site locations or reviewing plans.
What led you to choose this job?
I took a drafting class in high school and realized I loved that kind of technical creative work. After I graduated, I worked for a steel company that helped pay for my night classes in pursuit of an engineering degree.
In 1986, I got a job with Trus Joist as a design drafter and then was promoted to shop drawing manager, which led to the career I have today. I worked with our reps on large accounts like Wendy's and Golden Corral and developed good relationships, so becoming a territory manager was a natural progression. It makes use of all my skills.
I love what I do. I don't have career aspirations to "climb the ladder." I don't want my manager's job, or my manager's manager's job. I think I already have the best job in the company.
Tell us what your day is like.
I get to do something different every single day — talk about a cool job! I cover the Charlotte, North Carolina market, west to the state line with Tennessee and south to the Greenville-Spartanburg area of South Carolina and the Georgia state line. Pre-COVID, most training sessions were in person, but since then a lot of that work has been done remotely.
The goal of my job is to promote the value of Trus Joist products, and on any given day I could be working with local designers and builders to help them understand our products, going over plans, demonstrating software solutions, or providing accredited educational courses for architects, engineers and building code officials. Our Distribution business and our Trus Joist dealer partners are my primary customers that help get the products to the market, and I work closely with their sales representatives to promote and support the Trus Joist products. Working closely with the builders helps to create the demand, and I'm also in constant contact with my fellow territory managers. We support each other, bounce ideas off each other, fill in when needed and help each other land new customers.
You must have some challenges. What are they?
Juggling the needs of everyone who requests my help. I want to make sure I'm taking care of everybody with the level of attention they deserve. Ninety-nine percent of the time I have the answer they need, or I can at least guide them to a solution. That's the most rewarding part of my job.
Is there anything about your job that would surprise people?
Aside from the skeet shooting, it's the fact that I do get dirty once in a while. I once had a customer in Greenville who told me the joist beneath a house had been cut, and he needed to figure out how to fix it. I showed up with my protective coveralls and safety gear to get into the cramped, cobwebbed crawl space, and he looked shocked. He said, "Are you really going to crawl under there yourself?" I said, "Yeah! I can't help fix it if I can't see it!"
Tell us about your other interests. What do you like to do when you're not at work?
I'm a Type 1 diabetic, so physical activity is really important. I got into ballroom dancing about seven years ago when my husband Steve gave me a gift certificate and went with me. We've been dancing together ever since. You have to focus on your feet and how you position your body, so it really forces you to be present in the moment.
I also love to sew, take photos, attend concerts and watch sports — I'm a big fan of the Ohio State Buckeyes, Carolina Panthers and the Cleveland Indians.