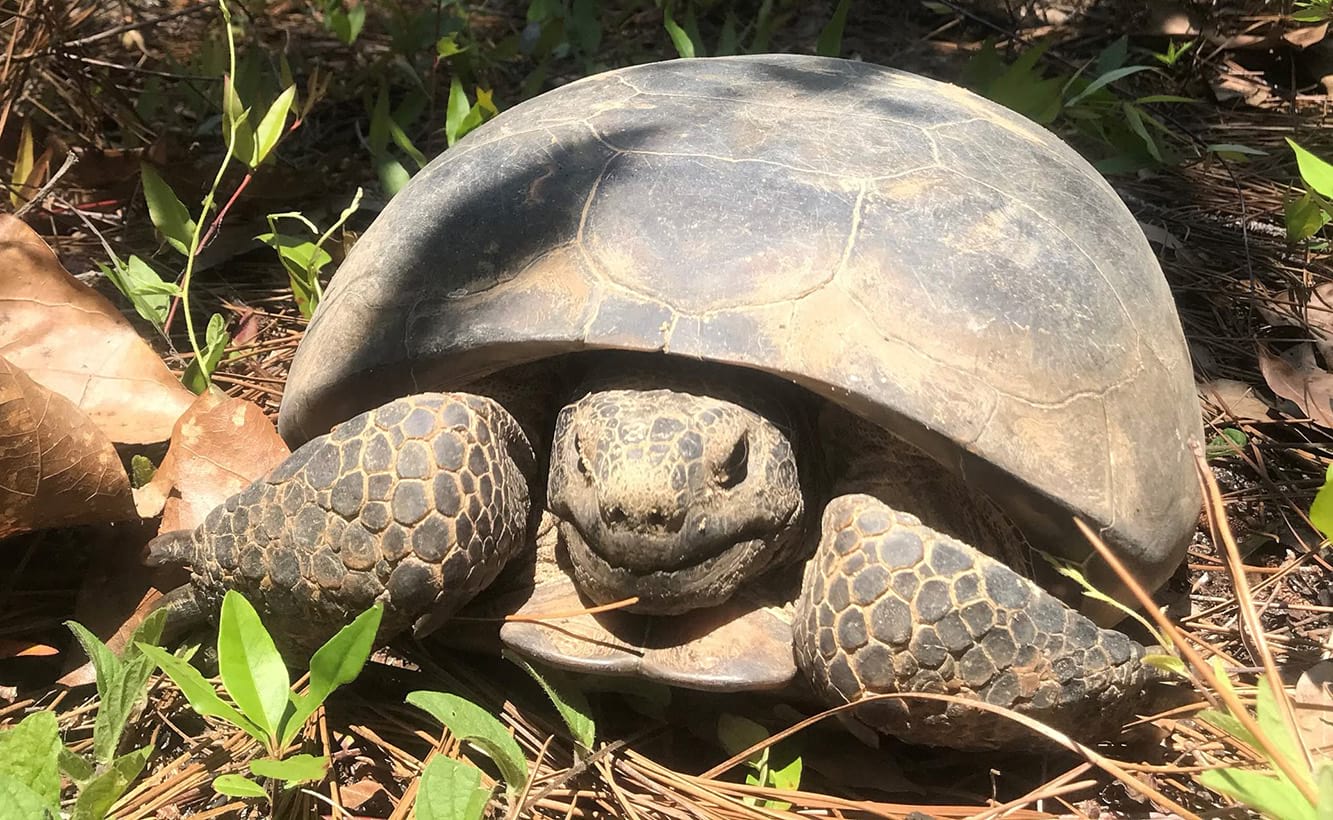 The gopher tortoise is a finicky species native to the southeastern U.S. whose fortunes are tied to open pine habitat. Pine forests in well-drained, sandy soils provide just the right habitat for the tortoise to forage, breed and dig its namesake gopher-like burrows.
Centuries ago, pine savannahs occurred on up to 90 million acres from Virginia to east Texas. Native longleaf pine was the predominant species on these savannahs at the time, but today only about 5 million acres of longleaf habitat remain. And as open forest conditions declined, so did the gopher tortoise. In 1987, it was listed as a threatened species in Mississippi, Louisiana and western Alabama.
Now, the fortunes of both species — longleaf pine and tortoise — are getting a boost on our timberlands in Mississippi.
JUST ENOUGH IS NOT GOOD ENOUGH
For many years, our Mississippi Timberlands teams have partnered with agencies and organizations on several state and federal initiatives — including a collaborative grant from the National Fish and Wildlife Foundation's Longleaf Stewardship Fund in 2020 — to conserve upland pine conditions on our property to benefit the gopher tortoise.
"Weyerhaeuser has been working to protect the gopher tortoise since it was listed as threatened," says Clay Mangum, environmental management systems manager for our Mississippi-Louisiana and Mississippi-Alabama Timberlands regions. "Though proactive management for the species isn't required by law, it's part of our vision to be sustainable stewards of our land."
Our environmental practices are third-party audited to the Sustainable Forestry Initiative® Forest Management Standard, which includes requirements for managing at-risk species. But Clay and our Mississippi team aren't just interested in checking off boxes.
As part of the collaboration with the Longleaf Stewardship Fund, they've identified 1,260 acres of upland pine habitat in Mississippi that supports the gopher tortoise. There are currently more than 500 acres of longleaf pine stands already established. And to further provide an environment conducive to the tortoise, the team is conducting prescribed burns both on our longleaf pine stands and on other high-quality upland pine sites.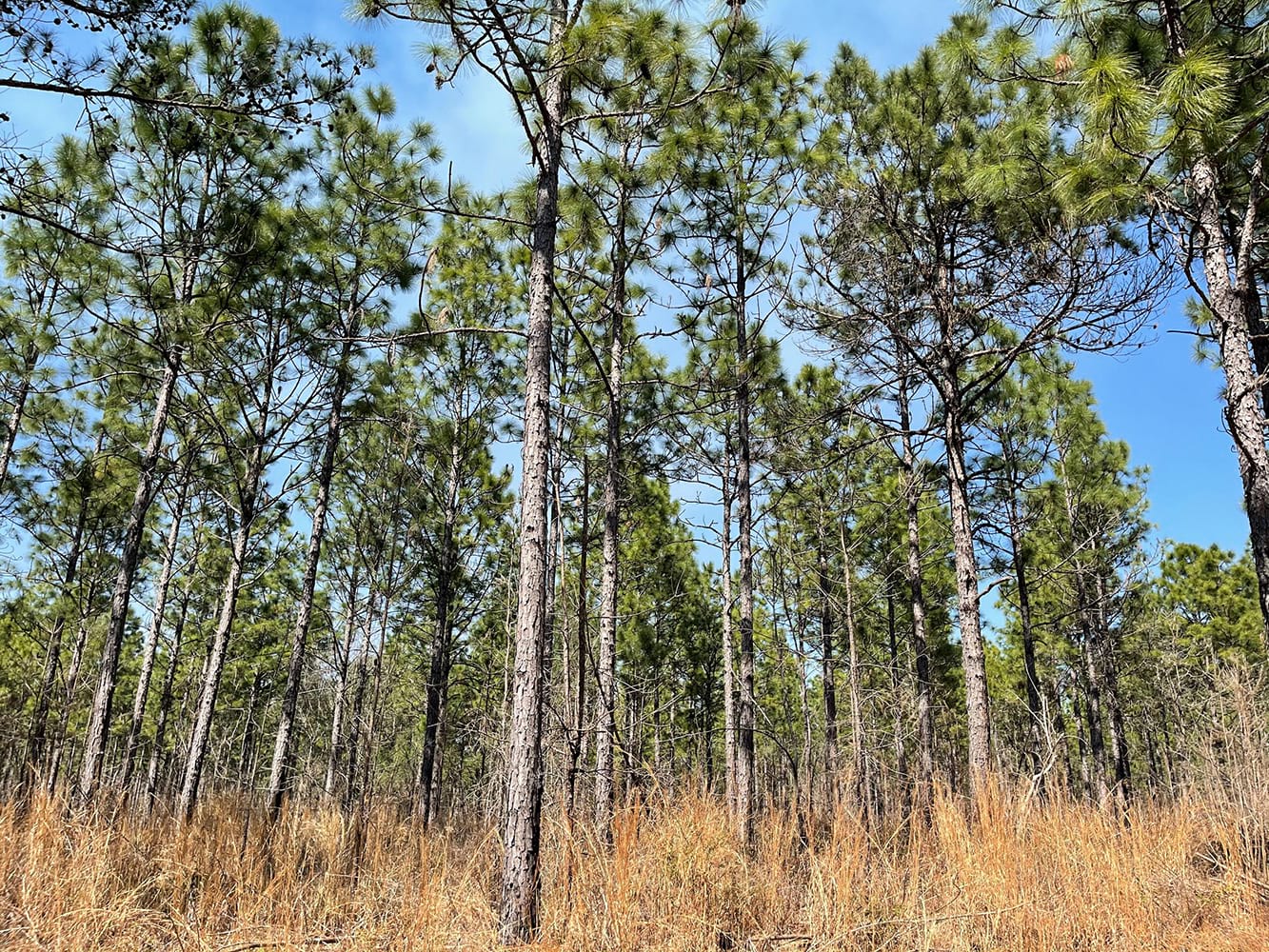 A stand of longleaf pines, which once covered 90 million acres across the South.
Burning is key to clearing the forest floor and midstory, which creates the grassy, herbaceous understory gopher tortoises prefer. Traditionally, wildfires created these burns. As human population in the area increased and wildfires were suppressed, controlled (aka prescribed) burns took their place. These intentional burns were curtailed in recent decades due to smoke management, rural development, increasing costs and liability risks, but the grant from the Longleaf Stewardship Fund supports prescribed burns along with planting longleaf pine and other conservation practices.
"The gopher tortoise is known as a keystone species because its burrow provides shelter for at least 360 other species," Clay says. "So maintaining the open upland pine conditions the tortoise needs also benefits other species of concern, including the black pinesnake, southern hognose snake, eastern diamondback rattlesnake and gopher frogs."
In the last three years, Clay and the Timberlands teams in Mississippi have conducted controlled burns on 660 acres. Once these areas reach maturity and are harvested, some stands that are currently planted with loblolly pine will be planted back with longleaf. Longleaf is more tolerant of fire at a young age than most other native tree species. The Timberlands teams strategically select certain stands to convert based on soil characteristics, operational feasibility, and conservation goals.
"We have to think carefully about where and how much longleaf to plant," Clay says. "It grows slower than loblolly pine, and some of the management costs are higher. But Longleaf sawtimber has about equal value in the marketplace, and the grant offsets some of the establishment cost. That creates a system where the company can recoup some of the investment and provide a conservation benefit to society."
UNLOCKING POTENTIAL FOR SUCCESS
The collaboration with the Longleaf Stewardship Fund also enables other private landowners, state and government officials, and nonprofit organizations to work together at a scale that creates a significant benefit for species that depend on upland pine forests.
In addition to Weyerhaeuser, groups sponsoring and funding the project include the National Fish and Wildlife Foundation; Mississippi Power; Southern Company; the U.S. Fish and Wildlife Service; the Mississippi Land Trust; Wildlife Mississippi; the Mississippi Department of Wildlife, Fisheries and Parks; the National Wild Turkey Federation; and the Mississippi Forestry Foundation.
Tamara Campbell, a wildlife biologist with the U.S. Fish and Wildlife Service in Mississippi who helps manage the grant, says she's excited to work with us.
"The participation of private landowners is key to success, and Weyerhaeuser is leading the way and serving as an example for so many others," Tamara says.
The Longleaf Pine Initiative aims to conserve 8 million acres in the U.S. South by 2025. To date, nearly 5 million acres have been impacted through restoration, improvement and maintenance activities, including nearly 800,000 acres in Mississippi.
"There's still work to be done," Tamara says. "Because of uncertainties about the number of acres lost to other land uses, we can't confirm acres gained from those impacts. Partnerships play a major role in ensuring sustainable impacts to longleaf pine and its associated species — not just the gopher tortoise, but also other federally listed and at-risk species."
A few of these species include the red-cockaded woodpecker, the eastern indigo snake, the Louisiana pinesnake, the gopher frog and others.
"We believe the collaboration with Weyerhaeuser will be a success story and an example for others," Tamara says. "We want to be able to show that public-private partnerships like this one can be a win for both the environment and working forests."