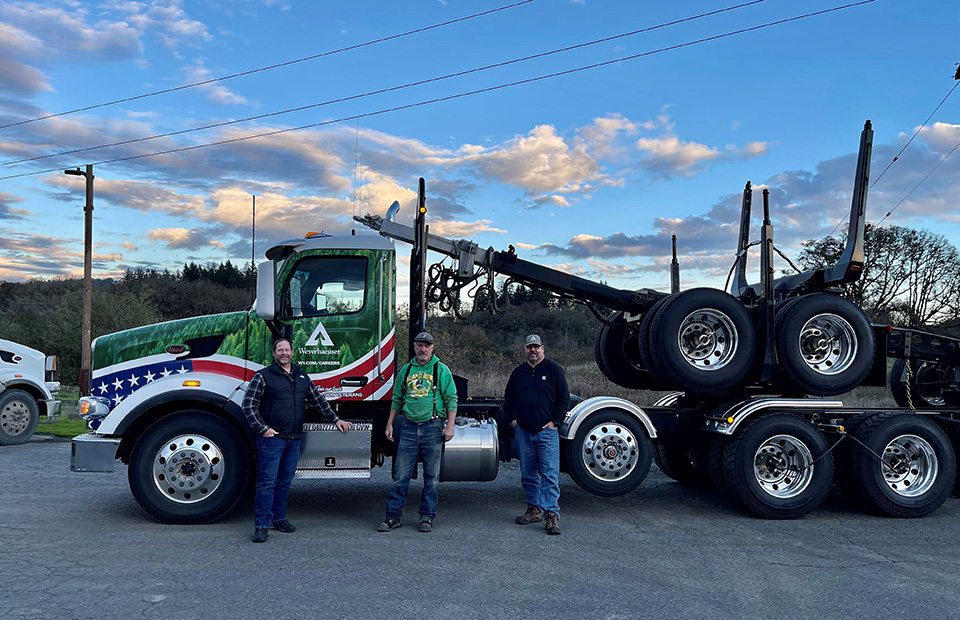 Jeremy Light, driver Karl Nohrenberg and Tony Lowery in front of truck No. 2, the first to feature the new design focused on veterans.
When our company log truck No. 2 rolls down the roads of Oregon, it occasionally inspires a thumbs-up or friendly wave from folks it passes.
Some of those folks might even be inspired to apply for a job with Weyerhaeuser.
That's because log truck No. 2, driven by Karl Nohrenberg, isn't the typical white cab with a green Weyerhaeuser logo. We recently transformed it into a recruitment tool and mobile salute to veterans.
Log truck No. 2 is now decked in a vinyl wrap with the stars and stripes of the U.S. flag waving below the evergreen trees of our forests. Text on the cab's doors reads 'Join our team' and 'We honor our veterans.' Above the message is our name, logo and the short URL for our careers webpage: wy.com/careers.
"In Timberlands, most of what we do every day is done out of sight of the public," says Tony Lowery, Oregon transportation supervisor. "Unfortunately, this also makes it harder to find the people we are looking for to come work for us. But we have a tool to help: Our Weyerhaeuser log trucks are on the road and get noticed."
WE NEED DRIVERS
The idea to add vinyl wraps to the cabs of Oregon's company-operated log-truck fleet was sparked during a Transportation team brainstorming session last April about recruiting drivers — an ongoing challenge compounded by the pandemic.
"We were forced to get creative," Tony says. "We started talking about our log trucks and how they might serve as a rolling advertisement."
Tony says the team used to get at least three applicants for every open position. Now, they more frequently see three applicants for every 10 open positions. The team knew it needed to think beyond traditional job boards to overcome the recruitment challenge.
The cabs have been white with an understated green logo since the early 2000s. And while the design was clean and professional, it didn't necessarily stick in people's minds.
"Our trucks didn't really stand out on public roads," Tony says. "But they spend about 80 percent of their time going between the woods and various mills, driving routes that include the populated, high-traffic I-5 corridor between Eugene, Oregon, and Longview, Washington."
GAINING VISIBILITY
The team rallied around the idea of using vinyl wraps to jazz up our trucks. Within weeks, the team engaged Harris Graphics, a design company in Eugene, to develop prototype designs.
Two designs were finalized: One focused on veterans, and the other with a more general recruitment message, 'A great place to grow.' They were added to four trucks in mid-November.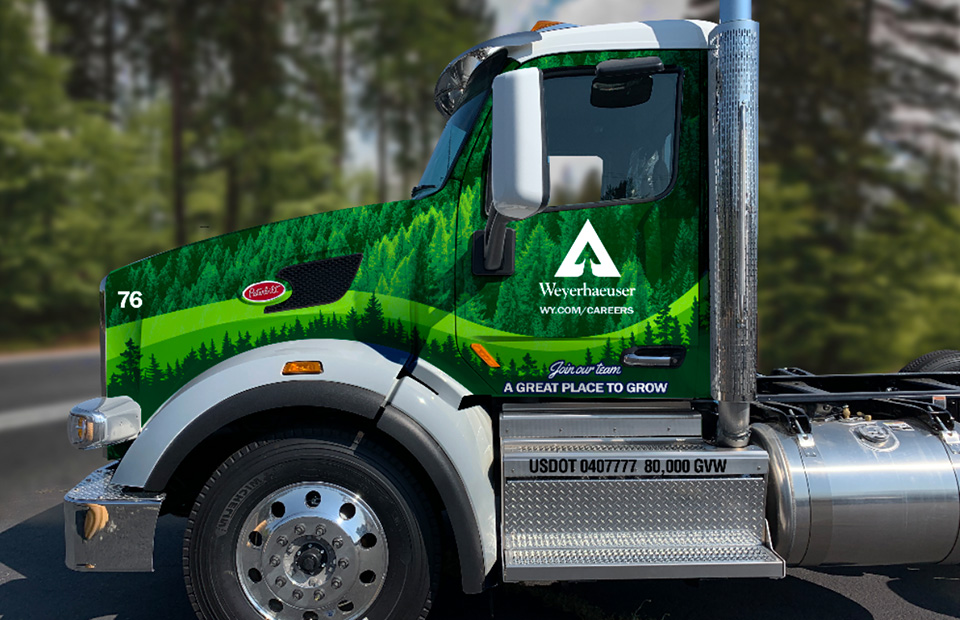 An alternate version of the cab wrap with a more general career message. Four new trucks will feature the two new designs. If successful, the new liveries will be rolled out to more trucks in 2022.
WRAPPED AND READY
"We wanted to gauge public perception before adding the wraps to our entire fleet of 80 trucks," says Jeremy Light, who recently moved from Timberlands transportation manager for Oregon to Distribution's director of logistics for the West. "We started with replacement trucks, which are assigned to our most senior drivers."
That's how Karl's company truck No. 2 was selected.
"When Karl saw that truck for the first time, there was this light in his eyes," Jeremy says. "You could tell he was proud to drive for Weyerhaeuser and proud to acknowledge our veterans."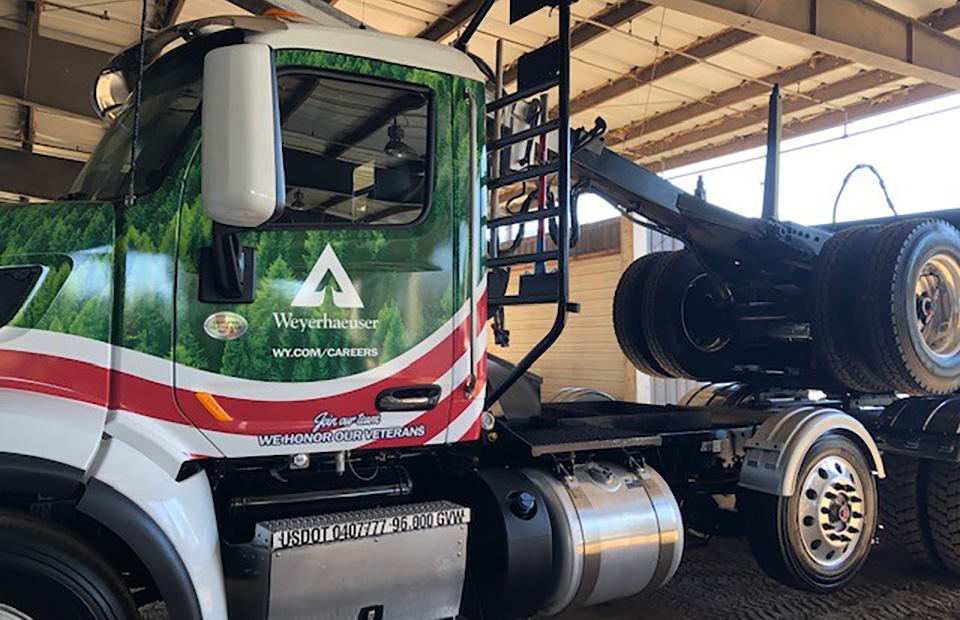 The new wraps not only promote our commitment to the community but also have a measurable goal: encourage people to apply for jobs, especially drivers.
COMING TO A JOB FAIR NEAR YOU
Veterans are a key recruiting target for Weyerhaeuser. Many have experience driving big rigs, maintaining complicated machinery and managing logistics, along with many other desirable skills.
"We're planning for the four trucks to make appearances at recruiting events and job fairs throughout the Pacific Northwest," Jeremy says. "They really capture people's attention."
"It's all about promoting our brand and values," Tony says. "It's about the public seeing a company that supports the community and is proud of what we do, and employees sharing in that pride. It's about showing we take care of people and give them a place to grow."