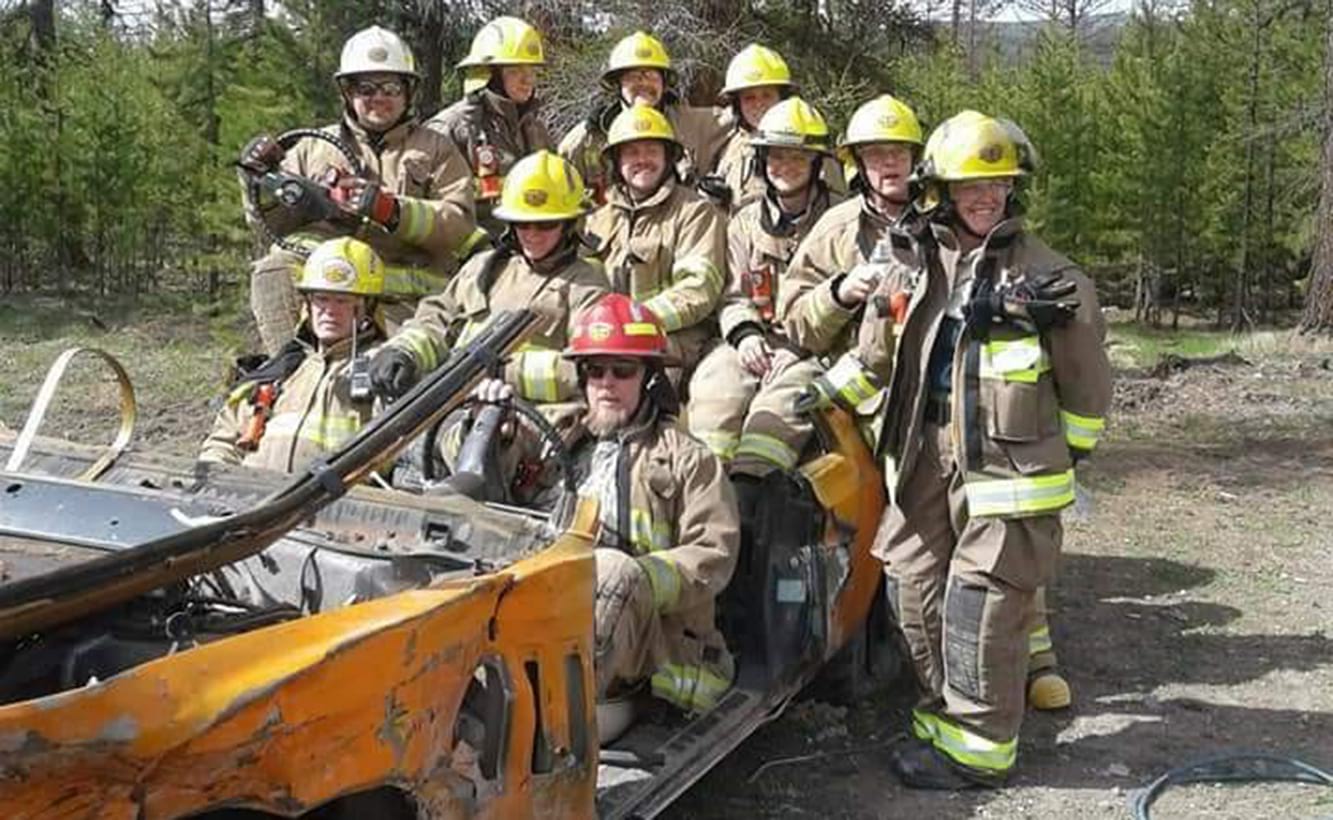 For the past decade, Dave has served his community as a volunteer firefighter with the Marion Fire District. He's now its captain, leading a team of 26 volunteer firefighters — including his wife (and Kalispell coworker) Becky and their kids Wylee and Josie.
"Dave dedicates a lot of his free time to the needs of the department in the form of training, administrative duties, and just plain saving people's lives," says nominator Daniel Adair, hourly lead and lathe operator at the Kalispell mill. "He gives selflessly to our community."
As part of Dave's 2020 Volunteer of the Year Award recognition, the Marion Fire District will receive a $5,000 WAVES grant to purchase equipment, including a Jaws of Life® hydraulic rescue tool.
MEET DAVE
Tell us a bit about your day job.
I'm the B-shift supervisor at the mill. I run our swing shifts, plan our daily workflow, oversee safety and product quality on the line, and work with new supervisors.
What motivates you to volunteer?
I live in a close-knit community about 20 miles outside Kalispell, where most of us know each other. The fire department has three paid staff and more than 20 volunteers. It feels like family, especially since my whole family volunteers there: my wife Becky, our 15-year-old daughter Josie, and our 12-year-old son Wylee. Wylee's out there with me every week.
What prompted you to get involved in the Marion Fire District?
A friend who was already volunteering with MFD basically tricked me into it, saying it "doesn't take much time." I went to my first meeting in December 2010, and I was hooked. Now it's a big part of my life. When I joined, there were only five or six active members. Today we're up to 26.
Obviously, there's a huge need for firefighters everywhere, especially in the West. But beyond that, I love that the department is an integral part of the community. We organize events like Easter egg hunts, Fourth of July parades and free Christmas dinners. I even dress up as Santa every year for the Christmas dinner. We had to make last year's Christmas dinner a drive-through event because of COVID, but it was still a big success.
What are the challenges you see that you're trying to address with this work?
Before our volunteer-based fire department was established in 1980, Marion had to rely on county firefighters in emergencies, but their stations are too far away for an immediate response
Keeping our town safe is truly a community effort, and every volunteer is crucial. Our department responded to nearly 200 emergency calls in 2019. I'm proud of how much we've grown, and as an instructor, it's very fulfilling to train volunteers who are out there saving lives every day.
What's your favorite part of volunteering with the fire district?
There's a position for everyone. People might think volunteering at the fire department is always a physical role that involves actively fighting fires, but we need help with all kinds of things. We have people from all walks of life — including some in their sixties and seventies — who are essential volunteers for things such as directing traffic, helping with transportation, providing medical support, responding to downed power lines after storms, driving ambulances, and doing administrative work.
Being a volunteer firefighter has also helped me make a lot of connections, especially since the fire department is such a hub of community activity. When I first joined, I reconnected with an old friend from high school who happened to join at the same time. We went through firefighter academy together, and now we train together.
What have you learned through volunteering?
I became fire captain in 2016. That whole process has really enhanced my leadership skills, which help me in my day job, too. Responding to emergencies has also made me more careful and responsible. Sometimes I feel bad for my kids, because now I'm that dad who's really hard on them about driving safely!
​​​​