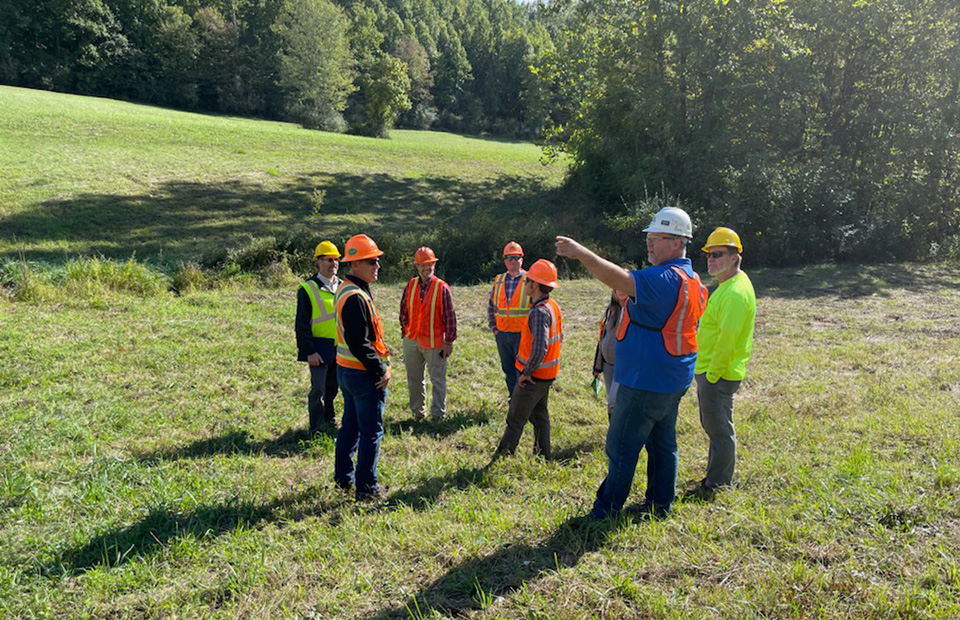 The West Virginia Wood Products fiber sourcing team takes part in an SFI external audit. This year in West Virginia, Wood Products fiber sourcing foresters and Timberlands foresters worked together to prepare for the audits, which provided an opportunity to share knowledge and best practices. Pictured are Mark Shreve (pointing), auditor Richard Boitnott, Kayla McKenzie behind Mark, Jared Richardson, Brian Young, Gene Shutler, Chad Leatherwood, and Bill Dempsey from West Virginia Timberlands.
In the spring of 2021, Gene Shutler was conducting a Sustainable Forestry Initiative® internal audit with a group of Weyerhaeuser colleagues when a wild turkey came off its roost and flew past the group.
For the team, which was preparing for an external third-party audit of its SFI® Fiber Sourcing program, the scene could have been scripted in Hollywood.
"We all joked that it would be great if the same thing happened during the external audit," says Gene, who leads our Raw Materials team for Wood Products in West Virginia.
Although the turkey didn't make a subsequent appearance, the fly-by wasn't needed to win any extra points.
Gene's team showed full compliance with SFI's Fiber Sourcing standards, as did each of our Timberlands Forest Management and Wood Products Fiber Sourcing teams throughout North America. External auditors found no nonconformance issues during the 2021 audit season, resulting in 100 percent compliance across the company.
"That's a big deal," says Chad Leatherwood, environmental manager and companywide SFI Fiber Sourcing program manager. "Our customers — from wholesale to retail — and consumers in general, demand forest products from sustainable, responsible and non-controversial sources. SFI is the certification standard we use to demonstrate this commitment."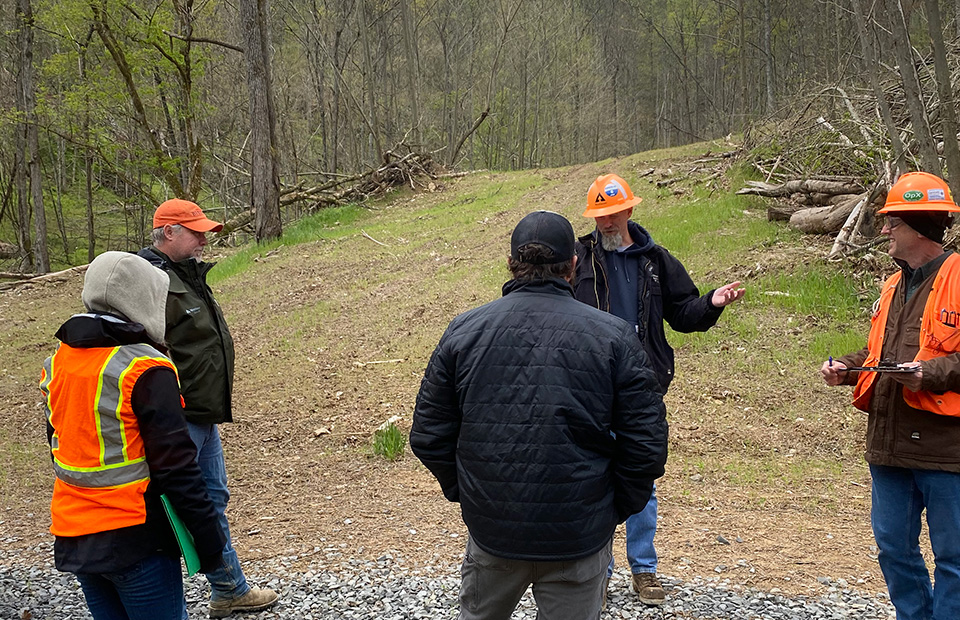 Bill Dempsey from Timberlands and Clifton Moyers from Wood Products compare notes during an internal SFI audit. Internal audits occur annually and are essential to meeting SFI standards in both fiber sourcing and forest management.
GETTING UP TO SPEED IN WEST VIRGINIA
We participate in rigorous internal and external audits every year across our forest management and mill operations to evaluate conformance with various SFI standards. We've maintained full compliance for decades, which is no small feat given all the work involved, yet the achievement was especially noteworthy for our Fiber Sourcing teams in West Virginia and Washington. Not only had many team members recently stepped into certification oversight roles, but some were participating in audits for their first time at Weyerhaeuser.
Gene began in his role as raw material manager in November 2019, leading the team that supplies raw materials to our EWP plant in Buckhannon and our Sutton OSB mill in the community of Heaters. The 2021 audit was his first external Fiber Sourcing audit, with Kayla McKenzie as the new Fiber Sourcing lead.
"I backfilled Rudean Reynolds, who retired in January 2021," Kayla says. "He successfully managed the SFI Fiber Sourcing Program here in West Virginia for years, and he announced his retirement a year in advance to make sure we would have a smooth transition."
For nearly a year, Kayla and Rudean had weekly meetings to review best management practices, documentation requirements and standards in preparation for the 2021 external audit. The sheer scope of work was immense: West Virginia's third-party fiber purchases represent some of the largest in the company.
"There was a lot to learn," Kayla says. "But thanks to the many people willing to share their knowledge and experience and our solid internal systems and processes — including centralized support for logger training and landowner education — the transition was actually easier than I expected."
Both Kayla and Gene credit the successful audit to the experience and professionalism of the Wood Products Raw Materials team. Although Gene's past experience with SFI when he was procuring fiber for pulp mills came in handy, he found the team's commitment to doing the right things on the ground and maintaining good documentation were the keys to success.
"Our procurement foresters, with great support from mill administration, do a fantastic job documenting our harvest activities, maintaining accurate, easy-to-find files and keeping records up to date as they go along," Gene says. "All while working through the added complexity of managing a robust stumpage program, primarily relying on nearby private landowners to supply the majority of our wood volume."
COLLABORATING BETWEEN BUSINESSES
Another key to the successful external audit season was our robust internal audit process, which includes bringing in employees from other areas to look at operations being audited with fresh eyes.
Of course, COVID-related travel restrictions made this process more challenging than usual. So rather than looking to other regions, the West Virginia teams looked across business lines and had members of Timberlands and Wood Products teams take part in each other's internal audits.
"Our Timberlands staff are truly experts in sustainable forest management," Chad says. "Having them join us for walk-throughs of harvested tracts on private third-party lands allowed us to identify ways to strengthen and improve our program."
Though 2021 was the first time these teams crossed businesses, it probably won't be the last.
"It was a great opportunity to learn from each other, share best practices, and make sure we're doing everything we need and want to do to meet SFI's standards," Gene says. "Growing our collaboration with Timberlands will not only improve our SFI program but will also benefit the company at large."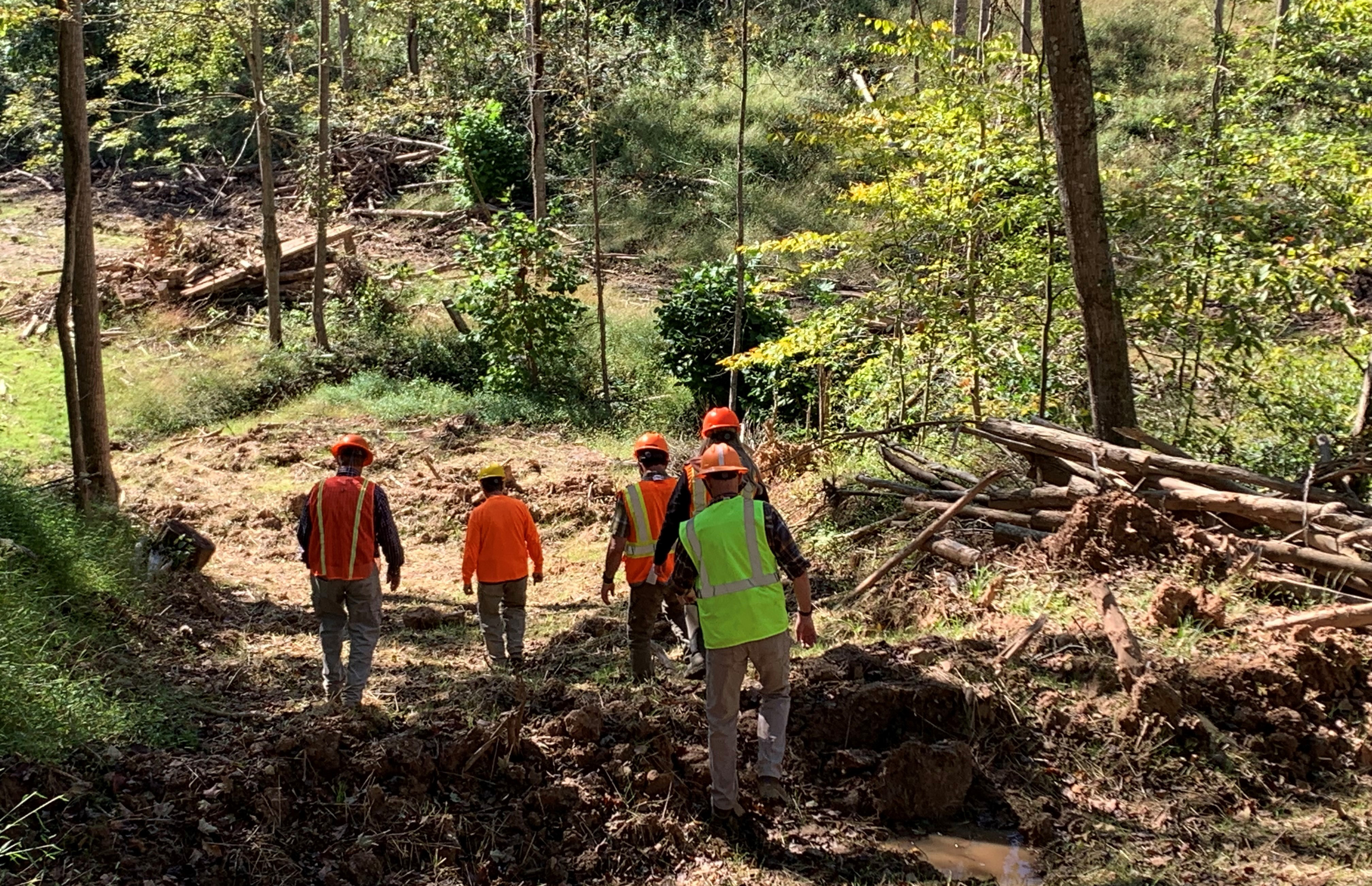 A Wood Products external audit. Left to right: Gene Shutler, Richard Boitnott, Lance Fairchild (leading way, left), followed by Kayla McKenzie and Clifton Moyers.
IMPROVING TRAINING AND KNOWLEDGE SHARING
In Western Timberlands, James Erickson also credits the internal audit process for helping ensure he was prepared. In Oregon and Washington, wood procurement is handled by the Timberlands team, and he stepped into the role of Fiber Sourcing lead right in the middle of "audit season."
To get up to speed, James benefitted from a detailed onboarding process, extensive training and regular calls with colleagues across the company to share insights and knowledge.
"External audit success is a testament to our systems, the process discipline of our team and our overall commitment to maintaining the highest standards," he says.
Improving training and cross-collaboration has been a priority for our Sustainability team at Seattle Headquarters over the past several years. Instead of making each site repeat the same training regionally, the central office hosts a series of role-specific trainings that people can attend based on their schedules.
"We're always looking for ways to streamline our training offerings and programs and remove some of the training burden from our operations teams that are busy managing their daily work responsibilities," Chad says.
PREPPING FOR 2022
The enhancements will come in handy in 2022 as our certification leads and operations teams transition our programs to meet the requirements in SFI's newly updated standards. The new standards, which will take effect on Jan. 1, 2023, include brand-new criteria in fire safety, biodiversity and climate change.
On our end, new training, checklists and document standardization are already helping teams prepare for this year's round of audits, which are already underway.
"Some of the new SFI requirements are things we've been doing for a long time," says Katie Cava, corporate sustainability manager. "And some of it will be new. But we're organized and working together to ensure we're building on our successes. We'll be ready when the external auditors arrive later this year and when the new standard requirements begin in 2023."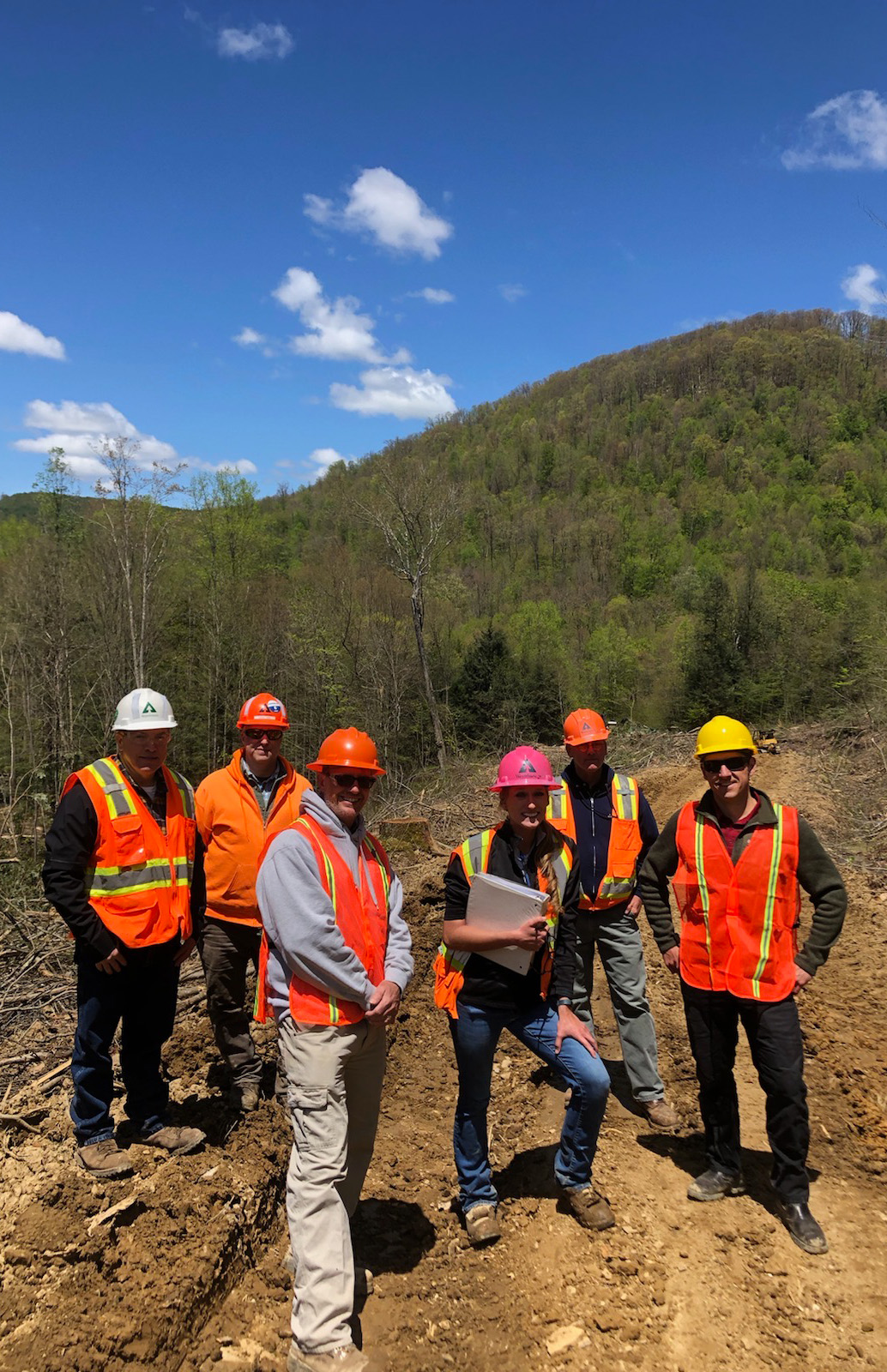 Jimmy Jenkins, Daniel Hoke, Gene Shutler, Laurel Kemmerling, Dan Abston and Jared Richardson take part in an internal SFI audit of West Virginia Timberlands.