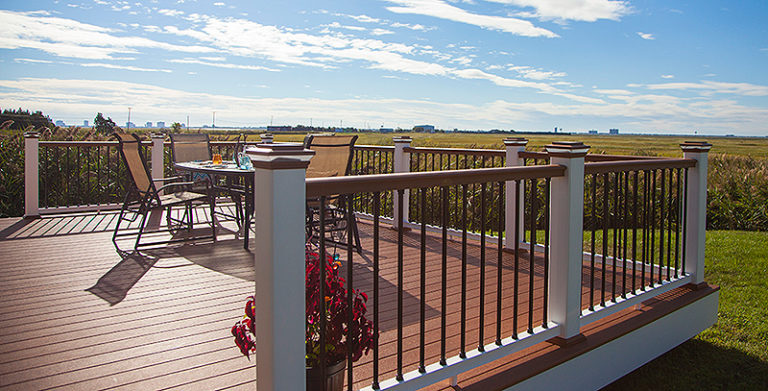 Weyerhaeuser Distribution has added a variety of RDI® railing product lines manufactured by Barrette Outdoor Living to its distribution centers servicing the Salt Lake City and Denver markets. Transform®Outdoor Railing, Avalon® Aluminum Railing and Excalibur® Steel Railing are three "mix-and-match" options now available for creating uniquely personalized decks.
"RDI has a proven track record of manufacturing top quality, durable railing products," says David Helmers, vice president of Weyerhaeuser Distribution. "We're excited to offer these low-maintenance and easy-to-install railing solutions to our customers in the Denver and Salt Lake City marketplaces."
Specifics for RDI railing systems include:
Transform Outdoor Railing – State-of-the-art Resalite® resin-based material provides the look and feel of a wood railing without the hassles that come with real wood railings. Available in satin white, caramel, wheat and ironstone.
Avalon Aluminum Railing – Unique style options combine to form a rich stylish look, while at the same time, adding safety and security. Available in white, satin black and aged bronze.
Excalibur Steel Railing – Pre-welded iron railing components provide strength, while a triple-coated finishing process ensures durability. Available in satin black or bronze.
"Barrette is very excited over the establishment of this partnership with Weyerhaeuser Distribution," says Jay Penney, director of sales for Barrette Outdoor Living. "Our two organizations are very similar in our corporate ideologies. With Weyerhaeuser's outstanding reputation and dedication to the building materials segment, this alliance is an excellent strategic fit for us and we're looking forward to expanding our presence together in the Rocky Mountain states."
New Jersey-based RDI offers ADA-compliant hand rail products for all of its products along with complimentary color options and combinations. For more details on the three product lines now available through Weyerhaeuser Distribution in the Denver and Salt Lake City markets, visit www.rdirail.com.