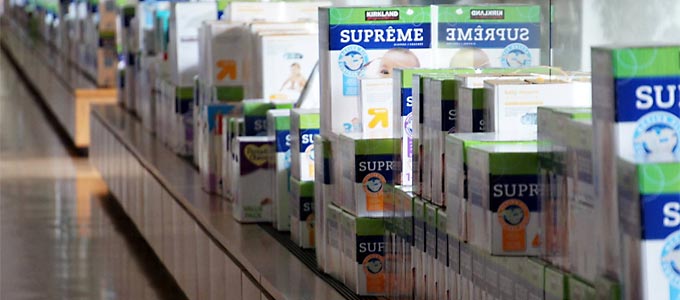 For the third year, Weyerhaeuser employees throughout North America came together to collect much-needed diapers for families in need. From March 5-26, Operation Diaper Drive brought in 1.2 million diapers, blowing well past its goal of 1 million, via donations from employees, customers, vendors, friends and family, community organizations and businesses.
"I'm running out of superlatives when it comes to our employees and Operation Diaper Drive," says Anne Leyva, community investment program manager. "This is an incredible number. Everyone performed so selflessly this year with their donations and online giving."
The diaper drive was conducted in partnership with World Vision, a humanitarian non-profit organization. Diapers are as essential to families as food and housing, but most safety programs such as WIC and SNAP do not cover diapers; parents who cannot afford them are often forced to rinse and reuse disposable diapers or leave children in soiled diapers longer than is healthy.
"We are extremely proud of our employees for their tremendous efforts to support the annual diaper drive, and we are tremendously grateful for the generosity of those inside and outside the company who gave so freely," Leyva says. "Diapers are the No. 1 requested item at local food banks yet are the least donated; the diapers from this drive will go a long way to supporting families who need it most."
The 1.2 million diapers are enough to supply 300 babies for a year. World Vision will distribute the donations to food banks around the country.
Local efforts, national impact
Eighty Weyerhaeuser locations participated in this year's drive, up from 72 in 2013.
For the second straight year, the Western Timberlands office in Vancouver, Wash., won a $5,000 WAVES grant to the nonprofit of their choosing for gathering the most diapers per capita. The 13 employees there brought in more than 16,000 diapers! Site coordinator Julie Farmer used competitions to keep the momentum rolling and raise the average donation to 1,243.
Because the company far exceeded its goal, Weyerhaeuser opted to add two additional grants, for $1,500 each. The Baltimore Wood Products distribution center earned a grant for achieving the Largest Percent Increase Over the Previous Year. Baltimore associates obliterated last year's 538 total by bringing in 11,383 diapers—a more than 2,000 percent increase!
The Easton, Pa., Wood Products distribution center won the second new grant, for Outstanding Achievement by a New Site Participant. Sparked by the efforts of site coordinator Kimara Lovelace, the 35 associates — aided by community donations — contributed 22,876 diapers. Their results were recognized by WFMZ-TV and The Morning Call.
Site coordinators like Farmer and Lovelace were critical to the program's success, Leyva says. "They were amazingly engaged and involved in making Operation Diaper Drive a success. Many operations connected with community leaders, groups and businesses; a lot held competitions, like Barrie Webster in Grande Prairie Timberlands, who'll be sporting a diaper because his team members went beyond their goal of 8,000 diapers."
Record-shattering donations were reported from all corners of North America. At the Liquid Packaging plant in Longview, Wash., the 19,518 diapers tallied by employees nearly doubled 2013's total. And employees in the North Louisiana Timberlands region smashed their goal of 7,000 diapers by collecting 23,454 of the disposables for three local nonprofits.
"Is there a better cause?" Leyva asks. "After all the hurrying, the hard work and the personal expense of Operation Diaper Drive, the result is dry, happy babies in our communities — and hopefully a little more awareness and a little stronger tendency to contribute through the rest of the year. Because we're just that kind of company."