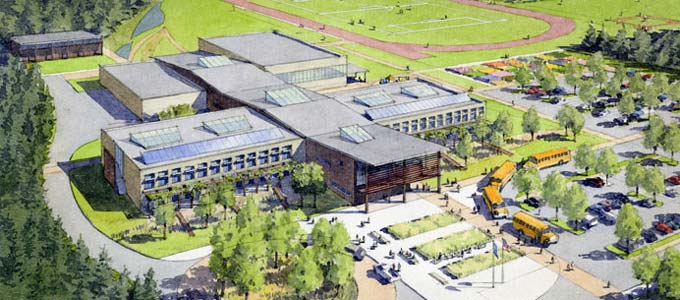 Some call it the Great Coastal Gale. Others don't have a name for it — it's just the 2007 Storm, as if there were only one storm that year. But whether named or nameless, the massive winter storm that ravaged the Pacific Northwest in December 2007 will be remembered for generations.
It's an especially poignant recollection for the residents of Vernonia, Ore., a timber town about 45 miles northwest of Portland. During the torrential rains of that epic tempest, the Nehalem River in Vernonia surged to record levels. High waters isolated the community from nearby towns. They inundated homes and businesses — and flooded local schools.
"As it is in many rural areas," says Greg Miller, Weyerhaeuser's public affairs manager in Oregon, "the school district is the heart and soul of this community."
Almost immediately, residents rallied and made plans to rebuild the schools in a new part of town, above the flood plain. They decided on a state-of-the-art, energy-efficient facility that consolidated all of the town's public school students, grades K-12, into a single facility. In the fall of 2012, with much fanfare and celebration, the school opened.
"We've had an eye on Vernonia for quite some time and have wanted to find a way to help," Miller says. "But Weyerhaeuser didn't have a significant presence in this community until we purchased Longview Timber this past summer."
That acquisition changed the dynamics. With Weyerhaeuser now owning and managing thousands of acres of timberland surrounding Vernonia, a donation to support the school not only made sense but also aligned with Weyerhaeuser's long-standing commitment to invest in the communities where it does business.
"We were especially intrigued by the school's focus on environmental education," Miller says. "The Vernonia school district has integrated environmental learning throughout its K-12 curricula, with a special focus on career-path development that inspires students to pursue work in the timber and wood products industries."
In many ways, it's a perfect match. After completing a grant application, the district was awarded $12,500 from the Weyerhaeuser Giving Fund. The donation will help strengthen the school's forestry and natural-resources studies and will help create hands-on learning opportunities for students at the school's native plant nursery.
"The nursery program teaches kids about plants and plant growth," Miller says. "They grow all kinds of plants from seedlings and eventually take them to market. It's environmental education with a little business mixed in."
Another opportunity
The grant represents just one facet of a growing relationship between Weyerhaeuser and this resilient community. When Rich Wininger, Weyerhaeuser's vice president of Western Timberlands, visited the school last year, both he and Miller met with teachers, school administrators and elected officials.
Those conversations uncovered an opportunity to educate and inform community leaders about certification standards for green buildings. The school is currently certified to the U.S. Green Building Council's Leadership in Energy and Environmental Design standard.
"We're helping the school achieve Green Globes certification," Wininger says, "while educating officials about some of the biases against wood in LEED certification."
In fact, LEED favors more energy-intensive materials like glass and aluminum over renewable wood, a contentious issue for Weyerhaeuser over the years.
"The folks from Vernonia schools want to be responsive to the needs of the community," Wininger says. "When we pointed out some of the shortcomings in LEED, they were very eager to seek additional certification from Green Globes. They're living in a beautiful Northwest forest, and they've really embraced wood products and the timber industry."