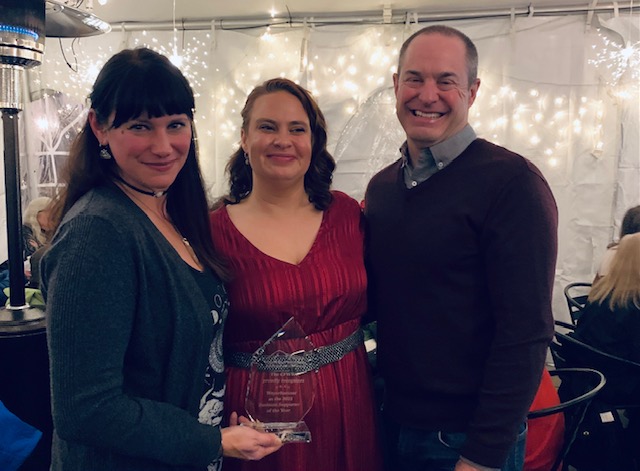 Lyndcy Patrick and Jeff Grogan with Amanda Gilbert, center, executive director of the Coast Fork Willamette Watershed Council, at the council's 2022 winter soiree and awards ceremony. Both have collaborated with Amanda and council staff on numerous projects to improve water quality and wildlife habitat on our property throughout the central Oregon watershed.
Jeff Grogan and Lyndcy Patrick beamed with pride when the Coast Fork Willamette Watershed Council named Weyerhaeuser its 2022 Business Supporter of the Year at its annual winter soiree and fundraiser this past December.
Jeff, a planning forester, and Lyndcy, a land use manager, have both worked closely with the Oregon nonprofit over the past several years, supporting its mission to help private landowners improve water quality and fish habitat through restoration, monitoring, education and stewardship.
"It's thrilling to be acknowledged, especially in front of our neighbors and peers," Lyndcy says. "And while we're extremely grateful, our commitment to the council doesn't require awards and recognition. It's really about being a good neighbor and citizen in the communities where we live and work."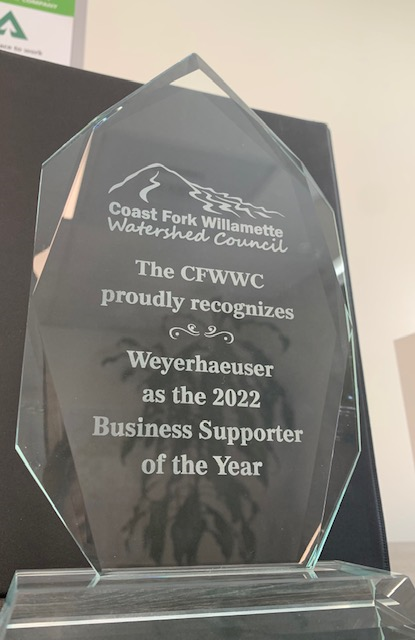 For our contributions to the council's success in 2022, the Coast Fork Willamette Watershed Council designated Weyerhaeuser Business Supporter of the Year.
A LONG-STANDING PARTNERSHIP
Lyndcy says that our decades-long support of local watershed councils throughout the region, including CFWWC, has delivered meaningful, measurable results that get noticed by neighbors, environmental and wildlife advocacy groups, as well as state and federal officials.
"We're focused on building strong relationships based on trust and cooperation," she says. "In the long run, working together is the only way to produce the result everyone wants."
Recent standout projects with CFWWC include:
Providing youth crews with snorkeling access to monitor the only salmon-spawning channel in the Coast Fork watershed
Supporting a cooperative effort between CFWWC and the Bureau of Land Management to protect northwest pond turtles
Providing financial and in-kind donations to a habitat improvement project for Chinook salmon (which also demonstrated the benefit of rock weirs instead of log jams in dynamic and flashy water systems) and allowing public and agency tours of the project
"Lyndcy and the Weyerhaeuser crew have been amazing to work with," says Amanda Gilbert, CFWWC executive director. "Business Supporter of the Year recognizes a company that has gone above and beyond in supporting our organization, and Weyerhaeuser is highly deserving of this honor."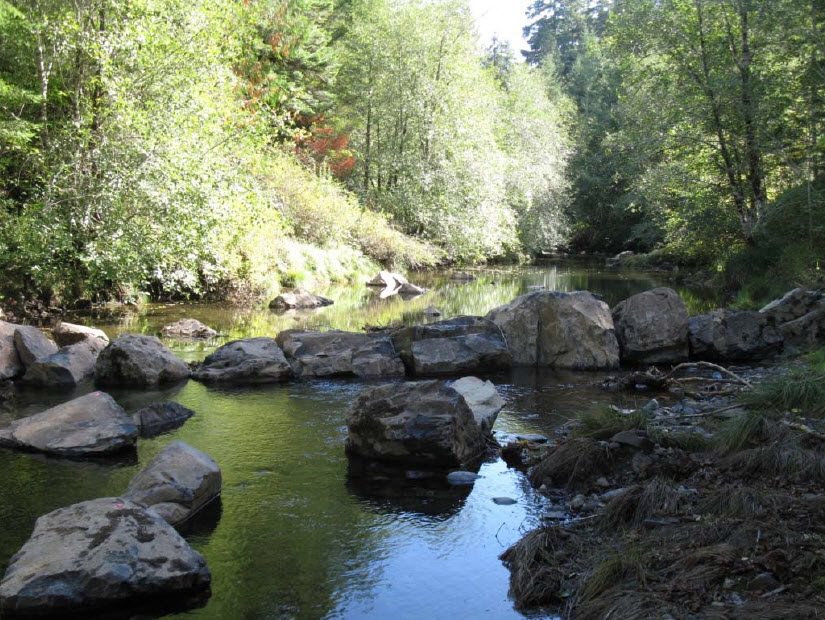 Rock weirs now give spawning salmon a chance to rest and shade as they make their way upstream in Mosby Creek. The project was a collaboration between Weyerhaeuser, the Coast Fork Willamette Watershed Council and other public and private partners.
CONNECTING COMMUNITY AND LANDOWNERS
Local watershed councils like CFWWC are vital in supporting water quality and habitat improvements in many communities where we operate, especially throughout the Pacific Northwest. However, to succeed and fulfill their missions, these nongovernment, not-for-profit organizations depend on the voluntary support and cooperation of private landowners such as Weyerhaeuser.
"We try to make it easy for the folks at CFWWC and other watershed councils," Lyndcy says. "If they need access to our property for research, we make it happen, as long as there's no active harvest site nearby."
Whether for research, habitat improvement or education, Lyndcy says CFWWC is an invaluable public resource and connection point between local communities and landowners. The watershed covers 667 square miles, starting just south of Eugene and following the Willamette Valley south through parts of Lane and Douglas counties, overlapping much of our timberlands in the area and our sawmill in Cottage Grove.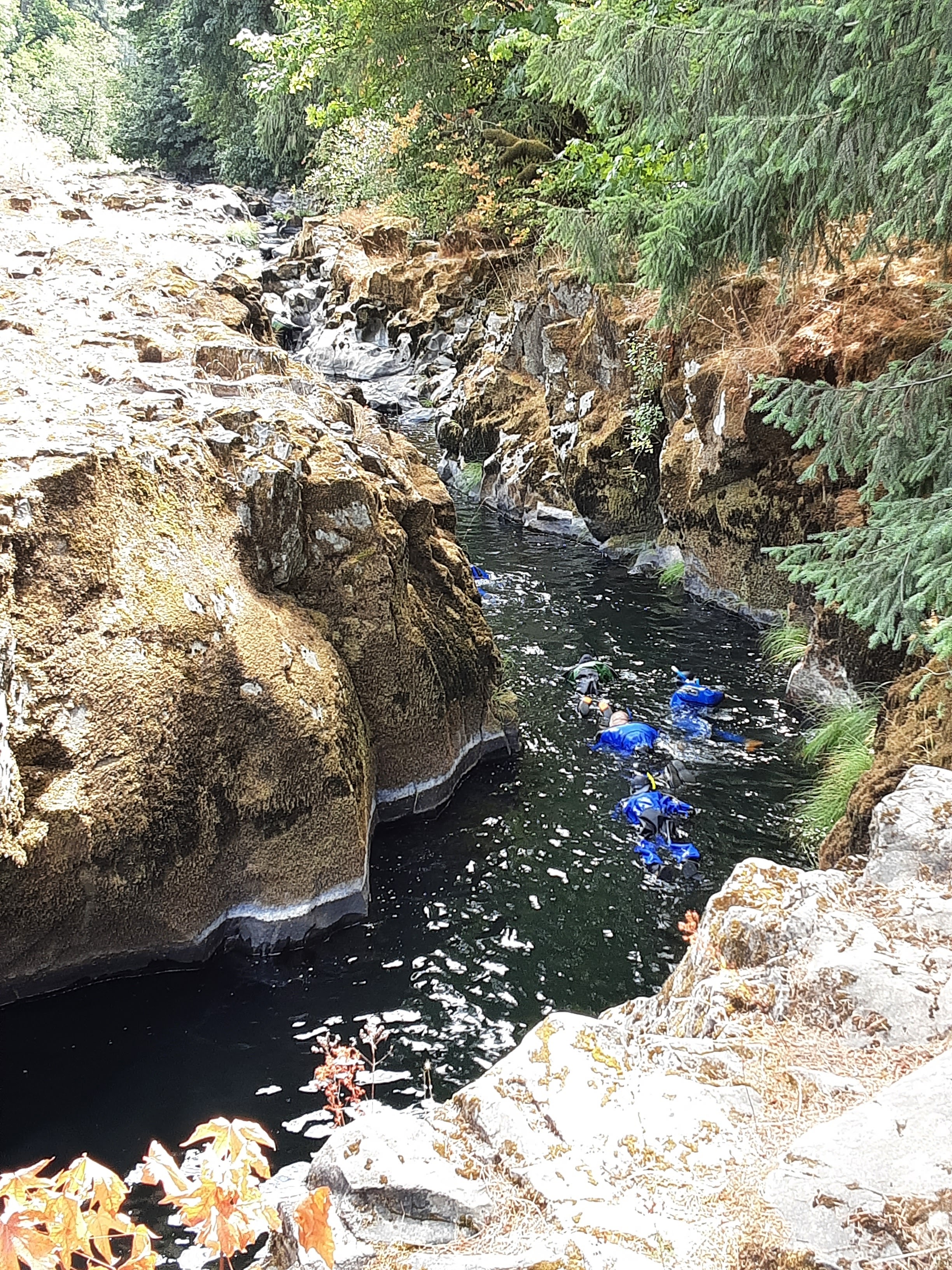 In coordination with the CFWWC, our Timberlands teams offer local students opportunities to visit salmon-spawning waterways, sometimes even snorkeling in the water to see aquatic life up close.
EDUCATIONAL ACCESS
In Dorena, not too far from Cottage Grove, there's a special relationship that exemplifies the benefits of the ongoing collaboration between CFWWC, Weyerhaeuser and other community organizations, including local school districts.
In mid-December, a busload of Dorena students — ranging in age from kindergarten through middle school — arrived at Mosby Creek to learn about the connection between salmon, healthy forests and water quality. The creek, located almost entirely on Weyerhaeuser property, is the only salmon-spawning channel in the Coast Fork. It was recently restored with support from Weyerhaeuser, CFWWC, and state and federal agencies.
"A teacher at the school reached out to me, and I immediately looped in CFWWC," Lyndcy says. "It has a proactive youth education and conversation corps program, so we wanted to tap into that knowledge and expertise."
Over the course of the visit, students learned about migratory fish and their needs, including water quality and healthy ecosystems. They heard about the creek's history and recent conservation efforts. They learned about the connection between healthy forests and healthy habitats. And they talked to Weyerhaeuser scientists and engineers about the many steps we take to protect fish habitat and water quality.
But the highlight for most students was the opportunity to release salmon fry into the creek. The students had raised them as part of an egg-to-fry environmental study unit.
"The folks at CFWWC played a huge role in making this event successful," Lyndcy says. "It's just one example of how the council works with its partners to enrich lives and improve the world around us. In so many ways, I feel like Coast Fork deserves an award, too."