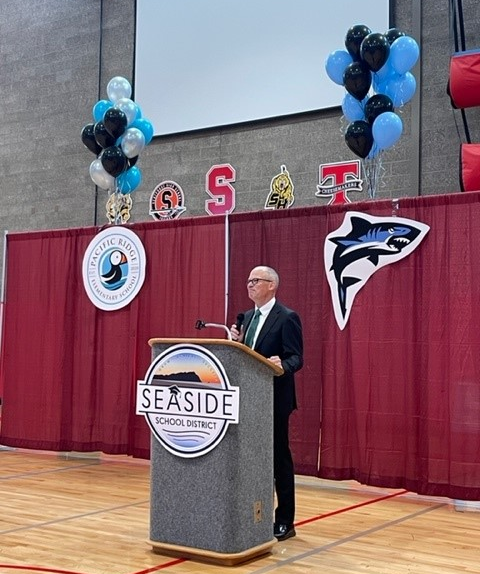 Doug Dougherty, Seaside School District superintendent emeritus. 'It was wonderful to see Weyerhaeuser's Jim Bunker at the grand opening of Seaside School District's new preK-12 school campus,' he says.
For nearly 30 years, Seaside School District superintendent emeritus Doug Dougherty worried about what might happen to students in Seaside, Oregon, if a Cascadia fault-line earthquake and tsunami hit the coast.
For decades, all but one of the district's schools were located within the inundation zone, where an ocean surge could roar in before anyone had a chance to evacuate the buildings (which could also potentially collapse in an earthquake strong enough to trigger a tsunami).
But in 2021 a new preK-12 campus welcomed students in-person for the first time. Located well above the inundation zone, the campus includes an expanded and seismically remodeled elementary school, as well as a totally new middle school/high school complex that was built on land Weyerhaeuser donated to the city back in 2016.
This September, Doug and his fellow school board members held an official ribbon-cutting for the new combination high school and middle school, which overlooks the Pacific Ocean. Alumni, faculty, community members and Weyerhaeuser employees were on hand to celebrate.
"This was the best possible outcome for Seaside schools, and it felt amazing to see it finally come to fruition," says Jim Bunker, senior land asset manager, who helped make the site donation a reality back in 2016.
Doug, school board members past and present, former Seaside students, and community members cut the ribbon to officially open the new campus.
STAKES TOO HIGH TO QUIT
The full story of the land donation goes back to 1993, when Doug — then the principal of Cannon Beach Elementary School, which closed in 2013 — started his quest to move the schools to higher ground. As superintendent, his efforts included commissioning scientific studies and creating public campaigns and legislation. His sense of urgency deepened after the 2011 earthquake and tsunami in Japan.
When a 2013 ballot proposal to fund the purchase of a new site failed due to the $129 million price tag and the district's lack of suitable property ownership to build the new schools, Doug enlisted community members and interested students to raise public awareness about the importance of the move.
The impasse remained until 2016, when we donated a parcel of our land that had been identified as a suitable site for a new campus. Located in the city's southwest hills, the wooded property was one of the few areas high and stable enough to build a campus outside the tsunami danger zone — and it was located right next to an existing elementary school.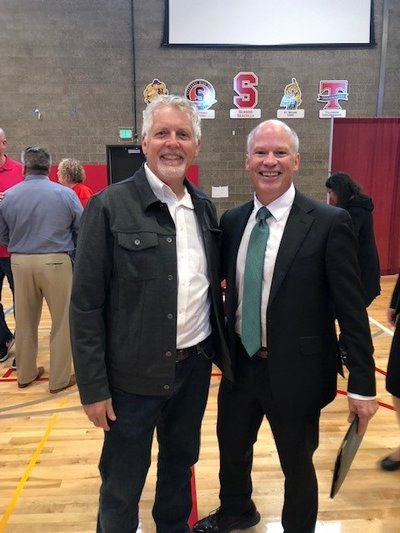 Jim Bunker, senior land asset manager, has been working with Doug on the land donation since 2016. 'It was wonderful to see the campus so full of life,' Jim says. 'Right after the ribbon-cutting was Seaside High School's homecoming parade, football game and barbecue.'
MAKING A DREAM INTO REALITY
"We rarely donate land, but this was a matter of public safety," Jim says. "We had an opportunity to make an enormous difference in this community. Our land donation was what allowed a second ballot proposal to pass, granting $99.7 million to fund school construction."
Jim, Scott Dahlquist, now vice president of Land Asset Management, Steve Ketz, who retired shortly before the donation, and Bradley Johnson, then sales and marketing manager, worked with Doug, the city of Seaside and the state of Oregon to complete the donation.
"Moving the schools out of the tsunami zone would not have been possible without Weyerhaeuser's generous donation and assistance," Doug says. "This beautiful campus is a true gift to generations to come."
After donating the property, we harvested most of the mature timber onsite but left about 10 acres of standing trees for educational use. Construction broke ground in 2018, and students began attending classes in the 2020-2021 school year.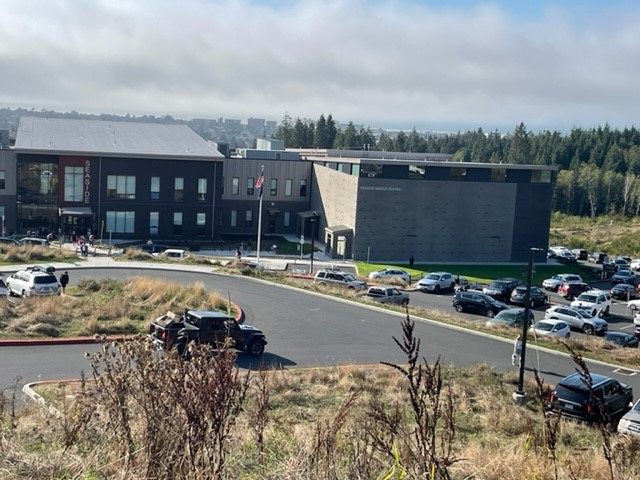 Fog rises off the Pacific Ocean, which is now far below the new Seaside schools. 'We can all be proud of the new campus,' Doug says. 'The schools are much safer and better teaching and learning environments than the buildings we left. The new Seaside High School/Seaside Middle School complex is the most resilient building on the Oregon coast.'
SAFER SCHOOLS SPRING TO LIFE
The new high school and middle school building is a model of seismic engineering that will be replicated in other schools. It's designed to remain immediately occupiable following a major earthquake along the Cascadia Fault, which runs 700 miles off the coast of the Pacific Northwest.
The new three-story complex includes two wings connected by a corridor. Inside are classrooms, administrative offices, a library and a cafeteria.
Though the ribbon-cutting ceremony was delayed years due to the pandemic, the mood on campus was triumphant. Jim represented Weyerhaeuser at the event along with Kyleigh Gill, Oregon public relations manager, and her young son.
"Those schools must have the best views of any schools on the West Coast," Jim says. "Seeing the campus in person made me so proud to be part of this. I was there to see the kids rush out of their classes when the bell rang to greet their parents, and I pulled over to watch the homecoming parade on my way out. It was an incredible reminder of who we did this for: these kids, their families, and the rest of the Seaside community."