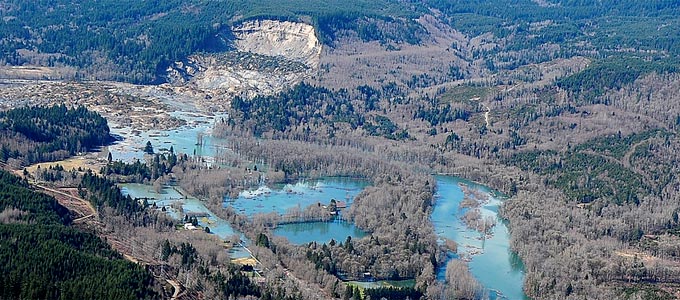 On March 22nd, a rain-saturated slope in the Cascade Mountain foothills of Western Washington failed catastrophically. A mile-wide slice of hillside rolled down onto a rural community near Oso, Wash. Thousands of tons of earth, rocks and trees crashed into the area's homes and cabins, burying some beneath 30 feet of mud. Twenty-four people have been confirmed dead and as many as 22 may be missing.
The slide engulfed State Route 530, cutting the only usable road into the nearby town of Darrington. It also dammed a stretch of the Stillaguamish River, and homes untouched by the slide soon were flooded by the rising water.
In the aftermath, law-enforcement personnel, local search-and-rescue groups, the Washington National Guard, and teams from the Federal Emergency Management Agency are on-site, clearing debris and searching for victims. A Weyerhaeuser helicopter is on-site too, requested by Sen. Maria Cantwell to help shuttle officials and residents around the disaster scene.
"With our acquisition of Longview Timber, we now own about 33,000 acres in the surrounding county," says Kristen Sawin, Weyerhaeuser's director of Public Policy and Environment. "We began looking for ways to help as soon as we heard people were experiencing destruction of this magnitude. Getting our pilot, Manuel Bravo, and the helicopter up from Eugene was only the first step."
The company offered more aid in the form of a $25,000 donation to United Way of Snohomish County. The funds will be used to assist families affected by the slide.
We're also uniquely positioned to respond to another request. Many of those families are asking for diapers as they lean on local nonprofits for support. Since Weyerhaeuser just happened to have thousands on hand now that our Operation Diaper Drive has concluded, our Giving Fund staff arranged to send 45,000 diapers from the Weyerhaeuser Technology Center to help those in the affected area.
"In a situation like this, it's critical that help arrive immediately," Sawin says. "We have the equipment and the expertise — and the heart — to help those in need."
If you'd like to make a donation to the Oso relief effort, follow these links to the American Red Crossor the United Way of Snohomish County.