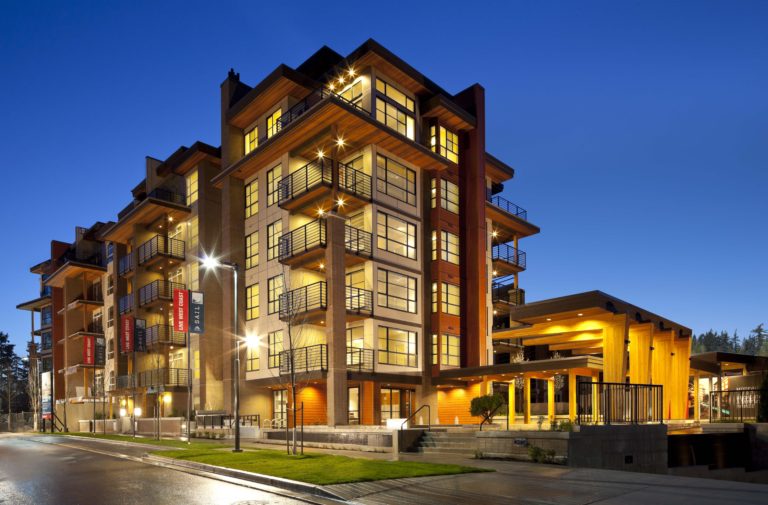 Highlighted by grand wood entryways, modern West Coast architecture, and industry-leading building techniques, the Sail condominium complex exudes a natural aura and a feeling of luxury well-suited for its location on Vancouver's beautiful UBC peninsula.
The two buildings, consisting of 98 and 72 one-, two-, and three-bedroom units, boast a contemporary-yet-cozy design in keeping with its surroundings, with a brick-and-wood exterior, strong indoor-outdoor connections and deep cedar overhangs to protect from the rain and the summer sun. A statement-making entrance pavilion of soaring glue-laminated wood ties the two structures together while meeting code requirements that lobbies be positioned within 50 feet of the street.
The prominence of wood is not unique to the building's visible elements: The six-story wood-frame structures combine engineered lumber over a suspended concrete slab, one of the first in British Columbia since the province began permitting such construction a few years ago.
Framed for Success
To alleviate the risk of shrinkage, and meet code requirements for 12% or lower moisture content for the first four stories, designers specified Trus Joist® engineered lumber, including TJI® Joists with Parallam® PSL beams and TimberStrand® LSL rimboard for the floor system. In addition, drag struts made with 3 ½-inch TimberStrand acted as a load transfer mechanism between some bottom and top plates. All of the shear walls align down to the foundation; offsetting is not permitted due to code limitations.
The architects designed the buildings' elevator shafts with laminated 2×6 studs and 5 ¼-inch Parallam, meeting fire code requirements while ensuring the columns moved at the same rate as the rest of the frame.
The six-story timberframe was a first for architect Bryce Rositch, Architect AIBC, AAA, FRAIC, a partner at Rositch Hemphill Architects, who reports that the structure was less expensive to build (a 20% to 25% savings over concrete) while cutting installation time. Rositch gathered key players such as engineer Weiler Smith Bowers from the beginning, including having his code consultant work with the municipality at the design stage. "Having the whole team on hand early on was critical to success," he says.
And while extremely satisfied with the outcome, there are a few things the architect plans to do differently with his next wood-framed mid-rise project, including adding an extra ½ inch of concrete topping to improve acoustical separation. He also will avoid jogging fire walls, which proved difficult to install because of their independence.
Luxury Green Living
Along with the cost benefits, the extensive use of wood also can be attributed to its sustainability attributes, Rositch says, including renewability and carbon sequestration. The project achieved REAP Platinum, the highest designation of the Residential Environmental Assessment Program from nearby University of British Columbia. REAP Platinum is considered on par or even more stringent than LEED and surpasses local government requirements.
The project's other prominent green features include wastewater heat recovery, R-20 2×6 walls, R-40 roofs, Energy Star-rated windows, motion-sensor lighting in bathrooms, low-VOC paints, dual-flush toilets, and water-efficient fixtures and appliances, along with car sharing options and electric car-compatible parking spaces. Common areas are heated by district energy systems, a more efficient, community-centralized method that relies on steam.
Efficiency, indoor air quality and water conservation are bonuses to a long list of other desirable features inside and outside the complex. The units boast open floor plans and high-end touches including stainless steel appliances, quartz countertops and luxury fixtures. On the top floor, private roof terraces offer stunning views of British Columbia's forests, mountains, and water, and are pre-plumbed for optional hot tubs. Residents are within walking distance of shopping and coveted outdoor space, including direct park access via a central courtyard.
Indeed, in a region known for its love of nature and commitment to its native forests, it's fitting that one of its newest, most sustainable projects demonstrates thoughtful use of wood in a way that is as practical as it is beautiful.