Community Investment
Citizenship is a core value
We're deeply connected to the communities where we operate and have a long history of doing our part to help them thrive. We made our first charitable donation in 1903 and have provided more than $235 million in grants through our formal giving program, established in 1948. In both rural and urban settings, we support hundreds of important organizations and programs in the communities where we operate with money, time, skills and resources.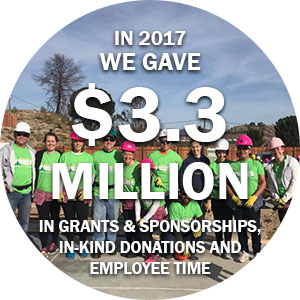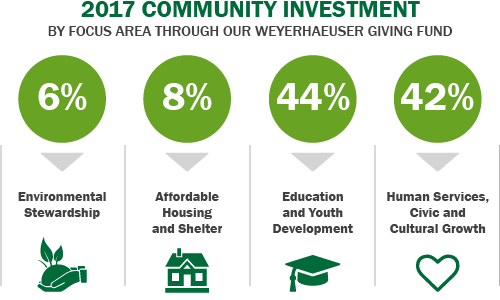 HOW WE INVEST
In 2017, we invested $3.3 million in our communities through four main channels:
Giving Fund
The majority of our philanthropy is directed through our Giving Fund, which:
Makes cash contributions to community organizations through local grants.
Supports disaster-relief funding.
Business Support
Our businesses and corporate headquarters locations:
Provide direct support to our communities through charitable and in-kind donations.
Donate seedlings for educational purposes (headquarters region only).
Employee Volunteerism
We support our employees' efforts to volunteer for causes they care about through:
Research and Partnerships
We invest in research and partner with organizations to foster scientific collaboration that will:
Improve best management practices.
Bolster innovation in our industry.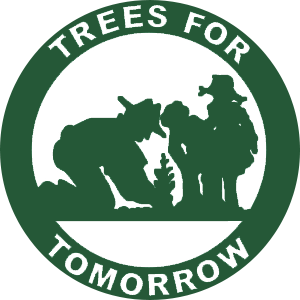 Living Our Values
Trees for Tomorrow
Established in 1944, nature school Trees For Tomorrow is an independent nonprofit educating students and the public about forests, wildlife and sustainable resource management.
Located on the site of a former Civilian Conservation Corps camp in Eagle River, Wisc., Trees For Tomorrow was founded with a dual mission: to educate students and teachers and to help landowners reforest Wisconsin's north woods.
Once these northern woods were substantially reforested in the 1960s, Trees For Tomorrow devoted all of its energy to education. Today, Weyerhaeuser provides financial and volunteer assistance to help students enjoy and experience nature and to help plant the seed of forestry.
The specialty school caters mostly to middle school students from the upper Midwest, including urban areas such as Chicago and Milwaukee. In an average year, more than 5,000 kids and teenagers attend the school, typically spending three days and two nights at the camp.
Activities are STEM-based (science, technology, engineering and math) projects, including identifying wildlife by their tracks, measuring water turbidity in a stream and examining a field site to assess tree variety, age and other factors influencing forest succession.

---
YOU MAY ALSO BE INTERESTED IN: