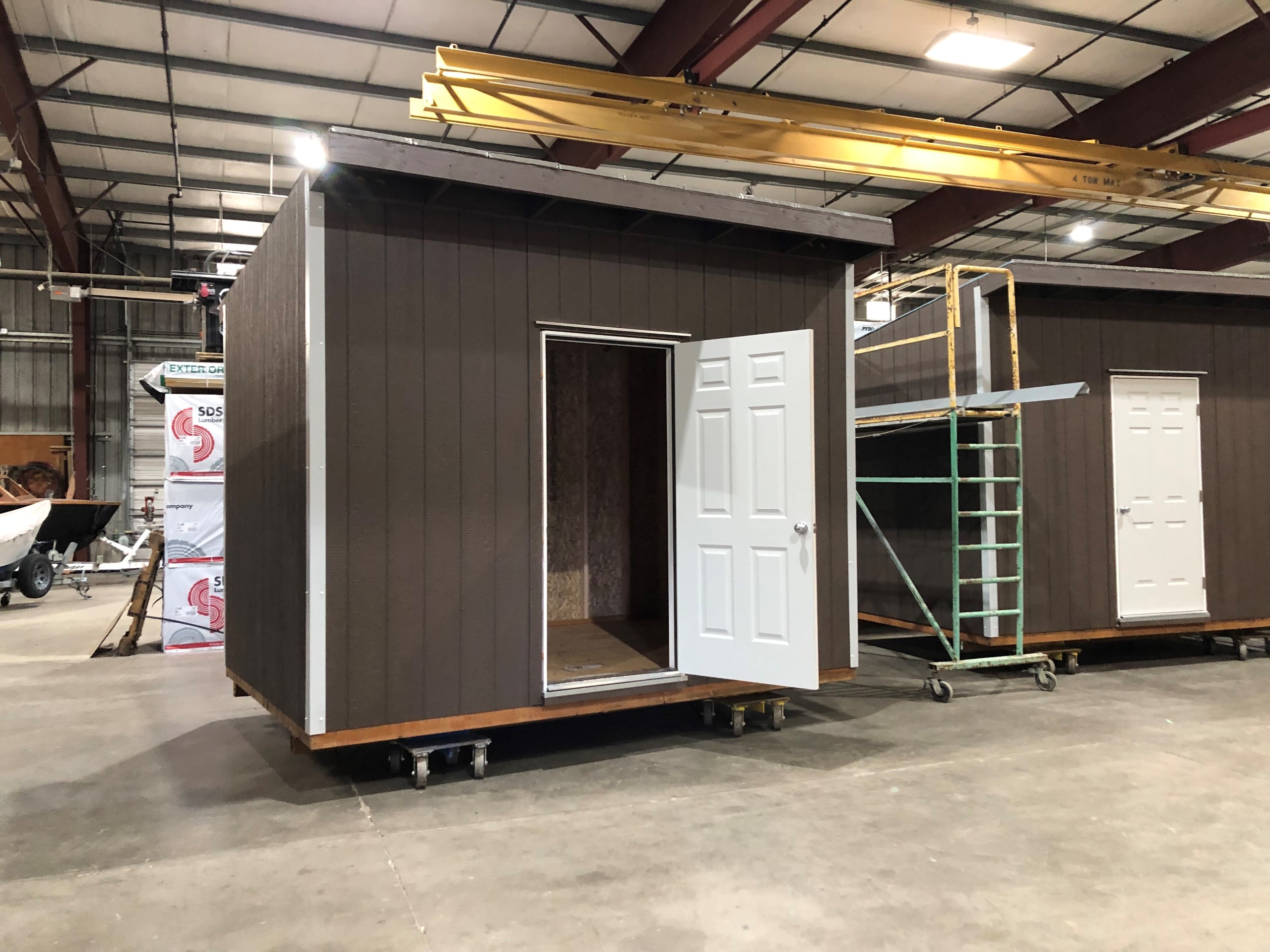 A completed shed at a warehouse in Stayton, Oregon. The warehouse facility was donated by Marv Shetler, owner of Blazer Industries. It allows volunteers to prebuild and preassemble components, making shed building more efficient and cost-effective.
When Kyleigh Gill, Oregon public relations manager, drives through the Santiam Canyon on Oregon Highway 22, she can still see the effects of the 2020 wildfires that ravaged the area.
"Homes are going up slowly, and there's truly some beautiful construction," she says. "But there are also many fire-damaged homes and businesses that aren't rebuilt yet — some haven't even been demolished."
Thousands of structures and homes were destroyed by the 2020 wildfires, leaving families without a permanent structure to call home as they rebuild.
"There are still people living on their land in cars, trucks and RVs," Kyleigh says. "When I heard about a project building storage sheds to give these community members a permanent structure for secure storage while they wait for their homes to be finished, I knew it would be a good opportunity for Weyerhaeuser to get involved."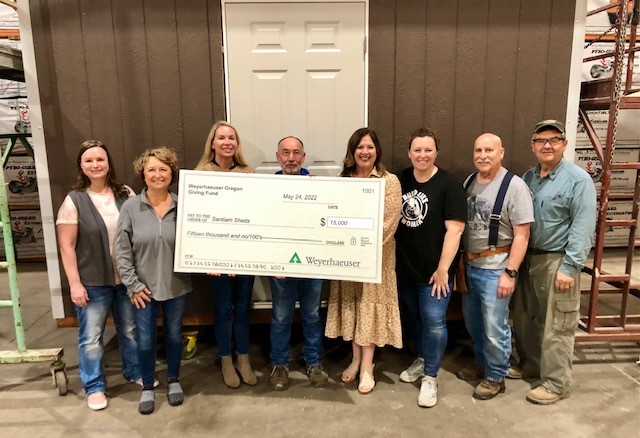 Weyerhaeuser supported the Santiam Shed builds with a $15,000 donation. From left, Weyerhaeuser employees Dana Cunningham, Cara Barnes and Kyleigh Gill; and shed project volunteers Marv Shetler, Juli Foscoli, Stephanie Bobb, Chuck Johnston and Bob Emanuel.
​​​​A BIG NEED
The Santiam Sheds program is the brainchild of Juli Foscoli, who works for South Town Glass in Salem.
"I got wind of sheds being a big need," she says. "There were stories about people putting expensive construction tools under their RVs at night only to discover they had been stolen in the morning."
Juli connected with her local chapter of the National Association of Women in Construction in early 2021. Soon her company, local construction firms, members of the area's general contractors association, churches, high school shop classes and others joined the effort to build and donate sheds to Santiam Canyon residents who lost their homes.
"Eventually, we were introduced to the Ford Family Foundation, who gave us our first big donation," Juli says. "Denise Bacon at the Ford Foundation introduced us to Kyleigh, who helped us get our second big donation."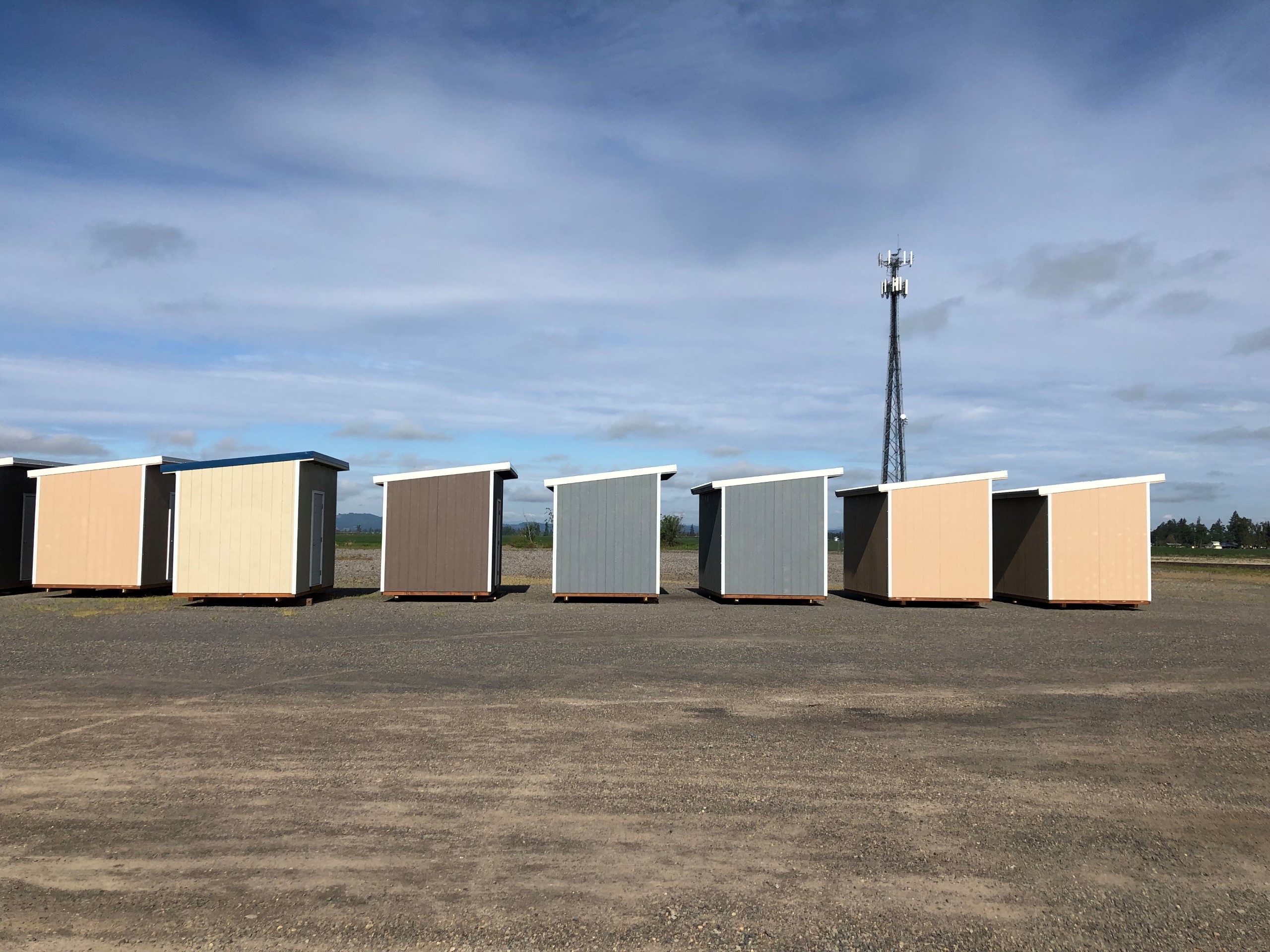 A row of completed sheds awaiting delivery to families in Santiam Canyon.
COMMITTED TO SUPPORT
In mid-July, several local volunteers built the Santiam Sheds program's 100th shed. Although this particular installation didn't include Weyerhaeuser volunteers, a recent $15,000 Weyerhaeuser Giving Fund grant helped make it possible.
"The donation is another way we show our commitment to being a good neighbor to local families and businesses," Kyleigh says. "We'll be here as long as it takes to support communities as they recover and thrive again."
Santiam Sheds is one of many organizations Weyerhaeuser has supported locally to help Oregon's fire-affected communities rebuild and recover over the past two years. In addition to our many employees working with local nonprofits that support the impacted communities, the company also sent hundreds of thousands of dollars in Giving Fund grants to local organizations.
On her drives through the canyon, Kyleigh occasionally sees one of the sheds built by Juli and her volunteer team, and she's eager to see more. The nonprofit's goal is to work through a long wait list and eventually install at least 150 sheds.
Santiam Sheds keeps improving its shed-building processes to meet that goal — shed components like walls and roof supports are now prebuilt in a donor's warehouse, allowing for quick on-site assembly.
"We currently have enough funds to build almost 30 more sheds," Juli says. "We'll seek additional funding in conjunction with our corporate and fiscal sponsors in the fall. We'll also be looking for volunteers."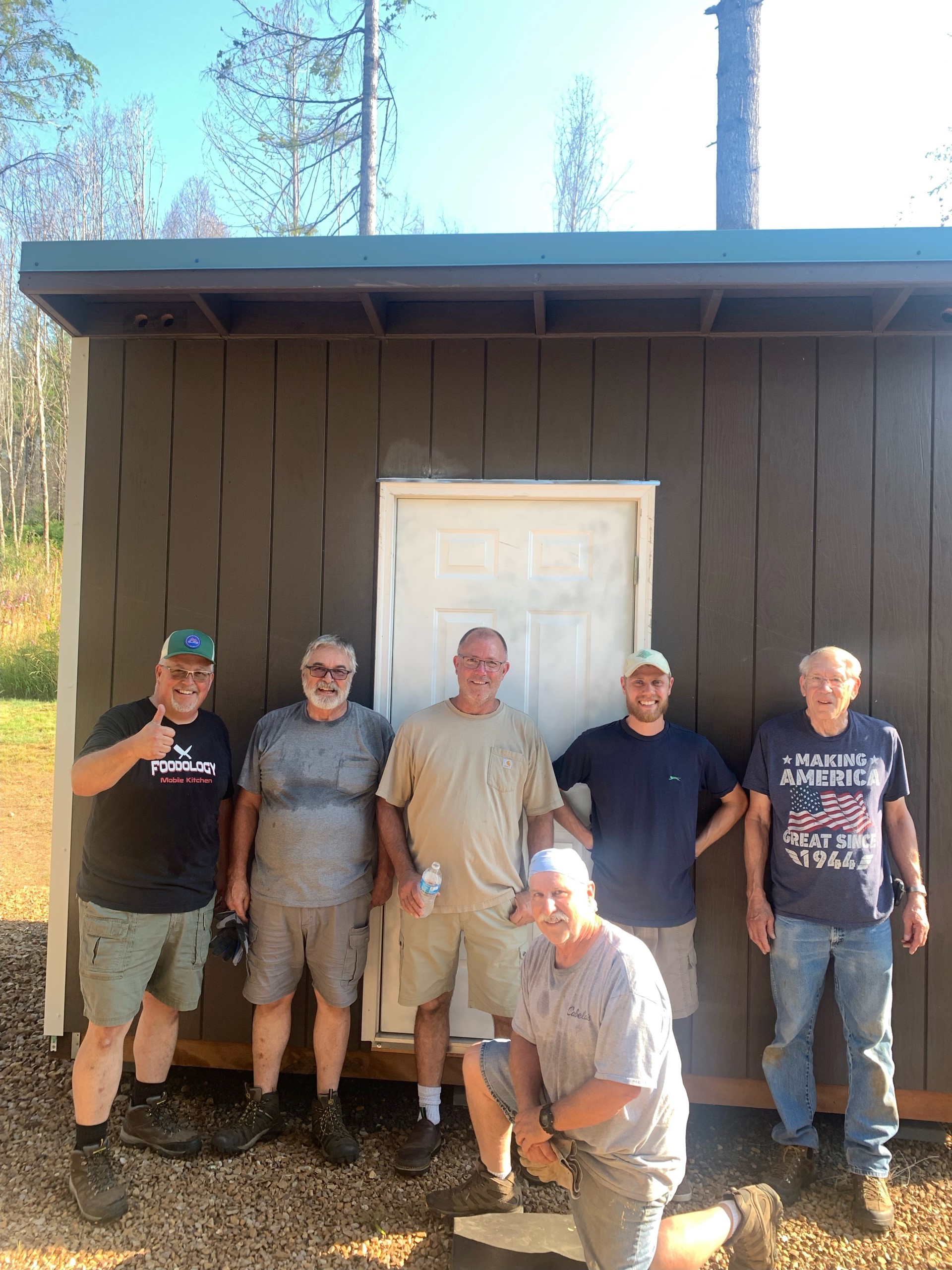 Volunteers take a moment to celebrate the completion of the 100th shed. The Santiam Canyon Shed project aims to erect at least 150 sheds for local residents waiting to reconstruct their fire-damaged homes.
A GRATEFUL COMMUNITY (AND HOW YOU CAN HELP)
To learn more about the shed project, including upcoming volunteer build dates, check out the Santiam Canyon Shed Building's Facebook page.
"We're so grateful for the support from Weyerhaeuser and so many others," Juli says. "The folks we've helped and the stories they've shared of their trauma are humbling. Each shed has been received with enormous thanks; typically, the families get involved and help as much as possible to get them in place. We have had so many families call their new shed a 'beacon of hope.' Having a permanent structure feels like a start toward finally rebuilding their home."