Weyerhaeuser EverEdge™ Series I Joists and LVL are engineered to provide both strength and consistency — features that help builders save on installation time and reduce both jobsite waste and customer callbacks. EverEdge I Joists are available in standard depths to fit most applications and EverEdge™ laminated veneer lumber (LVL) offers an economical and reliable solution for header and beam applications. Our manufacturing process removes many of the natural inconsistencies found in wood to provide members that are consistent in size and strength.
Weyerhaeuser Rim Board depths are sized to match EEI™ Joists, which means less cutting and material waste when they are used together. Uniform in size and available in 16-foot lengths, Weyerhaeuser Rim Board is fast and easy to install.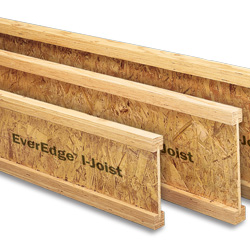 EEI™ Joists
Available in standard depths with wide flanges for easy nailing.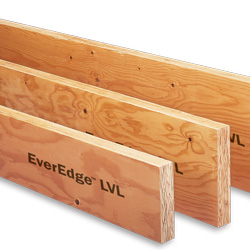 EverEdge™ LVL
Available in 1 3/4″ widths and depths from 9 1/4″ to 24″.
Design & Specification
Code Reports
Installation Guide
EverEdge™ Installation Guide
N. America: EE-9001
Warranties