WARNING
Lack of safety bracing can result in serious injuries. Observe the following guidelines: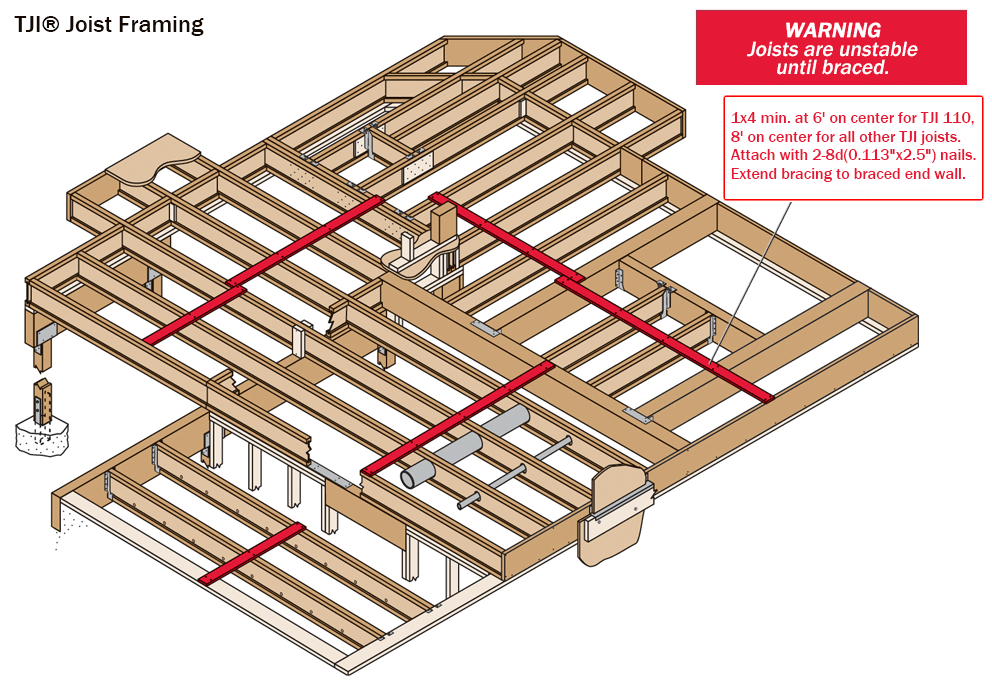 Joists are unstable until braced laterally.
Bracing Includes:
Blocking
Hangers
Rim Board
Sheathing
Rim Joist
Strut Lines
1x4 (min.) safety bracing must be nailed to each joist and nailed to a braced end wall or sheathed area. Without this bracing, rollover can occur from light construction loads or a worker.
All blocking, hangers, and rim must be completely installed and properly nailed.
A braced end wall or an existing deck must be established at the ends of the bay.
Sheathing must be completely attached to each TJI(R) joist before loading.
End of cantilevers require safety bracing on both the top and bottom flanges.
Flanges must remain straight within 1/2" from true alignment.
Additional Information
Additional information is available and necessary to consider when using TJI Joists. Please consult one of the documents below for full installation instructions.
Download Installation Guides
Installation Guide for Floor and Roof Framing with TJI 110, 210, 230, 360 and 560 Joists
Installation Guide for Deep Depth 18″–24″ TJI 360, 560 and 560D Joists
N. America: TJ-9006
Floor Framing Standards Guide: A Framer's Guide to the Installation Process
N. America: 9030