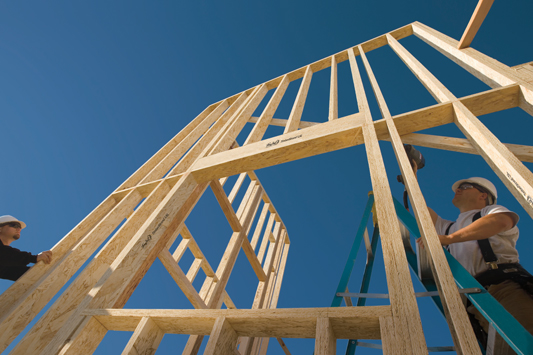 We provide engineering support, through our dealers, that can take the guesswork out of building walls. Using studs, sill plates and headers made from TimberStrand LSL, you can build walls that are tall, strong, stable and straight. Available in lengths up to 30 feet.
Reduce the need to shim, trim, and scribe
Enhance craftsmanship while minimizing labor costs
Improve your finish results and enjoy fewer callbacks
Zone Framing™ with TimberStrand LSL
TimberStrand LSL studs and columns provide excellent value when used selectively in the framing zones of a house, where straight studs translate into flush walls. These zones include kitchen cabinet walls, tiled bath walls, tall walls, and other prominent areas, such as staircases and hallways. For other areas of the home, maximize your budget by using Weyerhaeuser Performance Tested™ lumber.
By utilizing the Zone Framing approach, you can get maximum benefits of TimberStrand LSL where it matters the most. Your framers get the straight studs they need to quickly frame flush kitchen walls. Your cabinet and countertop installers and trim carpenters don't have to trim, shim, and fight the wall to do their job. Your customer's dream kitchen? It lives up to their expectations for years to come
Talk to a territory manager to learn more about TimberStrand LSL:
We do not sell products direct. For quotes, pricing and availability use our Where to Buy tool to find a dealer near you.