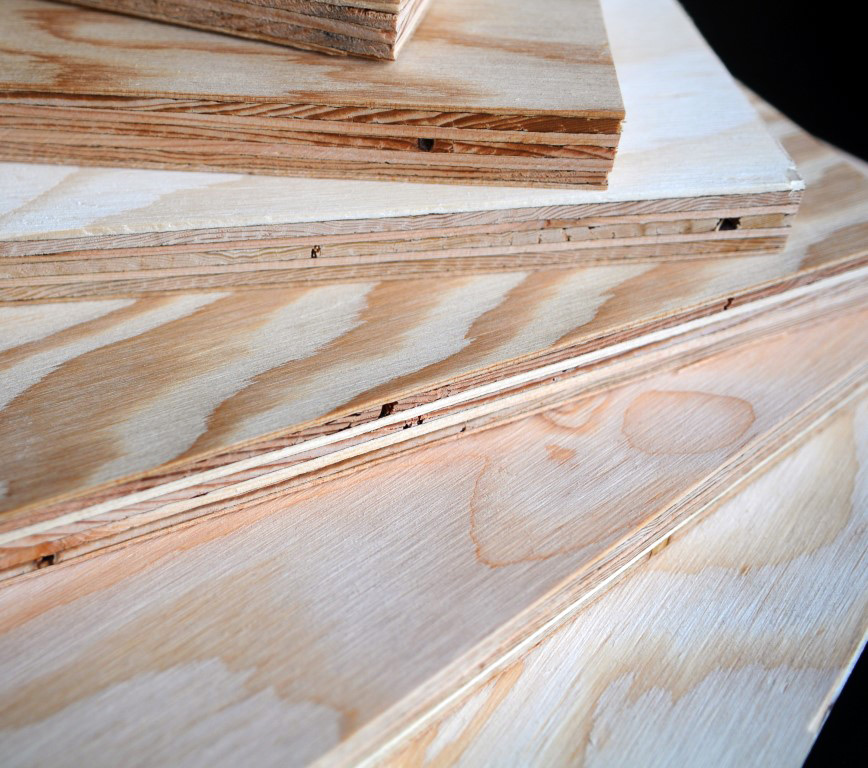 As members of the APA, also known as the Engineered Wood Association, we're able to provide our customers with a wealth of plywood information. These resources can help clarify industry definitions, performance standards, handling tips and installation instructions for select applications
APA Specifications and Guidelines
Storage and Handling
Like all building materials, APA trademarked structural wood panels should be properly stored, handled and installed to ensure superior in-service performance.
Protect the edges and ends of panels, especially tongue-and-groove floor and shiplapped siding panels. For panels to be moved by forklift, place them on pallets or bunks when they're received to avoid damage by fork tines. 
Panels to be transported on open truckbeds should be covered with standard tarpaulins. For open railcar shipment, use "lumber wrap" to avoid extended weather exposure.
When possible, store panels under a roof, especially if they won't be used soon after being received. Keep sanded panels and other appearance grades away from open doorways, and weight down a stack's top panel to avoid any possible warpage from humidity. If moisture absorption is expected, remove steel banding on panel bundles to prevent edge damage.
Panels to be stored outside should be stacked on a level platform supported by 4×4 stringers or other blocking. Never leave panels or the platform in direct contact with the ground. Use at least three full-width supports along the eight-foot length of the panel, one centered and the others 12 to 16 inches from each end.
Cover the stack loosely with plastic sheets or tarps. Anchor the covering at the top of the stack, but keep it open and away from the sides and bottom to assure good ventilation. Tight coverings prevent air circulation and, when exposed to sunlight, create a "greenhouse" effect, which may encourage mold formation.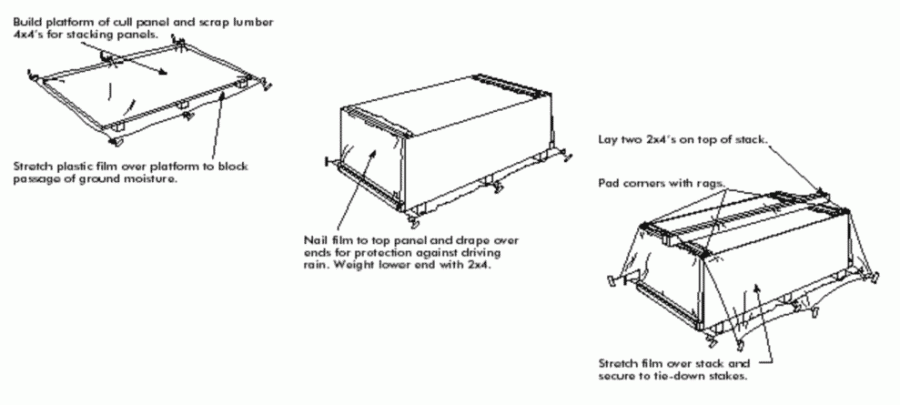 Installation
While APA-trademarked structural wood panels exhibit excellent dimensional stability, panel edges and ends should be slightly spaced when installed to allow for expansion caused by moisture absorption. Recommended spacings are given with the illustrations. 
APA-rated siding, in addition, should be edge sealed (both blind and exposed edges) to minimize the possibility of surface checking, water staining or mildew. Sealing is easiest when panels are stacked. Reseal new edges of panels cut to fit. The type of sealant recommended depends on the finish treatment to be used on the siding.
Once installed, protect panels as soon as possible. For example, protect subflooring by installing and sheathing walls and roofs; protect roof sheathing with roofing felt or finish roofing material; protect underlayment with plastic sheeting, cardboard or heavy Kraft paper prior to installing finish flooring, etc. Enclose the structure as quickly as possible to keep panels dry before attaching other materials (such as underlayment or finish flooring) and assure adequate ventilation, particularly in attics and crawl spaces, to prevent costly problems and callbacks.