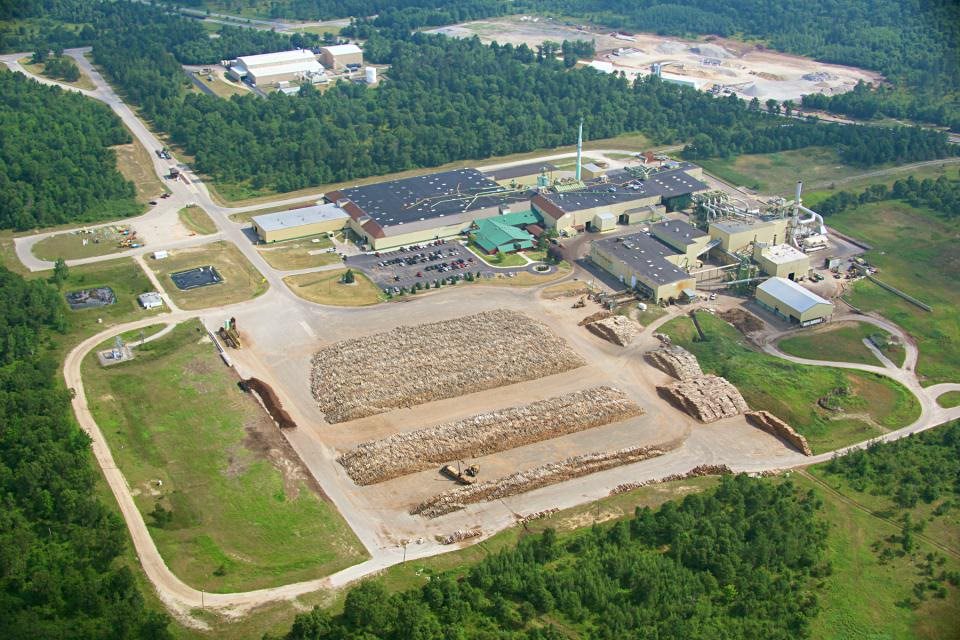 A recent ariel view of our Grayling, Mich., OSB mill. During its 40 years of operation, the mill has consistently been a top performer and has exemplified our values, especially safety, citizenship and sustainability.
In the summer of 1982, a sheathing material called oriented strand board had homebuilding buzzing. It was less expensive than plywood but had comparable strength, better "nail bite," and reduced delamination and edge-swell issues.
To take advantage of OSB's growing popularity, our first OSB plant went online on Aug. 20, 1982, in Grayling, Michigan. Forty years later, Grayling is one of six Weyerhaeuser OSB mills, and it remains a consistent top-performer.
Over the years, the plant has ushered in numerous process improvements, cutting-edge new technologies and groundbreaking new products, including enhanced Edge® panels. But the top reason for Grayling's sustained success is a commitment to people and teamwork, according to current and former team members.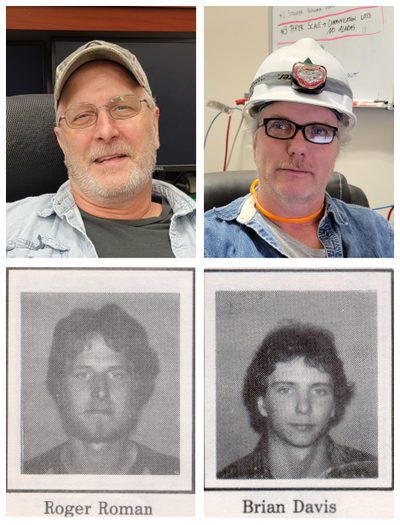 Roger Roman and Brian Davis (pictured with their original ID photos) were two of the mill's original employees. Both recently retired after celebrating their 40th anniversaries.
THE START-UP CREW
Maintenance technicians Roger Roman and Brian Davis remember the excitement as those first panels rolled down the line. Both joined Grayling in 1982 as operators in blending-forming-pressing and helped the mill go live.
"Start-up was tough," says Brian, who retired on July 15. "There was no manual for getting an OSB mill up and running. The team had to figure it all out, so that first day we successfully made product to spec was a huge deal."
Roger, who retired Aug. 1, adds, "There was a huge learning curve, but we worked through it safely from the beginning. The team looked out for one another. No one ever asked us to do something unsafe."
Roger and Brian were the last of the original crew still working at Grayling. When they started at ages 20 and 18, respectively, neither expected to stay more than a few years. But the mill's team-oriented work style and a host of growth opportunities changed their minds.
"The team concept made it feel like the mill was ours," Brian says. "If there was a difficult production day, it was our job to work together as a team to figure out how to make it better."
In the mid-1990s, the team concept evolved into self-directed work teams, with operations and maintenance working together to set production goals and continually improve. In both systems, leadership's role was to enable success by removing roadblocks, securing capital and ensuring the teams got the training and resources they needed.
"From the beginning, management wanted to hear our opinions," Roger says. "Our leaders challenged us to make our jobs and the mill better and safer, and we took that responsibility and ran with it."
Over the years, Roger and Brian grew their skillsets and took on new responsibilities, eventually moving to maintenance roles in the '90s. They've never hesitated to share their knowledge and experience with colleagues at Grayling and at our five other OSB mills.
"I wouldn't have stuck it out all these years if I didn't enjoy coming to work every day," Roger says. "There's always something to learn, something to be improved that makes things better for ourselves and colleagues."
Steve Cutlip (panels manufacturing director), Ryan Beaver (vice president of Panels), Michigan Congressman Jack Bergman, Bruce Milligan (Grayling mill manager) in front of the Grayling woodyard during the 40th anniversary celebration.
INSPIRED TO KEEP GROWING
One of these colleagues is Mick Clark, a former U.S. Marine who joined the Grayling team in 2012 as a "multi" operator, running machines in the blending-forming-pressing and packaging-manufacturing-shipping areas.
"I was fortunate to be hired," he says. "When I joined, there weren't a lot of openings, and the average employee tenure was as least a couple of decades."
He was quickly impressed by those long-tenured coworkers and their ability to troubleshoot issues and get to the root causes of problems. That knowledge was especially helpful a few years ago when the mill installed a new press and new dryers.
"The Rogers and Brians of Grayling have inspired me to excel and keep growing," Mick says. "They passed along a torch of success. Carrying it into the future is a huge responsibility, but if we work together and keep learning and growing as individuals and as a team, I'm confident we'll look back in another 40 years and be able to say, 'We did our part.'"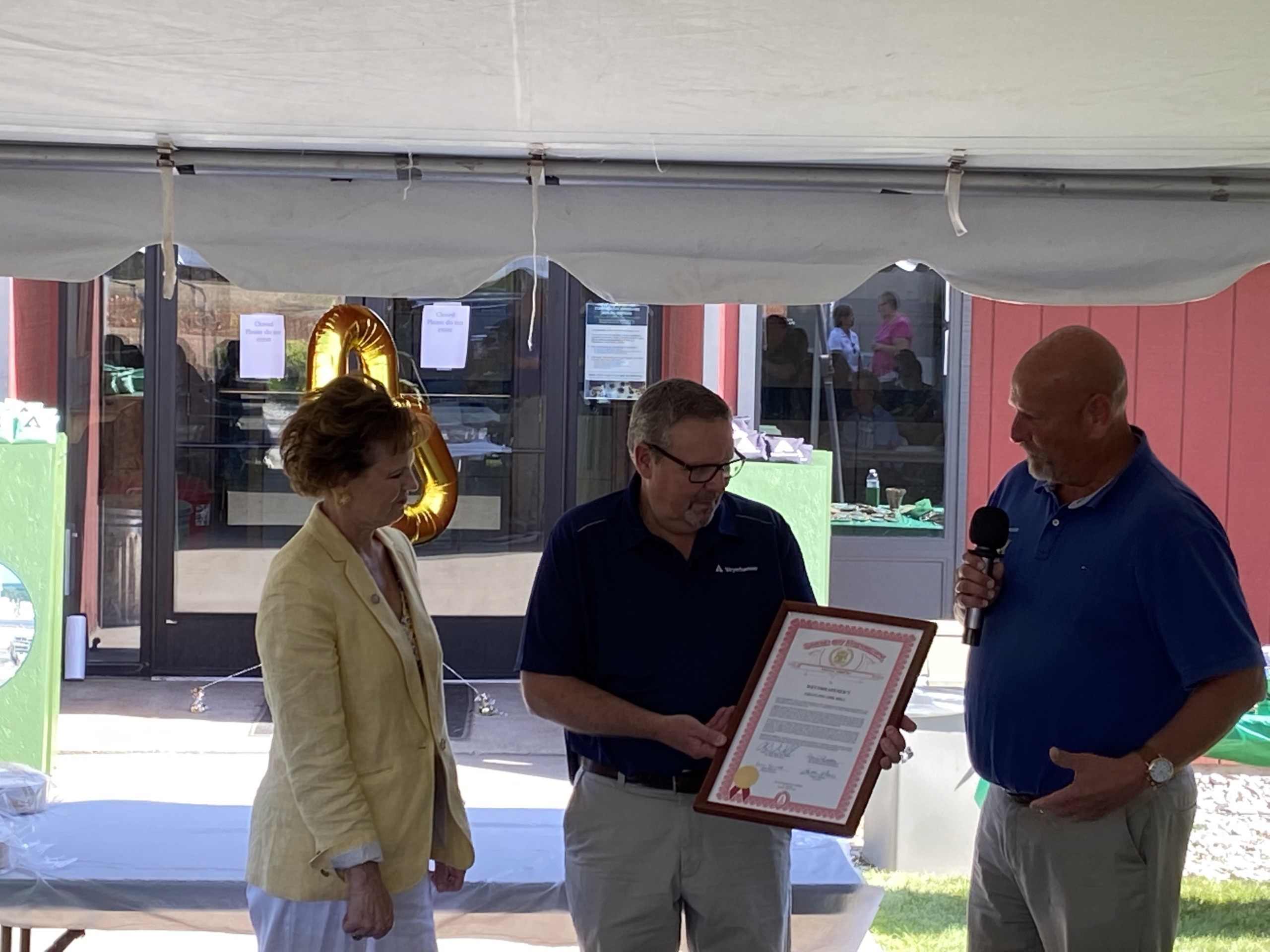 State Rep. Dare Rendon (left) and State Sen. Curt VanderWall (right) present a Tribute certificate to Bruce. Grayling is in Rendon and VanderWall's districts.
AMBITIOUS AND READY TO GROW
Chad Bohl is one of the mill's newest hires. He joined this past February in a production role in blending-forming-pressing. He was welcomed by coworkers introducing themselves, offering tips and advice, and encouraging him to ask questions.
"It makes you feel wanted," Chad says. "Everyone has been so willing to come up and help."
The camaraderie has already inspired Chad to keep growing with the mill. He's set a goal to achieve masteries in each of the mill's eight specialty areas within the next eight years.
He started the first in June with a move into production as an operator in packaging-manufacturing-shipping. He says he's constantly observing and learning from his more experienced colleagues, including Roger and Brian before they retired this summer.​​​​​​​
"It was nice to have them around," Chad says. "They always had something to contribute and could tell you if this happens, then that will happen, or this happened because that happened. I hope that's what I'll be like 40 years from now."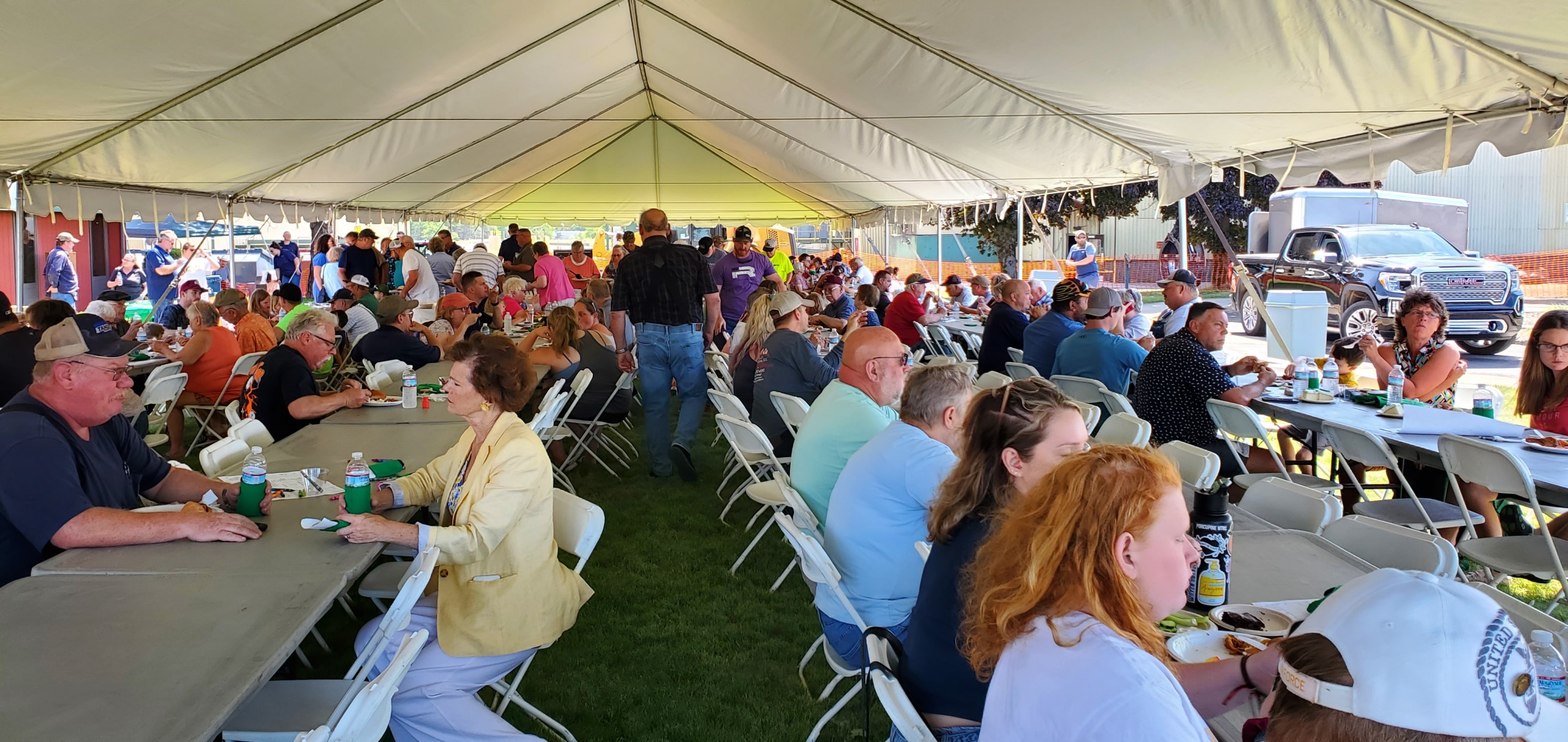 In addition to elected officials, more than 350 employees, family members and community members came out to celebrate the mill's anniversary with prize drawings, a catered lunch and souvenirs.
A BIG CELEBRATION
On July 23, the Grayling team celebrated the mill's 40-year milestone. More than 350 current team members, family, former employees, local and regional political leaders, the press and community members gathered at the mill for tours, some hearty Midwestern food and little reminiscing — but mostly, they looked forward to 40 more years.
Speakers talked about how the Grayling mill has supported the community. They mentioned the financial support the mill has provided to the AuSable River Canoe Marathon, scholarships at the local community college, and disaster relief after a tornado struck a nearby community, along with community service events including various river clean-ups. And they discussed environment stewardship, including our commitment to responsible, sustainable fiber sourcing, which has helped improve Michigan's forests over the past four decades.