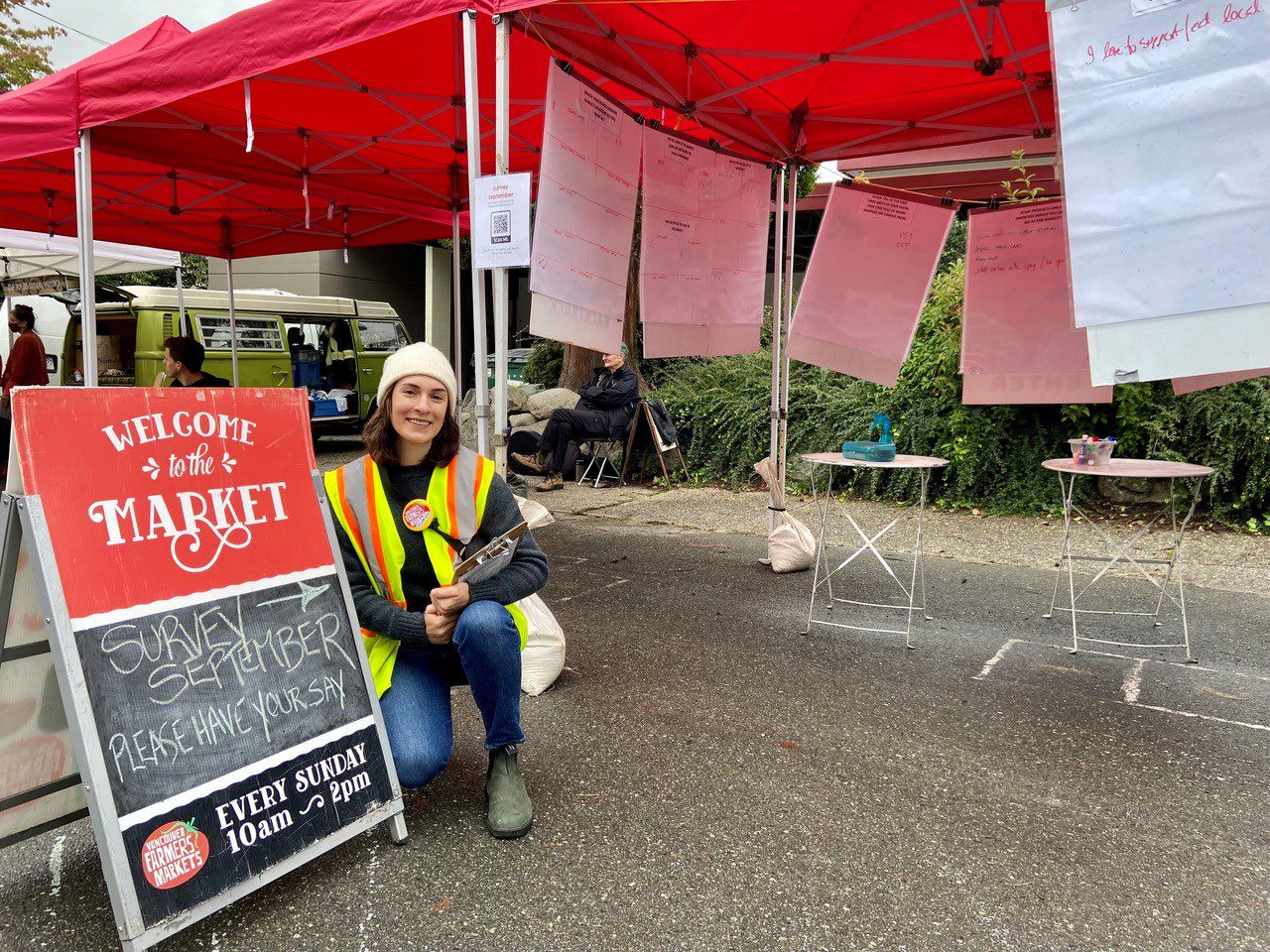 Clara has volunteered with the Vancouver Farmers Market since 2020. She says Weyerhaeuser's Citizenship value has been a motivating factor in her drive to volunteer.
Take a walk around the city of Vancouver, British Columbia, and you'll see a growing number of large timber buildings reaching for the sky. Many of them are made using our own engineered wood products, a fact that makes territory manager Clara Fraese especially proud.
"How cool is it that we're able to produce this incredibly strong, high-performing material from smaller, often less-desirable pieces of wood?" Clara says. "As soon as I heard of Parallam®, I wanted to be a part of that process."
Clara joined the company in 2017 as a documentation specialist and training coordinator at our Parallam plant in Vancouver, getting a firsthand look at the manufacturing side of the business.
She was fascinated by the way the manufacturing process for Parallam makes efficient use of raw materials, and she became increasingly intrigued by its many potential applications. In February 2021 she took on the territory manager role, which has allowed her to expand her knowledge and bring her enthusiasm for our products straight to our customers.
"I get to talk to people about my passion and provide solutions for the entire build process from the floor system to the software," Clara says. "No other company offers that. I still have a lot to learn, but this change has motivated me to keep growing, and I'm proud to represent Weyerhaeuser in our region."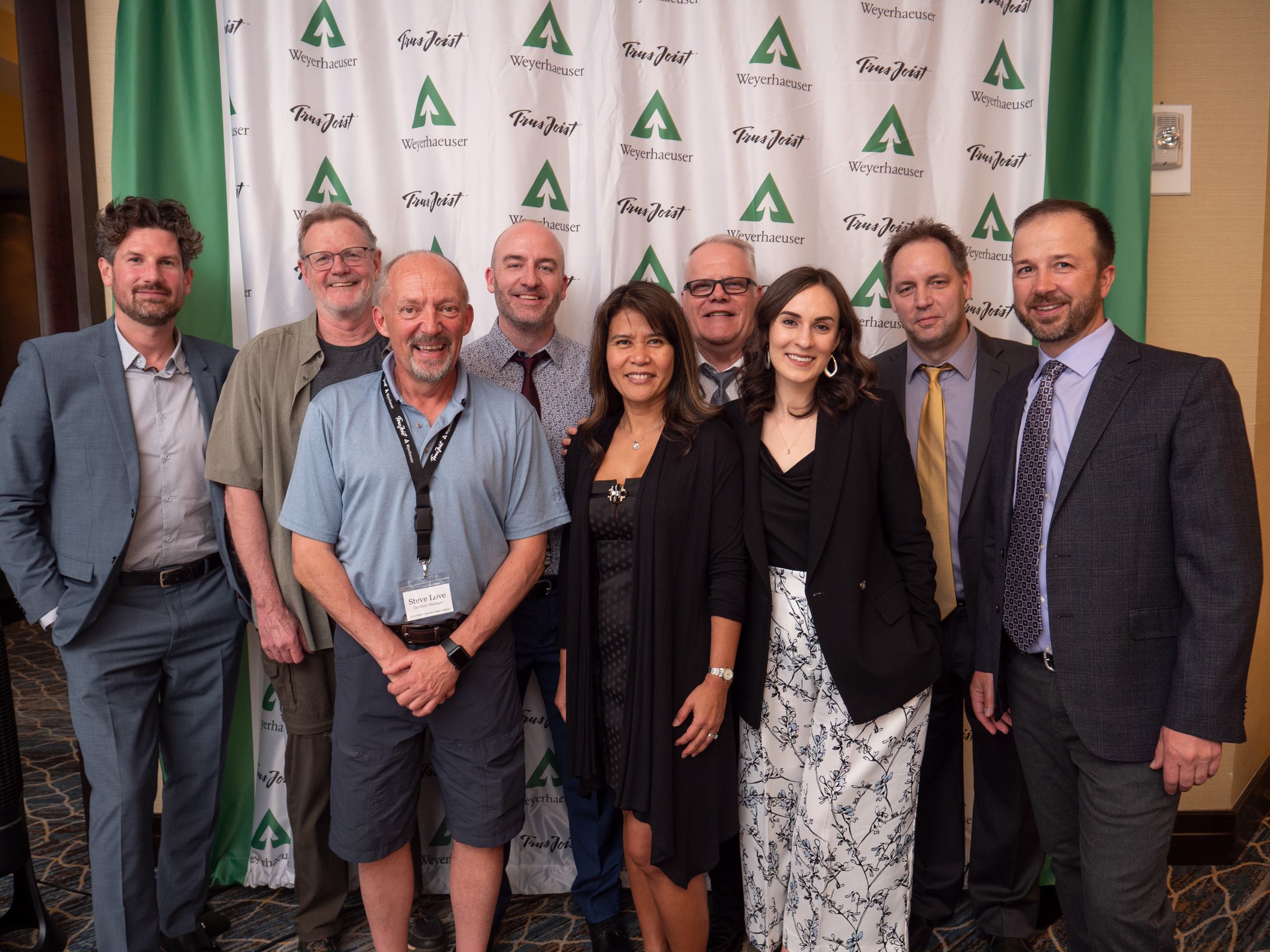 Clara (center, in white skirt) and the Canadian sales team at the recent EWP sales meeting in Miami.
BUILDING A FOUNDATION OF INSIDE KNOWLEDGE
Clara received her bachelor of science degree in wood products processing at the University of British Columbia and started her career at Weyerhaeuser right after graduating.​​​​​​​
"The company's focus on sustainability drew me in, because it's important in my personal life as well," Clara says. "Our goals and actions are constantly evolving to address dynamic needs and conditions, like the new 3 by 30 positive impact areas. I feel very inspired and excited to be a part of that."
Clara took on a variety of positions during her time at our Vancouver Parallam plant, including assistant production scheduler, gaining a broad perspective of the manufacturing process that she was eager to apply in new ways. But she didn't want to leave the Vancouver area — or the company.
"I never even considered looking outside Weyerhaeuser for the next step in my career," she says. "I knew I'd be able to continue to grow my career and flourish here. I feel very aligned with our vision and values, and seeing so many employees stay for decades is a really good indication that a lot of people have that same connection."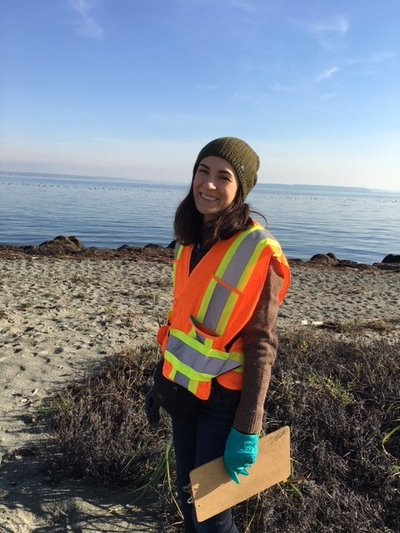 Clara and employees of the Vancouver Parallam plant participate in a shoreline cleanup volunteer project a few years ago.
TAKING HER SKILLS TO THE NEXT LEVEL
Clara kept an eye on the job board and was excited when the territory manager position was posted. Her only hesitation was whether it was too far outside her experience.
"I spent a lot of time researching the position and talking to others about whether it would be a good fit for me," she says. "And I realized my passion and enthusiasm would translate really well to sales. I'm so glad I took the chance. My fears and doubts melted away as soon as I got started."
Clara's work environment shifted from the industrial setting of Vancouver's Annacis Island to a business district in suburban Surrey. Her days used to be spent on the factory floor in a hard hat, attending to urgent developments as they happened. On the sales side, things are a little different.
"I'm zoomed out to look at the bigger picture," Clara says. "In manufacturing, you have to be really good at thinking critically and making fast, logical decisions in the moment. In a customer-facing role, I'm focusing more on messaging and learning as much as I can about how our products fit together and function in real-world settings."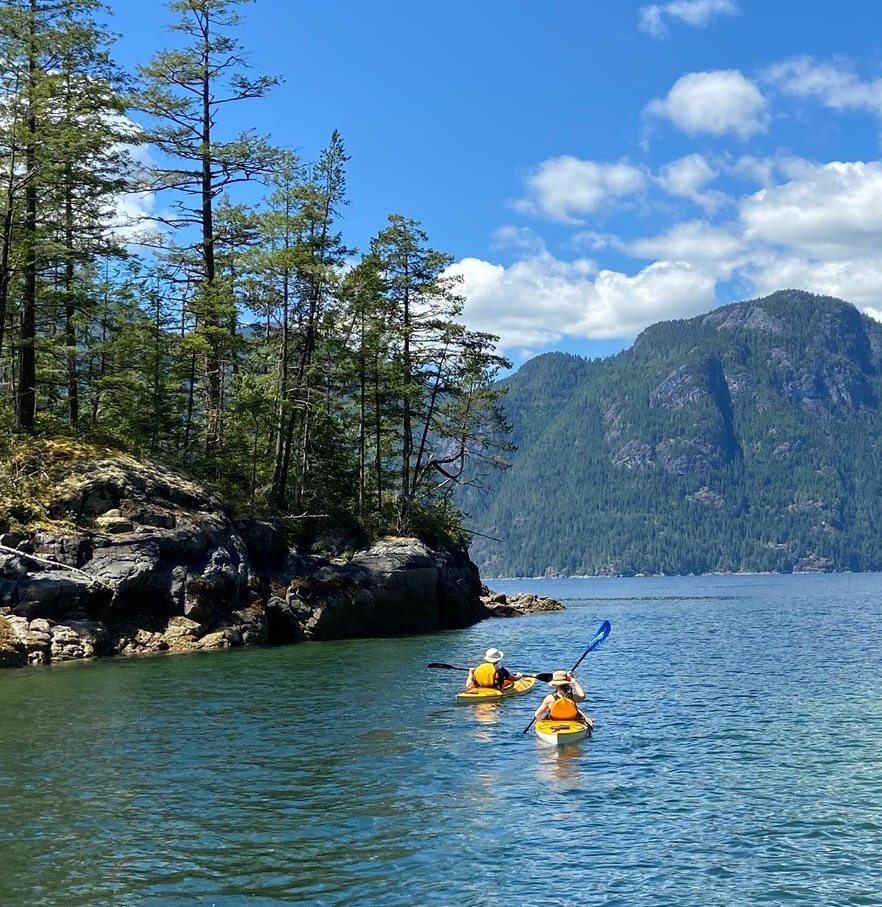 Clara kayaks with her fiance Josh in Princess Louisa Inlet on BC's Sunshine Coast.
SHARING HER PASSION FOR ENGINEERED WOOD
Getting started during COVID made Clara's first year as a territory manager a little different than usual. Video calls and remote learning took the place of in-person training and visits to see customers face to face. She viewed the challenge as extra motivation to hit the ground running and find new ways to connect.
"My new team is fantastic, and everyone was so receptive to onboarding me despite the challenges of COVID," she says. "I've had so much support from amazing mentors throughout the transition, and it turns out all the relationships I built at the plant still have a lot of value."
Stepping in to temporarily fill a role as an inside sales representative earlier this year also added to Clara's toolbox of skills and insights. She hopes to maintain her driving sense of curiosity in the future and allow it to shape her into an even more well-rounded asset to the company.
"As pandemic restrictions are lifting, I'm starting to expand my exposure to all the different facets of the business," Clara says. "The coolest thing has been seeing customers express so much interest in our products. I can't wait to get on the road and kick-start new relationships and experiences. Plus, I get to look at the gorgeous scenery of British Columbia while I drive around to visit customers. What a luxury!"
ADVICE FROM CLARA
Lean into your team. Embrace the knowledge, experience and support of the people around you, and know that you have much-needed skills to bring to the table, too. Trusting each other is crucial for working collaboratively.
Integrity is the best compass. Honesty, accountability and holding ethical standards gives you a foundation of confidence that will help you succeed.
Recognize roadblocks you put in front of yourself and break them down. Check in with yourself about limiting self-beliefs and eliminate obstacles or perspectives that aren't serving you. Be patient with the process, because it can take time to make meaningful changes.