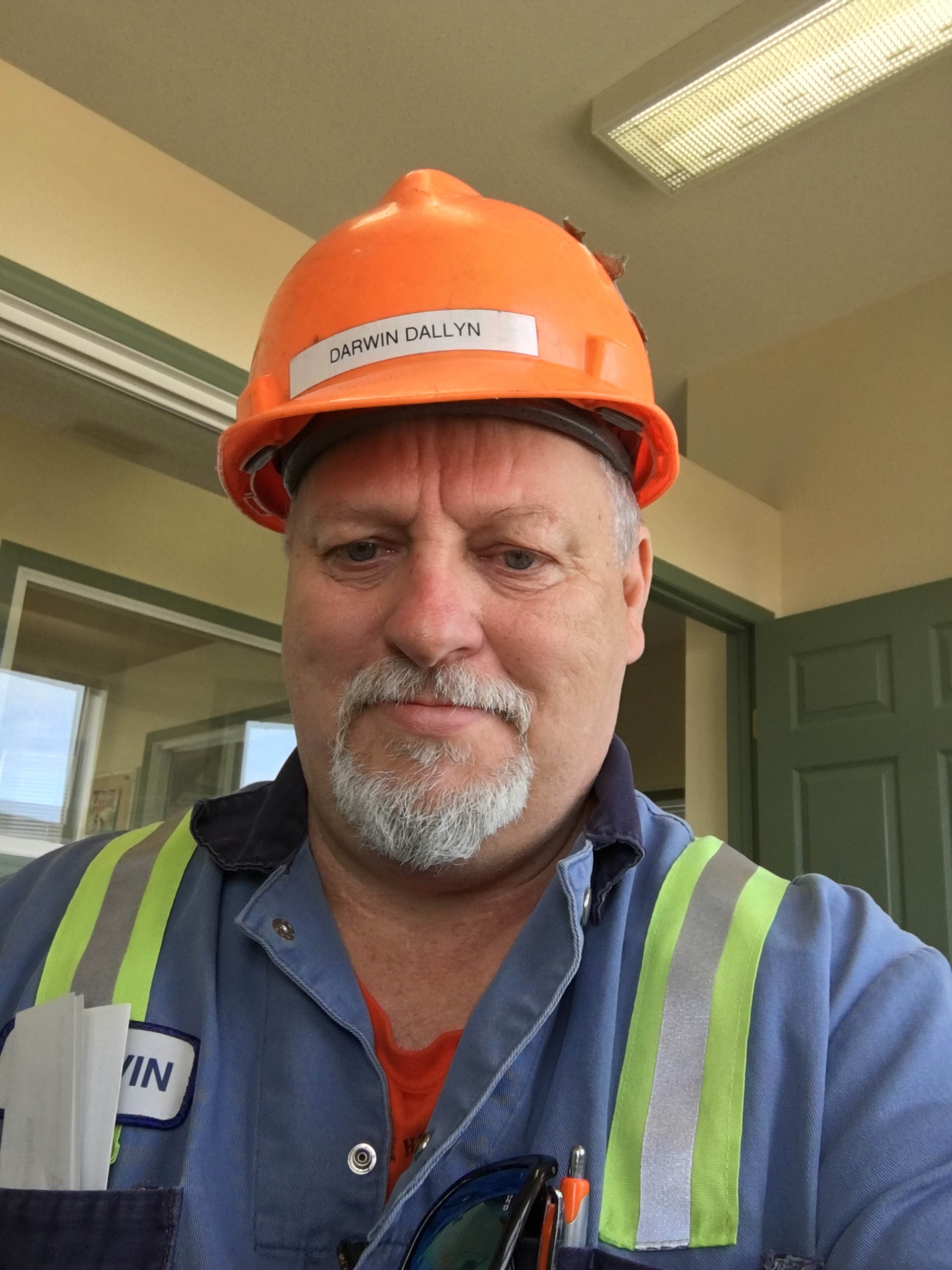 Darwin Dallyn has been with Weyerhaeuser for 42 years.
Darwin Dallyn loves his job as a heavy equipment operator, unloading and feeding logs to keep our OSB plant in Hudson Bay, Saskatchewan, running 24 hours a day, seven days a week.
"I operate a Caterpillar 3040 material handler, a big machine with stabilizers that allow me to lift heavy loads and swing all the way around," says Darwin. "There are three of us to a team, operating different machines, getting wood to the mill to keep the press running. The time goes by so fast. It's the best job I've ever had."
But it's not Darwin's only passion. He recently started publishing his own children's books.
"When my two boys were young, they always wanted a bedtime story," Darwin says. "But I hated to read. I've never been a reader, so I would just make up my own stories."
One day last year, Darwin wrote down two of his favorites. "The Gunkalunk" is the story of a scary little beast that goes after children who won't go to bed at night. The only space safe from the hairy creature, which has razor-sharp teeth and one big red eye, is their bed. And "Confidence" is the story of a boy who doesn't trust his baseball skills until his dad gives him a magic bat. Both stories feature little boys named after Darwin's own two sons.
Once the stories were written, Darwin found an illustrator online.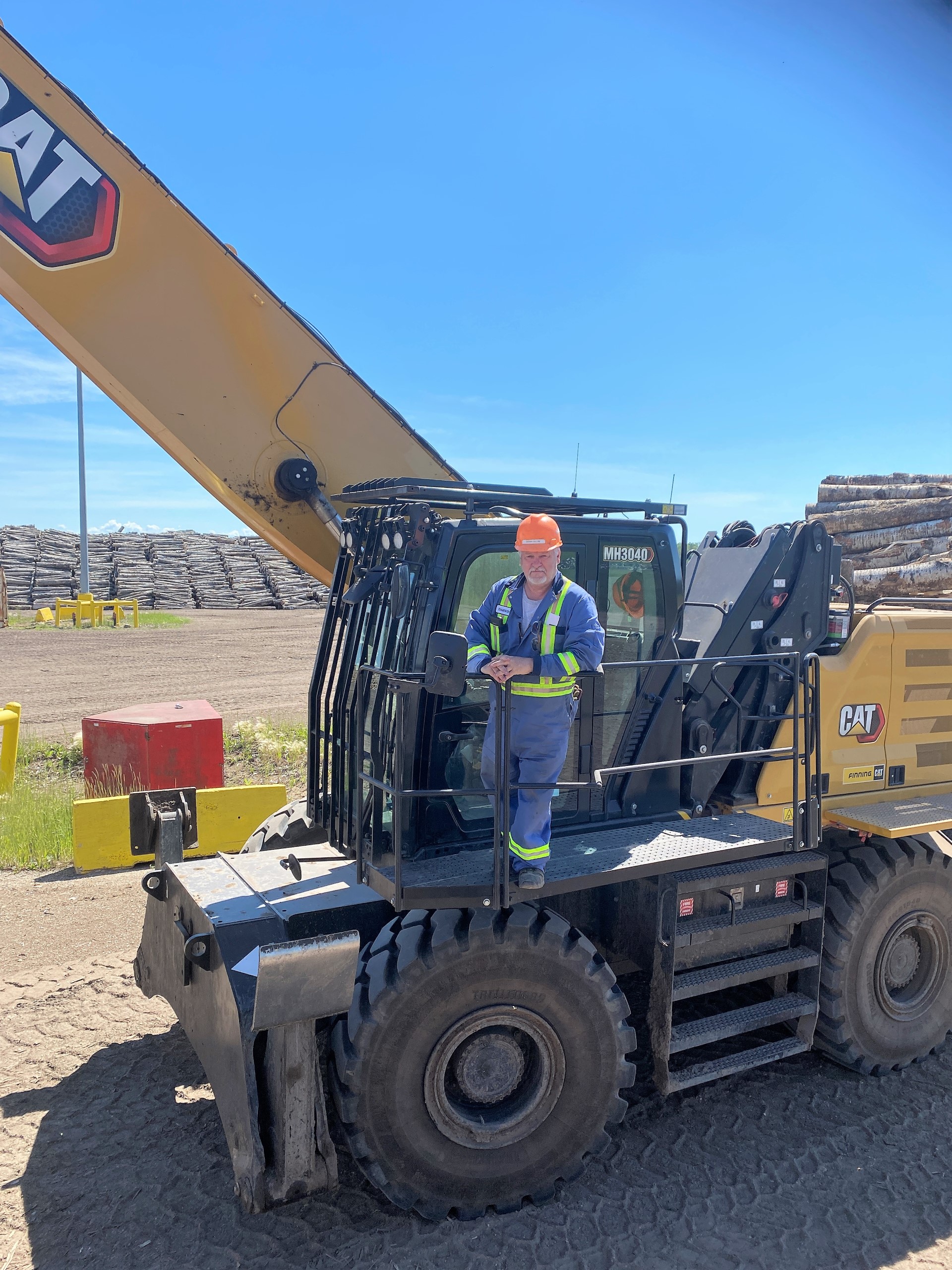 Darwin stands outside the cab of his CAT 3040 in Hudson Bay's log yard. He describes being a heavy equipment operator as the best job he's ever had.
"I just explained the concept of the Gunkalunk to her through texts — she's in Pakistan so there were no phone calls or anything," he says. "Once she gave the creature hair, it was exactly what I had envisioned!"
Darwin published both books through Amazon earlier this year.
"I don't consider myself an author," he says. "But it's a fun way to share my stories."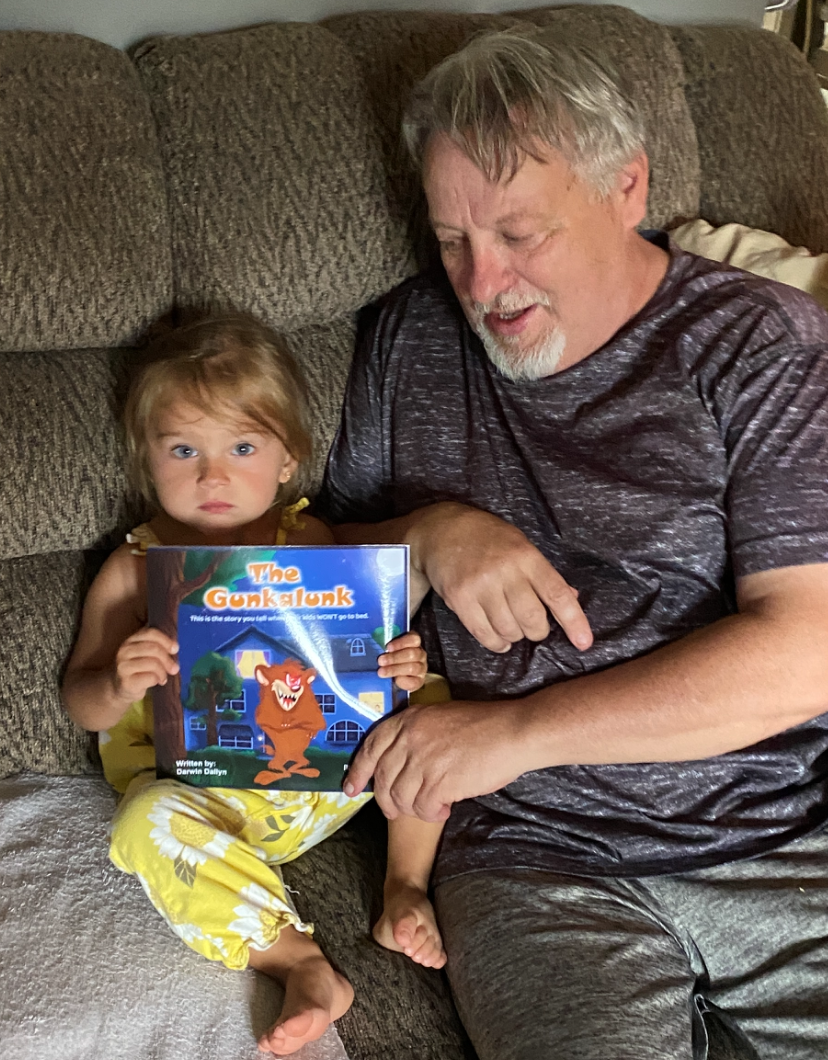 Darwin shares 'The Gunkalunk' with his oldest granddaughter, Athena. 'It's her favorite, even thought it's a little scary,' he says.
MEET DARWIN
Your title is yard team heavy equipment operator. Tell us what you do.
I offload log trucks and feed the wood into the OSB mill. Most of the time I run the CAT 3040, but sometimes I'll jump in a bucket loader if needed, or I'll run the Challenger — a tractor with rubber tracks that helps us keep our yard nice and level. Before I learned to operate all these, the biggest thing I'd ever driven was a forklift.
Have you always done this type of work?
I've been doing this job for 21 years. I transferred here from the plywood plant, where I worked more than 20 years. I've been with the company 42 years in all.
Tell us what your day is like.
I work swing shifts, which is two 12-hour days, then two night shifts, and then two days off. I love my nights. I'm not a day-shift person; I don't like rolling out of bed and coming directly to work.
What does your work area look like?
My cab is enclosed, with air conditioning for summertime, a heater for winter, a stereo for music and a radio to communicate with truckers and my work partners. I always have music on because it puts me in a good mood. When my radio isn't working, I don't seem to swing as smoothly. My favorite music genres are country and '80s rock, especially Trooper and Nazareth.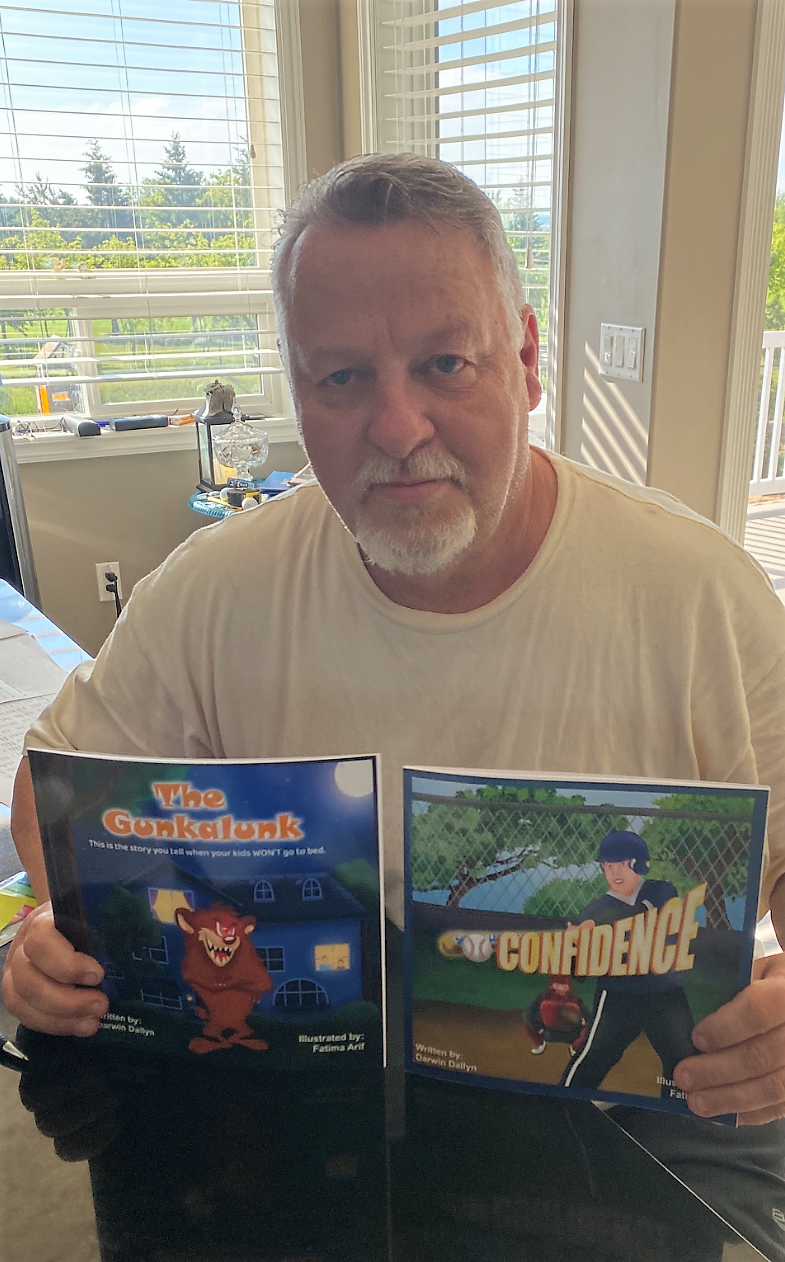 Darwin holds a copy of 'The Gunkalunk' and 'Confidence,' picture books he wrote and published.
What's your favorite part of your job?
I like being productive. If my work isn't running smoothly, the mill runs out of wood. And if there's no wood for that press, we're not making any money. I like being at the start of the whole process.
You must have some challenges. What are they?
Keeping the yard smooth. It gets sloppy when it rains, and it's a real hassle to dig this equipment out of the mud. You don't want to get stuck!
Tell us something about your job that might surprise people.
Our mill runs 24/7, and it takes 52 truckloads of logs to supply the mill each day. We can offload as many as 100 trucks in a 12-hour shift.
When you were young, what did you want to do?
I wanted to be a hockey broadcaster. When I was young, we used to play table hockey, and when I didn't have anyone to play with, I'd play a game with myself and announce the game. I'd get pretty loud, and my mom would tell me to put a pillow over the vent to keep my voice from traveling through the whole house. I still do a play-by-play today when I'm doing anything with the kids.
Tell us about your other interests. What do you like to do when you're not at work?
I like to watch football (both CFL and NFL), hockey and basketball. I used to play but I don't anymore because I know I'd pull a hamstring or a quad. I love playing golf. I was president of our golf course, and I've been on our town council for eight years. But family is the most important thing in the world to me: My wife, our grown sons and two granddaughters. My granddaughters were the first ones to get my books.