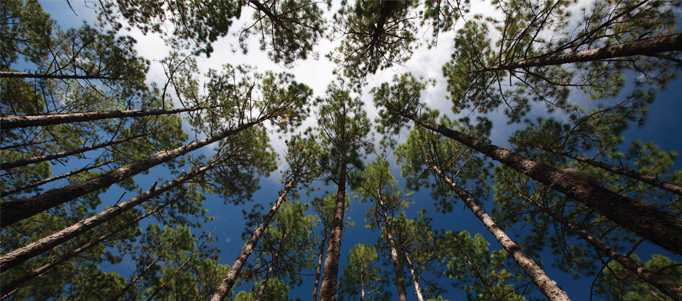 As the largest private timberland owner in the United States, Weyerhaeuser works hard to be good stewards of the land. That's one reason why we join with people everywhere to celebrate National Forest Products Week each year during the third week of October.
From creating the nation's first tree farm in 1941, to responsibly planting more than 50 million seedlings every year, we feel both a connection to — and a responsibility to — sustainable forestry.
National Forest Products Week was created in 1960 with a proclamation brought forth from Congress and approved by President Kennedy. Language in the proclamation cited the importance of forest products starting with the founding of the country, through its ever-demanding growth cycles. A key sentence from that first resolution states:
"WHEREAS, in order to reemphasize to each citizen in the United
States the importance and heritage of our vast forest resources
which are inseparably tied to our present and our future."
From building material to paper to furnishings, wood has a central tie to our daily lives. Today, more than five decades after it was launched, National Forest Products Week is still a focal point for our nation.
In his 2015 proclamation, President Obama declared:
"The natural resources and materials provided by forests are essential to our way of life. From timber to biofuels, forests can provide sustainable sources of important goods, and America will continue to benefit from their strength and vitality. Healthy forests lead to a strong economy, a clean environment, and a sustainable future for all our people. During National Forest Products Week, let us rededicate ourselves to preserving them and pledge to always remember the irreplaceable role they play in our lives."
If you're fortunate to be connected with the building products industry and value the role wood plays in it, we welcome you to join us this week in saluting our forests. From plywood to OSB to board to lumber, our forests bring forth valuable riches we use every day to support the growth of our nation.